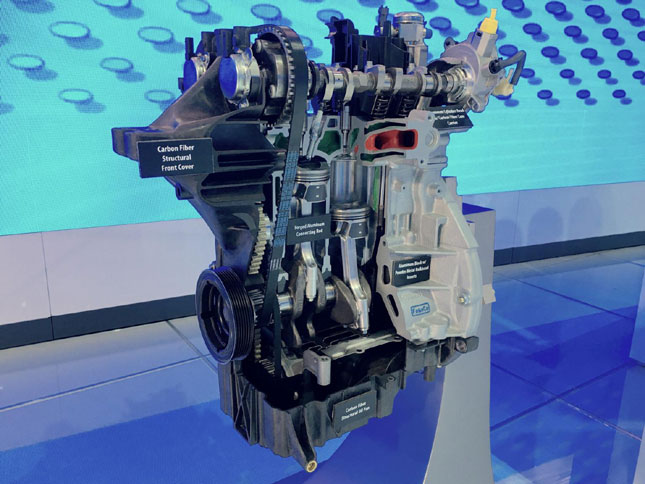 Automotive manufacturers are already OCD about stripping weight from a car's chassis, body and interior by using exotic materials, but why not the engine itself? Obvious, isn't it? Well, Ford has had a go, and the results are not to be sniffed at.
Based on its diddiest little 1.0-liter EcoBoost unit, the prototype engine was shown sliced in half at the 2016 North American International Auto Show.
Engineers focused on five main components: the cylinder block, the cylinder head, the connecting rods, the front cover and the oil pan, resulting in an overall weight saving of 15.5% or 13kg. Doesn't sound like much, we know, but Ford claims an improvement in fuel economy of around 4.5%. Oh, you're listening now.
While the front cover, the oil pan and the cam-carrier are all made from injection-molded carbon fiber, the connecting rods are actually switched to forged aluminum, and the cylinder block to aluminum with powder metal inserts on the important load paths.
The question is: When can you buy one fitted to your Fiesta or Focus? Well, Ford wouldn't commit to a date, but the technology is complete and works like a dream. The key is putting the injection-molded carbon fiber into mass production, thus eliminating the labor element and instantly driving costs through the floor.
Continue reading below ↓
Recommended Videos
Could this be the technology that helps us enjoy the combustion engine for a little longer?
NOTE: This article originally appeared on TopGear.com. Minor tweaks have been made.