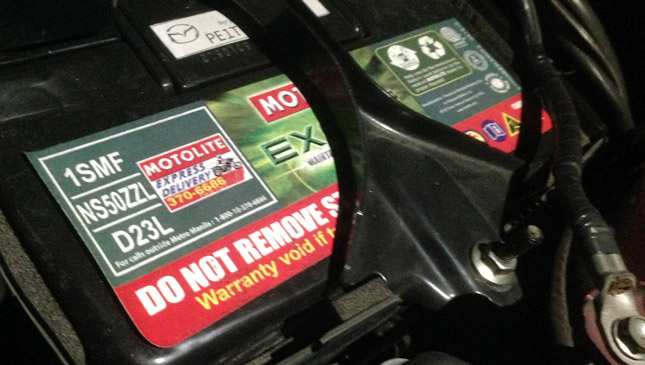 As you know, Mazda in the Philippines has been on a roll the past couple of years. Now handled by a dedicated and more focused distributor in Berjaya Auto Philippines, the Japanese car brand now boasts far better (and award-winning) products and a more customer-oriented after-sales service.
The upgrade in the product offerings is partly due to the carmaker's introduction of its Skyactiv suite of technologies, which include the i-Stop system, a fuel-saving mechanism that automatically shuts off the engine when the car comes to a halt. It's an advanced feature that is thought to also be kind to the environment, as it virtually eliminates unnecessary idling and fuel wastage.
But apparently, the system comes with a special requirement: It needs a higher-quality car battery for it to operate seamlessly. The regular batteries that we normally use on typical cars just won't do.
"It's a deep-cycle battery that could withstand the constant start-stop frequency of the engine," explains Mazda Philippines CEO and president Steven Tan. "It's like the difference between a regular battery and an alkaline battery."
Meaning, if you use a regular battery on a Mazda vehicle with the i-Stop system, it will be drained much faster than usual. Currently, the Mazda models with the i-Stop system are the 3, the 6 and the CX-5.
Continue reading below ↓
Recommended Videos
We found out about this after an officemate brought his 6 sedan to a Mazda dealership to have its battery replaced. He was surprised when they told him that the replacement battery would cost P14,703. Actually, the price would have been more expensive--around P25,000, they say--if the batteries had been sourced from Japan. Thankfully, Mazda Philippines has partnered with Motolite to develop a similar battery for a more affordable price, according to Mazda's exclusive distributor.
"We have now localized the battery production," shares Tan. "We used to import the batteries from Japan. So they're much cheaper now. But still more expensive than the regular ones, of course."
The "specially developed" Motolite battery is to be purchased from and installed by an authorized Mazda dealership as the car's computer settings for the i-Stop system need to be reset whenever the battery is replaced.
There's the option to turn off the i-Stop system so it's not so taxing on the battery, but we doubt Mazda would recommend that. Besides, why buy a technologically advanced car only to disable some of its features? Well, just know that you're doing your small share in preserving the environment every time you drive a Mazda vehicle equipped with the i-Stop system.
Photo by Vernon B. Sarne