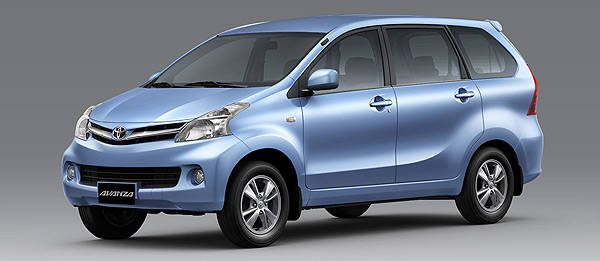 Toyota Motor Philippines is capping its 10th consecutive Triple Crown title by launching the all-new Avanza mini multipurpose vehicle.
The all-new Avanza's design gives it a more upscale, more modern appearance than that of its plebeian-looking predecessor.
Up front, the Avanza gets a bolder bumper, adventurously designed headlights and a grille that echoes the double-tier design used by its stablemates. As you walk around the vehicle, you'll notice the more pronounced fender flares that give it a very distinct character line. As you reach the rear, you'll discover that the utilitarian look of the previous-generation model has been replaced with a more sophisticated one, thanks to the styling of the taillights that curve down to the rear-quarter panels, as well as the design of the rear window.
It's the interior, however, that has shown the most dramatic improvement. Gone is the '80s-like feel with the hard plastic and the exposed sheet metal above the door panels. Now, the all-new Avanza's interior is arguably at par with most subcompact offerings in the market, particularly in the case of the high-end G variant with its silver-like trim on the steering wheel, aircon vents, door panel, transmission and integrated audio system. The new Avanza's second- and third-row passengers now also have access to overhead aircon vents above the second row.
Continue reading below ↓
Recommended Videos
Although the same 1.3- and 1.5-liter engines of the previous-generation Avanza carry on in the all-new model, Toyota has done some tweaking to further improve fuel economy to 16km/L for the 1.5-liter model. Also soldiering on are the same five-speed manual and four-speed automatic transmissions of the outgoing model.
Toyota has also heeded the call of its fans and customers who didn't want the bare-bones 1.3-liter J variant but also didn't want to pay the price being commanded by the range-topping 1.5-liter G variant, by offering a mid-range 1.3-liter E variant. From what we've seen, besides the smaller-displacement engine, the only difference between the E and G variants are the 2-DIN head unit in place of the integrated audio system, the silver trim, the front fog lamps and the color-keyed front grille instead of the chromed one.
The all-new Avanza is now available at Toyota dealerships with the following prices:
* 1.3-liter J (MT) - P620,000
* 1.3-liter E (MT) - P703,000
* 1.3-liter E (AT) - P743,000
* 1.5-liter G (MT) - P828,000
* 1.5-liter G (AT) - P868,000.
Looking at the prices, Top Gear Philippines technical editor Ferman Lao couldn't help but notice that, with its more upmarket look and features, the Avanza is looking to compete against the Honda Jazz. Do you agree with his observation?
[gallery]1136[gallery]