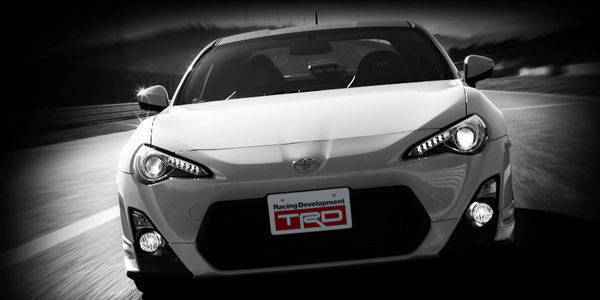 The biggest news in the local auto industry is the scheduled arrival of the Toyota 86 compact sports coupe. On Monday, the car will be officially presented to the media. We already know that there are three variants to be launched by Toyota Motor Philippines: the 86 2.0 AT Aero, the 86 2.0 AT Standard and the 86 2.0 MT Standard. We also already know that the top-of-the-line Aero variant will come with bodykit and other extra features that the standard variants won't have.
Some of you commended the upgrades found on the Aero variant, but there are also those who find the package a little short on the oomph and wonder whether TMP is eventually offering a TRD package for the 86. Well, good news: Toyota will indeed bring in TRD parts for the 86, to be officially unveiled shortly after the car's introduction.
Today, TopGear.com.ph received the full list of TRD parts and accessories to be made available for the 86 as well as their prices. This is a pretty comprehensive array of goodies. The only parts missing for now are the shift knobs for the AT and MT versions, although we do believe they're on their way soon.
Toyota notes that for the rear skirt and the rear diffuser to be attached, "installation requires modification of the rear bumper and installation of the TRD muffler." Conversely, the TRD muffler can only be installed if you get the TRD rear skirt.
Continue reading below ↓
Recommended Videos
UPDATE: The TRD skirts and spoiler are not the same as those found on the Aero variant, according to TMP. We got confused because the list that we obtained indicates that the TRD skirts and spoiler are not offered for the Aero, so we assumed they were all the same. We suppose the TRD skirts and spoiler are simply not recommended for the Aero variant since it already sports a set of bodykit. We're sure you can still install the TRD bodykit even if you own the Aero, but that's an awful waste of money.
Below is the list of TRD parts and accessories for the 86, as well as the pricing.
* Front skirt - P41,600
* Side skirt - P47,900
* Rear skirt - P41,600
* Rear trunk spoiler - P31,200
* Rear diffuser - P19,200
* Shock absorber set - P208,700
* Coil spring set - P42,400
* Stabilizer set - P78,400
* Front tower bar - P29,500
* Member brace set - P58,700
* Door stabilizer - P15,900
* Sports air filter - P10,300
* High-response muffler - P125,600
* Muffler garnish - P12,700
* Push start switch - P16,100
* Radiator cap - P3,400
* Oil filler cap - P11,200
* Sports oil filter - P3,600
* Fuel cap cover - P4,300
Now that you know the complete TRD offerings for the 86, you can make a wiser decision as to which variant to buy. Have fun accessorizing!