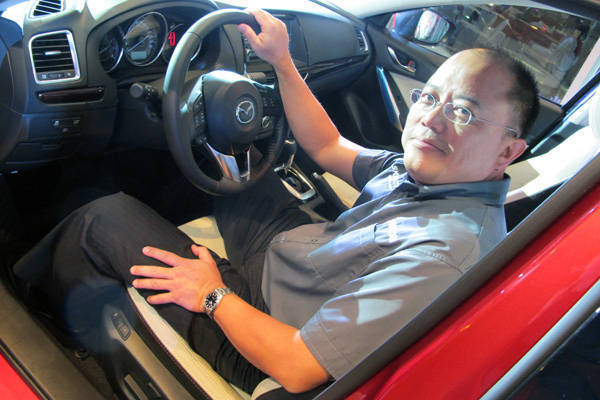 The last time Berjaya Auto Philippines CEO Steven Tan appeared on this website, people practically jeered at him because they thought he was being stupid for not righting Mazda's steep pricing in the Philippines. As you know, Berjaya took over distributorship rights to the Mazda brand from Ford, and there was a suggestion from some observers that the American carmaker might have deliberately jacked up the prices of new Mazda models since it knew all along that it was letting go of the Japanese brand.
When Berjaya assumed control of Mazda in our market at the start of this year, many were hoping the Malaysian company would adjust the pricing of its vehicle offerings. Alas, Tan could only say: "We cannot change the prices now because we will only upset a lot of people if we do so."
Naturally, our readers were disappointed, even accusing Tan of having "no business sense," prompting the executive to later issue a reply. (A commendable move, by the way.) You could sense from his statement then that he had an ace up his sleeve. That ace, it turns out, is the all-new Mazda 6, formally launched last night at Mazda Pasig. And as we've already reported, the introductory price of the new 6 is an amazing P1.705 million. Amazing because that amount is exactly the same price as the outgoing model. How incredible is that? We're not talking about a face-lifted model here; this is the all-new, third-generation version of Mazda's midsize sedan.
ADVERTISEMENT - CONTINUE READING BELOW ↓
Now, it isn't just the fact that Tan managed to keep and apply the old price to the new model, that is impressive. It's also how he arrived there. In explaining the pricing of the all-new 6, Tan showed the graph below to his audience. He said that spec for spec, the outgoing 6 model is about the equivalent of the current 2.4-liter Toyota Camry, which sells for P1.681 million and is sourced from Thailand (the 6 comes from Japan, Tan said). But then he wanted to give the all-new 6 a lot of additional toys, which he enumerated as follows:
* Skyactiv technology - P100,000
* i-ELOOP and i-Stop - P50,000
* Backing-up camera - P10,000
* 19-inch alloy wheels - P15,000
* Bluetooth Voice system - P10,000
* TFT touchscreen - P10,000
* Curtain and side airbags - P15,000
* Bi-xenon adaptive front lighting system - P15,000
The grand total of these high-tech toys is a whopping P225,000, according to Tan. And so, technically speaking, he should have computed for the new 6's price like this:
ADVERTISEMENT - CONTINUE READING BELOW ↓
Recommended Videos
TOYOTA CAMRY 2.4 (P1,681,000) + HIGH-TECH EXTRAS (P225,000) = P1,906,000
But then, Tan added, the all-new Mazda 6 would have been a challenging sell at that price point. His solution? Retain the old model's price!
And how was he able to pull it off? "Magic," the Malaysian boss told us.
Was Steven Tan's math correct?
UPDATE: Okay, so there's a slight inaccuracy in the equation. As pointed out by our eagle-eyed readers, the lower-variant Camry now has a 2.5-liter engine. Steven Tan's notes for his presentation probably still included the previous 2.4-liter Camry. We'll be honest and admit that this bit of info completely slipped past our fact-checking filter. Anyway, the error doesn't really deduct from the point that Tan was trying to make.
Photos by Vernon B. Sarne
ADVERTISEMENT - CONTINUE READING BELOW ↓