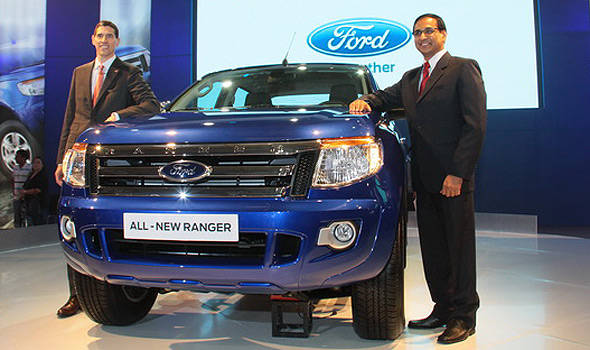 While the arrival of the all-new Ford Ranger pleased many people, quite a few were put off by it being available only with a 2.2-liter inline-four engine. One prospective customer at the auto show yesterday even strongly voiced out his disappointment over the unavailability of the more powerful 3.2-liter inline-five Ford Duratorq TDCi diesel engine with its prodigious output of 197hp and 470Nm of torque.
If you're looking to buy one, you'll have to wait for 2013 since that's when Ford Philippines will have it in their showrooms.
According to Ford Group Philippines assistant vice president for communications Anika Salceda-Wycoco, Ford Motor has only given the go-signal for Ford Philippines to bring in the higher-displacement model by next year--once the markets that are traditionally strong in pickup sales like Thailand have been satiated.
"While we'd like to bring it in as soon as possible, it's really up to Ford (Motor) when we can bring it," said Salceda-Wycoco.
So if you really want the Ranger, it's either you buy the currently-available 2.2-liter variants or you can place an early deposit for the more powerful 3.2-liter option and be one of the first in line when it finally reaches the Philippines. Who knows, maybe if enough deposits are placed, Ford Philippines might be able to convince its parent company to bring it in much, much earlier.
Continue reading below ↓
Recommended Videos