This is the Audi e-tron GT, the sister car to the Porsche Taycan—based on the same VW Group J1 platform and containing much of the same technology, albeit wrapped in an extremely sharp suit. It's not the first pure-electric Audi, of course. That title goes to its ever-growing lineup of e-tron SUVs, but it's definitely the most exciting.
There will be two versions of e-tron GT initially: the 'entry-level' e-tron GT quattro and the full-fat RS e-tron GT. Yup, this is also the first electric Audi to wear the RS badge. Both have a motor at either end for four-wheel drive, both have the same two-speed gearbox as the Taycan on the rear axle to maximize acceleration off the line, but also elevate efficiency at higher speeds, and both feature a 93kWh battery as standard—no shorter-range 79kWh, or rear-wheel drive option like the Taycan here.
The 'quattro' produces 469hp, or 523hp for a 2.5sec boost when you engage launch control—enough for 0-100kph in 4.1 seconds and a top speed of 245kph. Too slow? The RS gets 590hp or 637hp on overboost, making it the most powerful RS model to date, albeit in brief bursts, capable of 0-100kph in 3.3sec (half a second slower than the Taycan Turbo S, and 1.3sec slower than the new Tesla Model S Plaid) and a top speed of 250kph. Rib-crushingly quick, then, just not quite as sadistic as the Porsche.
Continue reading below ↓
Recommended Videos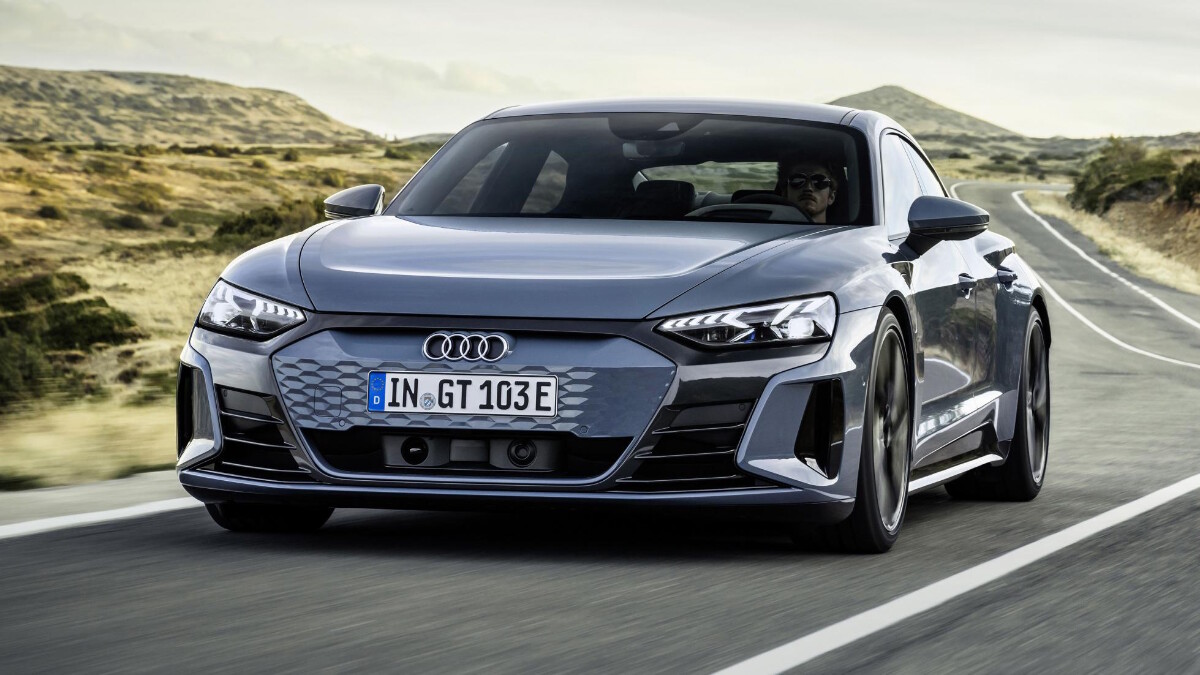 So, the Audi is being pitched as more of a rapid GT than a four-door sports car. Fast, but not as fast as the Porsche. That theory holds true when you get the measuring tape out, too. The Audi is a fraction longer, a little narrower, and a few centimeters taller than the Taycan, and there's a bit of extra cargo space, too—405 liters in the back, another 81 in the nose. But in isolation, you won't notice the difference. This is a low, long, wide, and lean-looking four-door that hoovers up attention wherever you go in it.
Despite sharing its bones and gizzards with the Taycan, both cars won't be built in the same place. The e-tron GT will be assembled alongside the R8 at Audi's Neckarsulm factory, which puts a bit of a cap on the number it can build, initially. Audi reckons "something in the high four figures" a year is achievable—so roughly a 10,000-unit ceiling—compared with the 20,000-odd Taycans that Porsche flogged in 2020.
On the road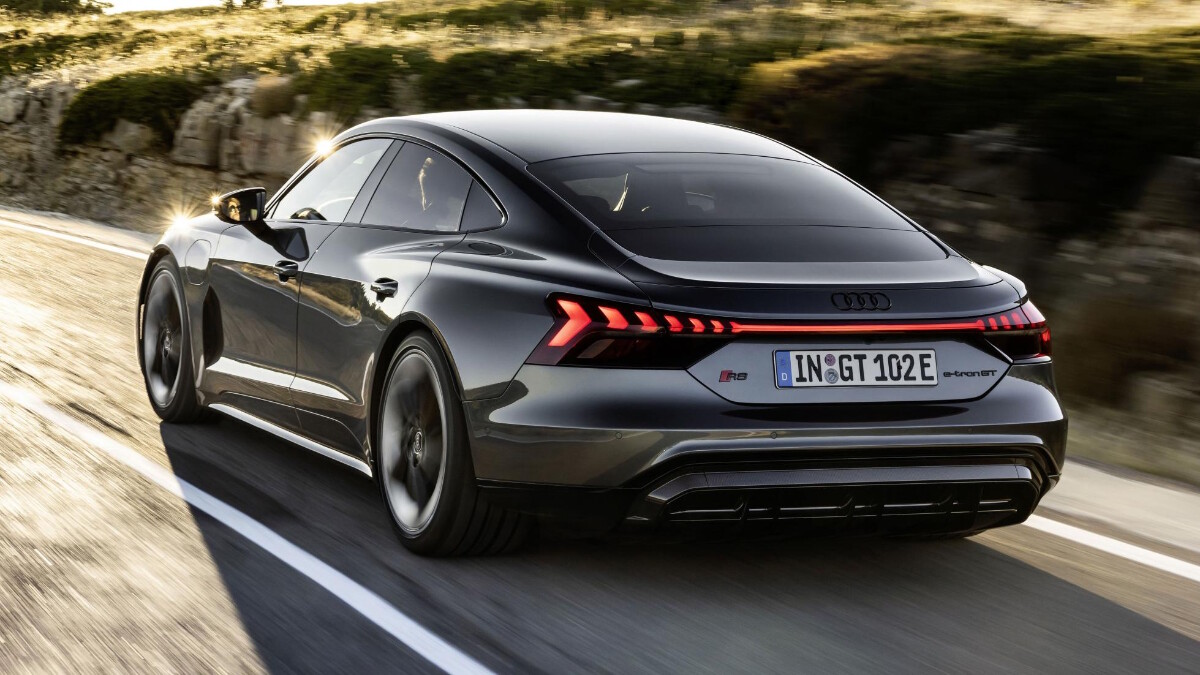 Before we get into all that, some housekeeping. Our RS test car was fitted with every possible dynamic extra: four-wheel steering, air suspension (standard on RS, normal adaptive dampers standard on the quattro model), carbon-ceramic brakes (steel discs standard on the quattro, cast-iron discs with a tungsten carbide coating standard on the RS), and an electronically controlled rear differential. We'll report back on a simpler-spec car once we get our hands on one, but for now, we can confirm that all the extra tech works wonderfully.
The ride, even on 21-inch wheels, is magically supple, the grip is otherworldly (honestly, the speed you can carry around a roundabout is naughty), and the four-wheel steering is a must-have if you often find yourself maneuvering in tight spaces. Given that when you brush the brake pedal, the initial deceleration—up to 0.3 g—is all regen (meaning a gentle driver could realistically punt around in one of these without ever actually pushing pad against disc), the carbon-ceramic discs do feel like overkill. But they should come into their own if you ever venture out on track.
The steering is fast and precise, but not particularly engaging, much like in any other modern fast Audi bar the R8. The acceleration is, well, ballistic. To anyone comparing 0-100kph times and thinking this is a slower car than the Taycan Turbo or Tesla Model S...it isn't. Not in the real world, at least—what matters is how fast a car feels, and the RS e-tron GT feels as fast as you could ever comfortably want to go in a road car. Anymore and you just start to feel sick. The sensation is of a bottomless well of power, always at your disposal—revs don't matter, gears don't matter, just twitch your right foot and you teleport forward. Supercar pace without any of the effort.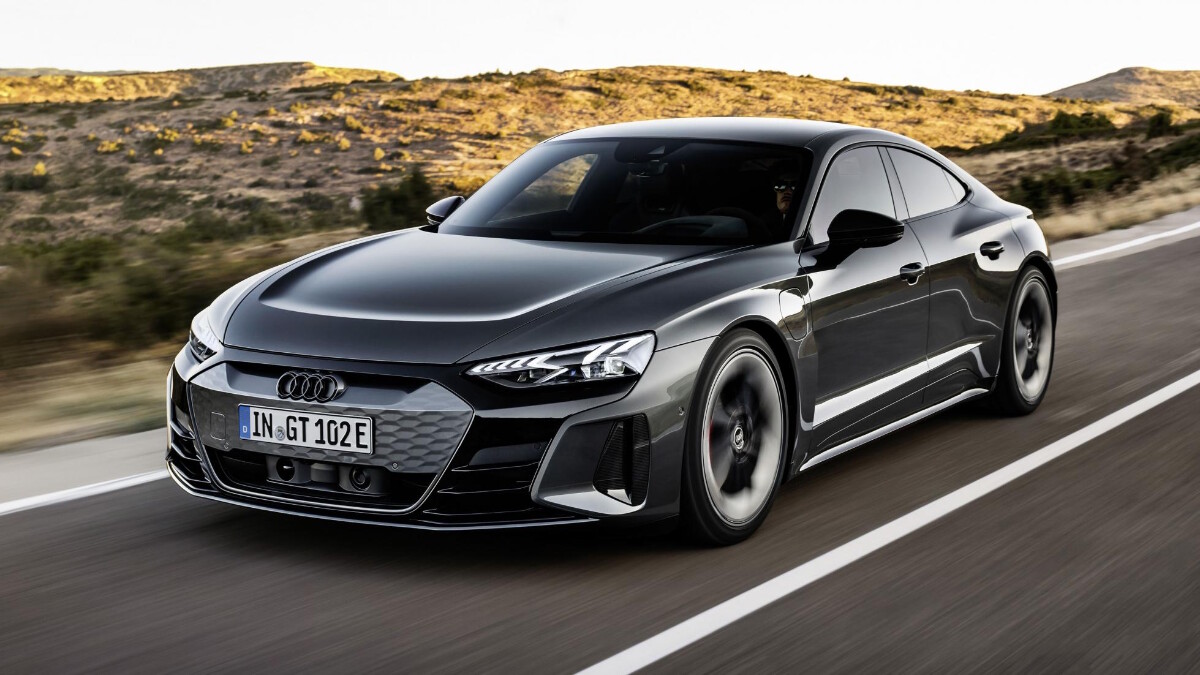 That could and would get boring if Audi didn't have its handling sorted, but it does. The body control on this 2.3-ton car is such that it feels about 400kg lighter than it actually is. Agile and alert, when physics dictate, it should be heaving around on its suspension. Is there a fraction more body roll than a Taycan? Perhaps, but you'd need to drive them back to back to notice the difference. Audi claims the center of gravity is lower than an R8's, and we don't doubt it for a second.
Audi has worked hard on producing a sonic replacement for V8 throb, too. The 'e-tron sport sound'—standard on RS, optional on quattro—uses two control units and amps in the boot to feed two speakers inside and two outside the car. Using data on the motor speeds, throttle input, and your ground speed, it pumps a sci-fi-style synthetic warble into the cabin (that can be toned down or up via three settings) that's not unpleasant but not as obvious as the one you get in a Taycan. Turn the car on and there's a surprisingly loud pulsating hum from the outside, to warn pedestrians of your imminent arrival.
Resist your urges to boot it at every opportunity, and Audi claims a WLTP range of 488km for the quattro and 472km for the RS—the former a few kilometers more than the RWD-only entry-level Taycan, and the latter a roughly 20km improvement on the equivalently powered Taycan Turbo. Like the Taycan, an 800V architecture means DC charging at up to 270kW is possible, if you can find a point capable of it. At peak speeds in optimum conditions, that means 100km of range in just five minutes, or 0-80% in less than 23 minutes.
On the inside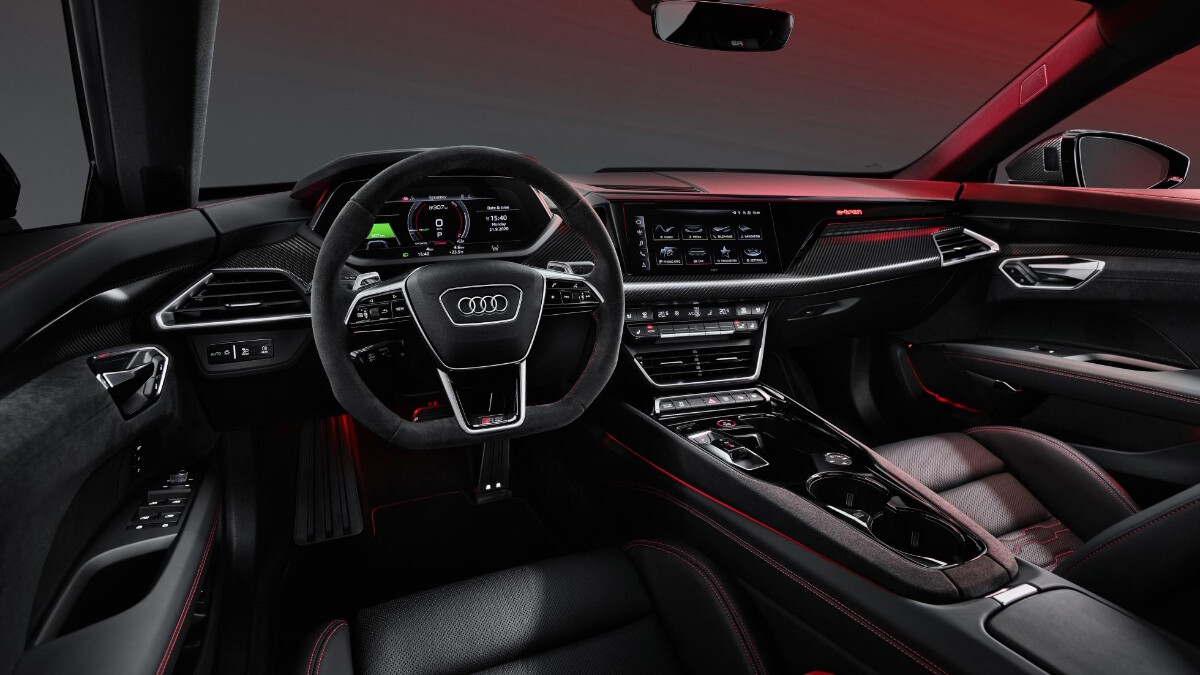 Interiors have always been Audi's forte. It's gone back to its roots with the e-tron—combining significant screenage with actual physical buttons—and it works brilliantly. You get a 12.3-inch virtual cockpit behind the wheel, switchable between three different layouts: classic, sport, and e-tron. The latter maximizes all the important info on the drivetrain, making it perfect for anyone with chronic range anxiety. In the center of the dash is a 10.1-inch touchscreen, below which are several banks of physical switches for the aircon, the heated seats, the drive modes, and so on.
Special mention to the simple but effective lozenge-shaped gear selector, the illuminated e-tron logo in front of the passenger, and the overall quality of materials—it's chunky metal, leather, and alcantara galore in the RS. Unless, of course, you go for one of Audi's on-trend leather-free options with artificial hide, fabrics made from recycled plastic bottles, and carpets made from old fishing nets. Rear visibility isn't fantastic, but the rear-facing and 360-degree camera system is, so it's never a problem.
There's proper space in the back for a pair of adults and their feet courtesy of a handy 'foot garage' notch cut into the underfloor battery, and also a more-than-decent-sized amount of cargo space, although it's a rather long and flat space with a small bootlid, not a full hatch. Bikes will have to go on the roof.
Final thoughts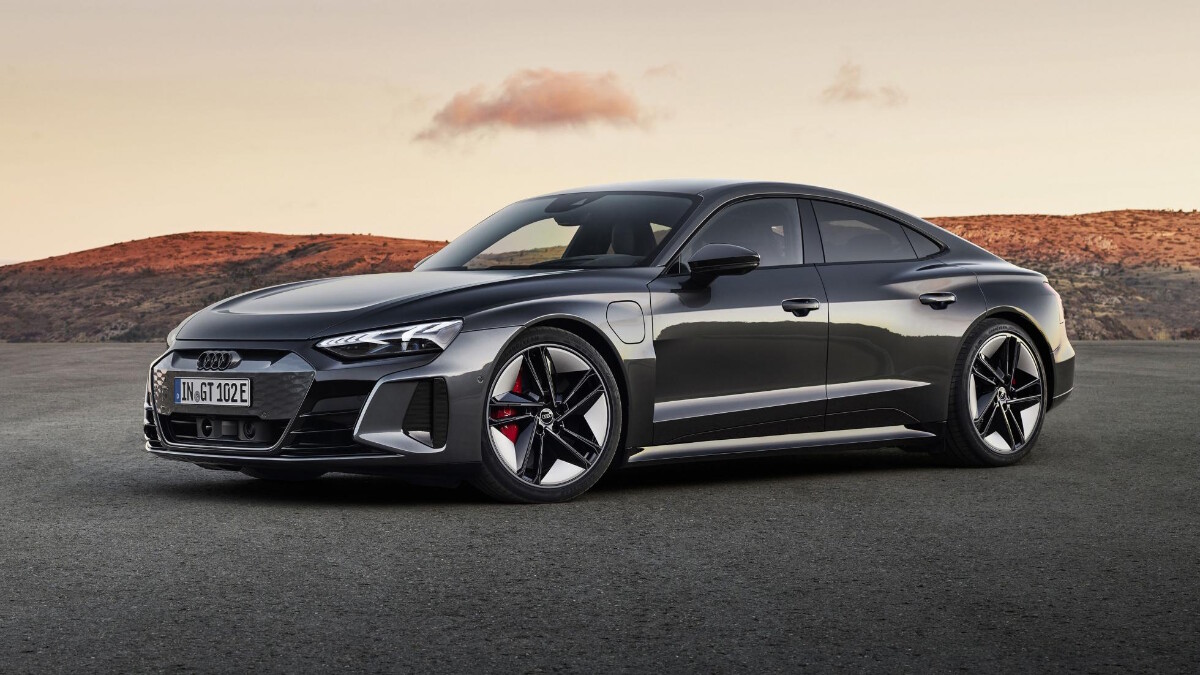 The e-tron GT's real strength is that it's not trying too hard to be a car from the future. It's simply a handsome four-door GT that plays to Audi's strengths—namely, a high-quality interior, comfort and usability, and a belting turn of pace that's more than worthy of the RS badge. An electric powertrain fits the brand's aspirations as a tech-leader, too, which means there won't be nearly as much fuss as when Porsche took the wraps off the Taycan.
In a world where Tesla is claiming a 800km+ of range on the latest Model S, the Audi's 480km range will still be a limiting factor for some, whether they need to cover big distances regularly or not. But it shouldn't be, because in every department, this is a hugely impressive car: comfy enough to be a daily driver, but with face-melting acceleration in its locker; a practical four-door, but with chiseled good looks. If the one sacrifice for accessing all that talent is planning your road trip carefully to incorporate some rapid charging, then it's a small sacrifice to make.
Now for some bad news. There are no plans to offer a simpler, rear-wheel-drive version as with the Taycan (our current pick of the electric Porsche range), and no plans to follow the Taycan Cross Turismo with an Avant version of the e-tron GT. Disappointing, given Audi is the fast-wagon company, but there's plenty of time to change its mind.
Is this better than a Taycan? It offers a fraction more comfort and space, and a smidge less speed, but really, the differences are minute. It'll come down to which brand you prefer and which body you're drawn to—and on that basis, the e-tron GT is in with a shout of ruffling some feathers in Stuttgart.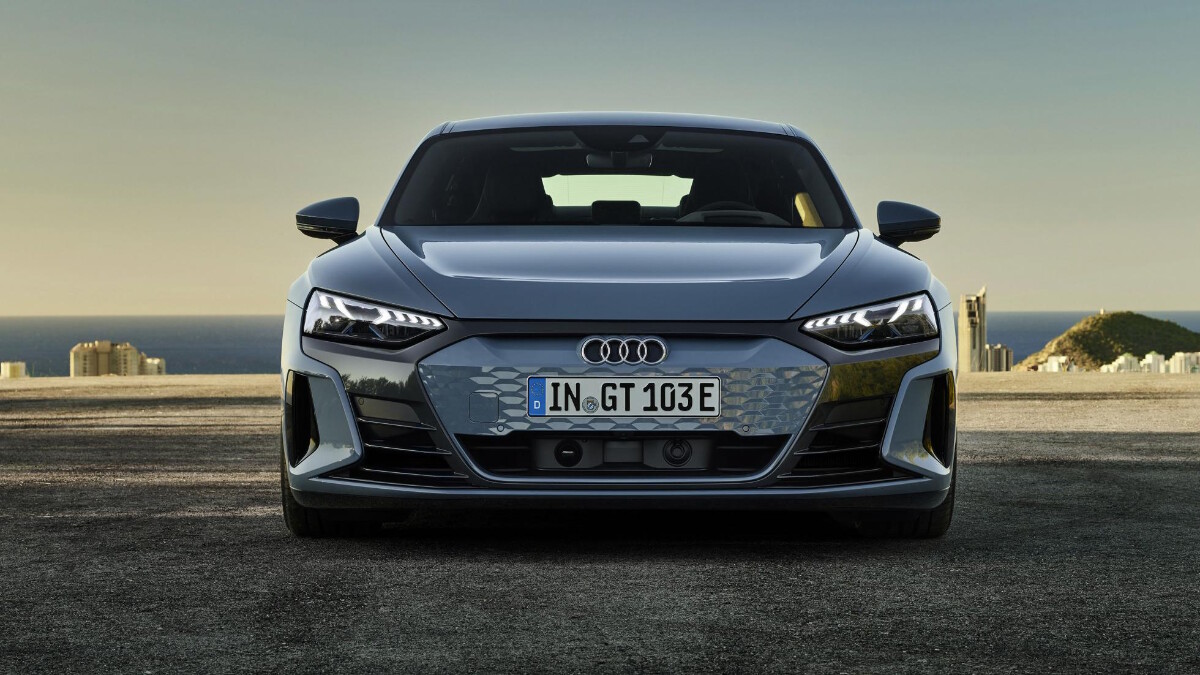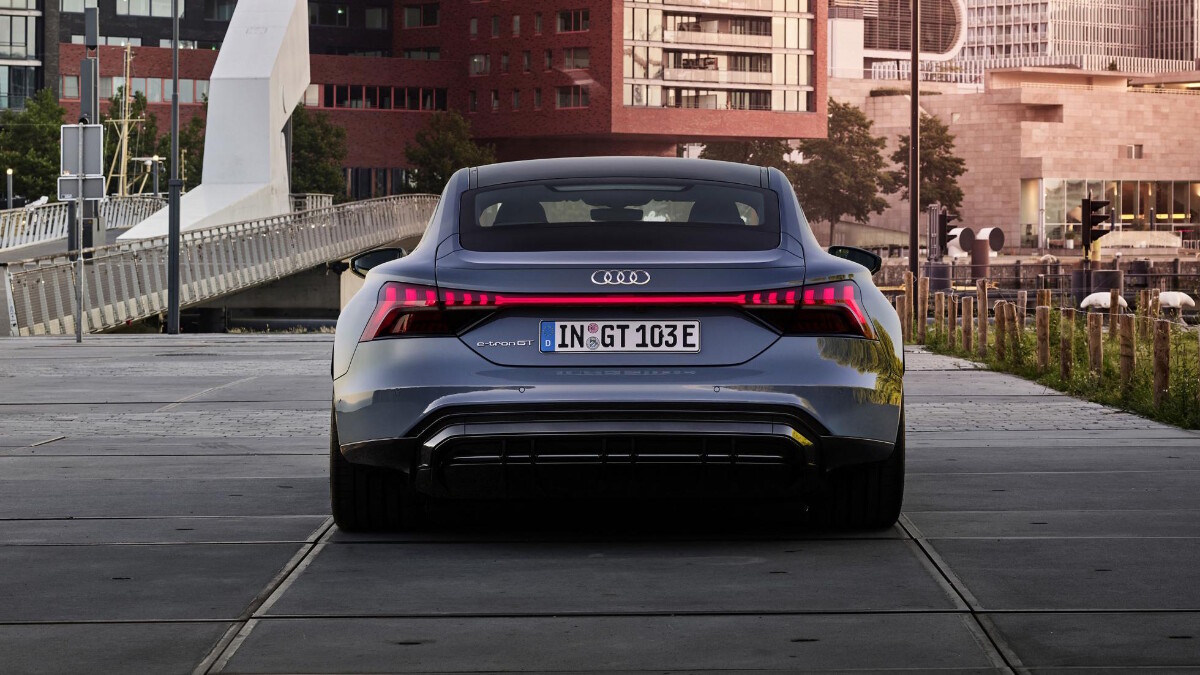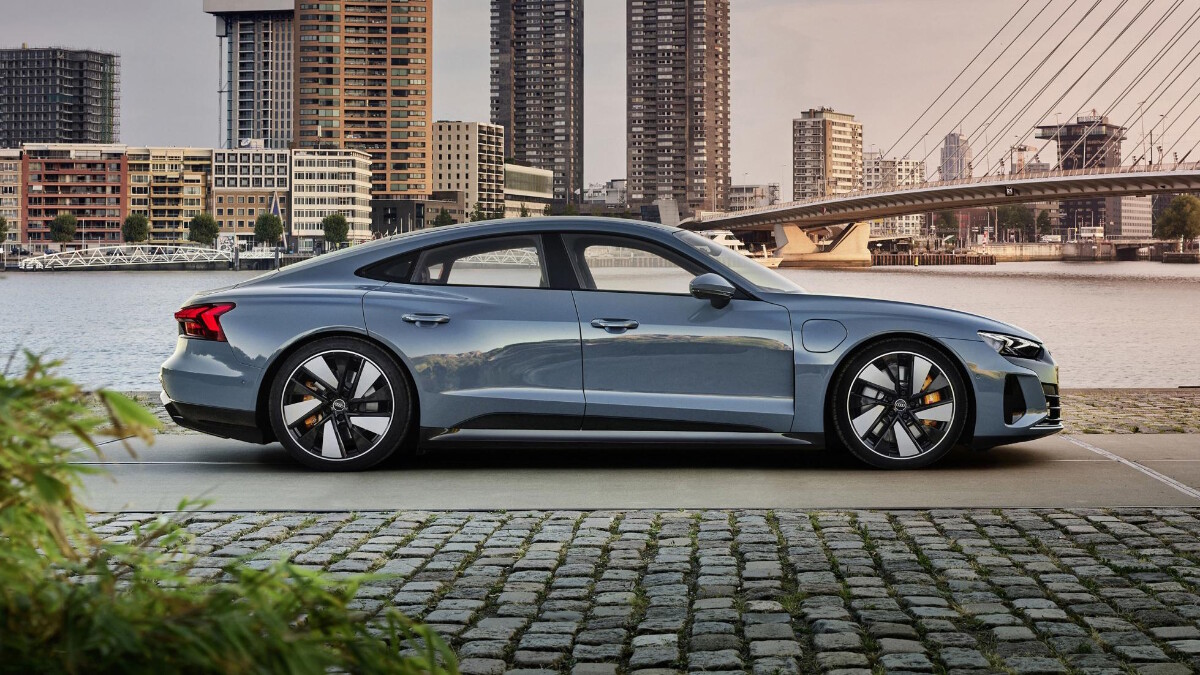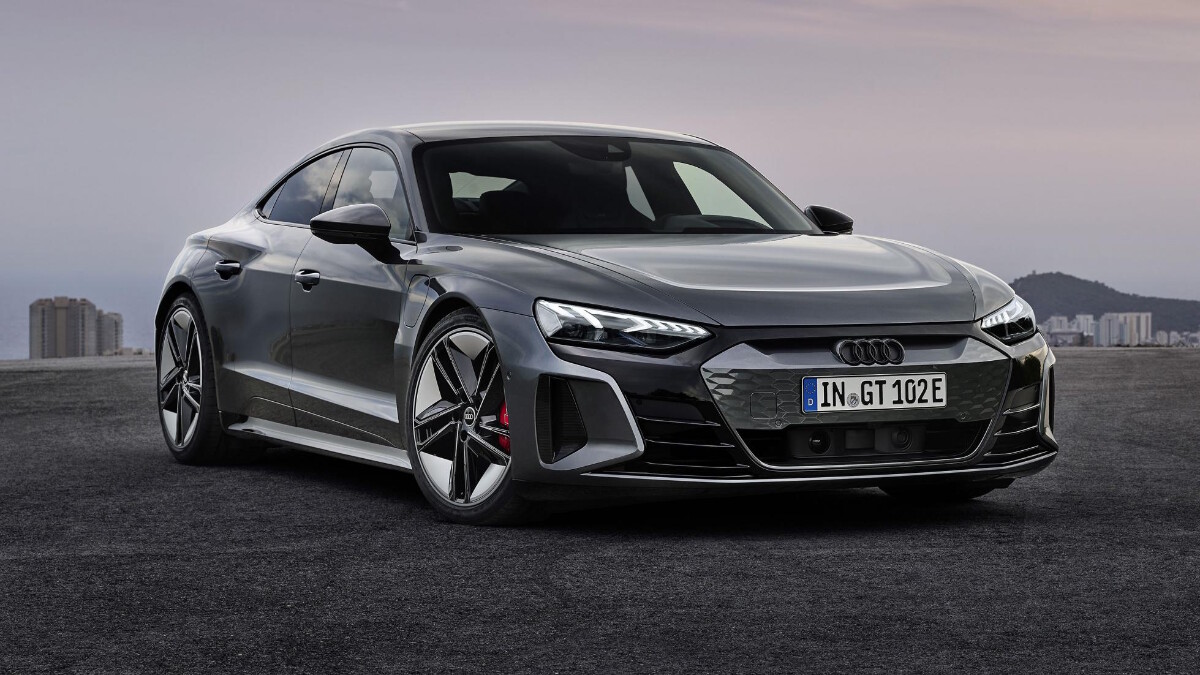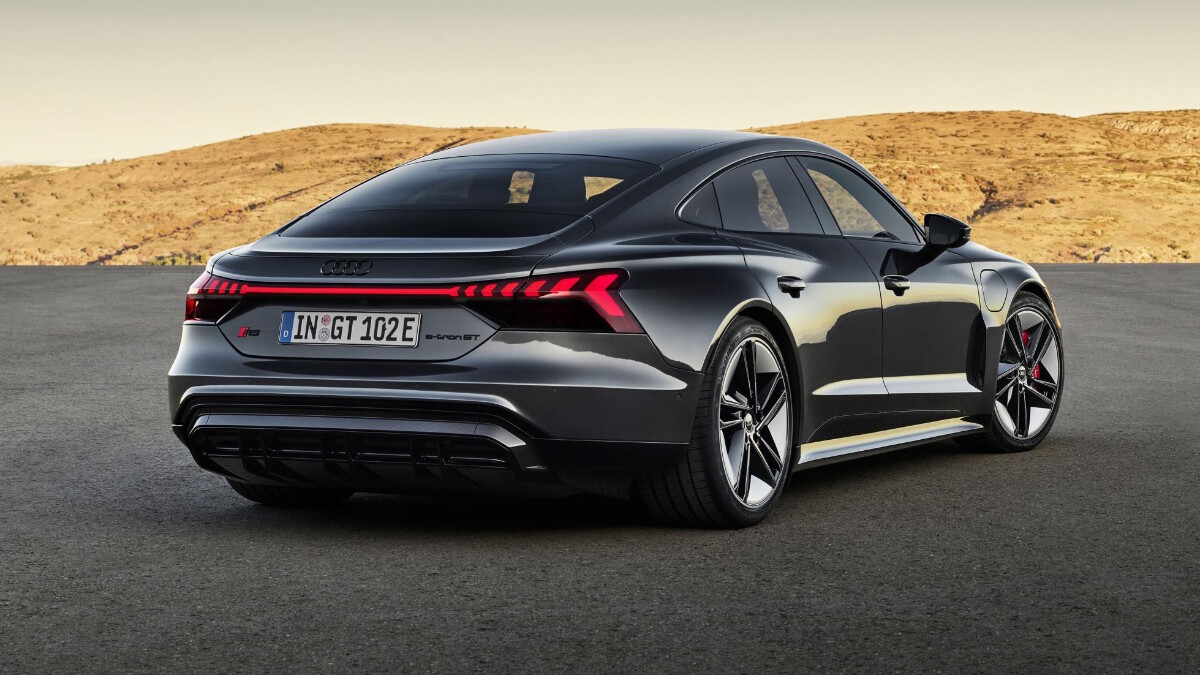 NOTE: This article first appeared on TopGear.com. Minor edits have been made.