The Ioniq 5 might look like an '80s hot hatch mixed with a dash of concept car and a splash of DeLorean, but what we have here is Hyundai's first completely bespoke EV. Target? Sideswipe Tesla, mug the Volkswagen ID family, and start the Ioniq EV family on the path to world domination. Muahaha.
But Hyundai has built EVs before, right?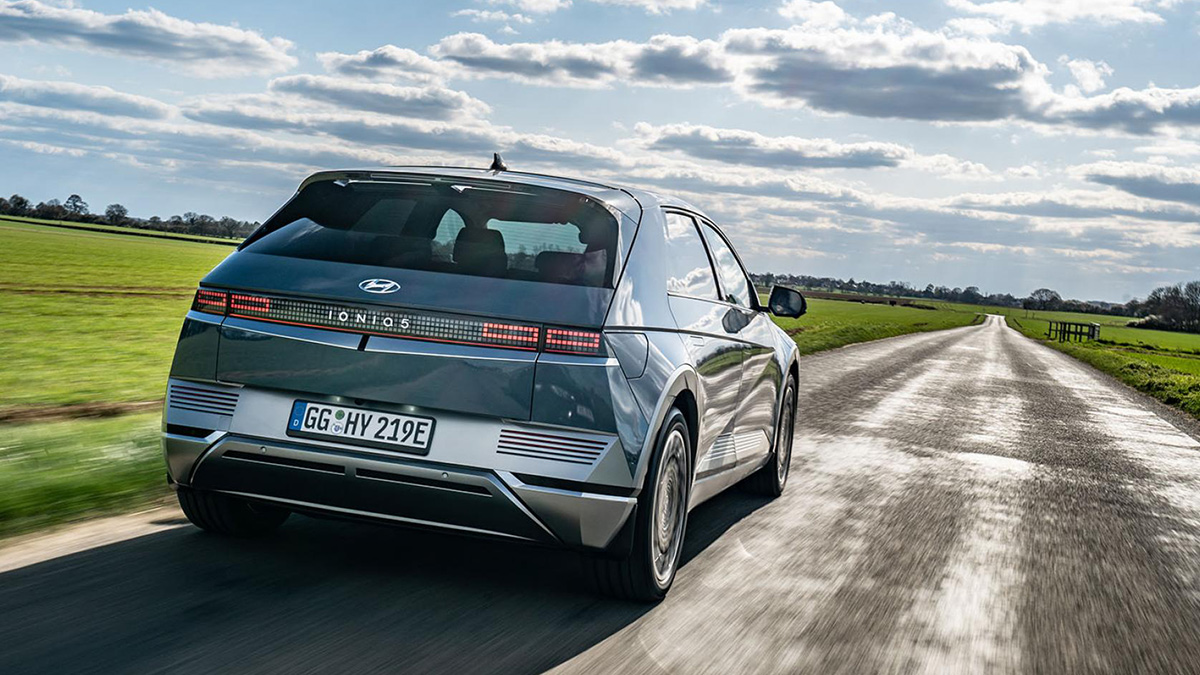 ADVERTISEMENT - CONTINUE READING BELOW ↓
Right. It's already proved capable of building some thoroughly decent and worthy electric cars—the old Ioniq and current Kona Electric are both exceedingly pleasing in an ordinary, inoffensive sort of way.
Here, Hyundai's taken what it learned with those cars, and applied it to a new platform designed specifically for battery-powered motoring—and draped its most ambitious design ever over the top.
It's a real love/hate car, the Ioniq 5. And how many other Korean hatchbacks can you say that about?
Tell me about the engineering, while I ponder how to clean those wheels…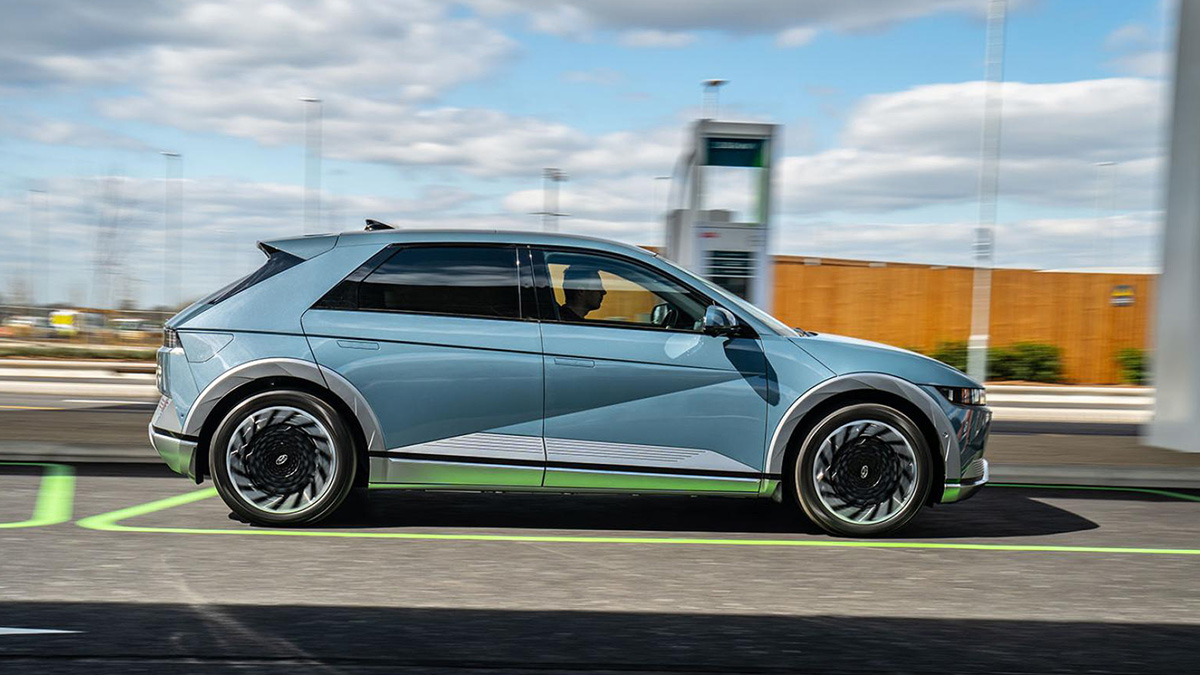 ADVERTISEMENT - CONTINUE READING BELOW ↓
Recommended Videos
The Ioniq 5's new platform nails the current go-to EV brief. The wheelbase is a monstrous 3,000mm long—longer than a BMW 5-Series' wheelbase—while the bodywork overhangs are short.
This means a spacious interior, and one with a flat floor, because the batteries are of course buried under the passenger cabin to keep the center of gravity in check. And because the wheelbase is enormous, there's space for plenty of batteries in the first place.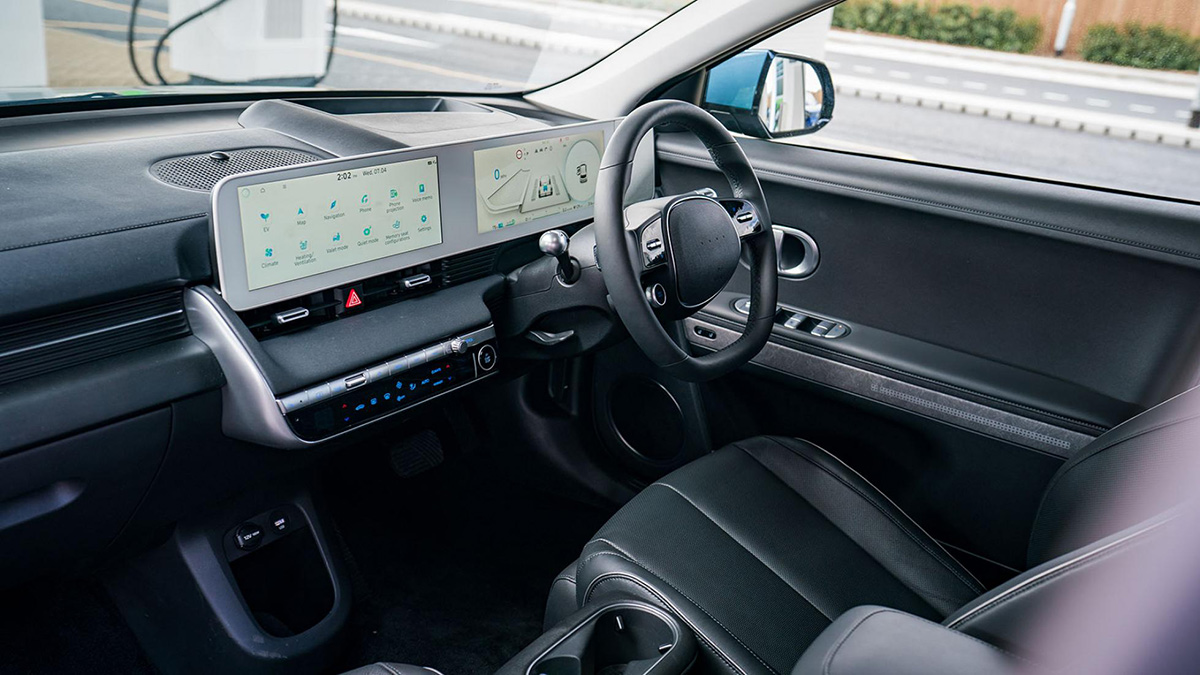 ADVERTISEMENT - CONTINUE READING BELOW ↓
Let's talk range. In the base model, there'll be a 54kWh pack. Upgrade for more range and you'll get a 72kWh battery, which should be good for a claimed WLTP range of around 467km. Real-world range will depend on how many motors you have.
Standard spec is a rear-drive motor good for 165hp. You'll also be able to spec a dual-motor, 4x4 set-up with just over 300hp. Naturally, the most long-range Ioniq 5 will have a rear-wheel-drive chassis allied to the bigger battery.
But, like the smaller Honda e, this will be an EV you buy chiefly for its design. Only here, you don't have to make so many excuses and sacrifices after you've fallen for the looks.
What about charging?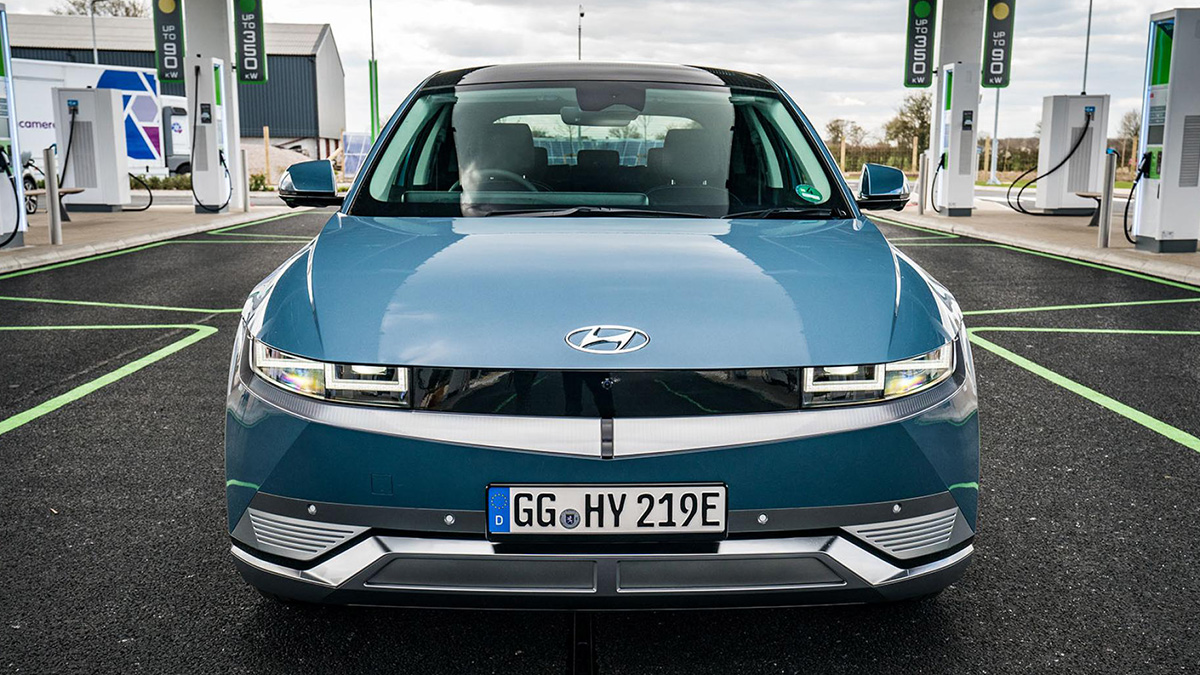 ADVERTISEMENT - CONTINUE READING BELOW ↓
Until now, Porsche's Taycan was the only EV with an 800-volt charging capability, which basically means heavy-duty electrical engineering under the skin allowing charge to thunder in like a fire hose filling a paddling pool.
However, Hyundai's squeezed the same tech into the Ioniq 5, and the upshot of that is that on a 350kW rapid charger, you can juice up from nearly flat to 80% charged in just 18 minutes. Only got time for a five-minute pit stop? Even that buys you 100km.
'Course, you've got to find a 350kW hub, but buyers who spec the launch edition of the Ioniq in the UK will get a two-year subscription to the Ionity charging network thrown in, so you'll likely have more foolproof charging sessions than if you were relying on EcoTricity…
Back to the car then. Is it practical?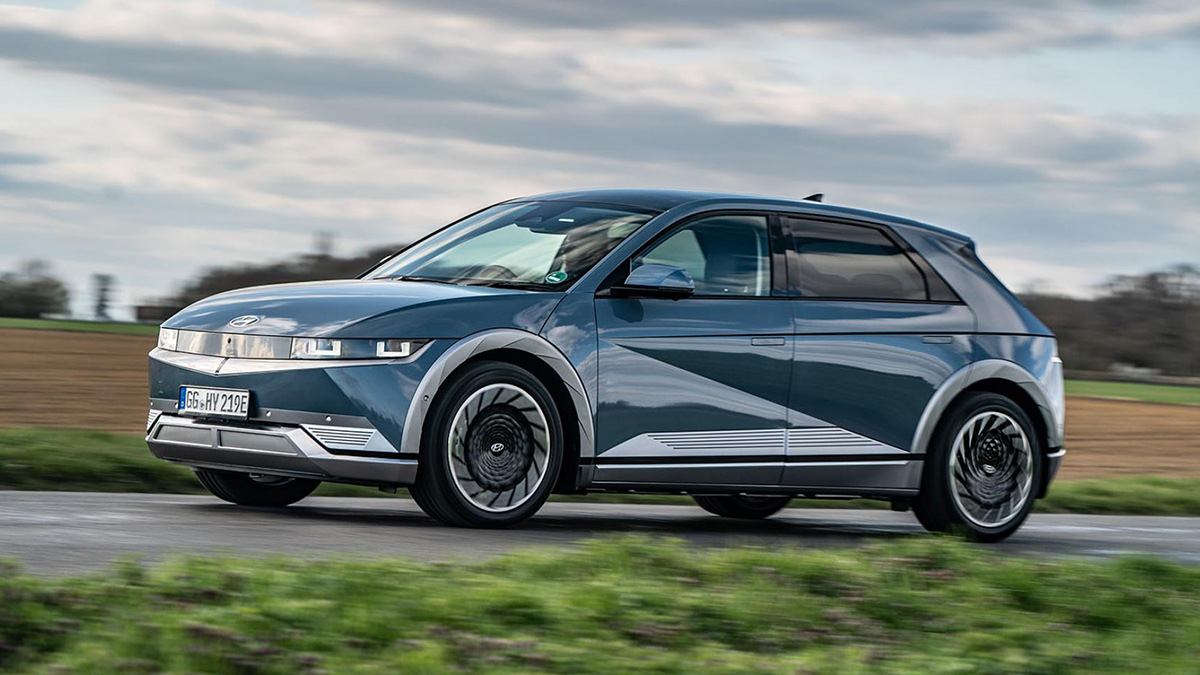 ADVERTISEMENT - CONTINUE READING BELOW ↓
Well, the front boot is a tiny 57-liter carry space barely big enough to swallow a charging cable, but that'll mostly live under the rear floor, in a shallow but useful storage tray.
But what you do get is a hugely spacious true five-seater, and a big 531-liter cargo bay. The doors open wide and with no transmission tunnels to trip over, clambering in and out is a breeze.
Once inside, the Ioniq 5's interior shapeshifts to suit your needs. The center console slides 140mm forward and back, so you can either present more convenient charging ports to your screen-zombie children, or offer them more legroom to lose sweeties in.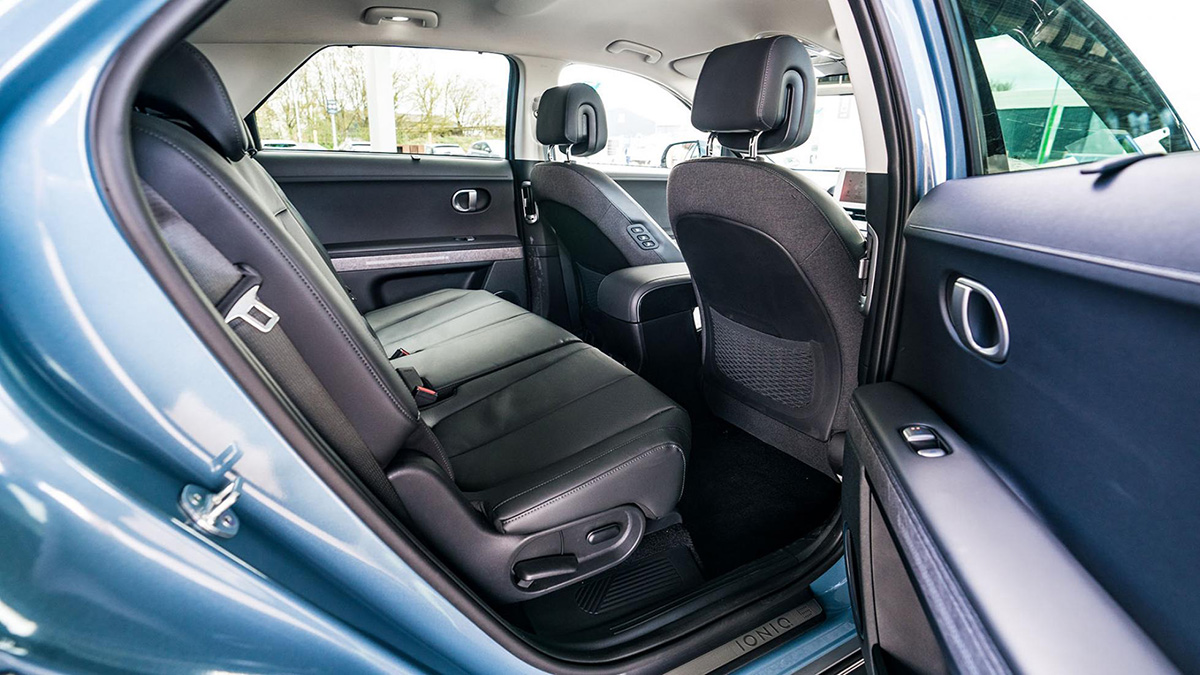 ADVERTISEMENT - CONTINUE READING BELOW ↓
Hyundai calls this feature the 'Universal Island,' because 'sliding armrest' was apparently 'too literal' and 'not vomitworthy.'
 Once the 'island' has experienced some tectonic shift towards the back, the driver can elegantly sidestep out via the passenger door—handy if you've parked in a narrow street. Or got stuck diagonally in a ditch. Or, thanks to a button on the key, the car will actually drive itself—while empty—out of narrow garages. You just have to summon it from a close distance, and watch as it creeps towards you like a timid woodland animal.
What about how it's put together?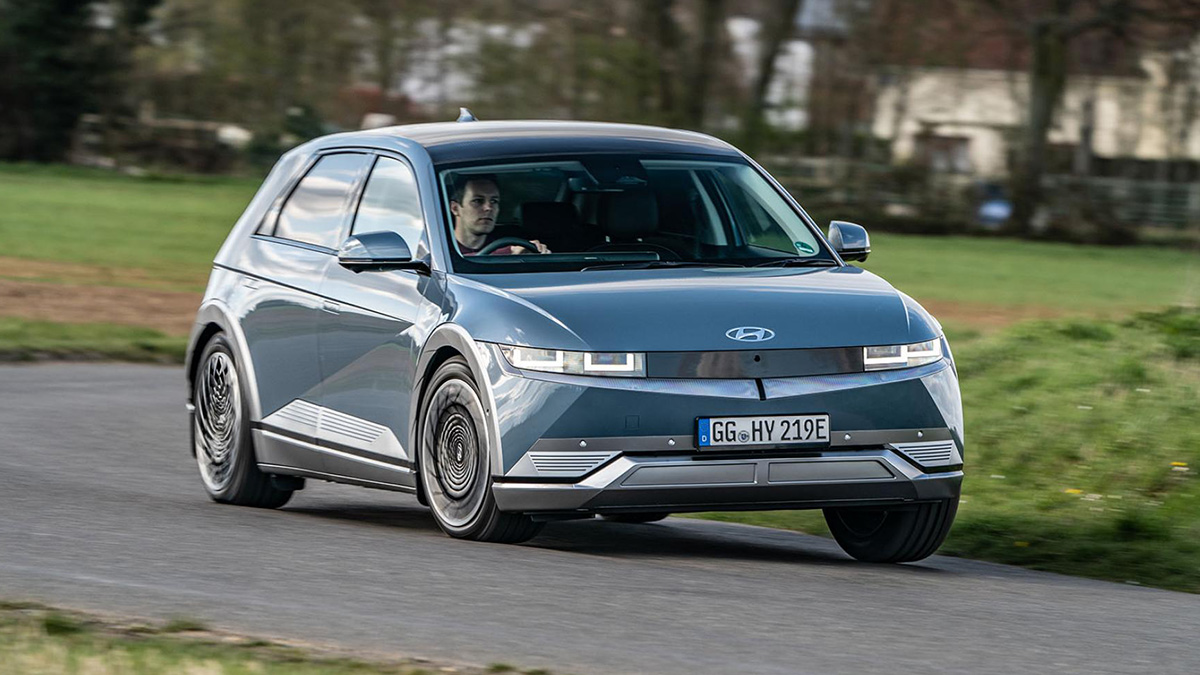 ADVERTISEMENT - CONTINUE READING BELOW ↓
I won't go on about build quality here, because this Ioniq is a prototype. So it didn't have the finished soft-touch plastics, the boot cover rattled, and the range computer was about as good at maths as I am. The finished car you'll buy is festooned with trim fashioned from recycled plastic bottles, plant-based fibers, and eco-friendly paint.
From the touch-sensitive climate control panel to the bright, crisp displays and the magnetic panel to the side of the 12.3-inch twin-screen multiplex (so you can affix notes and photos of your favorite pet/child /Cold War fighter jet), it's obvious this is going to be a cabin that majors in a sense of techy wellbeing. It's a Silicon Valley coffee shop on wheels.
Enough interior design chat. What's it like on the road?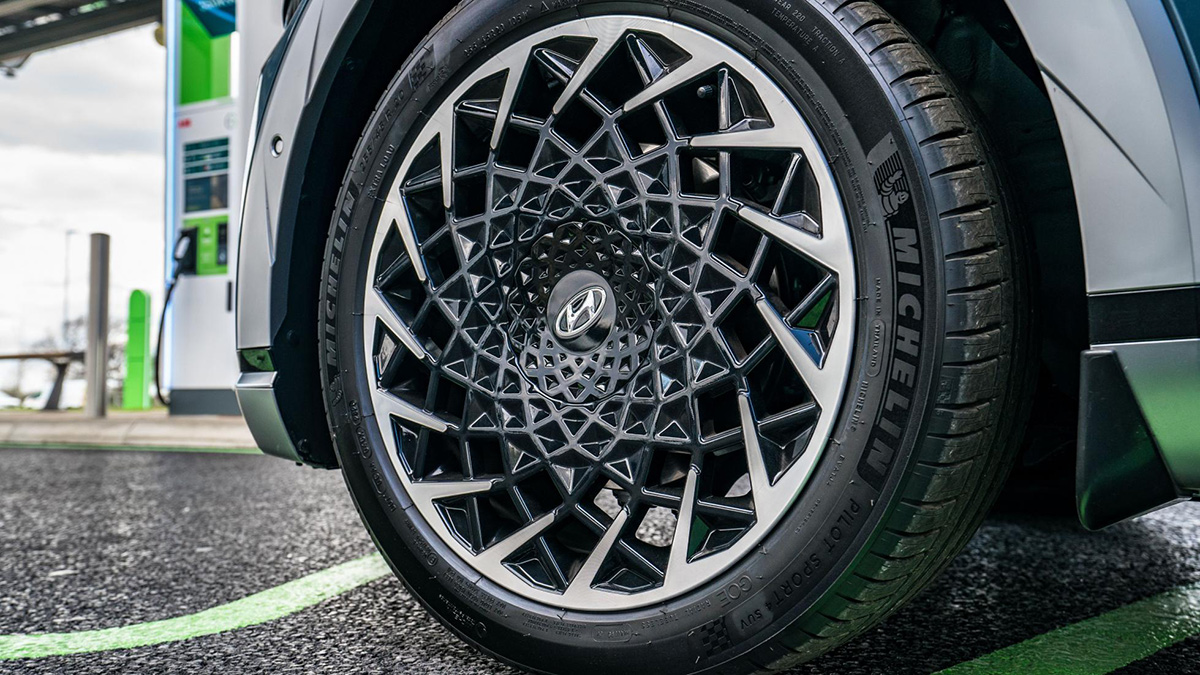 ADVERTISEMENT - CONTINUE READING BELOW ↓
The first thing you notice is how high up you're sat. You've met plenty of normal hatchbacks pretending to be SUVs. The Ioniq 5 is the opposite. This is a commanding driving position in a car that looks like a chunky hatchback.
Then you notice the rotary drive selector control is a bit of a fiddle, hidden low and to the right of the slender steering wheel. The paddle shifters intuitively add and remove re-gen braking. Slowing up for a roundabout by clicking them—instead of using the brake pedal—quickly becomes the Ioniq 5's in-built game.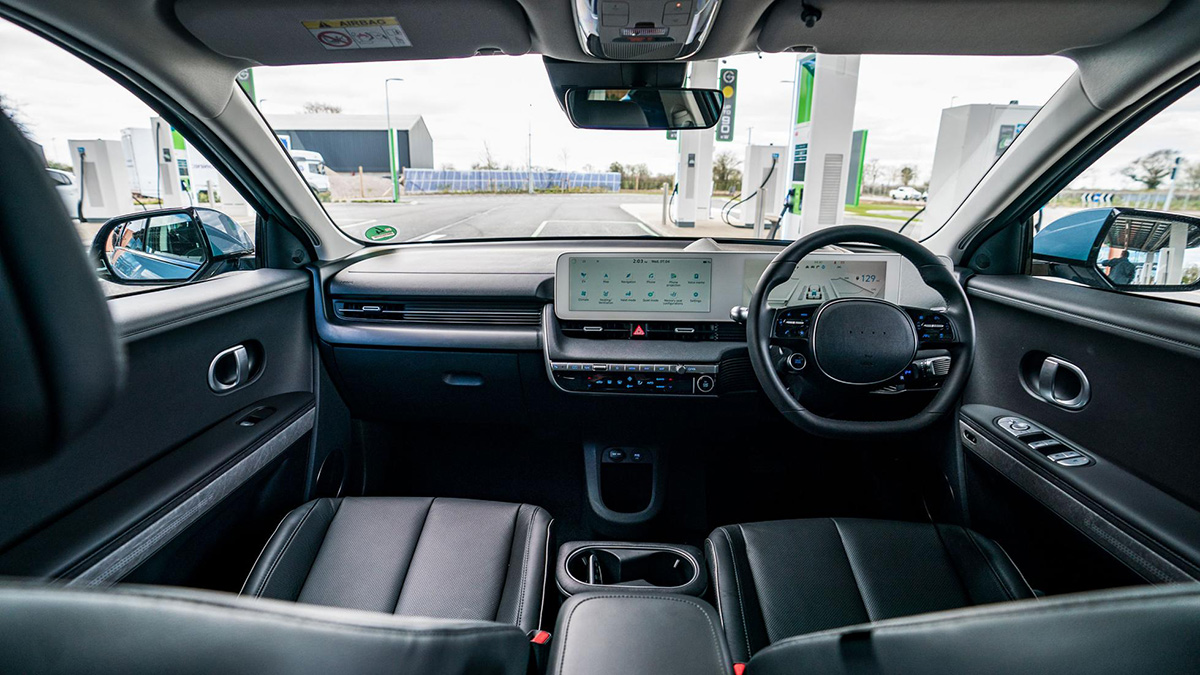 ADVERTISEMENT - CONTINUE READING BELOW ↓
The third thing you notice is it's rather swift. All-wheel drive and 588Nm shrugs off the Ioniq's 2,020kg curb weight and makes this car a serious piece of A-road overtaking kit.
And after that… there's not a huge amount to notice anymore, because this is the new EV playbook we're all steadily becoming accustomed to.
It's fast, but tails off about 130kph. There's no discernible motor whine, and though Hyundai went for old-school mirrors instead of rear-view cameras, wind noise is well-hushed. It steers quickly, to imbue a sense of agility, but here the weight and general unsportiness catch up with the Ioniq 5.
This is not a car you'll seek out corners in, it's a car that deals with them, just fine, and gets on with its day.
So it looks all edgy and angular but it's actually a big softie?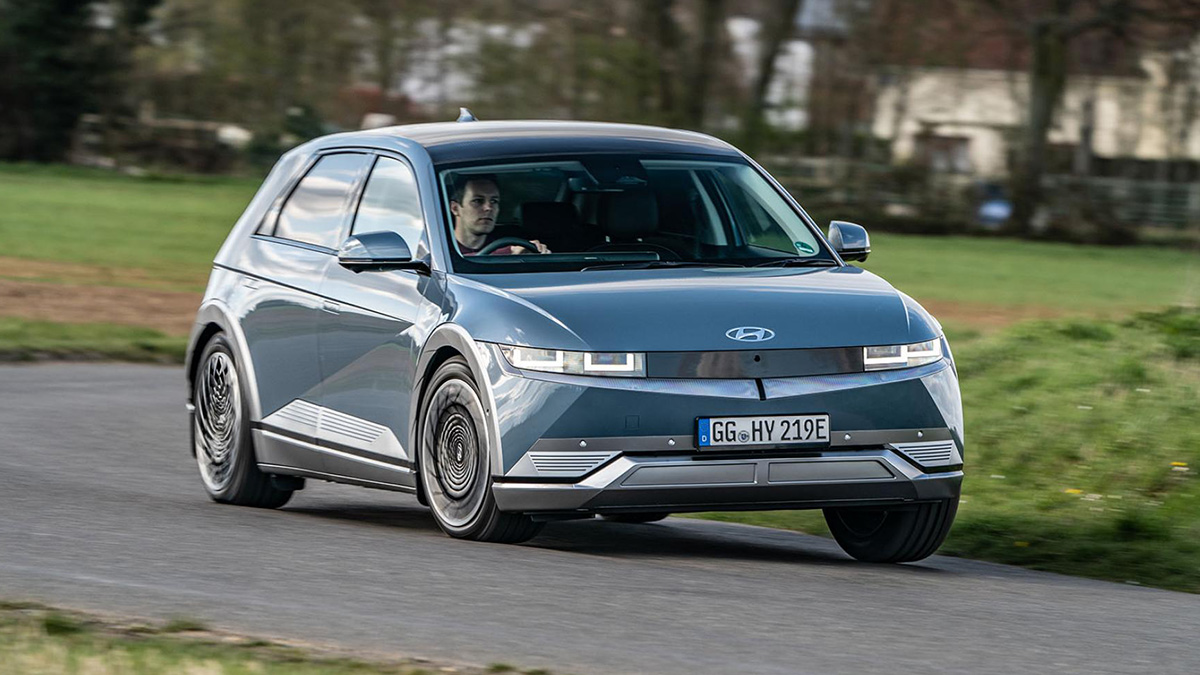 ADVERTISEMENT - CONTINUE READING BELOW ↓
Here's what I really like about the Ioniq 5. Some cars try to pretend they make the world better, that all journeys inside them are voyages of stimulating discovery and wonder. Which is obviously nonsense.
In here, Hyundai seems to be saying. "Look, we get it. Car journeys are boring and often stressful. There are roadworks and jams and speed bumps and middle lane hoggers in Vauxhalls. Public recharging is a lottery and even in a stodgy average speed camera zone, there's an Audi Q7 so close to your back bumper he can read what radio station you're listening to."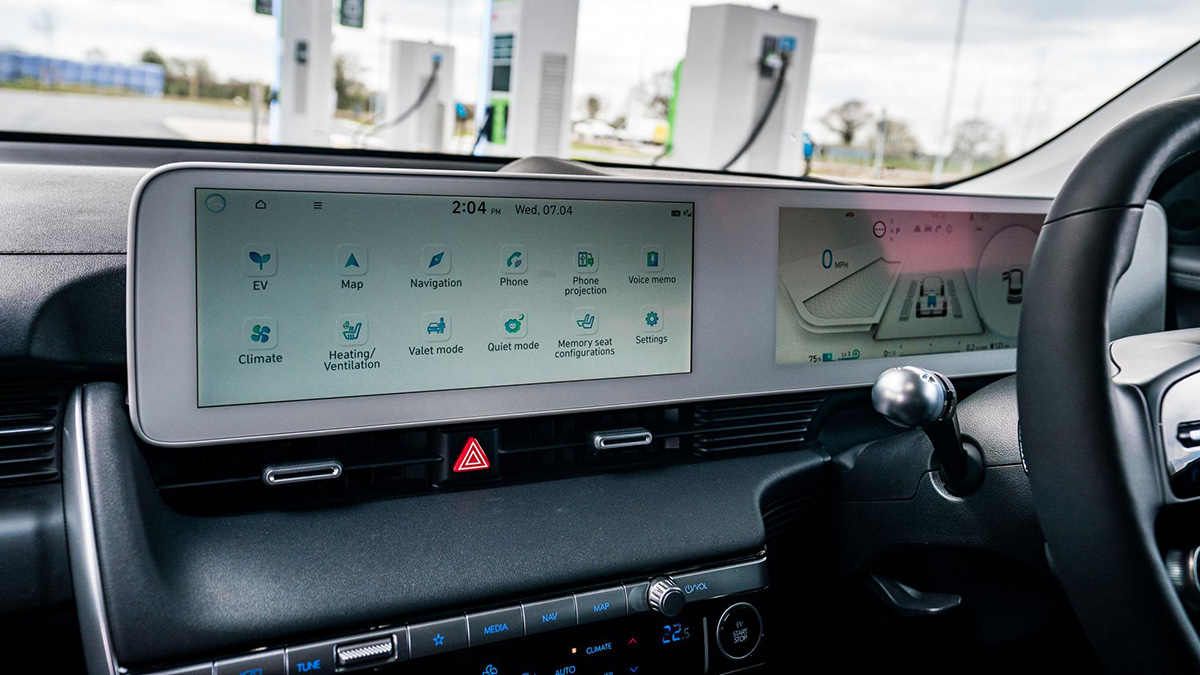 ADVERTISEMENT - CONTINUE READING BELOW ↓
And in response, Hyundai's built an EV that's trying to soothe all of that away. It's comfortable, easy to use, and not a bit sporty. The Ioniq 5 seems to be an EV built for the sometimes irritating world we have to drive around in, not the utopian one we wish we had.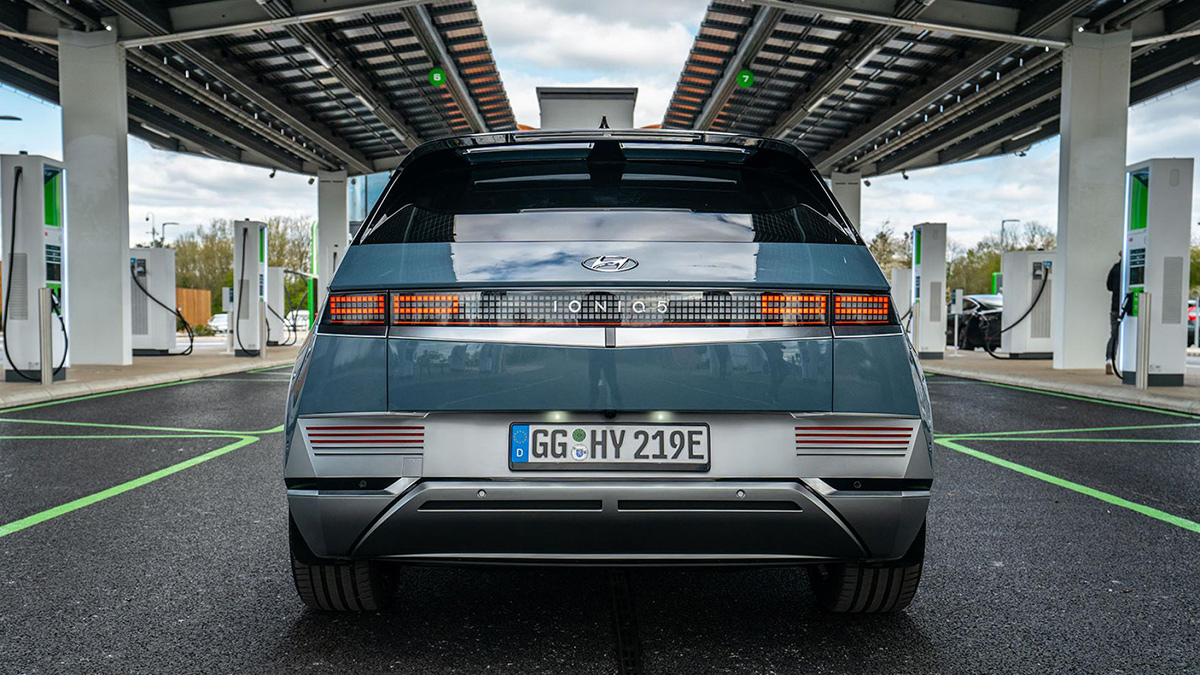 ADVERTISEMENT - CONTINUE READING BELOW ↓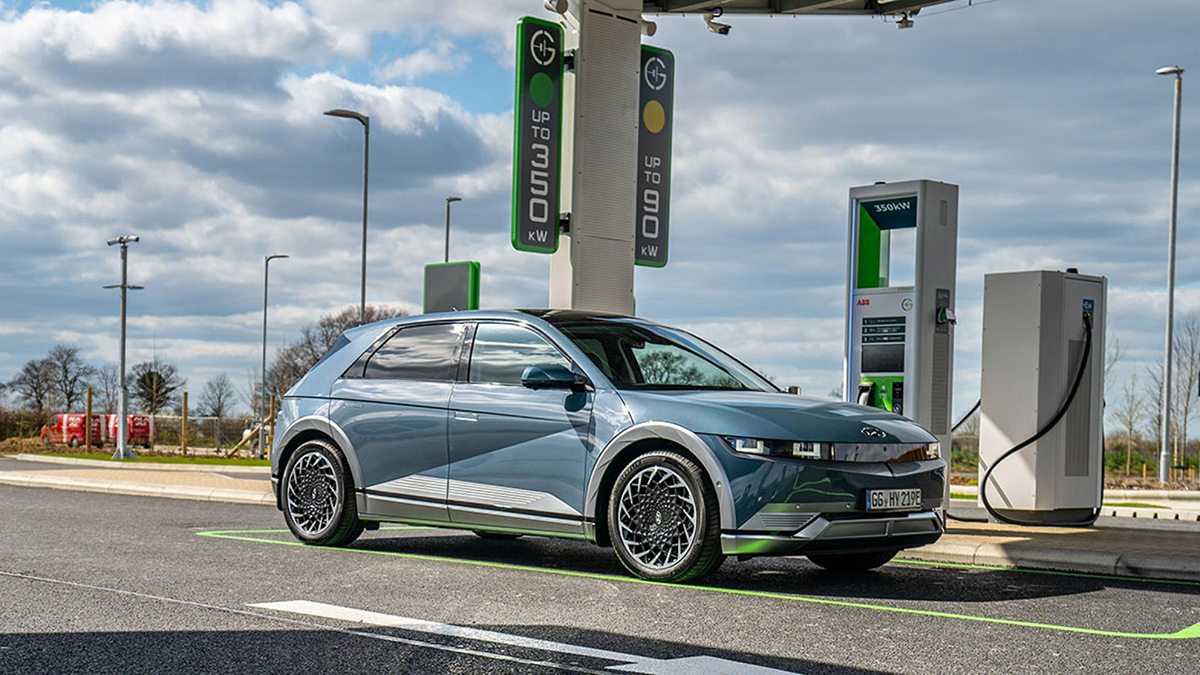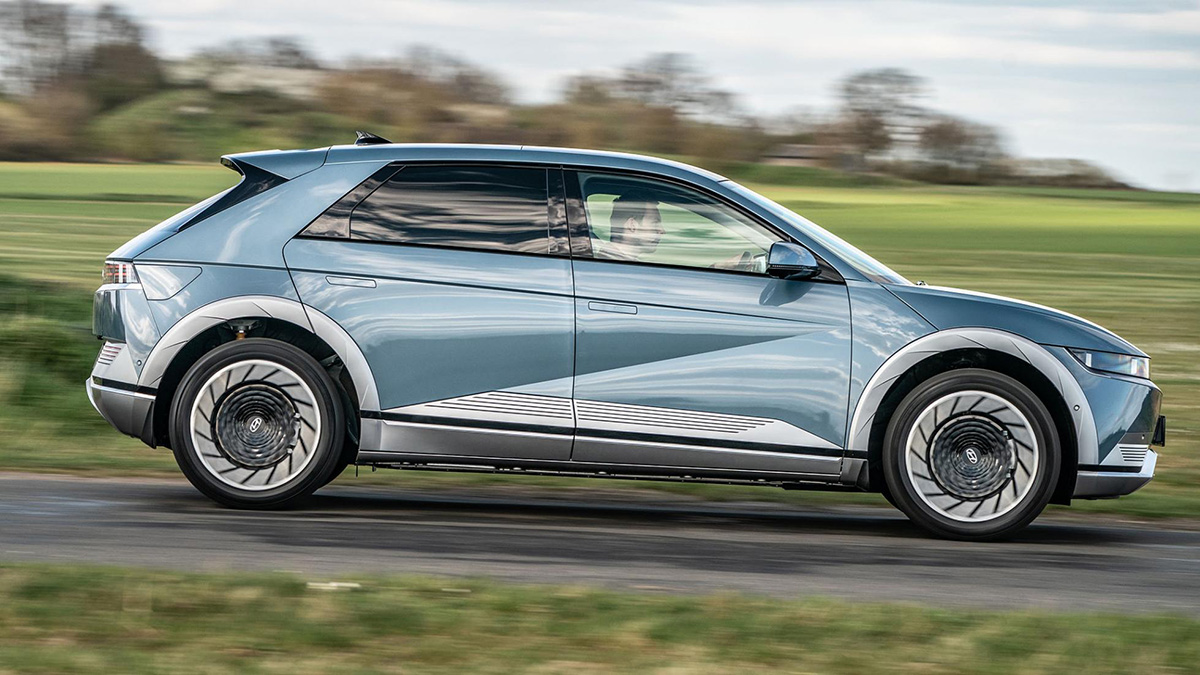 ADVERTISEMENT - CONTINUE READING BELOW ↓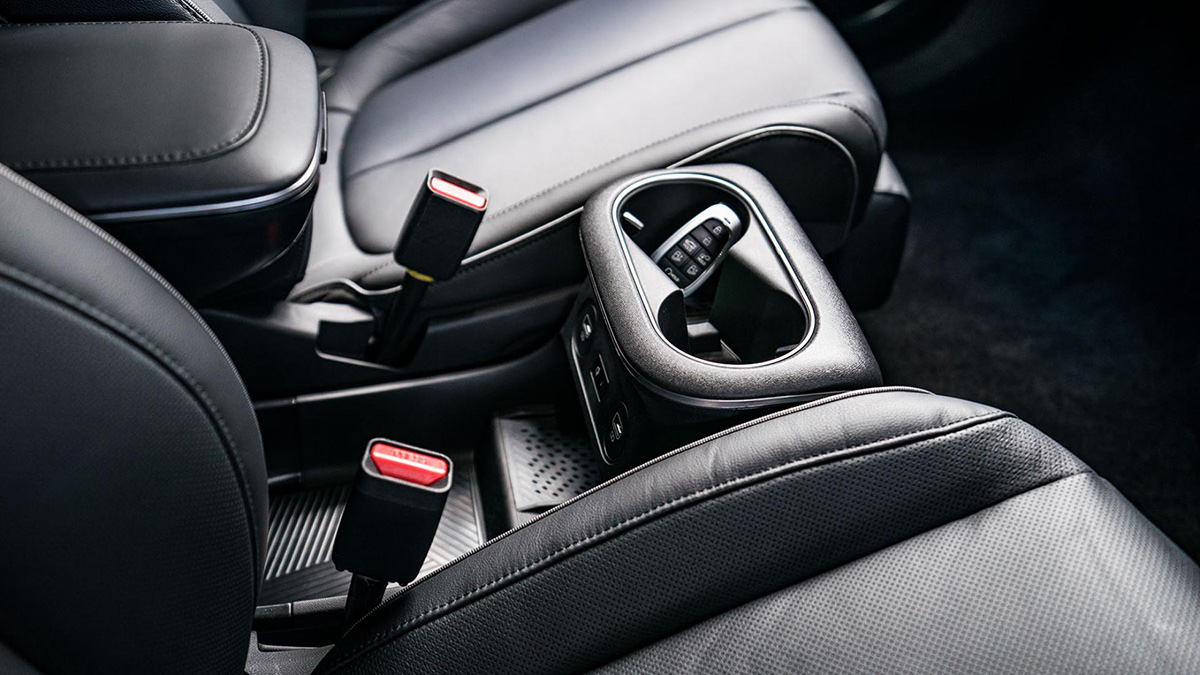 ADVERTISEMENT - CONTINUE READING BELOW ↓
NOTE: This article first appeared on TopGear.com. Minor edits have been made.