Can you call it camouflage when it's that bright?
Good point, and I'm not sure it's camouflage when it's emblazoned with the company's logo, either. It's like army fatigues with the word 'soldier' repeated all over them. But I think the point is Hyundai wants you to look at this car.
It's the Kona N, the latest entrant into the 'small fast crossover' market. A market that remains—surprisingly—quite sparsely populated. At the level this Kona operates at, almost everything is made by the Volkswagen group, with just the BMW X2 M35i and the Mercedes-Benz GLA35 combating the Audi SQ2 and the VW T-Roc R from elsewhere.
Those are big names for a Hyundai to battle, no?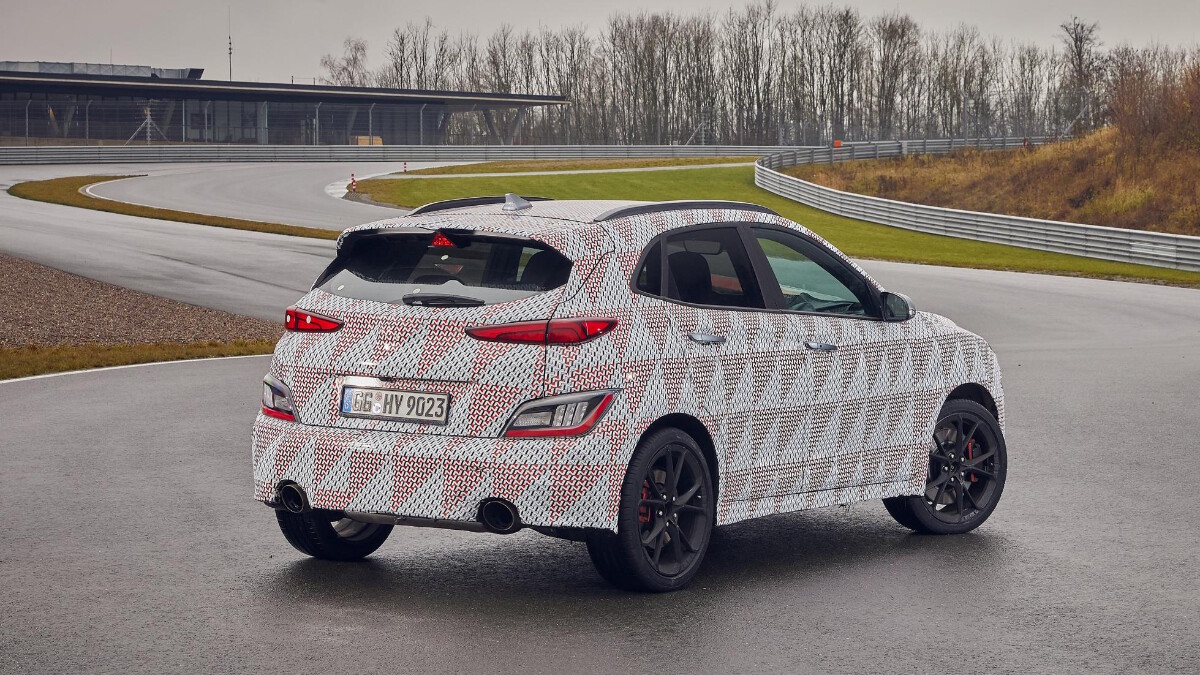 On paper, yes, but with its N Division, the Korean company has serious form now. The Hyundai i30N is among the best hot hatches you can buy—and it's significantly more interesting to drive than an M135i, a Merc-AMG A35, or an Audi S3, which bodes well for this Kona N fighting the slightly taller, fatter versions of those.
ADVERTISEMENT - CONTINUE READING BELOW ↓
Is this a taller, fatter i30N?
Essentially. It uses the same 276hp 2.0-liter turbo four-cylinder engine, and it continues to drive the front axle only. N Division considered four-wheel drive, but only briefly, deeming its extra weight and complication unnecessary. This will be sold as a slightly more premium product, though, with an eight-speed dual-clutch paddle-shift gearbox and limited-slip differential as standard, where they're optional on the i30N hatch.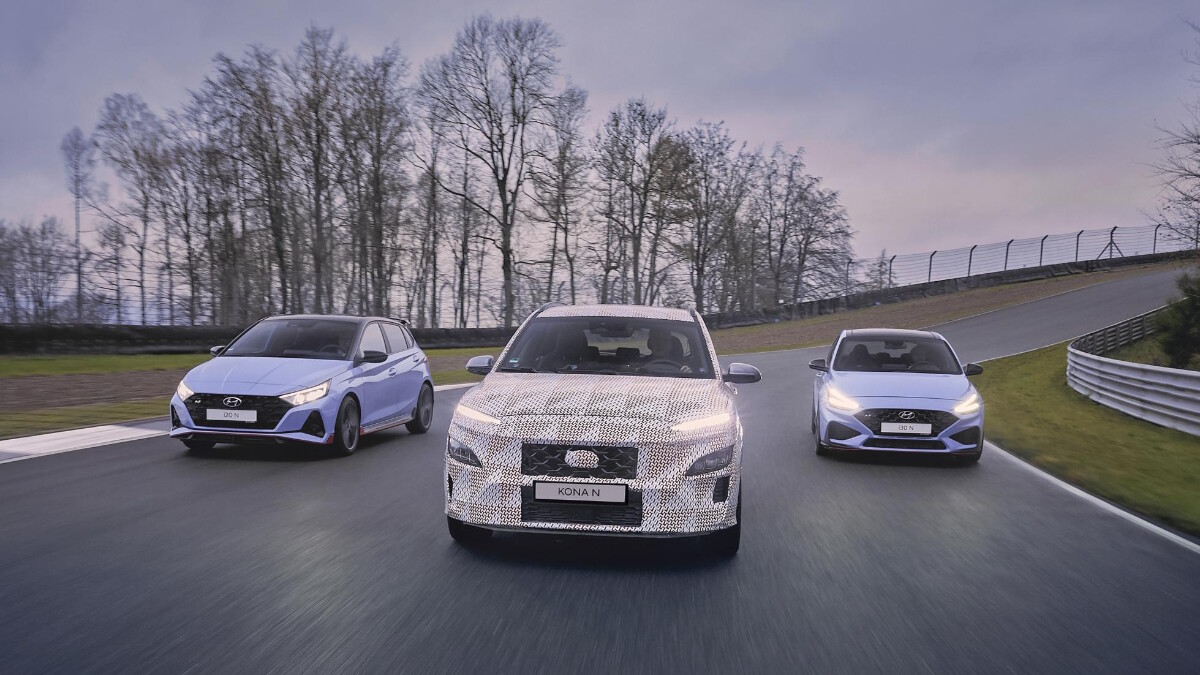 Hyundai is convinced it should have some genuine SUV ability, too, so it rides no lower than a regular. There will also be hill-descent control and various terrain modes operating through the stability and traction control systems, with Snow, Sand, and Mud the likely parameters.
These will operate separately to the usual suite of N driving modes, which adjust the sharpness of the throttle, gear changes, exhaust note, and suspension, while the gearbox has its own bunch of settings like launch control and the cloyingly named 'Grin Shift' that essentially acts like a push-to-pass overtake button, akin to Porsche's Sport Response button in its PDK-equipped sports cars. You can even choose whether or not there's a creep function when you lift your foot from the brake pedal at a standstill.
ADVERTISEMENT - CONTINUE READING BELOW ↓
Recommended Videos
Yikes, it sounds complex...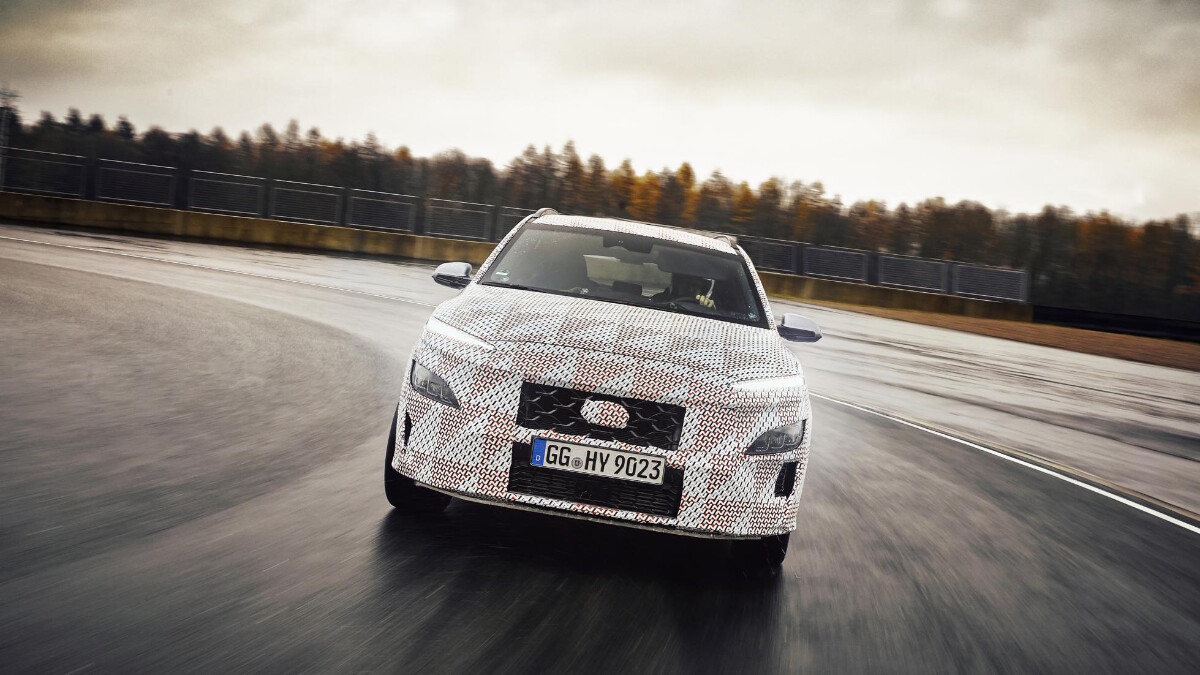 The beauty once you get moving is that it isn't. Stick the car in Sport mode (N mode is still too burly for the road, but we're delighted Hyundai hasn't even contemplated softening it), just get on with driving, and you'll have an absolute ball.
The decision to stay front-driven is vital here. Wheelspin and torque steer are the kind of things other engineering departments will spend months ironing out, but N Division is comfortable leaving them in. More for the driver to do, and more for them to master at wholly legal speeds. This is a little tyke right from the off, as the i30N always has been.
Good news!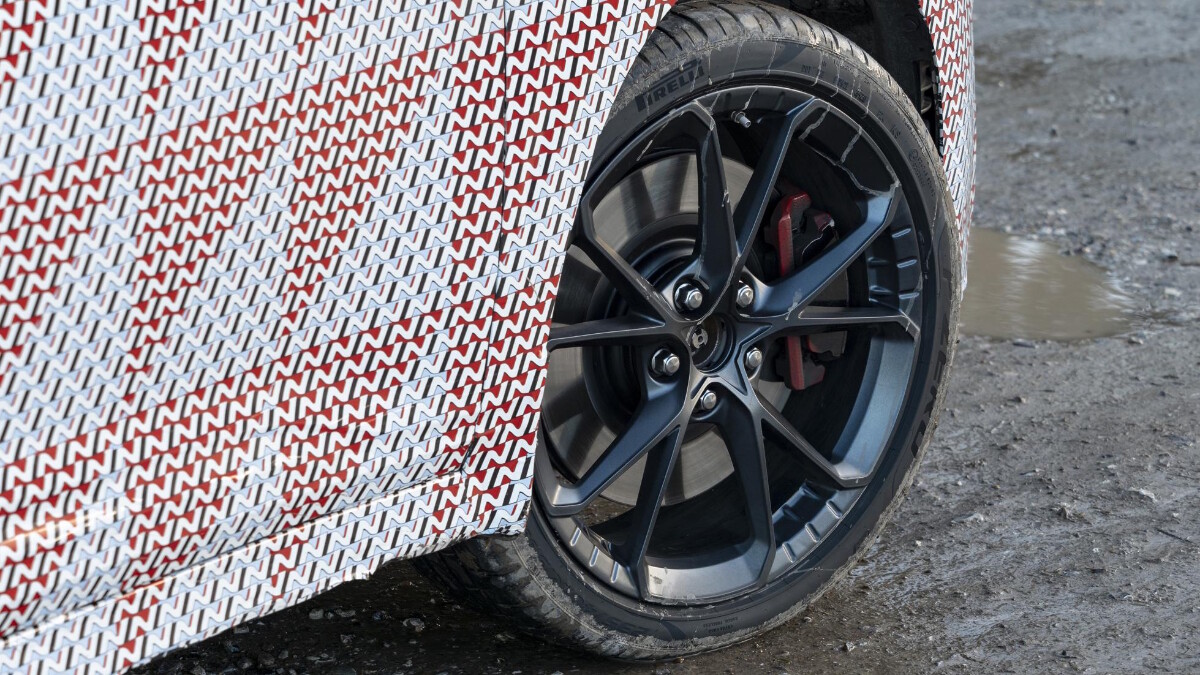 ADVERTISEMENT - CONTINUE READING BELOW ↓
Indeed. This Kona N prototype—one not far from being finished, it's worth adding—simply drives like an i30N with the seat ratcheted right up. It's a bit heavier (though there are no firm figures yet) and the center of gravity is naturally higher, but the wheelbase is also 30mm shorter, countering the effect of a bit of extra chub with a small injection of additional eagerness. Something the i30N was hardly lacking in. Brake deep into a corner with the ESC loosened and you'll know about it.
It's a completely different proposition to its half-dozen German rivals, standing proud of them by shunning a thick layer of polish (as well as rear driveshafts) and ending up much more of an extrovert. It's smaller, lighter, and simply more fun to be around than an X2 or an SQ2.
Anything else I need to know?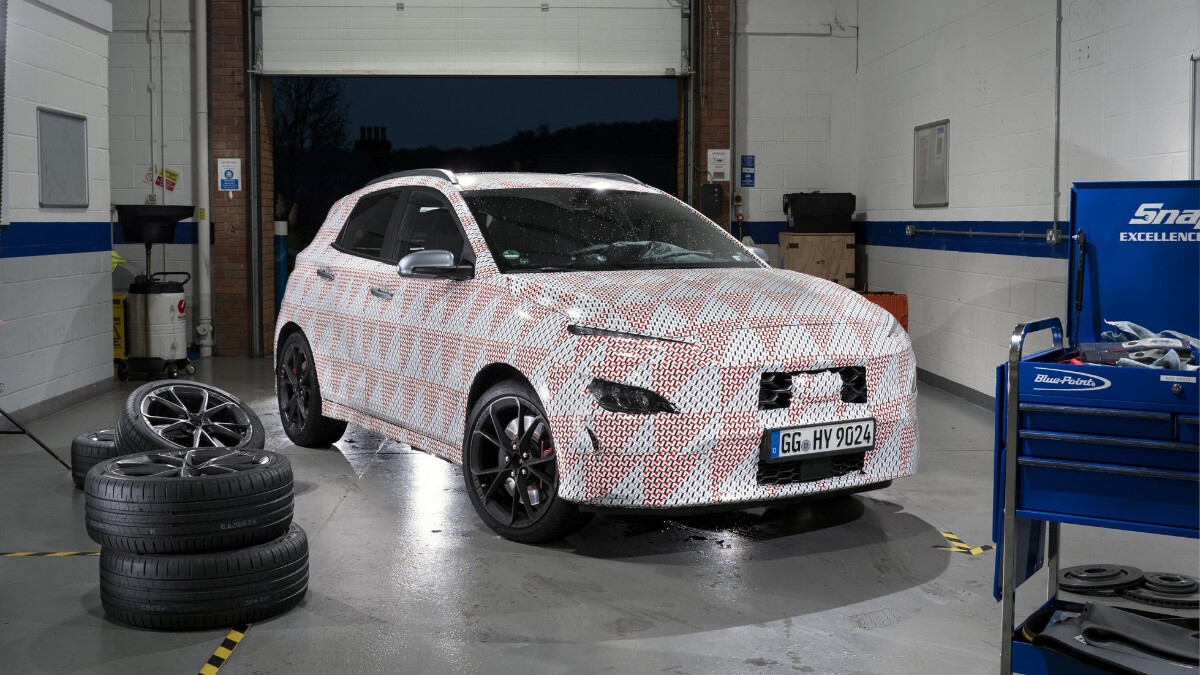 It'll be a global car, so unlike the i30N, it'll make it into markets like the US. Performance figures are yet to be released, but expect 0-100kph in under 6sec and a 250kph top speed. You'll be able to add lightweight sports seats (saving 2.2kg) and forged wheels (cutting 14.4kg). Turning the ESC off really does turn it off, and there's a traditional manual handbrake. Oh, and there are additional weld points on the bodyshell compared with a regular Kona—getting that one past the money men and women will have been no small feat.
It's 'proper,' then?
While we can expect future N Division cars to be electric (and perhaps hydrogen-powered), in the meantime, it's providing an antidote to swelling technology by making rapscallion little cars that draw their driver into mischief. Just with all of the active safety tech that's rightfully fashionable a simple button press away.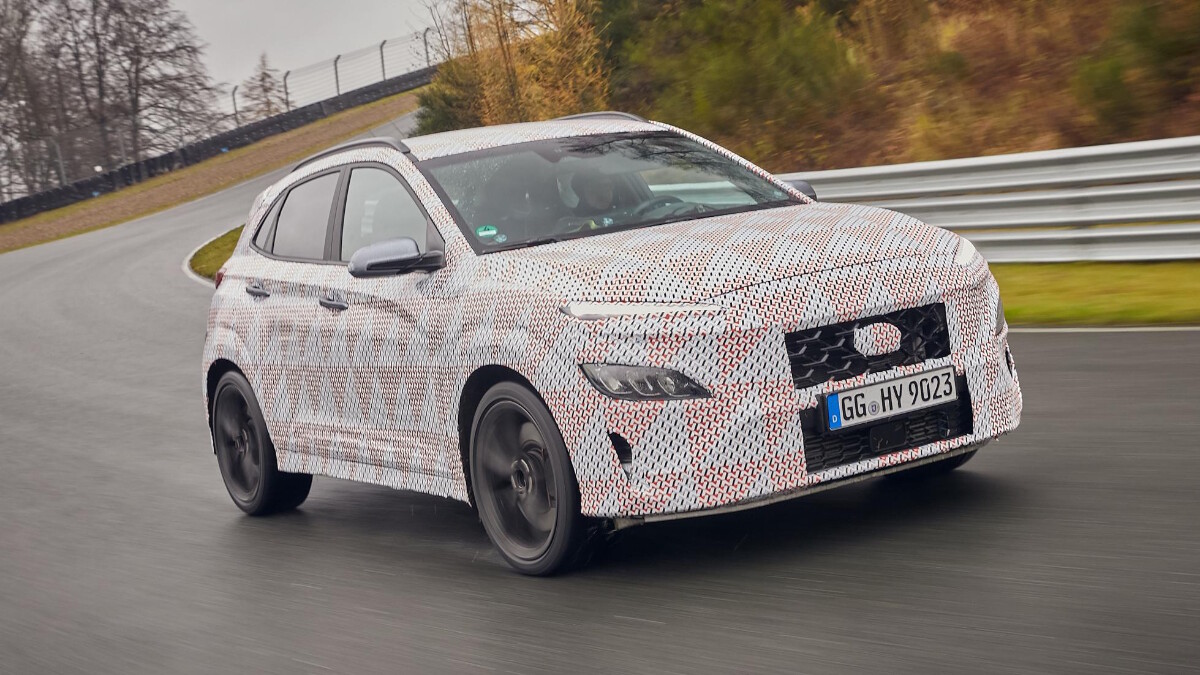 ADVERTISEMENT - CONTINUE READING BELOW ↓
The Kona N will also offer a 'Performance Driving Data System' that'll monitor circuit driving so you can learn where you need to sharpen up on track days. 'Don't buy a small sporty SUV and just get a ratty old MX-5' presumably won't be one of the prompts, but snarkiness aside, this is as enthusiast-pleasing as small sporty SUVs are ever likely to get—short of you buying a secondhand Porsche Macan and swapping the rear seats for a roll cage.
We'll reserve full judgement for the finished Kona N, but on the evidence of this test mule, it'll enter a small and quite studious corner of the market and completely shake it up.
NOTE: This article first appeared on TopGear.com. Minor edits have been made.