The Discovery 5 is the biggest, most luxurious, most off-road-handy Land Rover that money can buy. Want even more than this? Then you're into Range Rover territory.
Question is, why would you possibly want 'more car' than a Disco? It's a true automotive Swiss Army knife, capable of taking seven full-grown humans farther up a mountain, down a river, or straight to a luxury hotel than pretty much anything. And for 2021, it's been treated to new headlights, new bumpers, a fresh set of engines, and much-needed new infotainment. As you can see, there's a sportier R-Dynamic bodykit on offer, and 22-inch rims to disguise the vast bodywork's bulk.
Compared with the old Disco 3 (and the Disco 4, which was really just a mild facelift), the fifth-gen car is a very different animal. No longer does a unibody chassis live on a separate frame, resulting in an obese curb weight and predictably agricultural dynamics. The Discovery now calls an all-aluminum platform its home.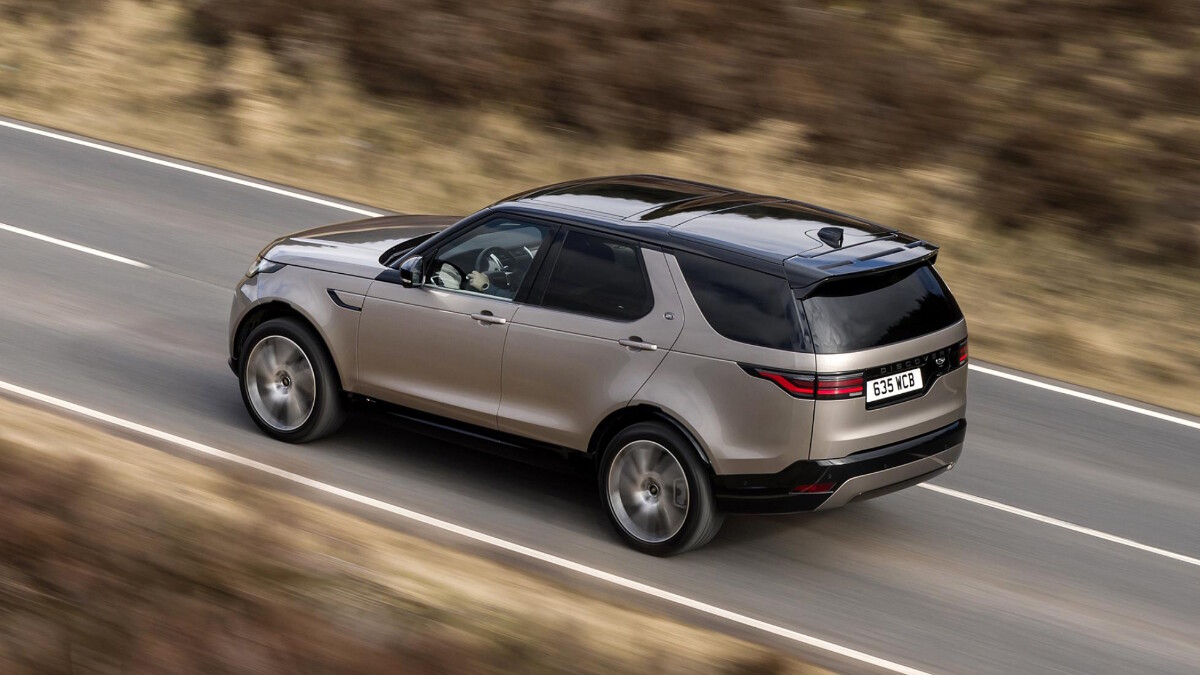 Continue reading below ↓
Recommended Videos
The foundations are shared with the full-fat Rangie, though we're told the materials used mean the curb weight is down almost half a ton. That said, this is still a machine that crushes small hills rather than climbs them, so don't expect Porsche-spec cornering prowess.
Though the Disco 5 is a mite narrower than the older version, it feels enormous from way up in the captain's chair. Intimidatingly so. Land Rover is at pains to point out it considers the Disco a size up from the likes of the Volvo XC90 and the Audi Q7, and the rearmost seats can cater to humans no longer wearing nappies. But, as with the equally enormous Mercedes-Benz GLS, you're going to need a very generous parking space.
But let's say you bring oil tankers into port for a living, so the sheer size isn't an issue. The new engines are a real step on from the motley collection that went before. Chief among the powerplants is a pair of 48V mild-hybrid-boosted straight-sixes. One's a 360hp petrol—the P360, helpfully—and guess what, the D300 is a 300hp diesel. Hurrah for common-sense badging. Entry-level Discos gets four-cylinder power: either an existing D250 diesel or a new P300 gasoline that do without hybrid boost.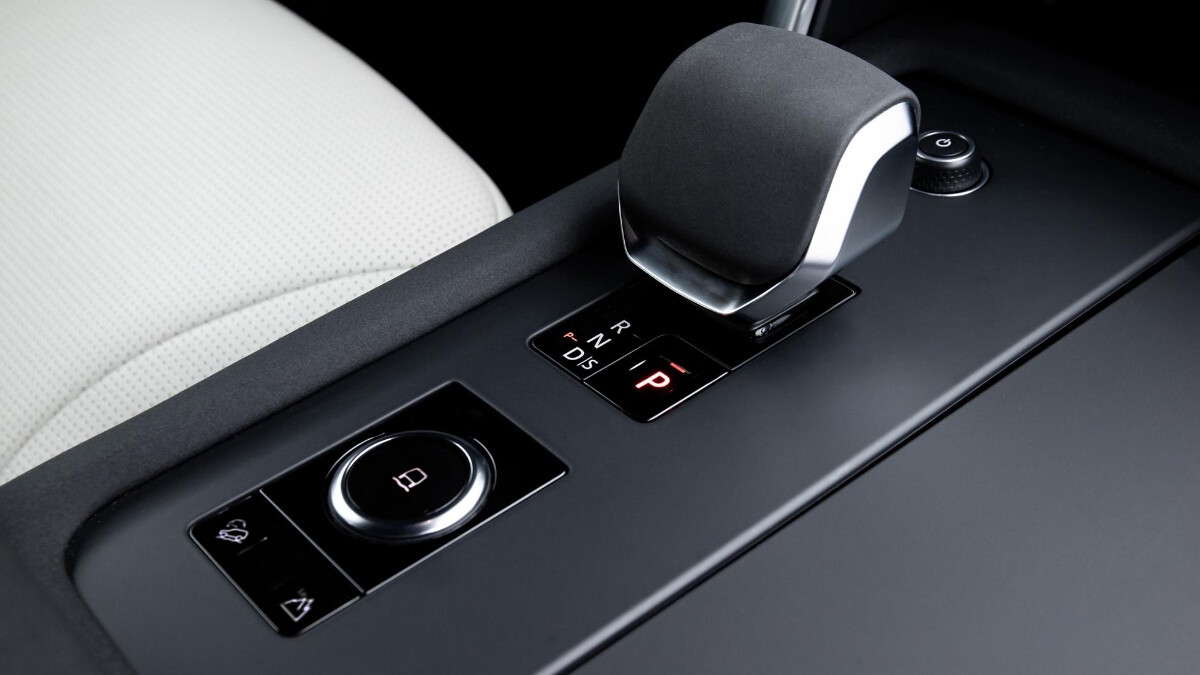 All are allied to an eight-speed automatic as standard, with four-wheel drive (duh) and Land Rover's confident claims that the Disco can out-climb, out-wade, and out-tow any rival under the sun. We've tested versions of the two new six-cylinder Discoverys in R-Dynamic S and SE trim, to get the best possible idea of where the sweet spot lies.
One more thing before we set off: the looks. It's fair to say the Disco's featureless sides and lopsided rear end have made what was once a design classic a real Marmite car. And yet, despite redoing the interior, the engine lineup, the wheels, the seats, and even the paint palette, Land Rover didn't press new panels to disguise the Discovery's slabby styling. It's confident that the way this car looks won't put anyone off before they've climbed aboard and sampled its superpowers.
On the road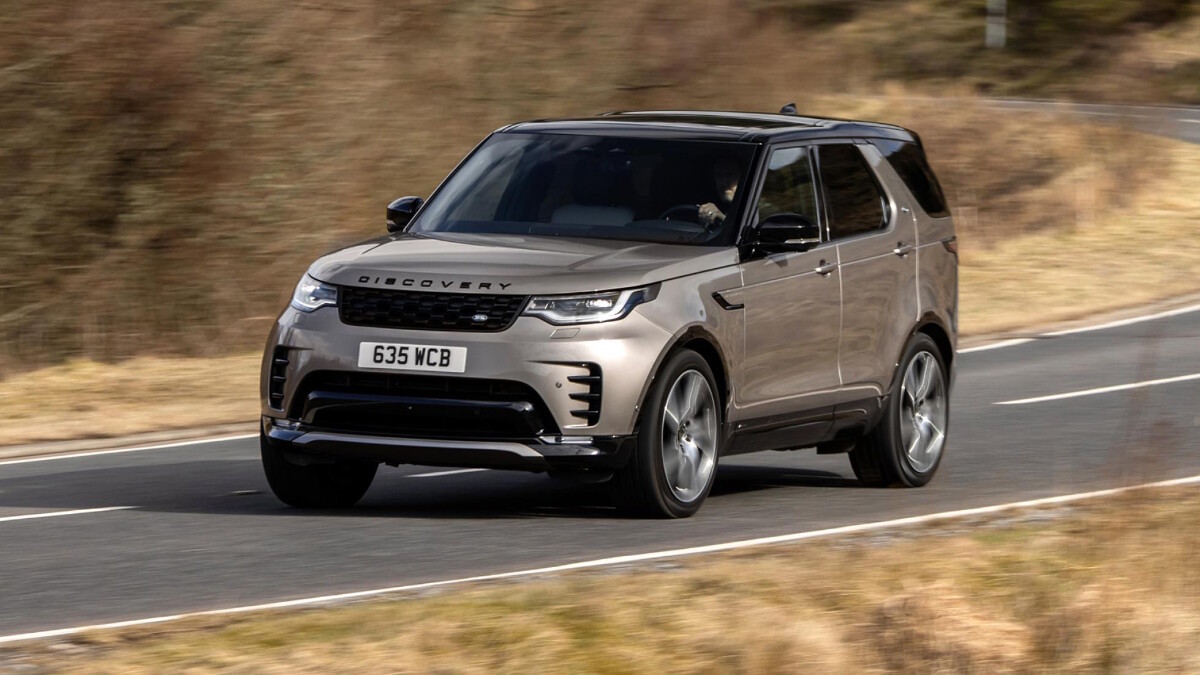 The new P360 petrol offers up 360hp and 500Nm, punting the big Disco from 0-100kph in 6.5sec and on to 209kph. Our test car was a mere 965km old, and felt a little tight for it, with a slight vibration through the steering wheel as the revs climbed to beyond 5,000rpm. Solution: Don't rev it that high. There's sufficient torque to bowl along at a decent lick without really uncorking the engine's limits, though if you do, there's a pleasant six-pot engine note in the middle distance. Settle everything down and it's a quiet cruiser with strong prod-and-go performance.
Unfashionable as it may seem, however, the Disco is a car built for diesel power, and what a diesel this D300 is. Here we find a big car with the motor it was destined to marry: a 300hp, 649Nm bruiser that's very nearly as quick as the gasoline, but that much more effortless doing so. Even makes a nice noise, and it's around 4.25km/L better off just about everywhere. Reckon on 10.6-12.8km/L in the D300. The fuel-consumption readings in the petrol makes for alarming reading, unless you're used to EV range anxiety.
The eight-speed gearbox is rarely caught out, and as per all the best luxury cars, it does its job best by being completely unnoticeable. If you insist on taking over manually, the new metal paddles are beautifully tactile, but watch out for a thumb-slicing attempt as the wheel jiggles about off-road.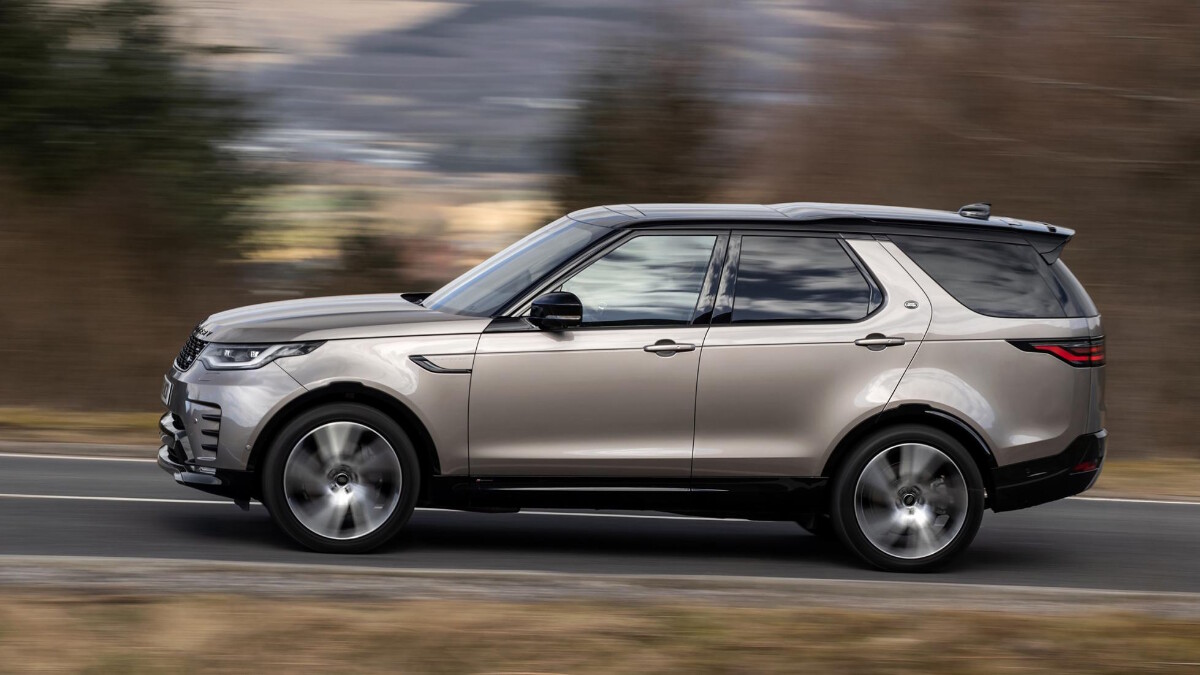 The thing about driving a Disco is that, well, it's not a car you really drive. You guide it, two fingers on the steering wheel, elbow nestled on the armrest. There's not a single iota of sportiness about it, and that's fine, because Land Rover has the Rangie Sport for that. That said, the R-Dynamic trim now lets you square up to all those M Sport BMW X7s and AMG-line Mercs in the finishing school car park. Land Rover has done an admirable job of rationalizing the ride on 22-inch rims, but we'd still go for the slightly more pliant (not to mention the less thrusting image) of an SE spec.
There's no doubt the Discovery is happiest blasting along a highway, where wind noise is apparent but everything else is gorgeously stable and refined, or on a sweeping A-road. In town or in the sticks, its sheer girth makes life fraught.
It's a pity, really: a Land Rover is a car built in the British countryside, for the British countryside, to be bought by people who own most of the British countryside. And yet, in its natural home, it doesn't feel at ease. Don't presume these things never go off-road—you're up a verge twice a minute to squeeze past the hapless van or horse rider who's dared to use the same lane as you.
We'd also prefer a firmer response to the brake pedal. It's a given that a 2.4-ton luxo-tank takes a lot of stopping, but it'd be nice to feel there was a bit more braking left 'in reserve' when you're merely slowing for a roundabout.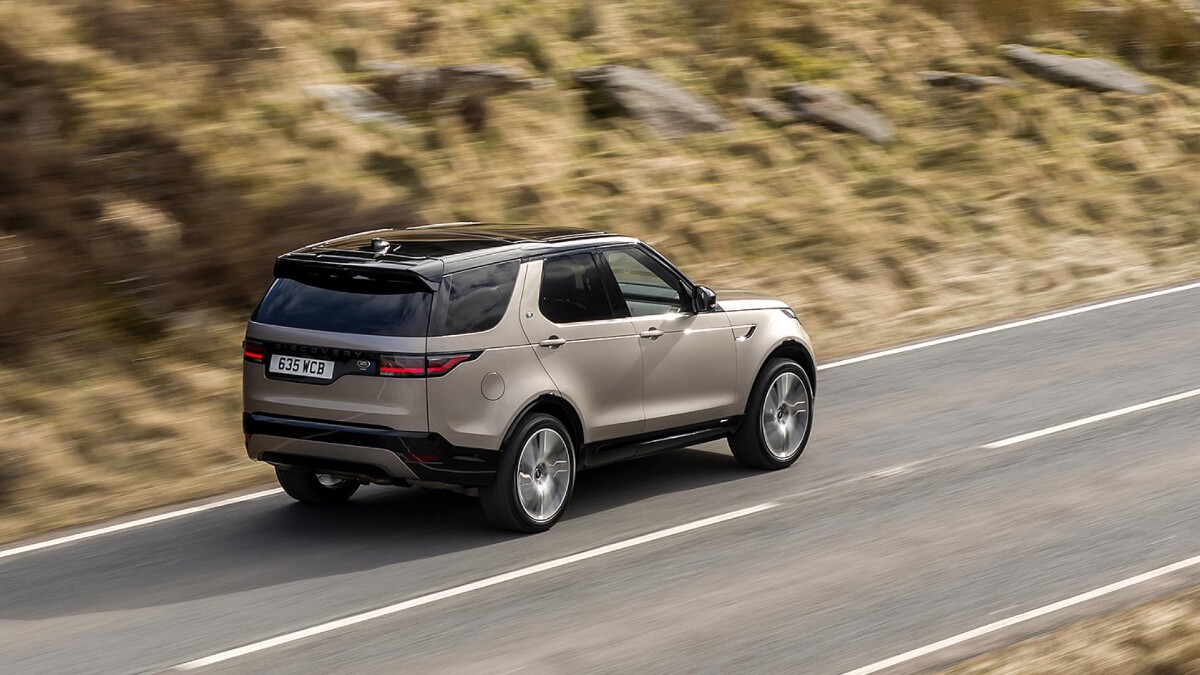 As imperious as the big Landie is on the road, it's even more impressive off it. The sense that you can just point this car—even the townie R-Dynamic—at any slope, any surface, or any natural disaster and conquer the obstacle while having a heated back massage and enjoying concert-quality hi-fi audio is just delectable.
The ground-monitoring Terrain Response system is a joy to behold, or rather, the readouts that show it opening and loosening diffs juggling traction or defying gravity on a tricky hill descent are stunning to watch. It's a spectacular melding of old-school brute force, traction, and green-lane, mug-plugging skill with fiendishly clever computing power. You simply will never need a better off-road car than this, which is just as well because with the possible exception of the hardier Defender, there is no off-road car that's as talented—or as effortless—as the Discovery.
In fact, it's so brilliant, you have to wonder if it's wasted in being confined to Her Majesty's highways and not so many of her byways.
On the inside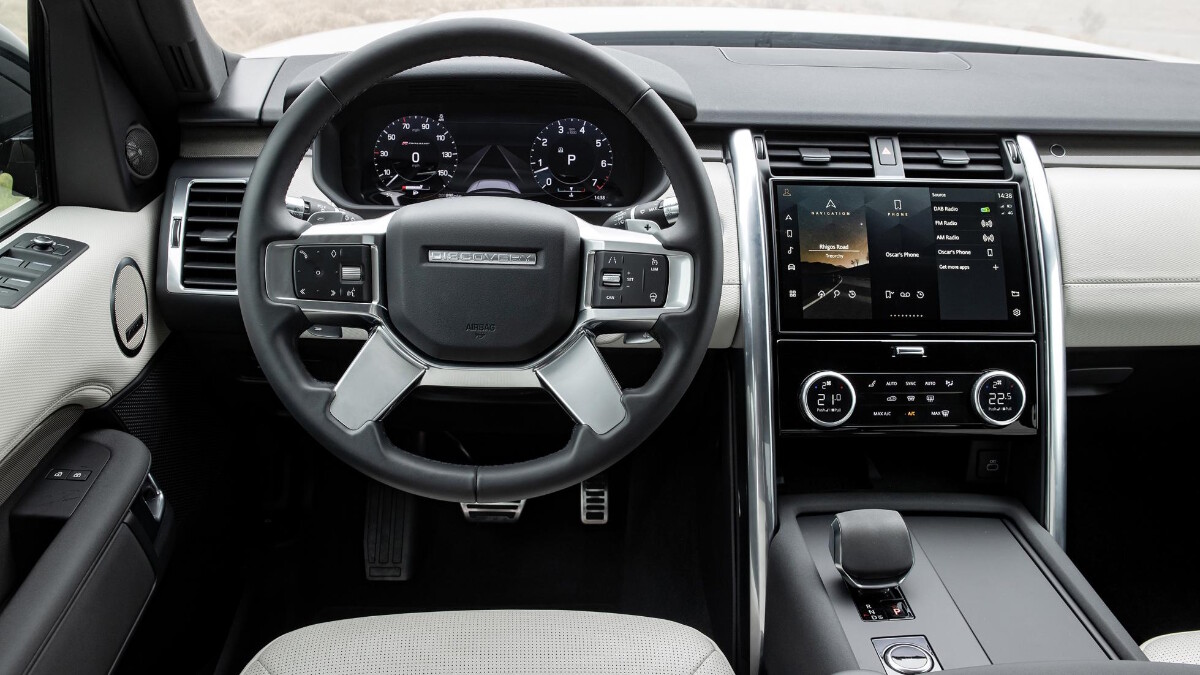 Climb into the Disco and lean back out to close its enormous barn door, and it really does feel like you're wearing your dad's giant coat and massive Wellington boots. The commanding driving position is classic posh SUV, but the rear window seems to be in a different postcode. Factor in the thickness of the pillars, and visibility is pinched. You'll be relying on the fleet of on-board cameras to avoid dinging those rims.
So, what's new? Well, the gear selector is a big improvement. The clunky old rotary dial has been binned at last, and now there's a push-pull selector that looks like the sort of thrust controller you'd find in a posh speedboat. Also fresh are the decluttered Terrain Response controls, and the Defender steering wheel, which doesn't really look upmarket enough for the rest of this cockpit, oddly.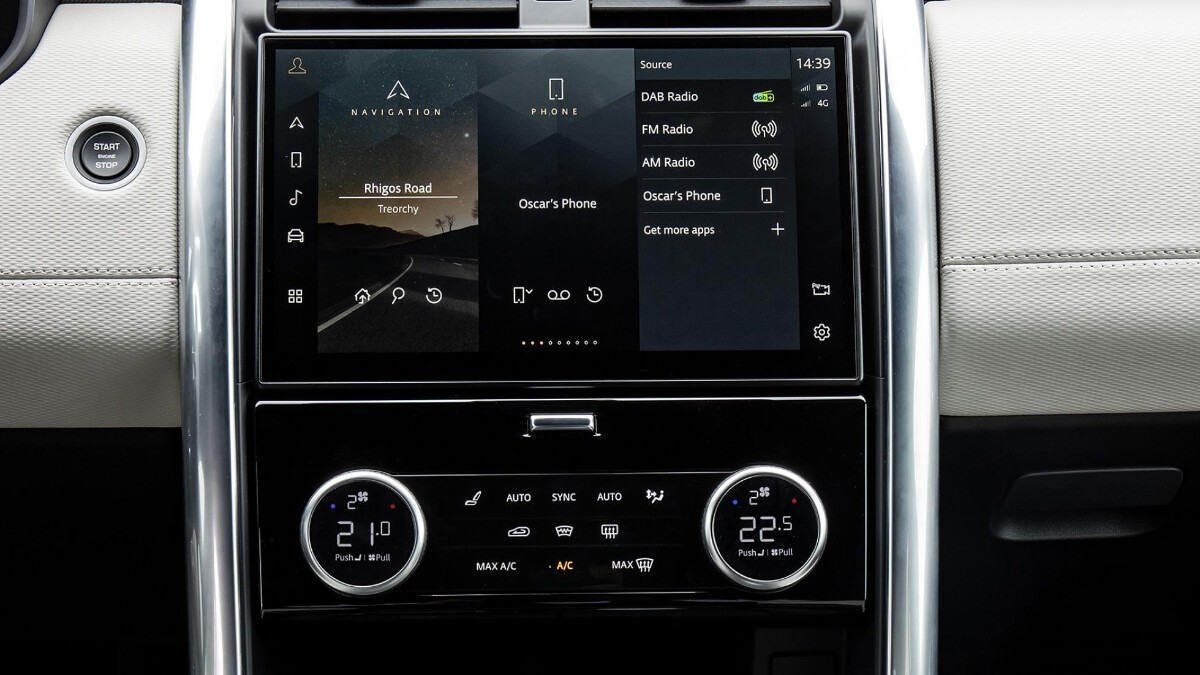 Up front you'll notice sharp digital dials, and the new 'Pivi Pro' touchscreen interface as seen on the new Defender and the latest Jags. Its sheer size makes jabbing the icons you're aiming at easier than before, and it renders menus snappily. Graphics are sharp, and as a native interface, it's a definite improvement.
Smartphone connectivity still seems a tad haphazard, though. All versions of the new Disco get the 11.4-inch display, while underneath, the climate controls have had a spruce-up, but feel less tactile than before. They still fold away to reveal a hidden stowage cubby—which seems like overkill when you could lose children under the armrests and there are two gloveboxes to put, well, each of your gloves in.
If you're brave enough to go for the lighter upholstery and lashings of unpolished wood, it's an opulent surrounding, but we loved the old Disco's big, chunky touch switchgear and bleak-but-bulletproof ambience. The new one feels almost inappropriate, like the car wants you to remove your muddy shoes before climbing in, and put the wet, smelly dogs in a trailer rather than sully the boot's luxuriant carpet.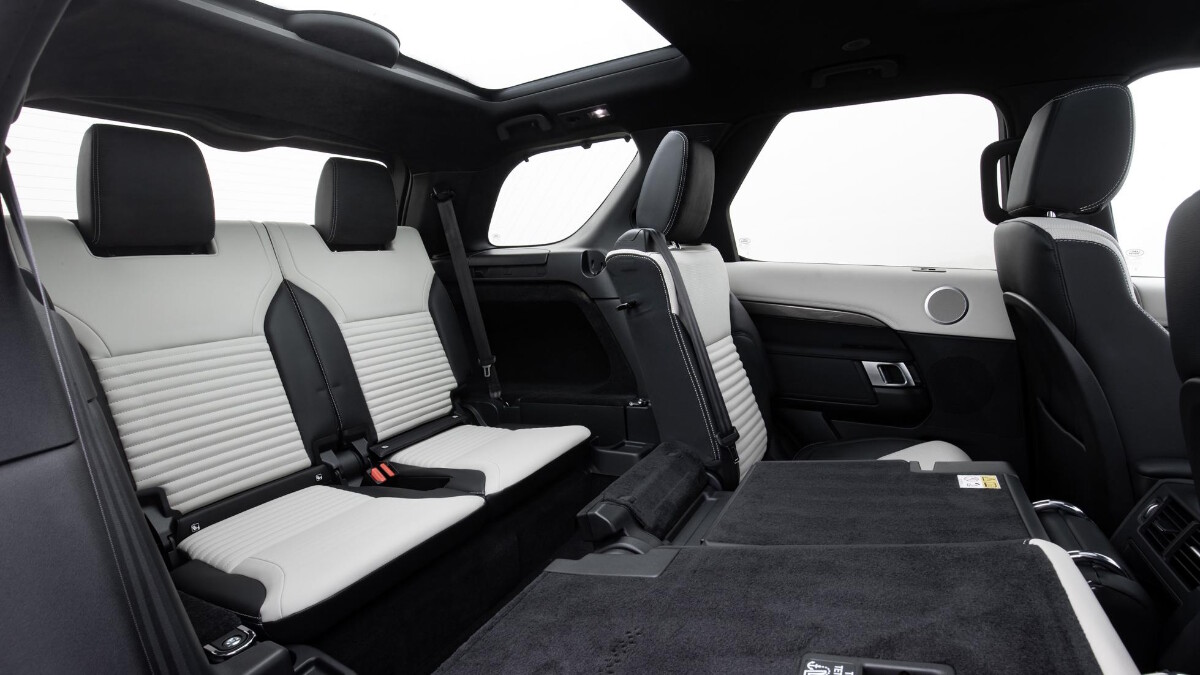 Okay, let's assume you like the Disco 5's upmarket sweep. You'll not want for space, with all seven seats capable of seating adults. Open the giant doors (careful in narrow spots, folks) and you'll find the middle row sports 954mm of legroom and easily enough space for three adults abreast.
The folding mechanisms, though electrically assisted, aren't as intuitive as Volvo's easygoing XC90, but once you've motored and hauled them about, you'll find there's 851mm of legroom in the far rear, and enough gap for real adults. It's also versatile: You can individually fold each rearmost seat, and the second row has a 60/40 split, recline, and load-through facility.
Rear cargo capacity is 258 liters in seven-seat configuration, and a gargantuan 2,406 liters with all the rear seats stowed. But to access any of that, you have to electrically lower the fold-down carpeted shelf that pretends to be as versatile as the classic old split-tailgate. Land Rover says it'll take a 300kg load before failing, but it looks awfully flimsy. Oh, and watch your head on the tailgate's sharp edges when it's raised, if you're lanky.
Final thoughts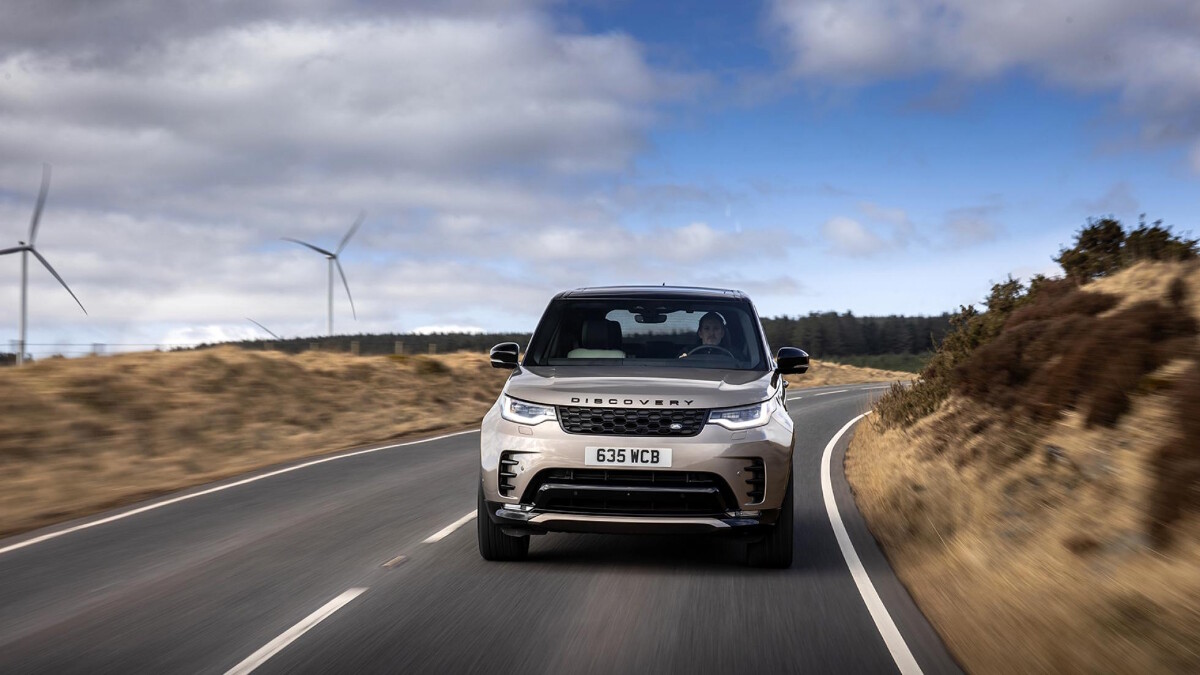 On the one hand, the Discovery is now so richly appointed inside, so deeply talented off-road, and so downright massive, it feels churlish to compare it with the likes of the Volvo XC90, the Audi Q7, and the BMW X5.
There's so much Range Rover-ness about the Disco now, and it's so massive and versatile, it feels like it belongs in its own subsection, where only truly authentic mud-pluggers, rather than lifestyle 4x4s, dare to tread. That said, be sure you really need the Disco's deep reserves of off-piste talent and sheer dimensions before shunning those wieldier and more efficient rivals.
If your lifestyle demands such a roundly capable and roomy family car, there's pretty much nothing else on Earth that'll do so much, so well, as this extraordinary machine. It's one of the wonders of the car world, truthfully. You probably don't need one, but precisely because of that, you're more likely to want a Discovery.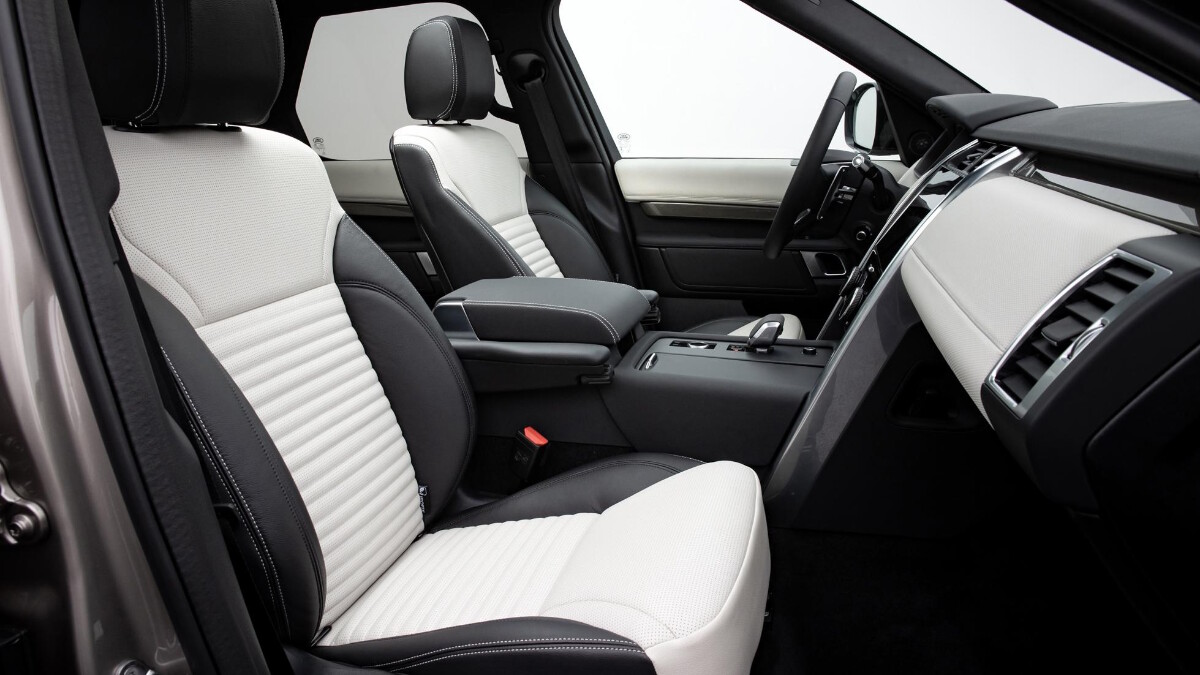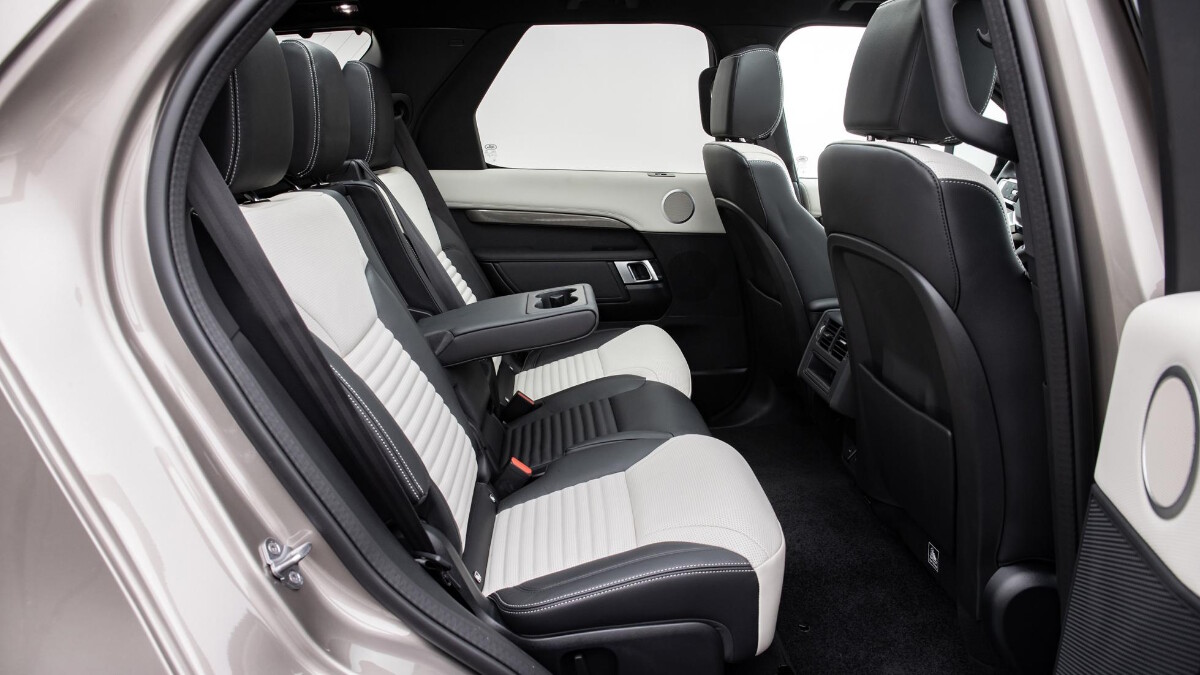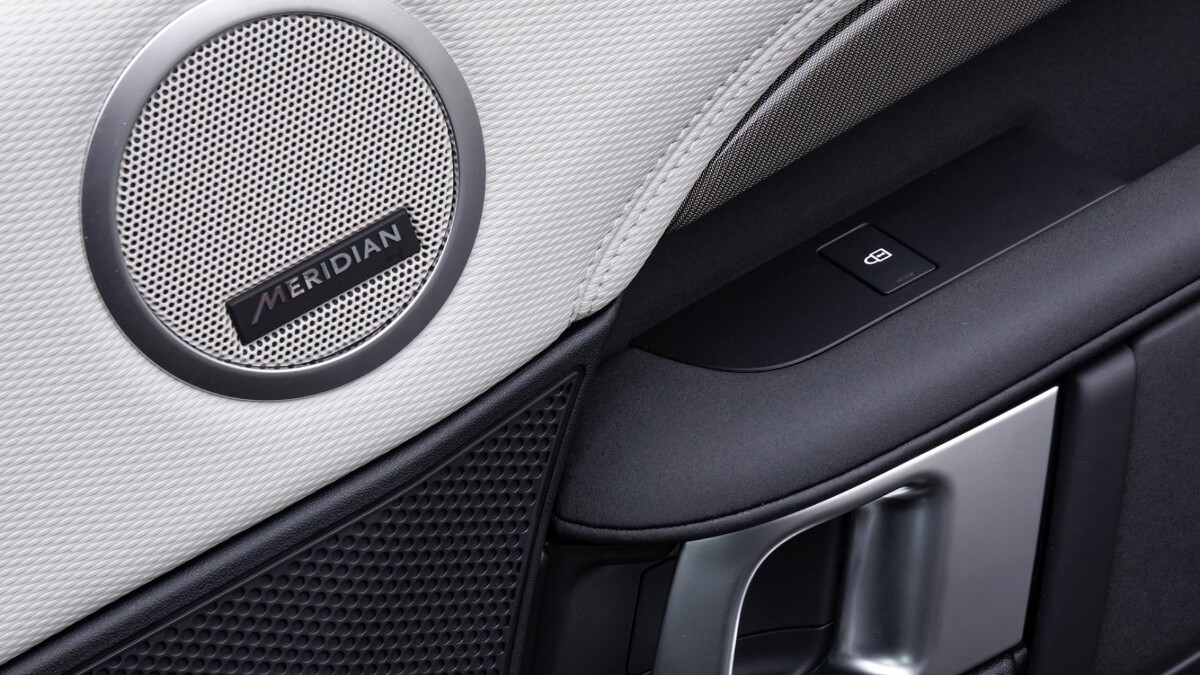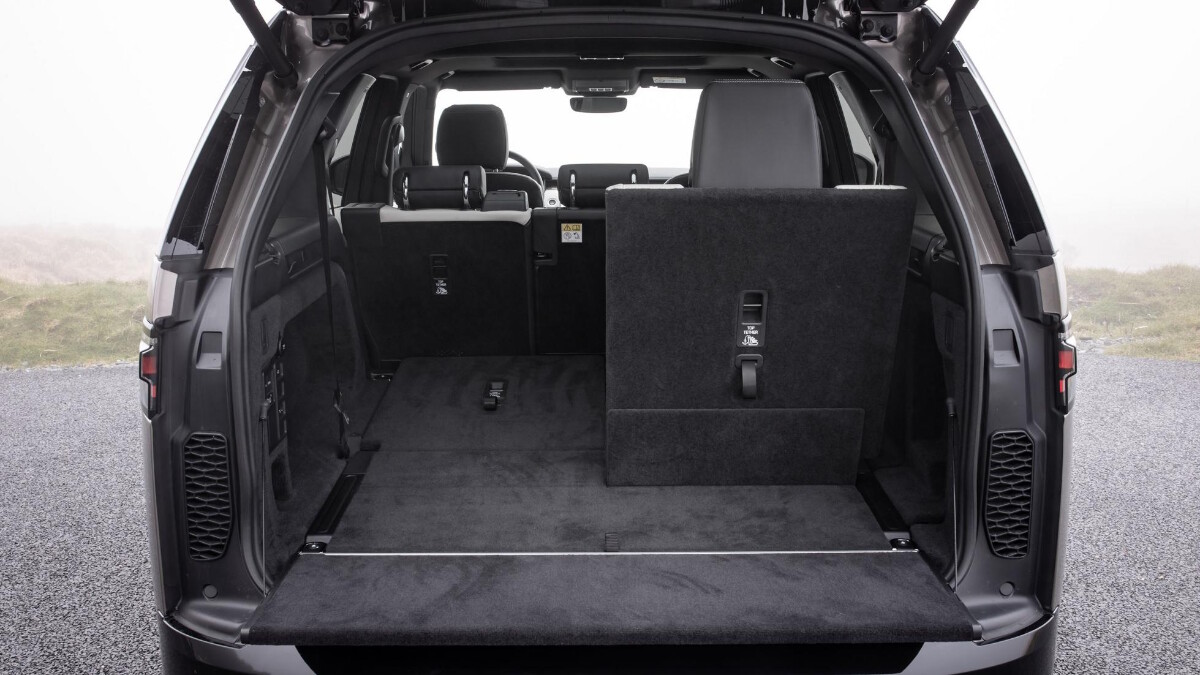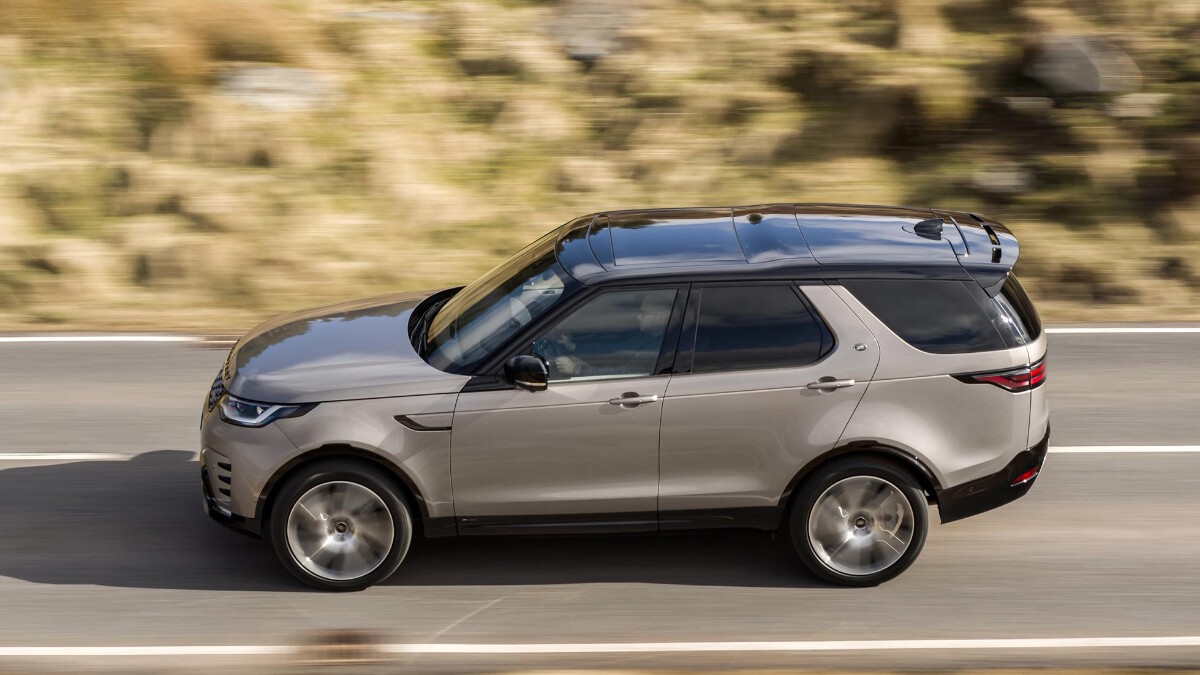 NOTE: This article first appeared on TopGear.com. Minor edits have been made.