The new Mercedes-Benz C-Class is a hugely significant car for the three-pointed star, not least because it's sold 2.5 million units since the fourth-generation car was introduced in 2014.
So what's new with the fifth generation? Not the platform—the new C sits on a heavily revised version of the outgoing car's underpinnings, but it's physically bigger in every respect bar height. Significantly, the new C borrows much tech from the current-gen S-Class, including the basic layout and concept of its interior. The engines are all mild-hybrid four-cylinders, but plug-ins are coming soon.
Got that. What are its rivals?
Continue reading below ↓
Recommended Videos
The BMW 3-Series and the Audi A4 are the big two, but there's also the Tesla Model 3, the Volvo S60, and the Jaguar XE to think about.
Wait—so it has the same interior as the new S-Class?
Yup, the basic architecture is the same as that of the flagship. The 11.9-inch portrait touchscreen, pinched directly from the S-Class, is pretty intuitive and packed with too many features to list. Merc's 'Hey Mercedes' voice assistant gets cleverer with every generation (it's not quite Alexa, but it's close), and is the safest way of operating the system while you're driving. Over-the-air updates mean the system ought to get better as time goes by, too.
On the road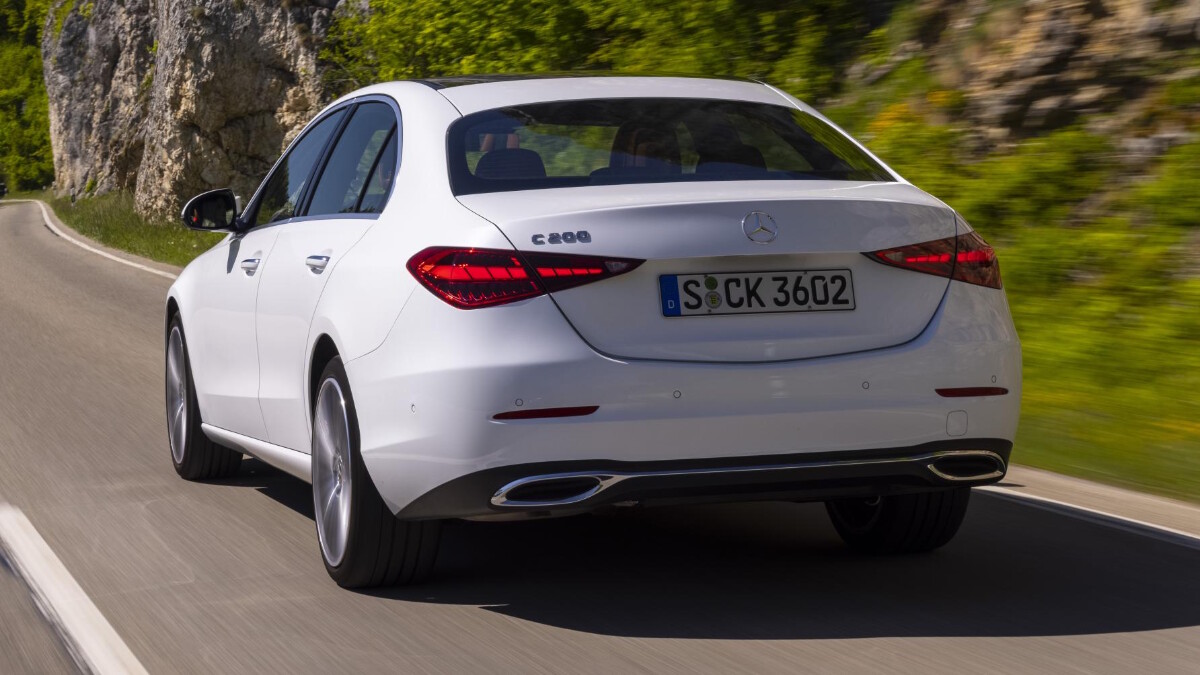 So far, we've driven two C-Classes—a diesel-powered all-wheel-drive C300d sedan and a gasoline-powered C200 wagon—both fitted with adaptive dampers and a clever rear-wheel steering system.
As with all rear-wheel steering setups, at low speeds, the rear wheels turn by up to 2.5 degrees against the fronts for better maneuverability (it cuts the turning circle by 43cm), while at high speeds, the rears turn with the fronts to aid stability. So specified, the C-Class acquits itself equally well on B-roads and highways, feeling agile on the former and stable on the latter. The steering itself is direct and well-weighted but not brimming with feel, as is the modern way. Early signs are of a decent-handling car.
Is it comfortable?
Spec'd with adaptive dampers, it almost feels air-sprung. Comfort mode is nice and floaty, while Sport mode does a good job of keeping pitch and heave in check without totally knackering the C's ability to iron out creases in the road surface. Sport + is a step too far, but generally, this is a fine-riding car.
What can you tell us about the engines?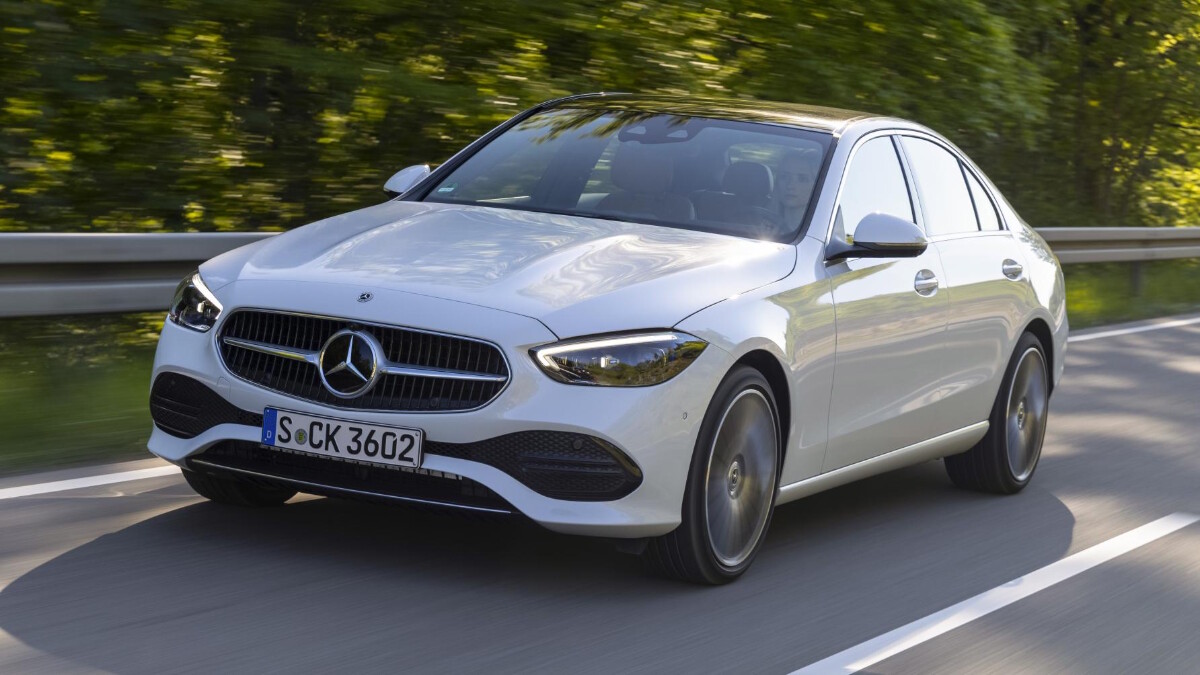 Gasoline C-Classes use either a 1.5- or a 2.0-liter four-cylinder engine. You'll find the former in the 201hp C200 and the 168hp C180), and the latter in the 254hp C300. There are two diesel options, too—the C220d and the C300d, both 2.0-liter units.
From the outset, all C-Classes are 48V mild-hybrid, but a gasoline plug-in hybrid with upwards of 100km of electric range is coming later this year (a diesel plug-in hybrid will follow in 2022). All C-Classes get a nine-speed automatic gearbox delivering power to either the rear or all four wheels.
So, on to the variants we've tried. The C300d 4Matic claims 261hp and 550Nm of torque, 0-100kph in 5.7sec, a limited 250kph top speed, up to 24km/L, and as little as 135g/km of CO2. Of course, it's not as nice as the straight-six diesel in the BMW 330d, but for a four-cylinder, it's jolly refined, doesn't make much noise, and pushes the C along at a reasonable pace.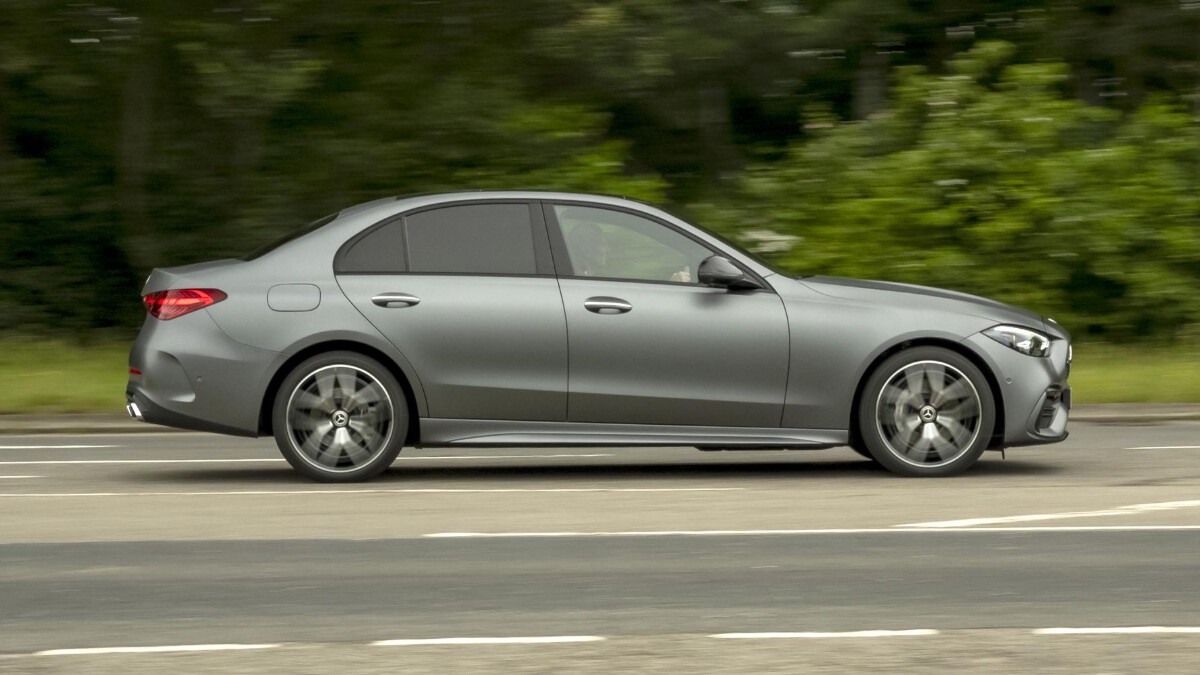 The diesel is a much better fit than the 201hp 1.5-liter gasoline in the C200, which is fine normally, but sounds a bit reedy when you're pushing on. It claims 299Nm, 0-100kph in a still respectable 7.3sec, up to 19km/L, and as low as 143g/km of CO2.
Both engines work well with the standard nine-speed auto, which shuffles between ratios quickly and smoothly. Responds well to the paddles on the wheel, but I couldn't find a way to lock it in manual mode. Can be a bit hesitant off the line, too, so be wary at busy roundabouts and junctions.
Anything else worth mentioning?
Yes, the brakes. It's a long-travel pedal, and pad doesn't actually meet disc until you're quite a long way into it. Then when it does bite, it's a bit abrupt, meaning you come to a halt more quickly and aggressively than you intended. Not exactly confidence-inspiring when you're steaming into a tight bend, nor particularly smooth until you've got your eye in.
On the inside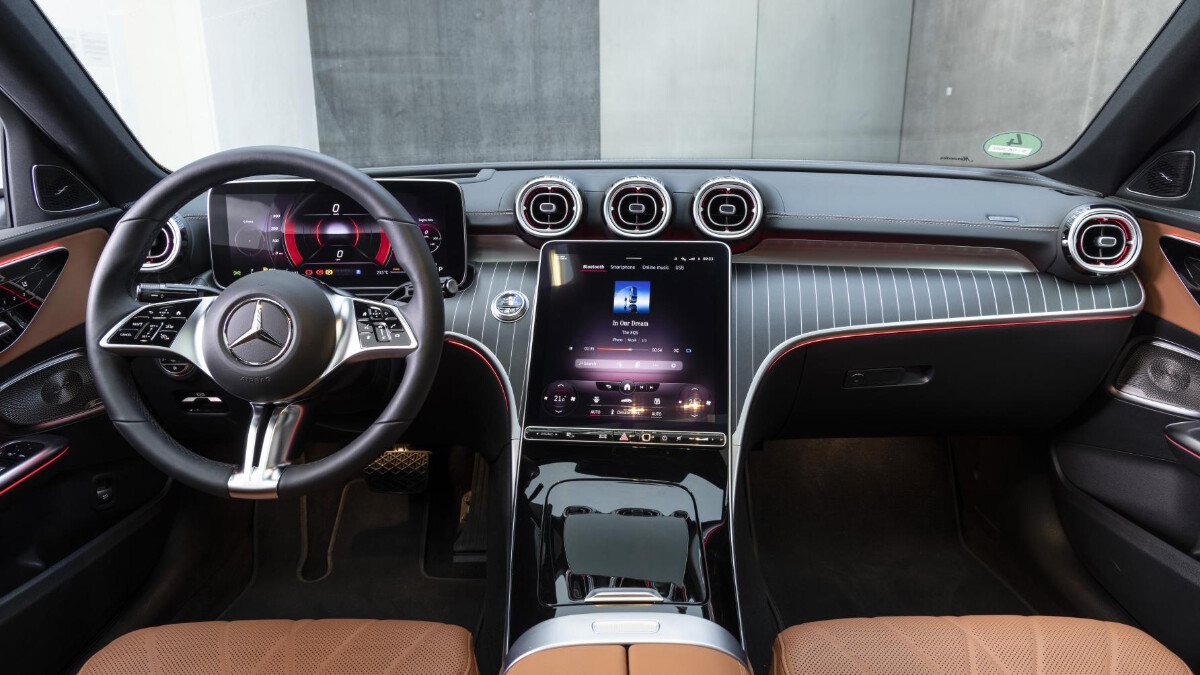 Tech trickle-down used to take years—now it's down to mere months. That big, 11.9-inch portrait touchscreen, which is standard across the range and canted slightly toward the driver, could so easily have been complicated and tricky to use, but it's actually quite intuitive to operate. Not as intuitive as BMW's iDrive, with its rotary controller and separate climate controls, but for a touchscreen, it's not bad at all.
On the move, it's easier to use Merc's voice assistant, which gets cleverer with every generation and nowadays isn't far off Alexa or Siri. Pity about the finickity touchpads on the steering wheel, which every so often fail to register your prods and swipes.
Material quality is hit and miss—the bits you touch most are good, but the plastic surfaces lower down the dashboard and around the glovebox feel more A-Class than C-Class.
Is it comfortable?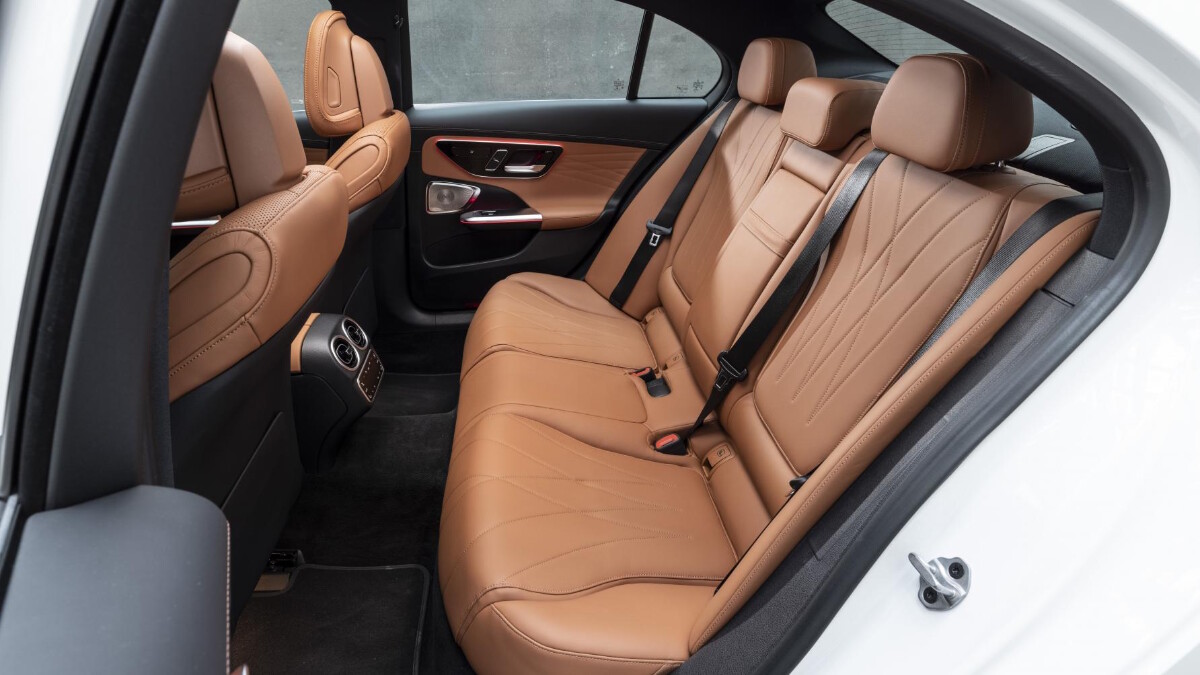 Yup, the seats are great and the driving position is pretty spot-on. This is a quiet cabin, too, with very little wind or tire roar. Doesn't feel like as much of a sensory deprivation chamber as the ludicrously refined Audi A4, but it's really very good.
Relative to its competitors, the C-Class sedan is short on space in the back and the trunk. It's better and physically bigger in every respect than the old C-Class, but leg- and headroom for those in the rear seats is only OK and at 455 liters the trunk is not only smaller than a 3-Series', but smaller than a Mercedes CLA's too.
Final thoughts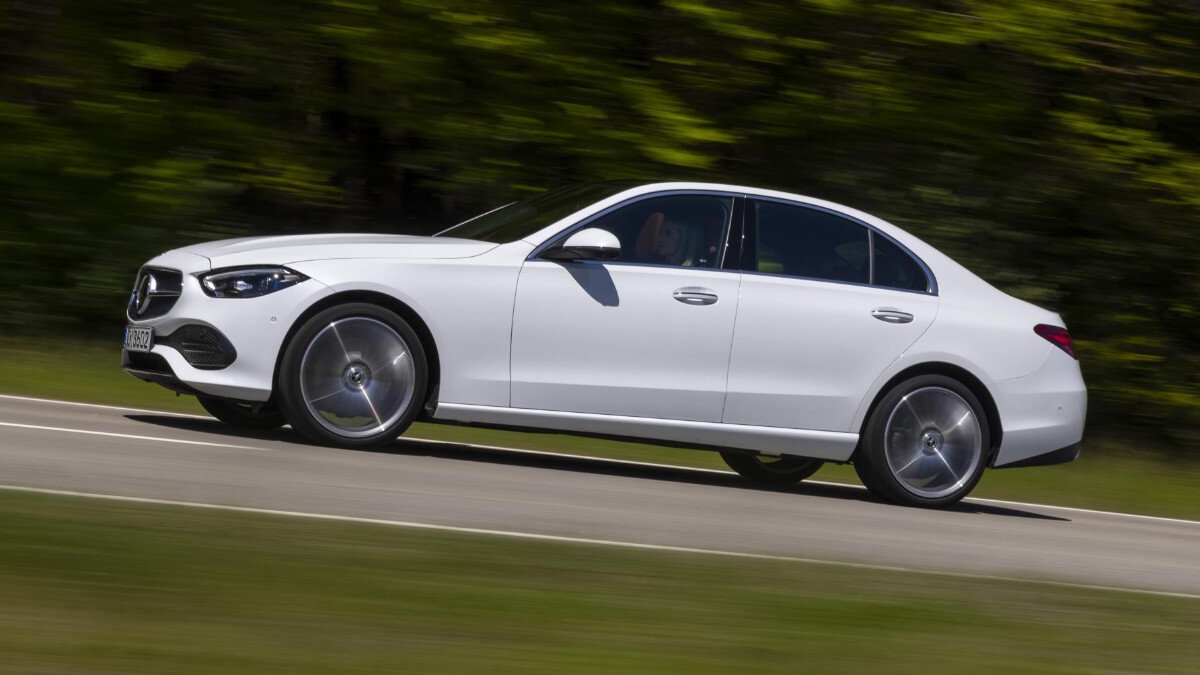 On first impressions, the new C-Class appears to strike a good balance between the BMW 3-Series' dynamism and the Audi A4's refinement and quality. But given our first go in the Merc was so brief, we'll wait until we can get all its rivals together in comparable specs before we pass definitive judgment on where the new C-Class Benz lands.
It ought to be a close-run thing, though, because there's a lot to like about the new C-Class. It's packed with S-Class-grade tech, rides and handles astutely (with rear-wheel steering and adaptive suspension that won't be available on all markets, admittedly), and has a comfy cabin. And that electrified 2.0-liter diesel engine especially is one of the best around. That said, the brakes are a bit odd, the car isn't particularly spacious relative to its competitors, and parts of the dashboard and interior trim feel disappointingly cheap.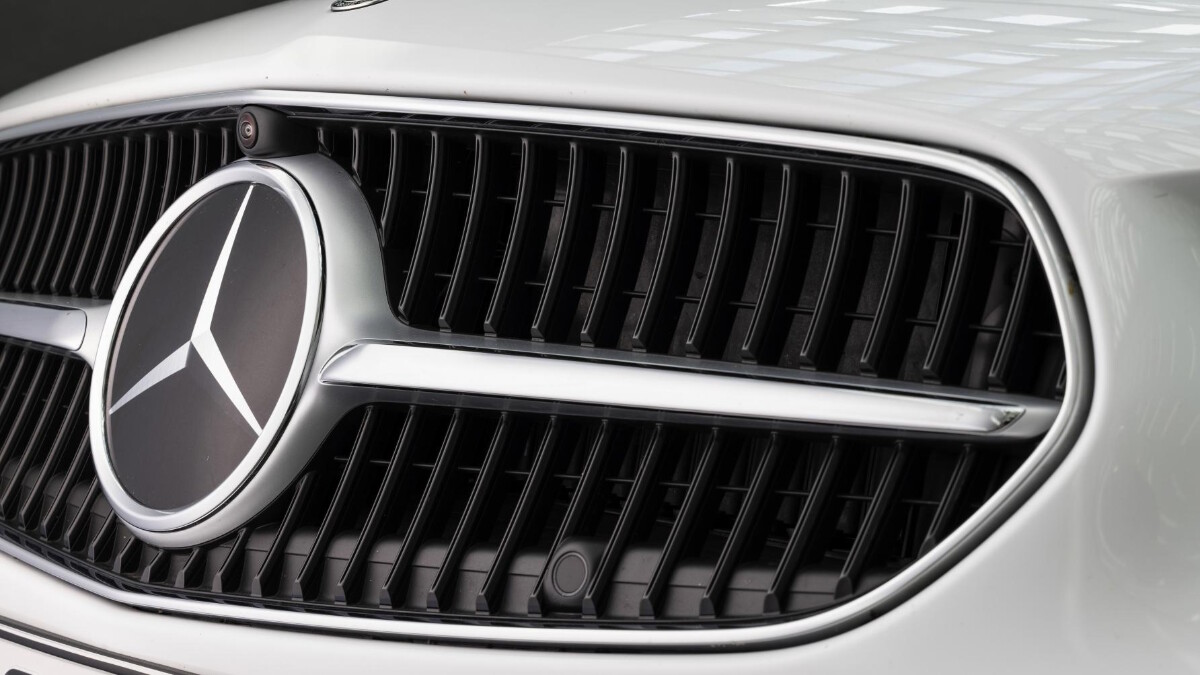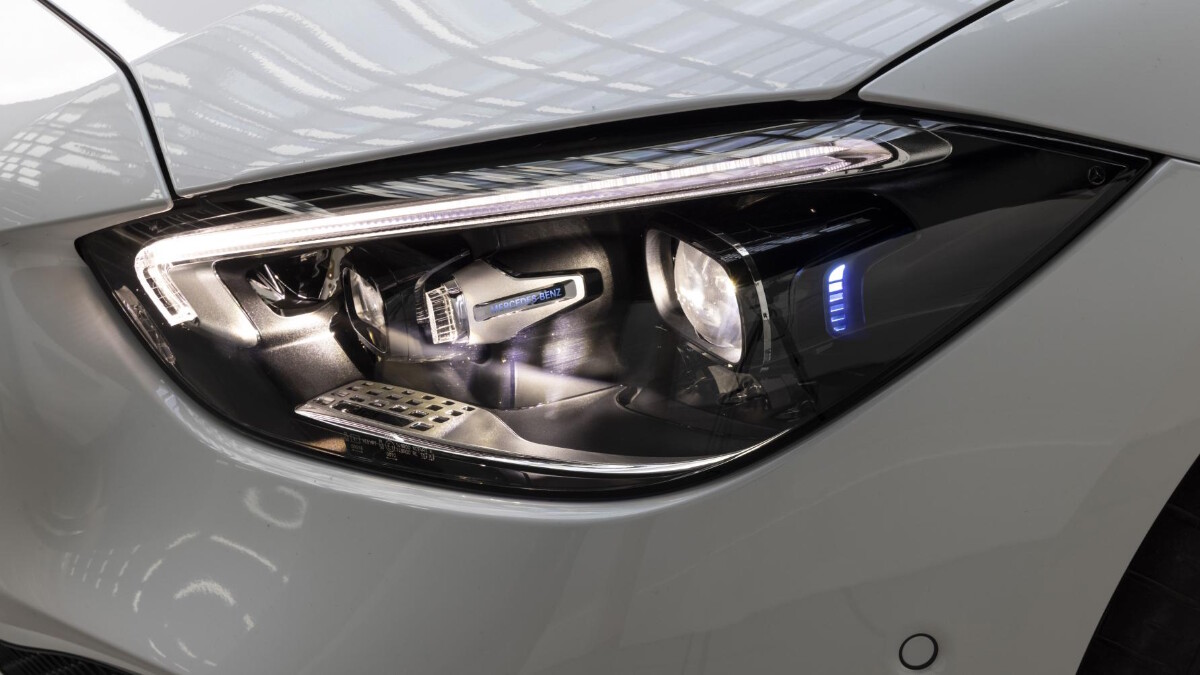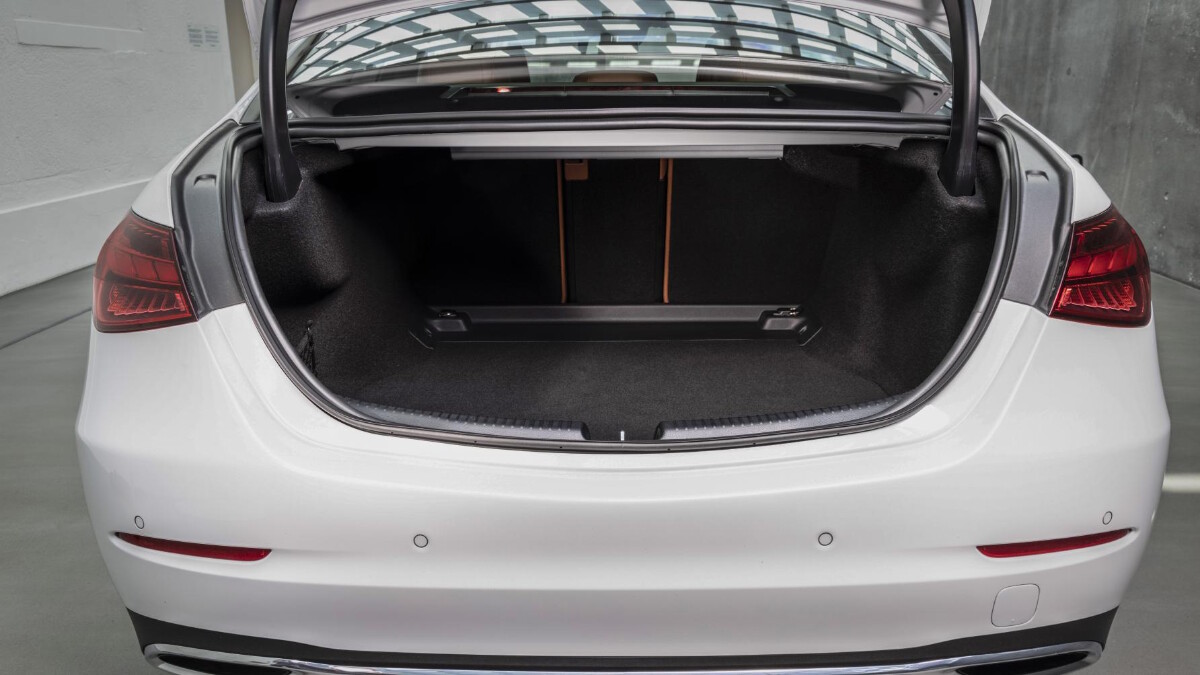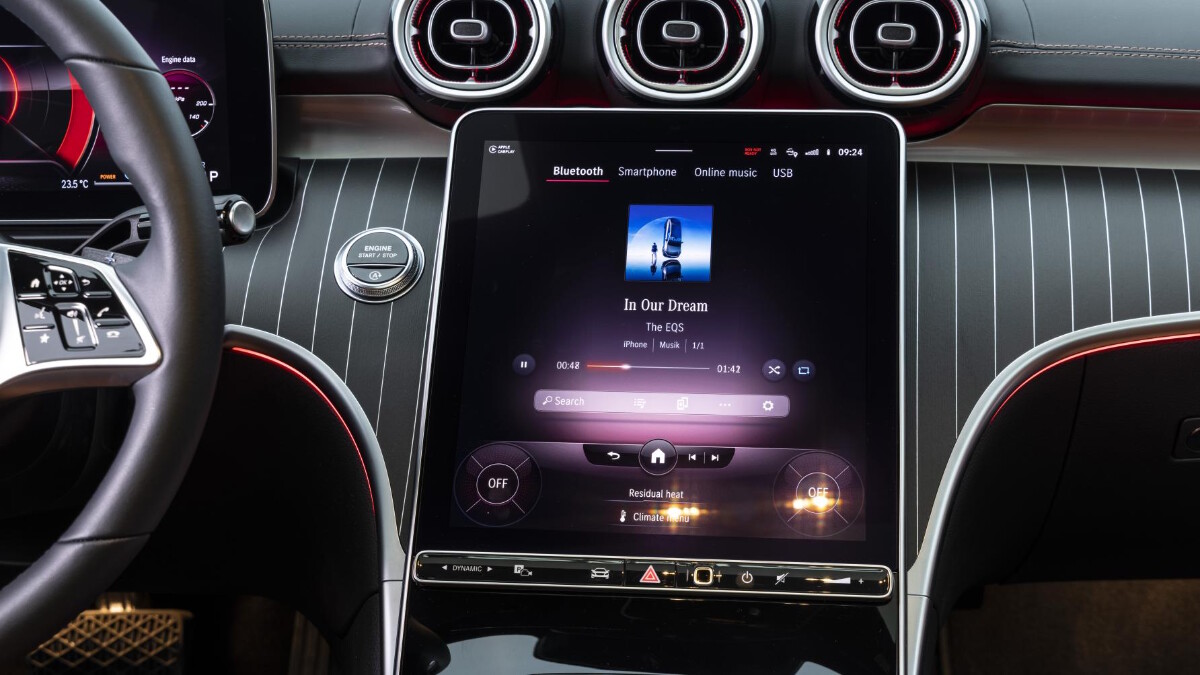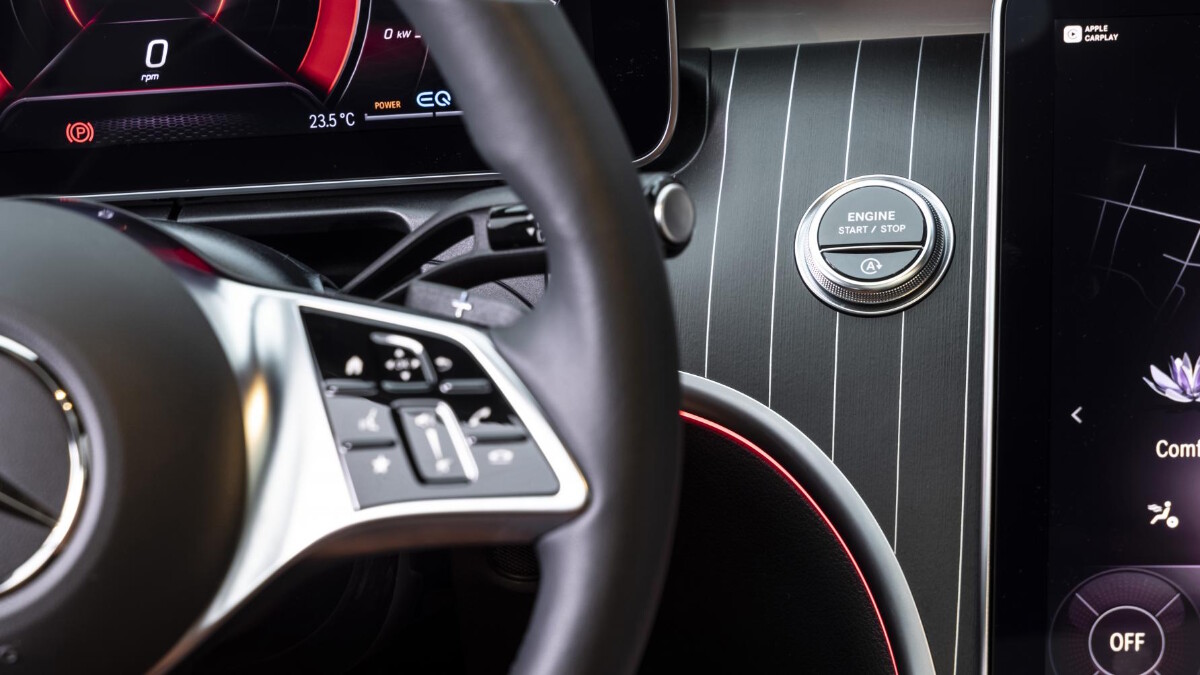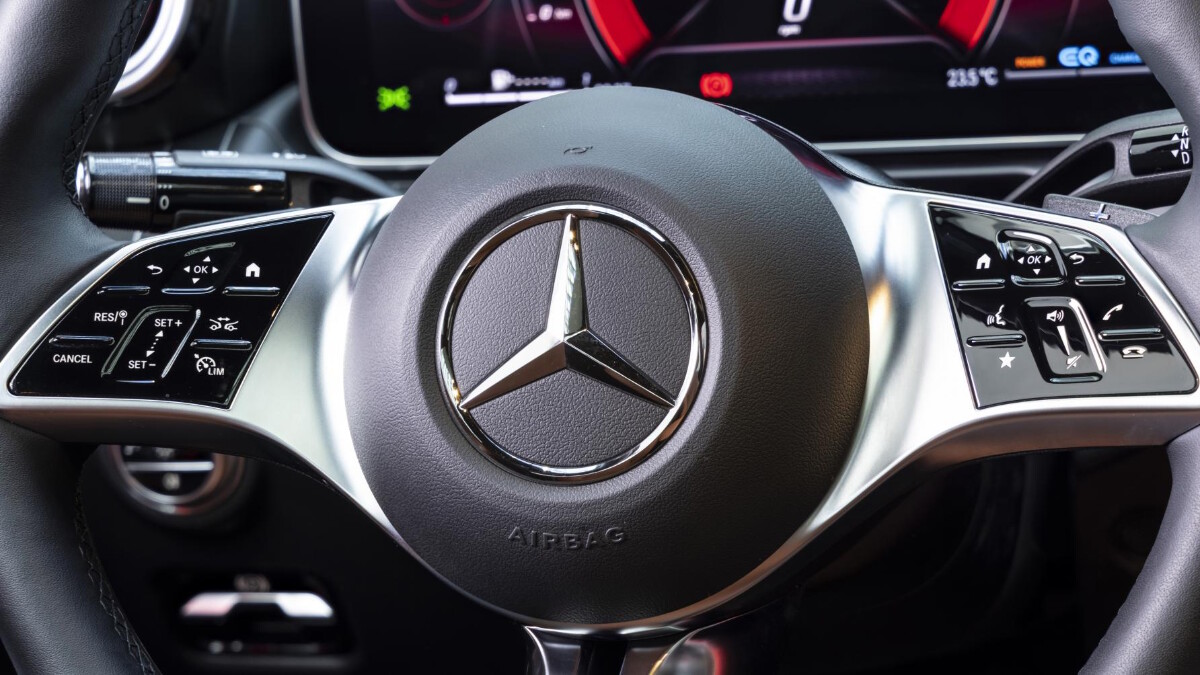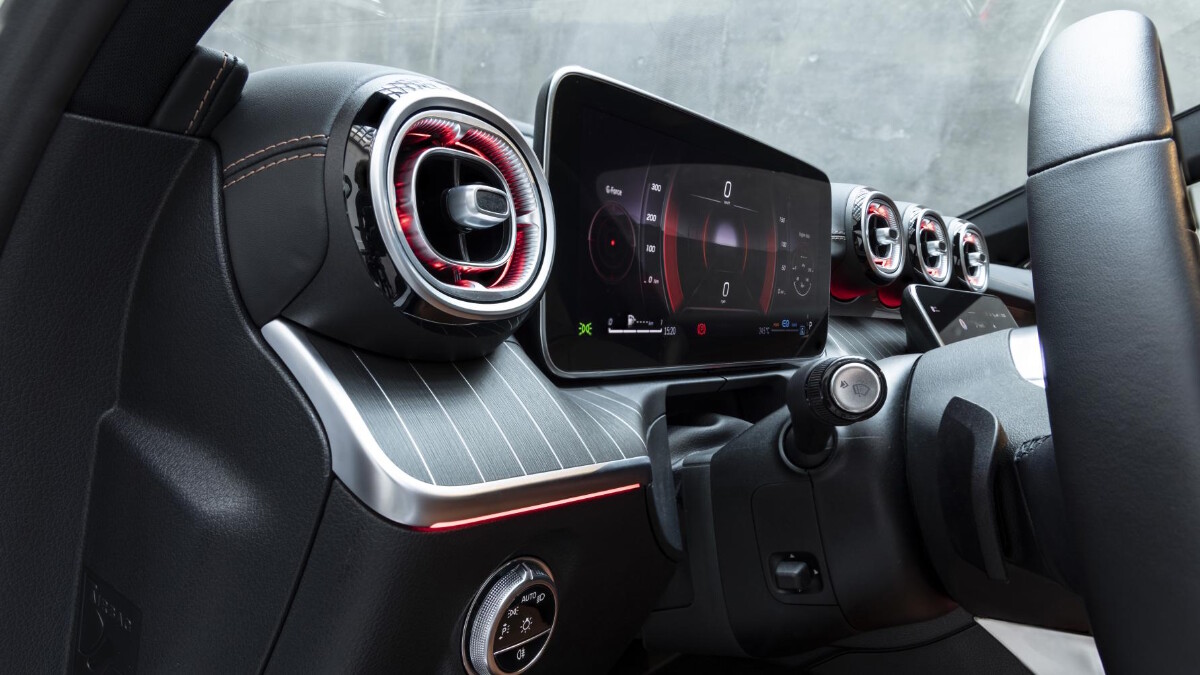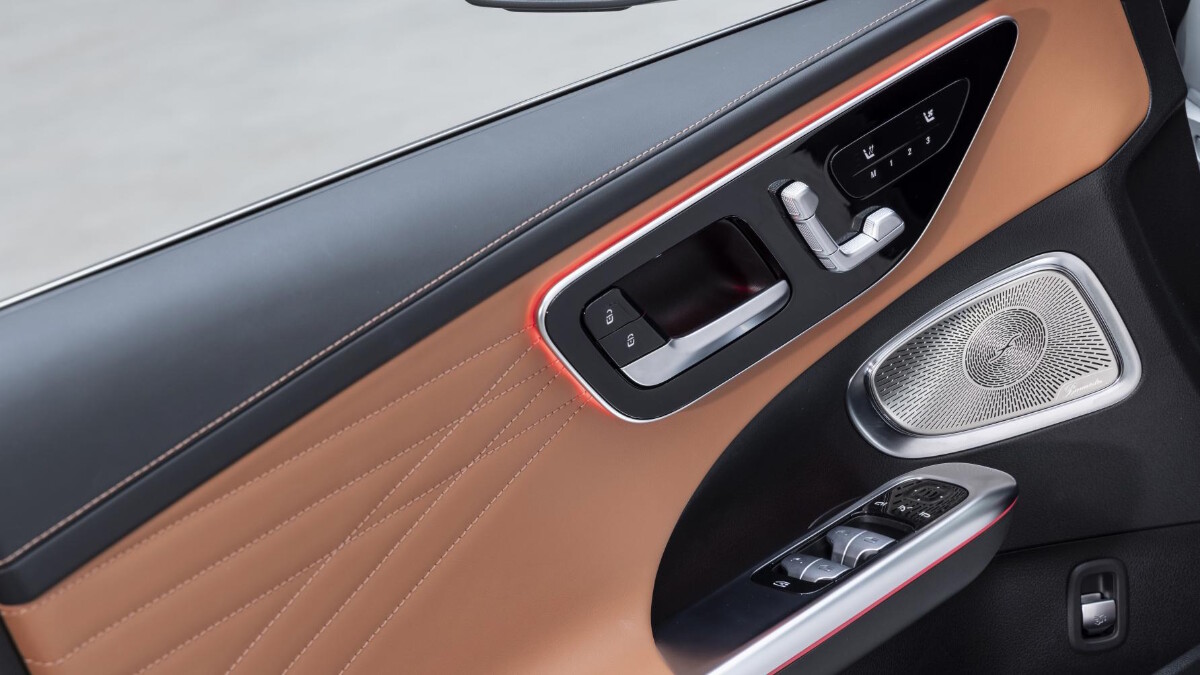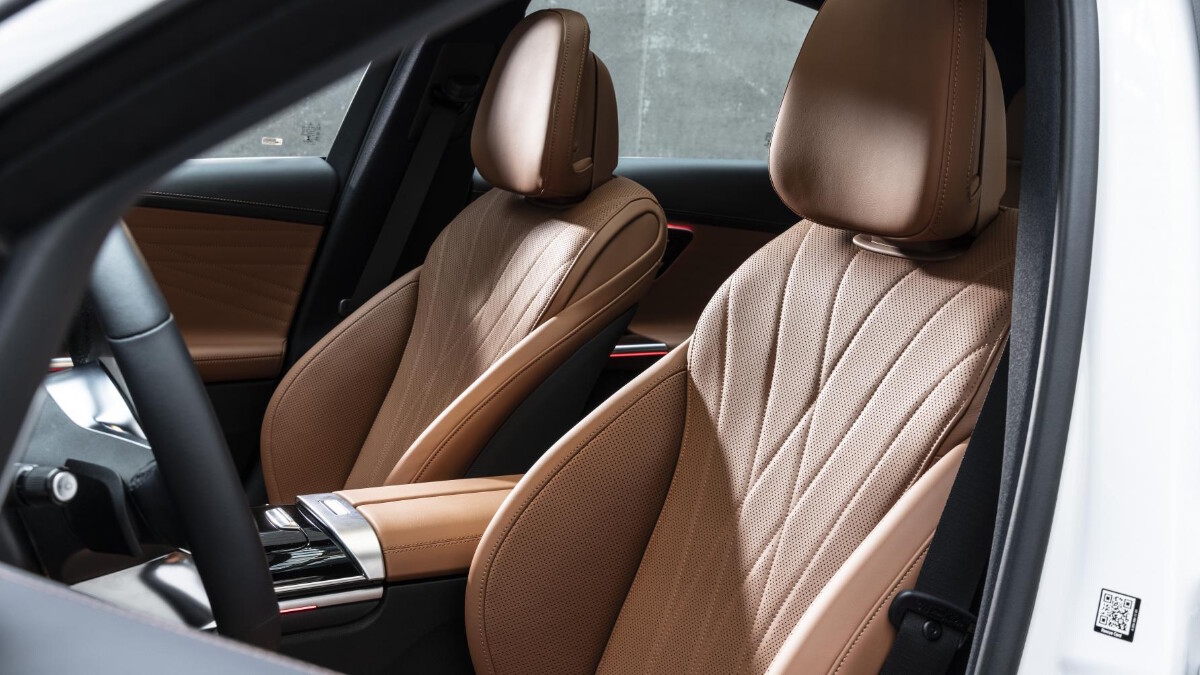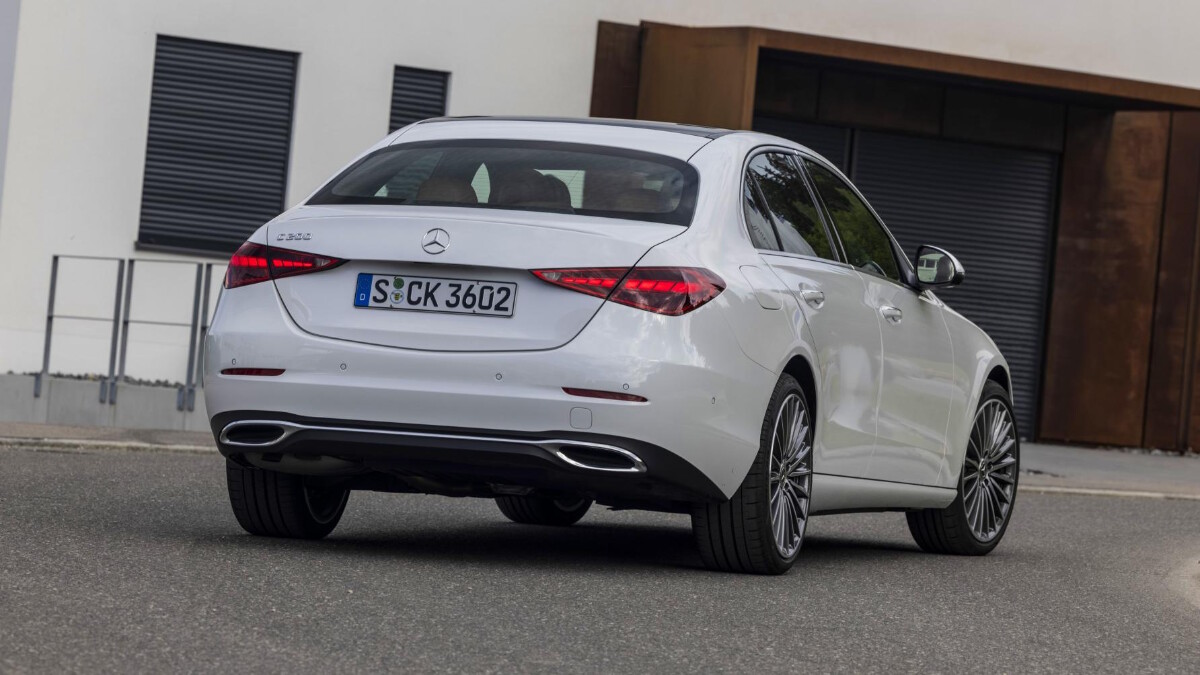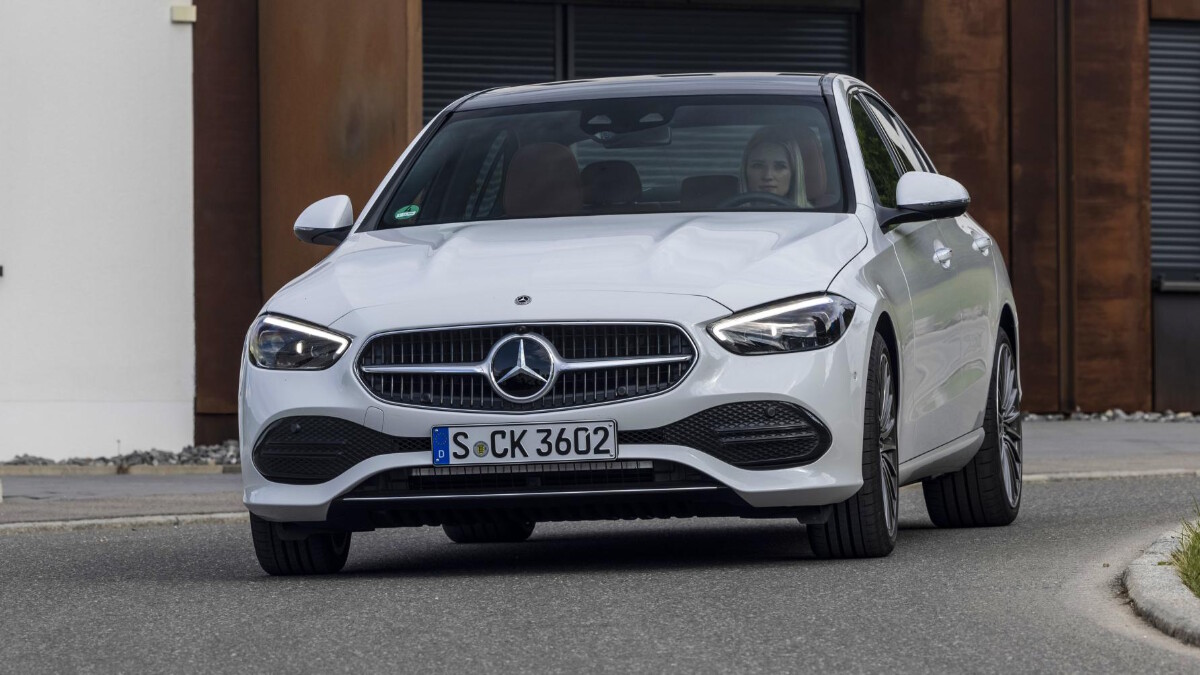 NOTE: This article first appeared on TopGear.com. Minor edits have been made.
Top Gear Philippines is now on Quento! Click here to download the app and enjoy more articles and videos from Top Gear Philippines and your favorite websites.