'The more you can throw at a car during a drive, the better.' This is a mindset and approach I have entering any out-of-town trip with a test vehicle, whether it's a subcompact sedan or, like the refreshed Ford Everest we have with us here today, a midsize SUV.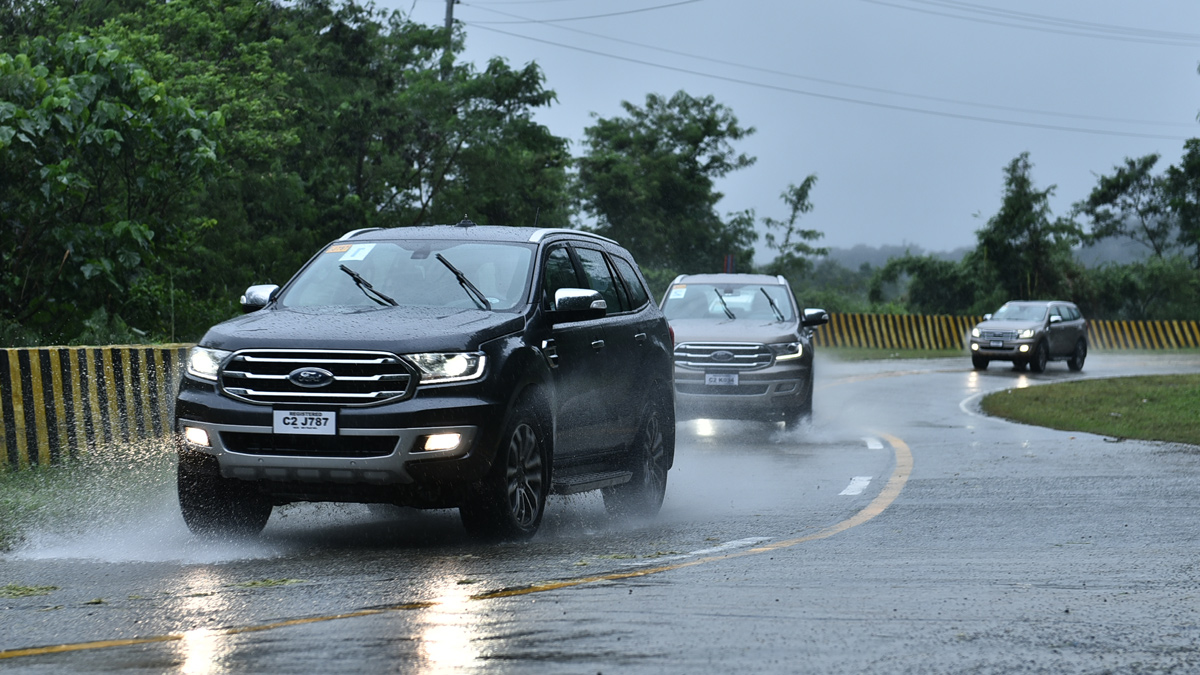 Torrential rains, challenging inclines, winding mountain twisties, slow-moving tricycles plying provincial roads: If it's a challenge you can place in between a vehicle and its destination, by all means, do so. Ford Philippines accomplished a standup job of doing exactly this, even if I doubt they had planned to embark on our journey—a tiring three-day drive from Manila to Baler, Pangasinan, La Union, and back—in the middle of a typhoon.
Continue reading below ↓
Recommended Videos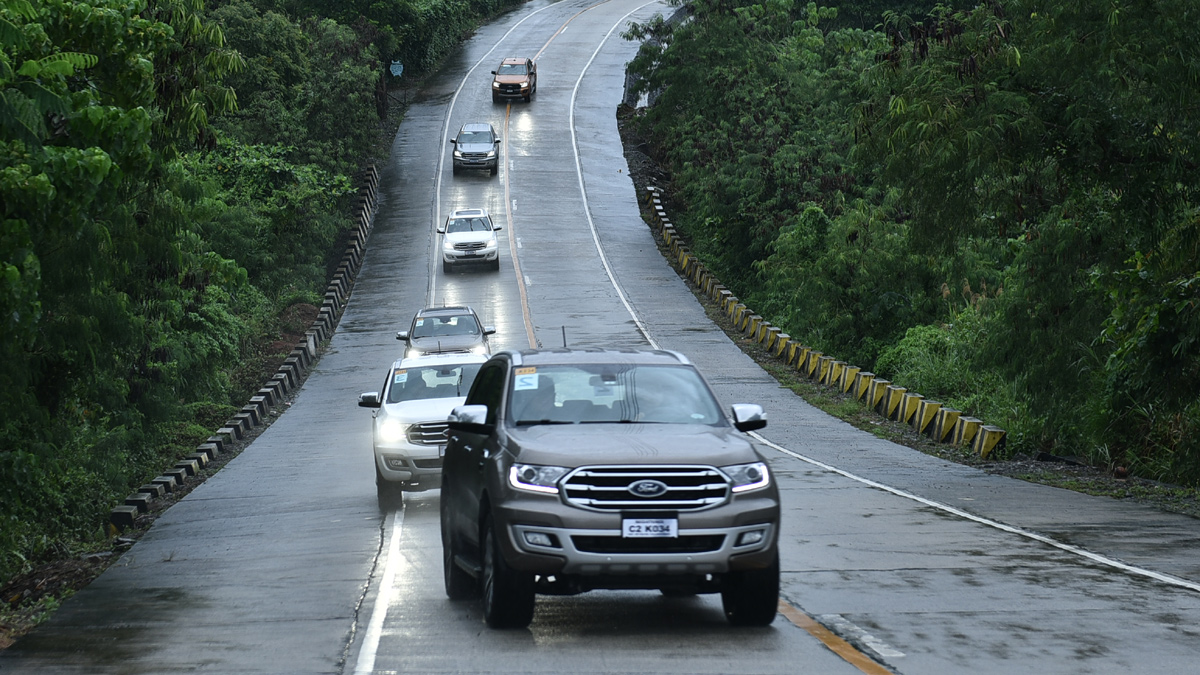 So far, the new Everest seems more than up to the challenge. Both the new 2.0-liter bi-turbo (211hp at 3,750rpm and 500Nm of torque at 1,750-2,000rpm, and the same engine that powers the Ranger Raptor) and the 2.0-liter turbodiesel (178hp at 3,500rpm and 420Nm at 1,750-2,500rpm) are punchier than their previous-generation counterparts, and I'm not noticing any turbo lag, either.
Keep in mind we're tackling some pretty steep inclines heading up to Baler, too, with three passengers on board and a rear full of overnight bags. We often encounter some trucks climbing at a snail's pace along the way, but the revs are kept low and it just feels like there's ample power available for overtaking at all times.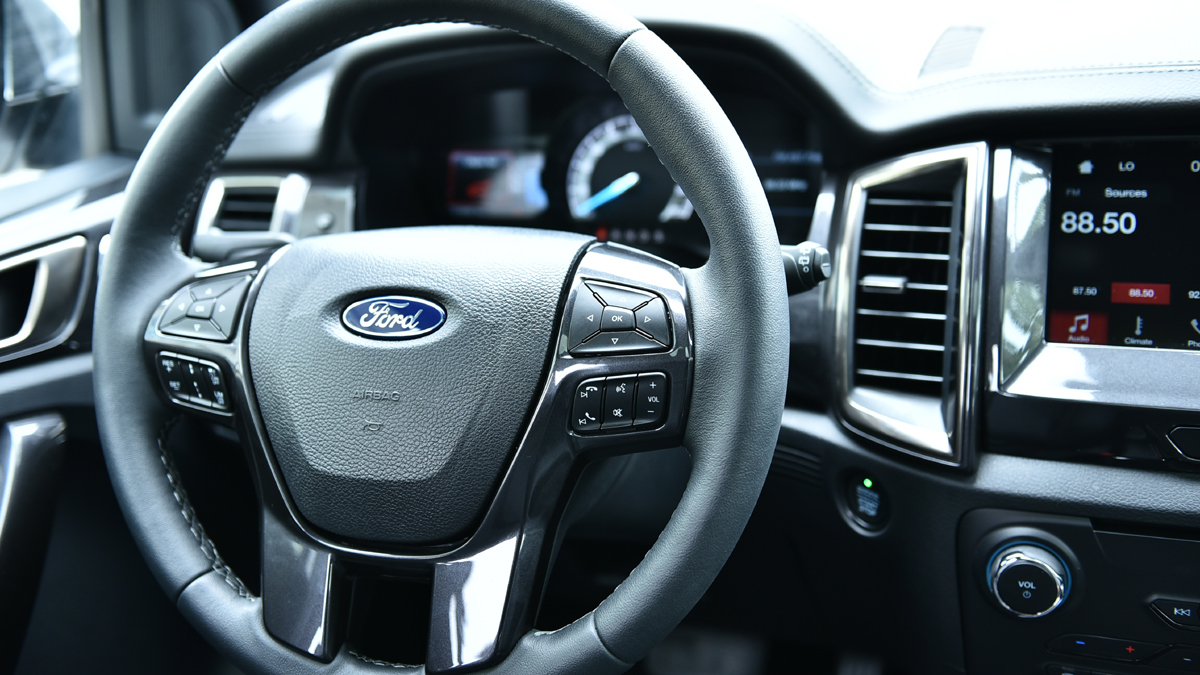 Both powerplants come mated to Ford's new 10-speed automatic transmission, and I'm impressed at how smooth it has kept things so far. We're also managing around 14km/L outside the city owing to the gearbox—good for a vehicle of this size.
As of now, my only driving complaint is the placement of the Everest's manual shifting controls: It just doesn't feel intuitive. Instead of going with a pair of paddle shifters or a traditional manual +/- gate for the gearshift to slot into, Ford has opted to equip the updated Everest with clicky buttons on the side of the shift knob. There's barely any tactile cue that you've changed gears, which is kind of an issue when you have 10 of them to play around with.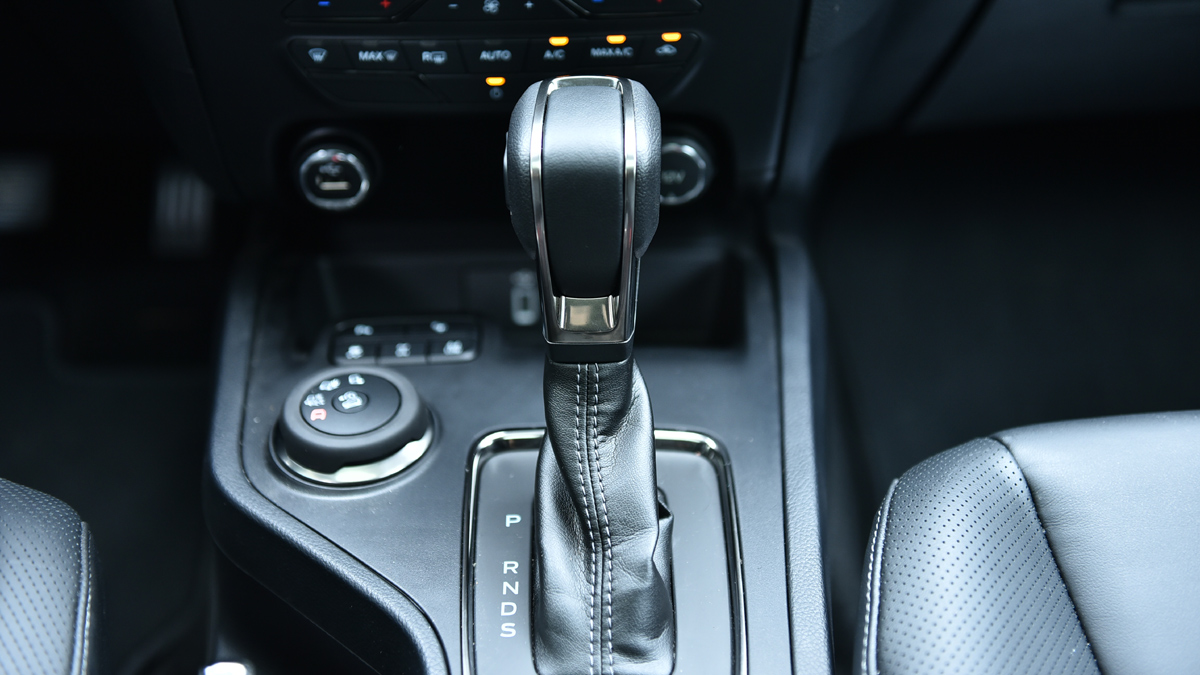 The above is basically nitpicking at this point, especially considering how well the gears feel managed. I only really wanted to use manual for a little extra security heading downhill in heavy rain. There is one hiccup, though: So we're chugging up a hill in Baler—a pretty tall one, but not high enough that it'd give any modern vehicle any issues.
The convoy slows down midway, and as the 10-speeder downshifts, it seems to take its time—about a good second—deciding on what gear to switch to next. The result is a relatively strong jerk.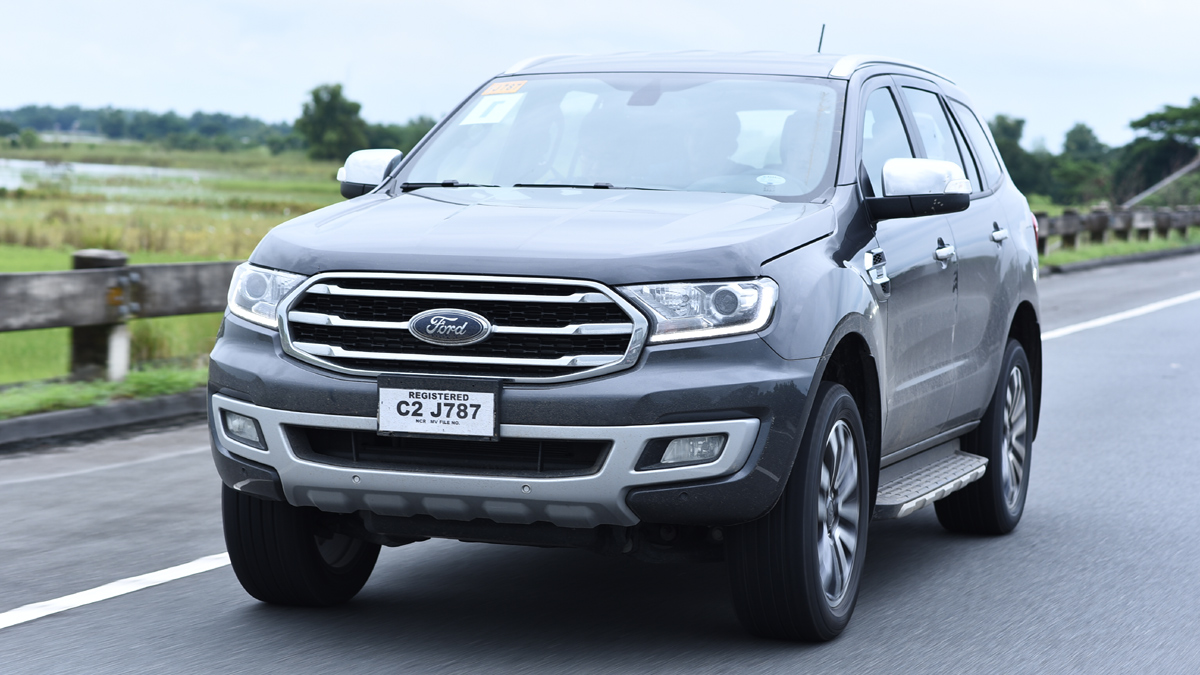 I only manage to experience this once even though I try to get it to kick in again, so I pass it off as a fluke—until two other drivers in the group tell me they've experienced the exact same thing in a separate unit under similar conditions: Uphill, and following a downshift. This is something worth observing once we get a hold of a proper test unit.
Considering the amount of time I'm spending in the Everest during this drive, I'm thankful the interior is a great place to sit in. The move to shift to darker materials is a welcome one, as this color scheme endows the cabin with a more premium feel while making it easier to maintain, too. The top-spec unit, in particular, boasts extras like a large moonroof and rear A/C temperature adjustment.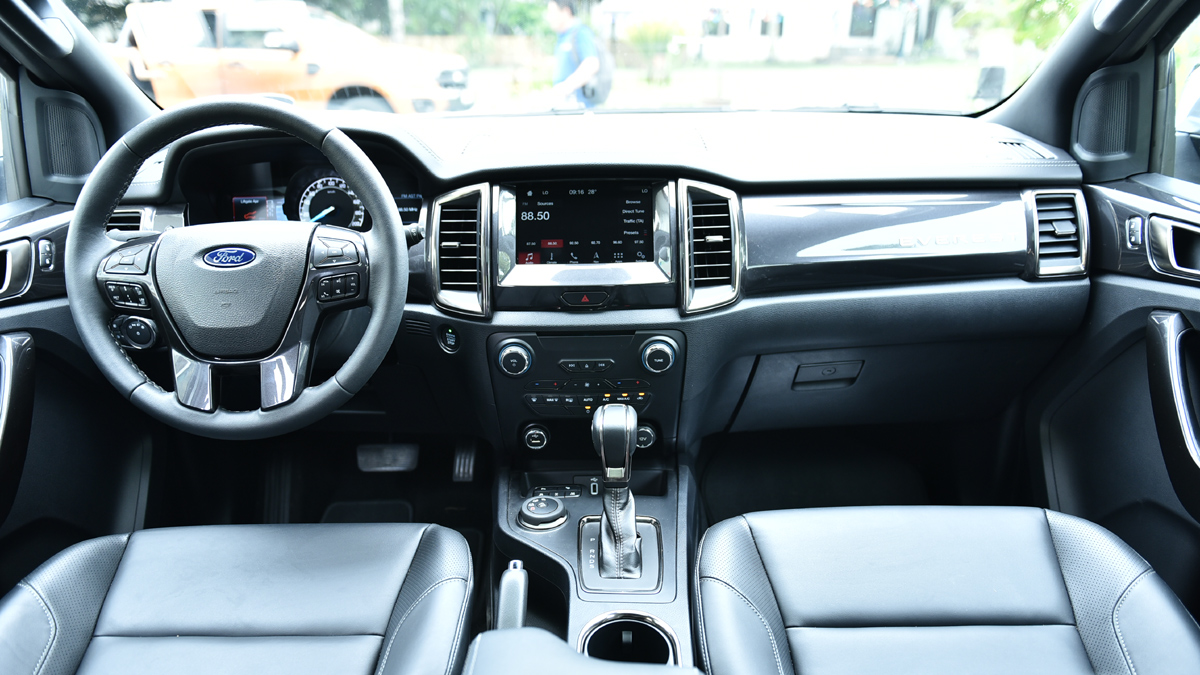 The eight-inch touchscreen infotainment system with Sync 3 is also a cinch to pair with your mobile phone, whether via Bluetooth, Android Auto, or Apple CarPlay. Sound is coursed through a nine-speaker sound setup, and the Everest simply provides one of the most seamless in-car entertainment experiences in its segment. The 230V outlet in the second row is something I hope more models adapt in the near future, and I can imagine the rear's automated liftgate being a major convenience for trips to the grocery.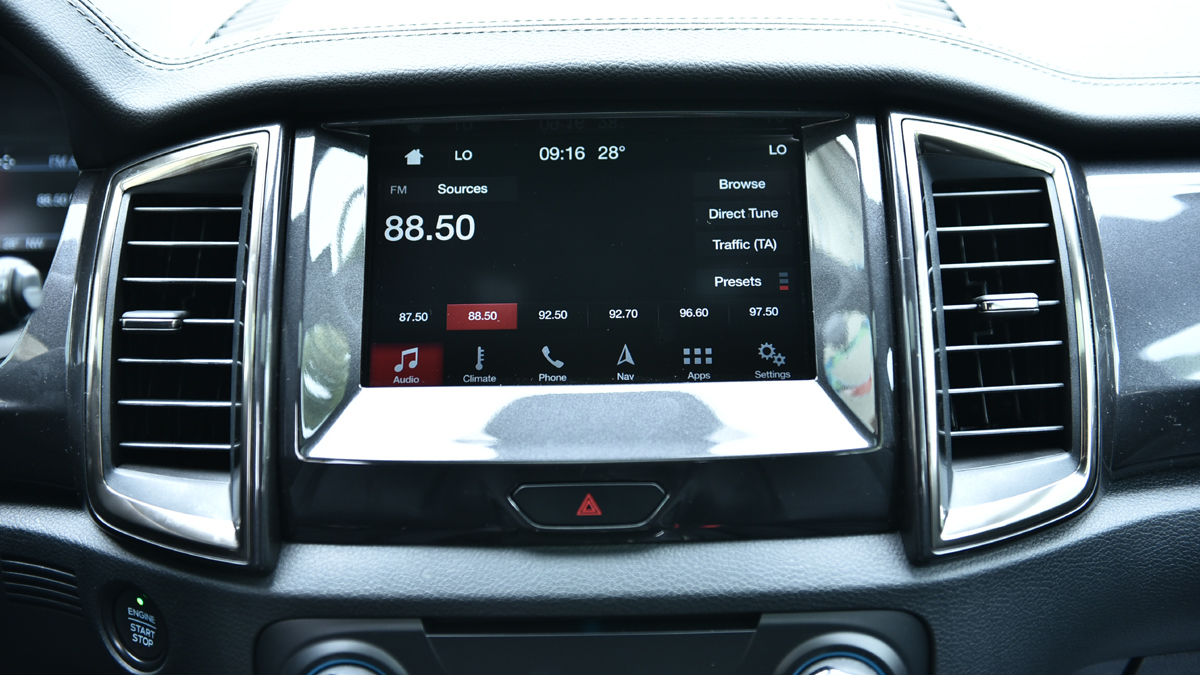 I'm also impressed at how much has trickled down to the lower-spec 4x2 variant. This includes eight-way power-adjustable leather seats and drop-down third-row seats. The only thing that really separates the variants is the aforementioned moonroof and advanced tech like adaptive cruise control, autonomous emergency braking, and automatic high beams.
Ford is also boasting about a new 'Active Noise Cancellation' feature in its cabins, though I'm hard pressed to say it has any real effect on quietness. On the highway, NVH levels are about what you'd expect from the segment. And while the double-wishbone/coil-spring suspension keeps things tame over most surfaces, there is noticeable body roll as you go through wide corners.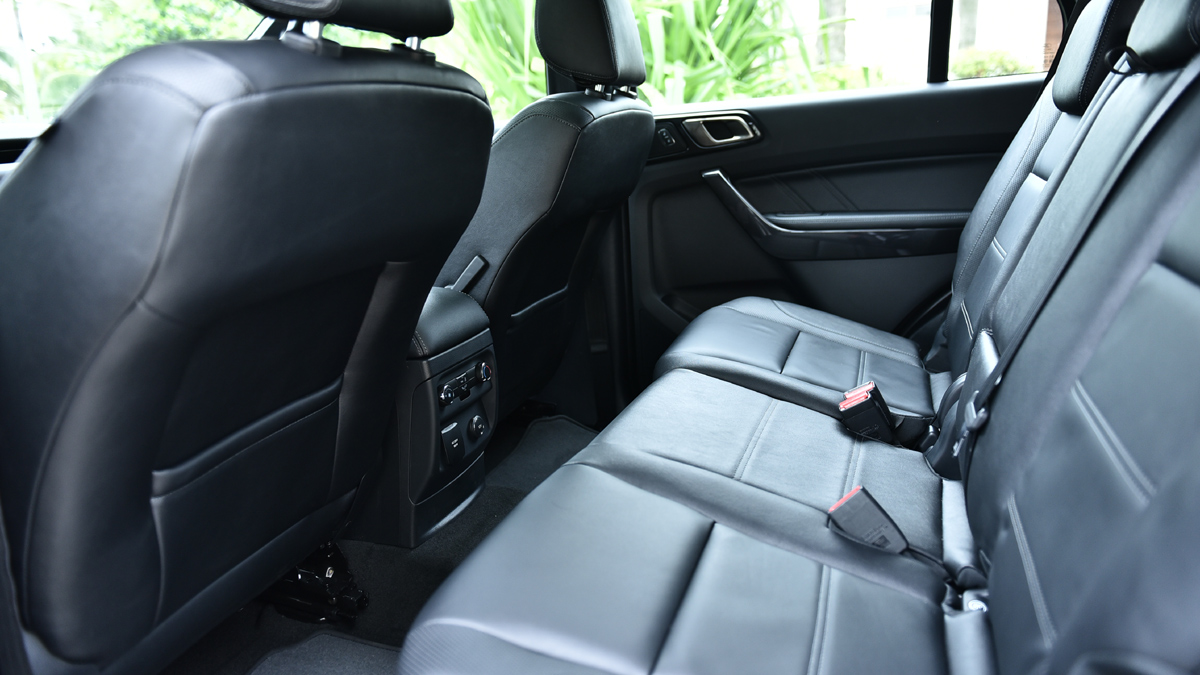 The new Ford Everest comes into the market at an opportune time, beating other big nameplates to a major overhaul by a considerable margin. It also manages to join the fray as one of the best-spec'd midsize SUVs around thanks to a superb infotainment setup and a pair of impressive new engines.
That said, its arrival isn't one without some questions marks. Ford Philippines has done away with the availability of the model's lower-spec and more affordable Trend variants, meaning there's less flexibility financially if you're eyeing the vehicle (though the company shared that the bulk of its pre-refresh sales came from Titanium units). The 10-speed automatic transmission is something we'll also pay close attention too once we get our hands on a review unit.
Still, if you have plans of upgrading to a midsize SUV for the family, it'd be a crime not to consider the Everest. Its powertrain impresses, its interior is top-notch, and it has plenty of features and convenience to go around. Only time will tell whether or not the market feels the same way.