What's with the stickers?
Ah, you've spotted them. Yes, this white VP2 007 (is somebody trying to subconsciously fill us with warm, fuzzy Bond's Esprit vibes?) test car is a validation prototype; we'll drive the final production car next month, making this sort of a sign-off drive. At least in our heads anyway, which is why we're in North Wales, on one of the UK's greatest (and currently wettest) driving roads, for our first introduction and the world exclusive road test.
How 'prototype' is this prototype?
Lotus sent through a list of things that aren't quite finished, like: this is the 'best available' chassis tune, but brake feel, ride comfort and steering feedback will all improve, as will road and wind noise, there's a load of 3D printed placeholder parts in the interior and Tour and Sport driving modes are working, but Track mode and turning the traction control fully off is not. It's true, we tried.
But look, that's largely just the engineers covering their backs, we're not particularly interested in whether interior trim is the final grade, or a few of the electronic nannies aren't working, we're here to drive the thing on the road, to get under its skin, to get a feel for whether the Emira is going to be as special as we all suspect.
Okay, but why exactly is everyone so excited about the Emira?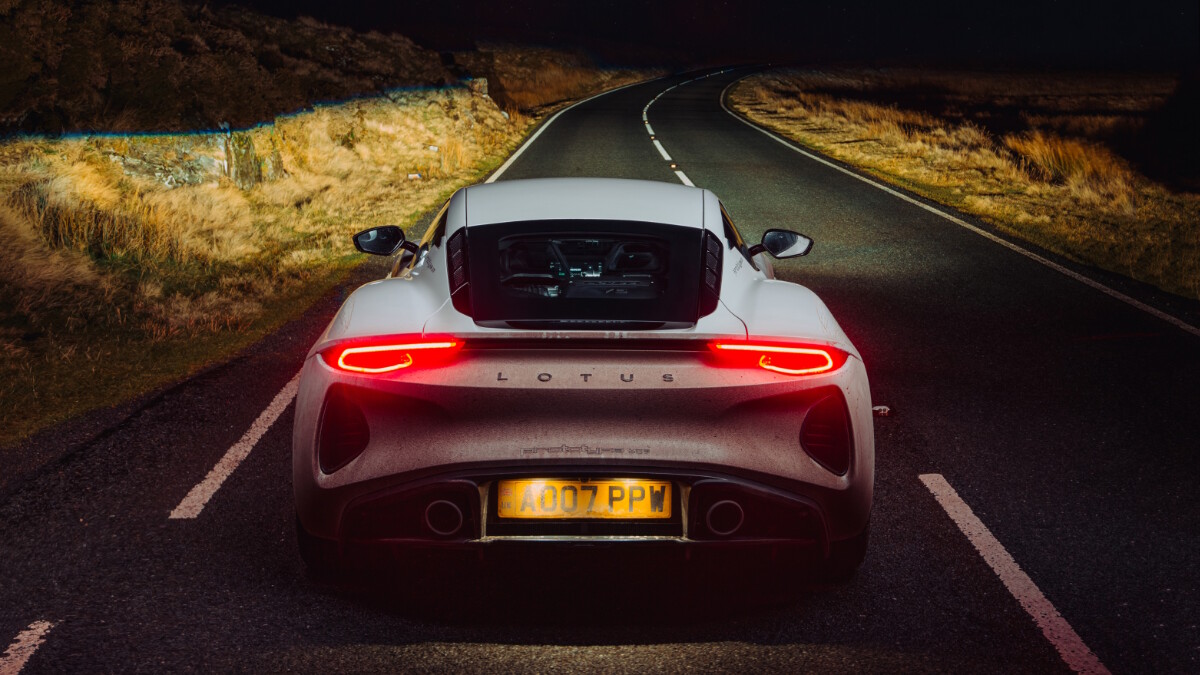 ADVERTISEMENT - CONTINUE READING BELOW ↓
Because it has all the Lotus-y bits we love. That means a bonded aluminum chassis that's different in every dimension (particularly wider) to the now defunct Elise, Exige and Evora trio, hydraulic steering and passive dampers, although at 1.4 tons it's not exactly a flyweight—clearly a plusher interior and all that electronic assistance tech comes at a cost.
To be totally honest the Emira isn't a huge technological achievement. It's not made from new and strange materials, it doesn't rethink aerodynamics or debut some whizzbang e-assisted powertrain capable of running on bin juice, it's just a petrol-powered mid-engined sportscar with a manual gearbox and Hollywood good looks.
It's the car company with the best gene-pool in the business summoning up the full force of its experience and presenting that in a way that's palatable to a wider audience. These days we demand bandwidth, a car that can frazzle our minds on an empty backroad, but is also comfortable, reliable and usable the rest of the time. The Emira is that, the Porsche Cayman thwarter that brings Lotus kicking and screaming into the 21st century.
ALSO READ:
The Lotus Emira will launch in PH this year with an P8,888,888 price tag
Isn't Lotus going all-electric, too?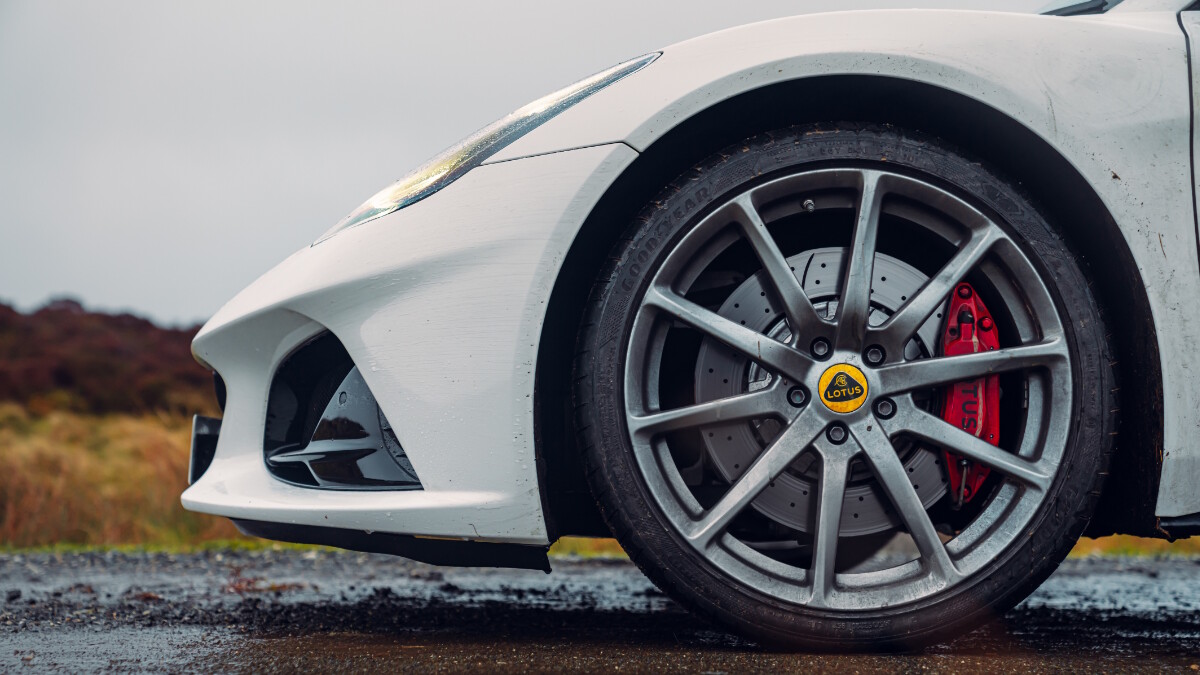 ADVERTISEMENT - CONTINUE READING BELOW ↓
Recommended Videos
Yep. The Emira will be around for a good while yet, but it'll be the last petrol-powered model Lotus ever makes… Hethel is going all in on electric. The next few years will bring electric SUVs in two sizes, a four-door electric sedan and, in 2026, an electric sportscar under co-development with Alpine. That faint whine you can hear? Colin Chapman spinning like a supercharger in his grave. But the world is changing and courtesy of its Chinese parent company Geely, Lotus has a properly funded plan to change with it. The Emira is the lynchpin though, the one to keep its credibility as maker of the best-handling cars in the world intact.
No pressure etc. Let's talk specs!
VP2 007 is fitted with the softer Tour suspension (a Sport chassis is also available) and we've got the less aggressively bolstered comfort-spec seats. But we've also got the Driver's pack, so a limited slip diff at the rear, and the larger 394hp 3.5-liter supercharged V6 and a six-speed manual gearbox. AMG's nut-job 2.0-turbo four-cylinder (only available with a twin-clutch auto) will follow later, but I can tell you now, with some confidence, that this is the combo you want.
Please explain…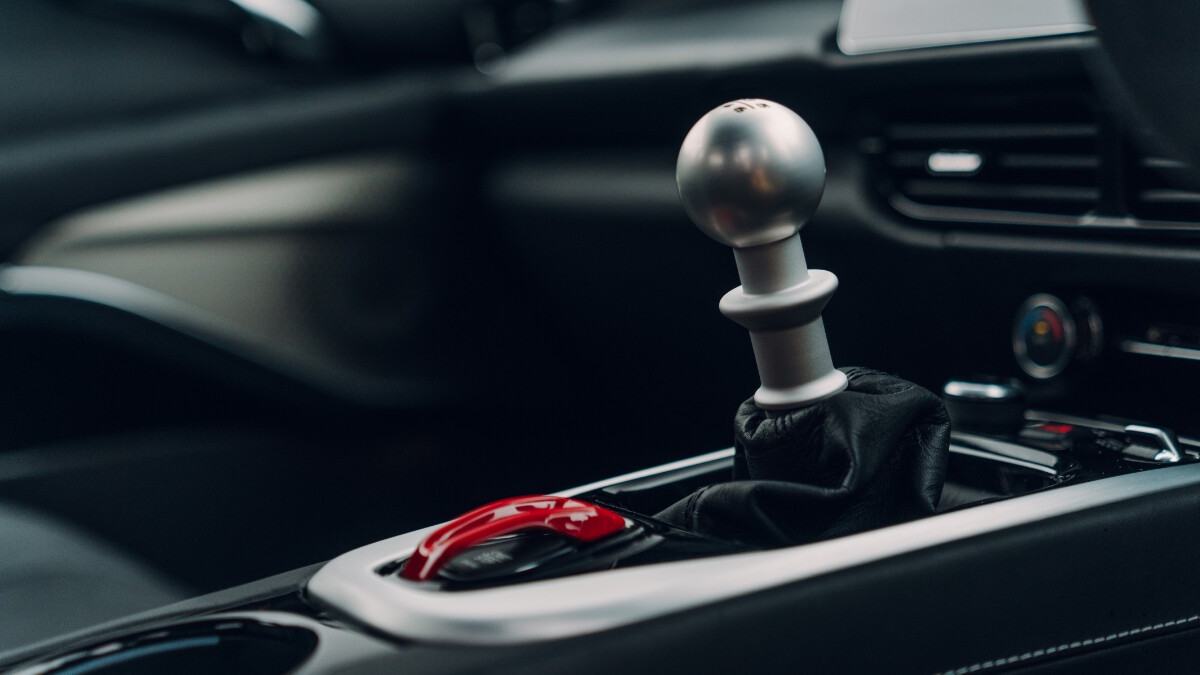 ADVERTISEMENT - CONTINUE READING BELOW ↓
It's a Lotus, it deserves a manual gearbox for maximum machine/human interaction, and immediately it just feels right snicking between gears. Sure the shift could be a little tighter, and the linkage will be exposed on the final car, but the ingredients are there. Same goes for the engine. Let the supercharger get into its stride around 2,000rpm and throttle response is pin prick sharp, keep your foot buried and in Sport mode there's a hollow howl at higher revs and joyous little burps and pops when you lift off.
It's not this V6's most flamboyant incarnation, but Track mode should unlock a smidge more noise, and raspier more hardcore Emiras will follow. As a starting point, it'll do nicely. Rolling acceleration is rapid too – not the warp-speed, barely controllable boost you get in something more senior like a McLaren 570S, but genuinely as fast as you'd ever want or need on a real road. Lotus claims 0-97kph (0-60mph) in 4.3secs, and a top speed of 290kph—that's Ferrari 360 Modena pace.
Spicy. But since when was a Lotus about numbers and quantifiable data?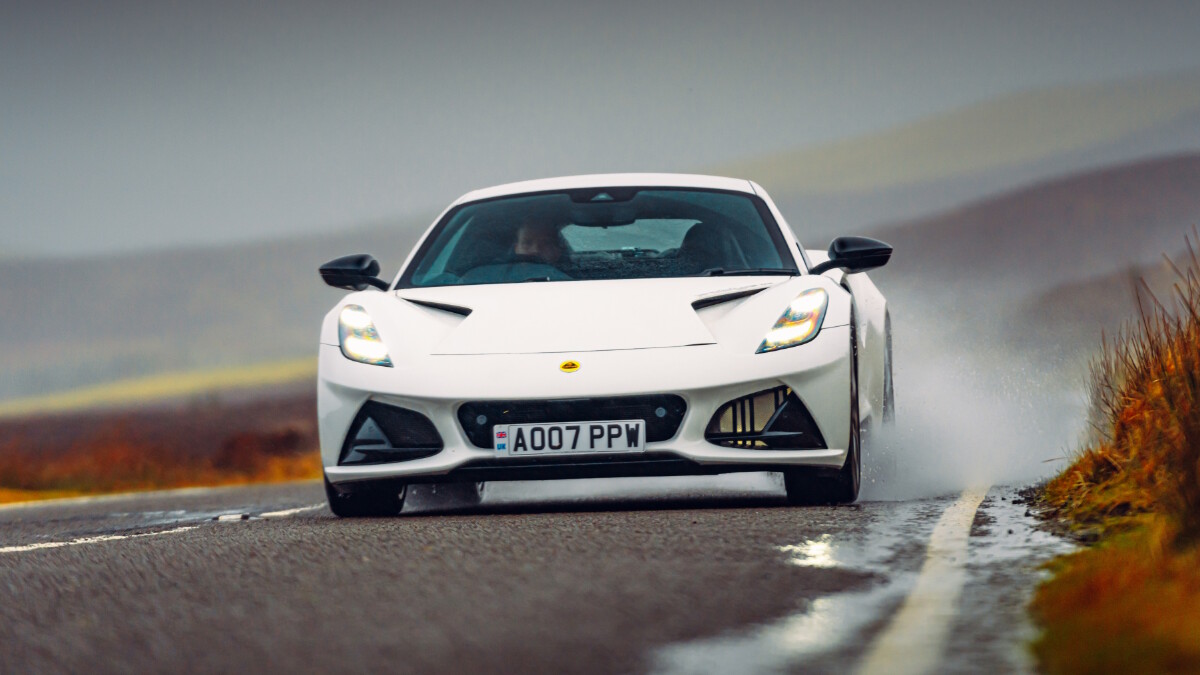 It's true, the mark of Hethel's best has always been the feelings you get through your bum, feet and fingertips… and the news is good. It feels like a Lotus, right from the off. The gussied-up interior is unfamiliar, but the golden triangle of touchpoints—steering, brake pedal, gearstick—are all brimming with Lotus's DNA. There's very few car companies these days that you could jump in any of their models, blindfolded, and know who screwed it together. Lotus is one of them, and the Emira carries the torch.
There are signs that this is still very much pre-production—the odd-whistle from the door seals, a few millimeters of unexpected play in the gear shift, but honestly it's more polished than we thought it would be. The steering pours the car into corners with that lovely organic feel that only hydraulic racks can offer and there's no variable ratio or obvious dead spots, just a faithful message from the front tires.
Case in point: the rain is belting down, I dive into a downhill hairpin too hot and I know we're going to understeer a second before it happens, enough time to scrub some speed. That fiber optic transfer is invaluable.
ADVERTISEMENT - CONTINUE READING BELOW ↓
Can you feel the extra weight?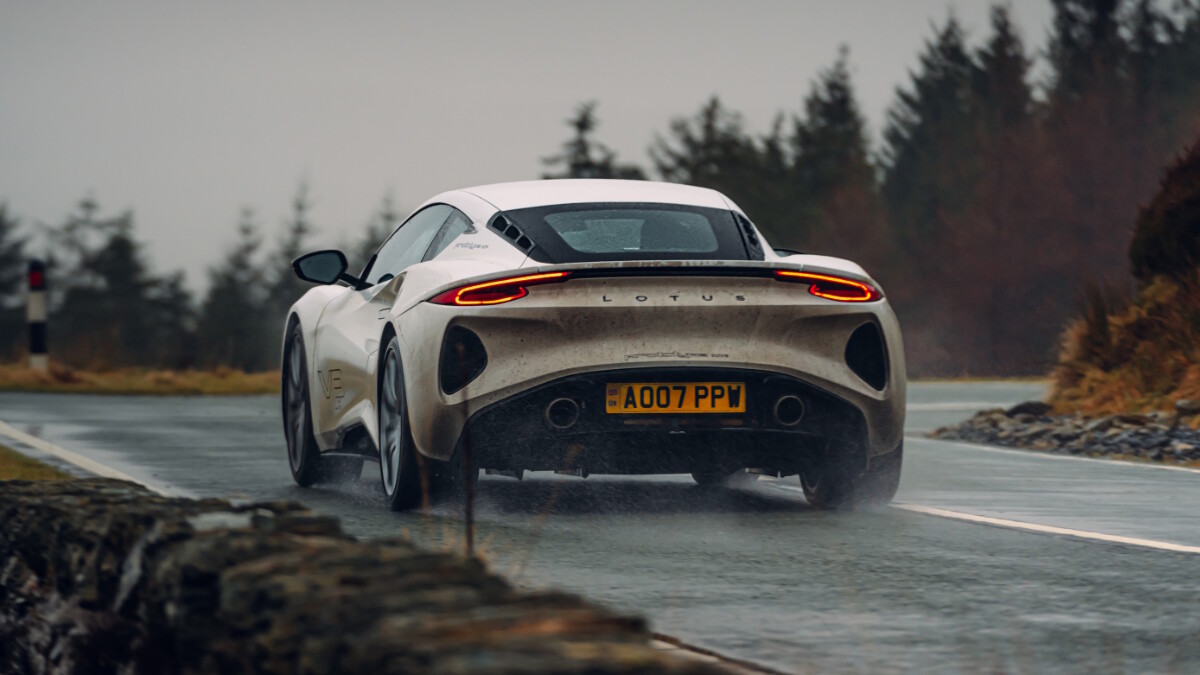 Yes, but the chassis has been tuned accordingly, so you don't heave and roll about, the suspension breathes with the road, absorbs all but the worst cracks and holes and you end up with a car that flows along beautifully and offers rewards for good driving. There's flashes of the Alpine A110's suppleness, hints of the Maserati MC20's softened edges, and the makings here of a truly well rounded sportscar. The roads are drenched, but it's not a big deal because the Emira has no interest in biting you, it simply lowers the limits and communicates that accordingly.
Perhaps the biggest surprise is the night-time dash from soggy Wales back to slightly-less-soggy London. It feels solid and complete, a car you could easily point towards the South of France (does anyone actually do this anymore?) and arrive not just with your hearing and spinal health intact, but refreshed and caught up on your podcasts.
As special as we suspected then?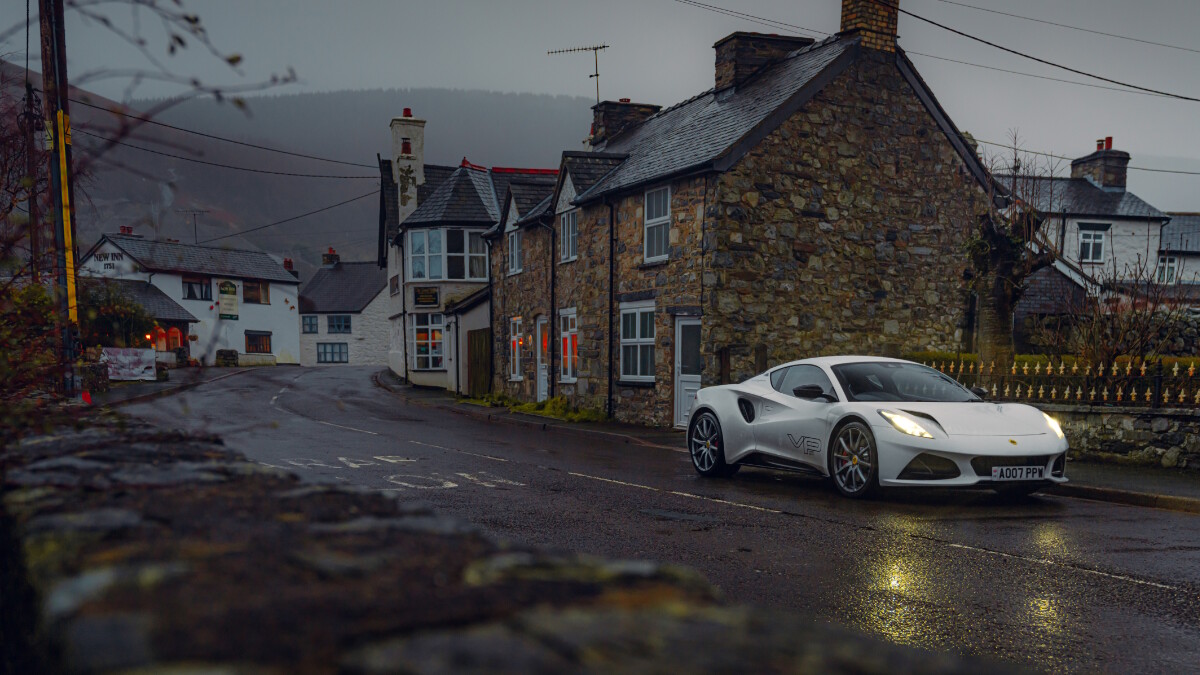 It might not be a huge technological achievement, but it's a giant leap for this great British company. And with the V6 First Edition starting at £75,995, and a £59,995 entry level model (that's the AMG 4cyl) coming in 2023, it really does plug a gap somewhere north of the frustratingly auto-only A110, but well below a full-blown supercar.
Is it better than a Porsche Cayman? That's a question for later, it's certainly a more interesting choice and the build quality, ride and refinement gap is going to be Rizla thin. It's not quite finished then, but it's tickling me in all the right places.
More photos of the Lotus Emira prototype: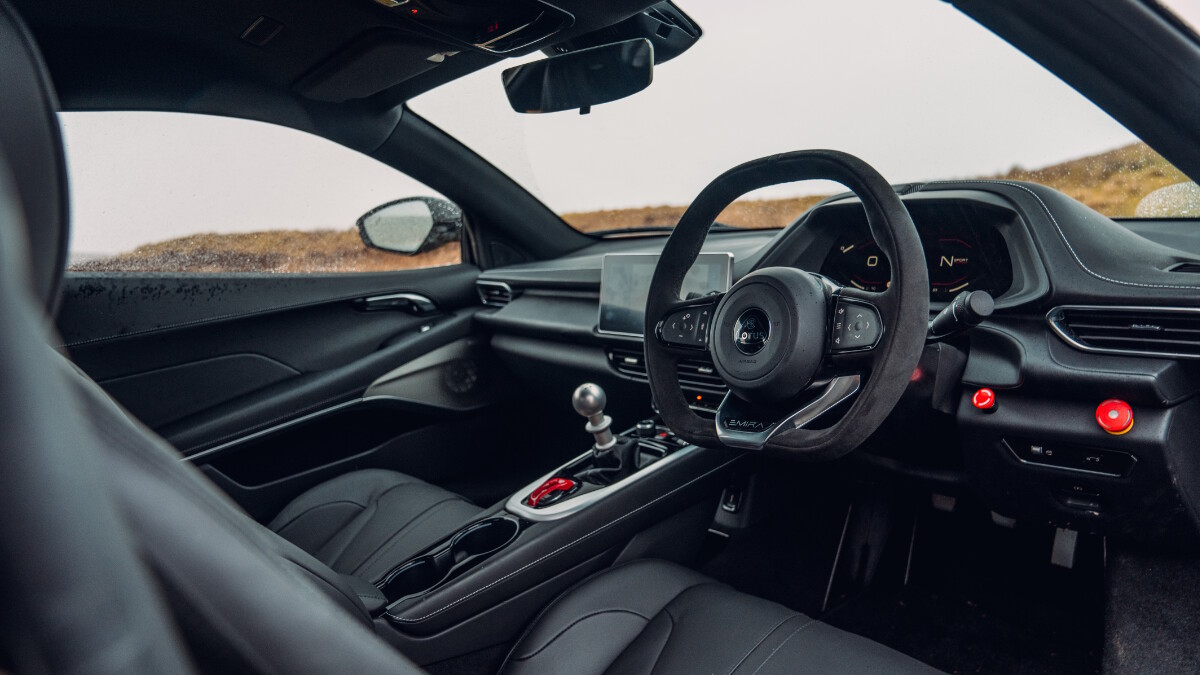 ADVERTISEMENT - CONTINUE READING BELOW ↓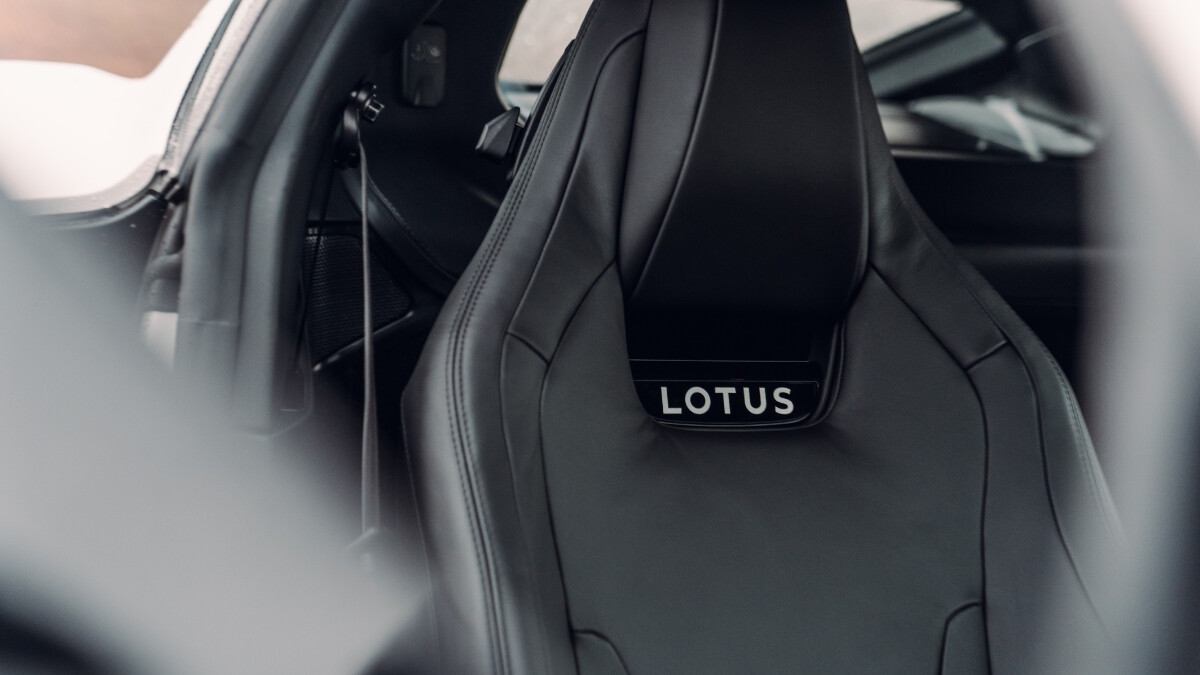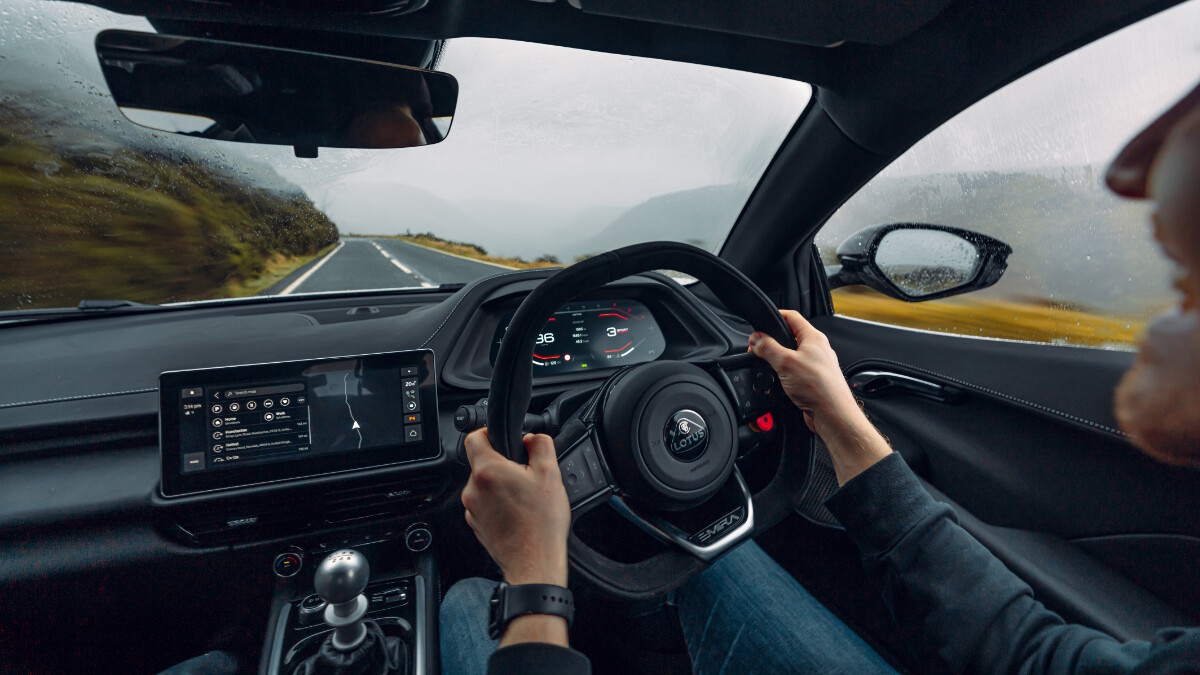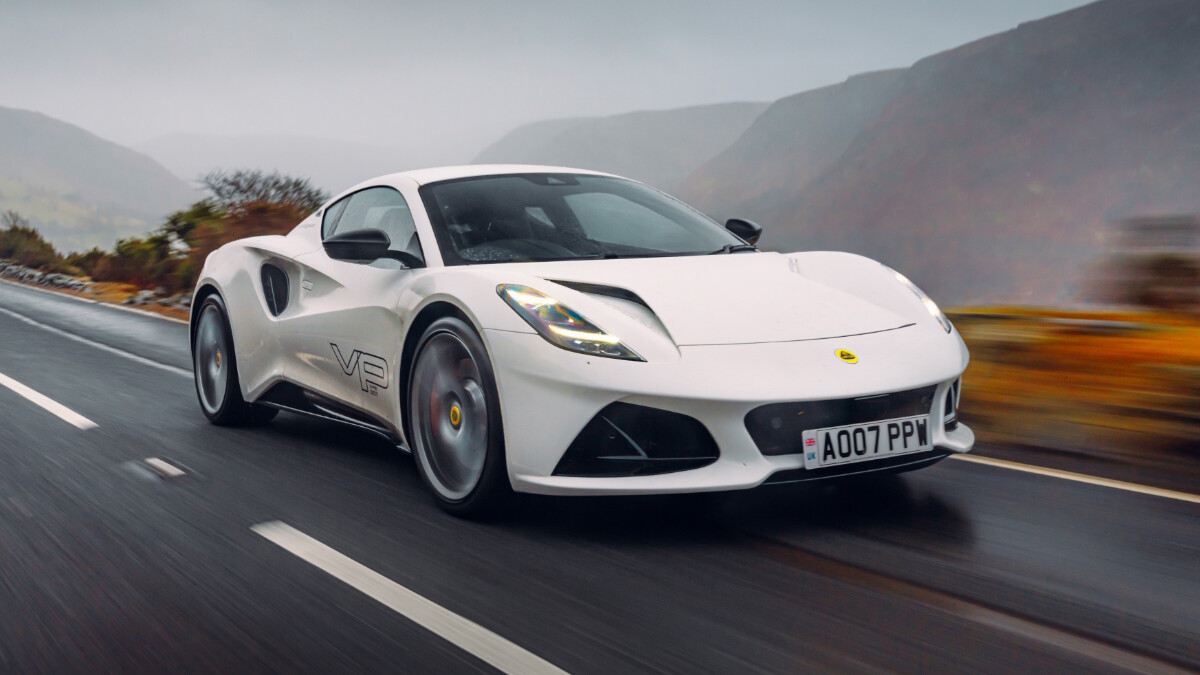 NOTE: This article first appeared on TopGear.com. Minor edits have been made.