There are a couple of specific cock-ups inside. The frankly brilliantly integrated dual cupholders first introduced in the 997 have been replaced by a single obstacle for your elbow and another pop-out thingy over by the passenger door. This is rubbish. And every time I climbed out, I caught my pinkie in the interior door handle. This might just be me being an a**e.
I only drove the car on a flat circuit, so I can't tell you anything about ride comfort or how it might behave on the road, but I can tell you that the rear steering is as successful as it is in the GT3. If you want to witness engineering achievements, then document the change from the 991's simply awful electric power steering at launch to where the 992 now finds itself. The weighting is near-perfect, the car changes direction so cleanly, and of course, you have the added benefit of a tiny turning circle.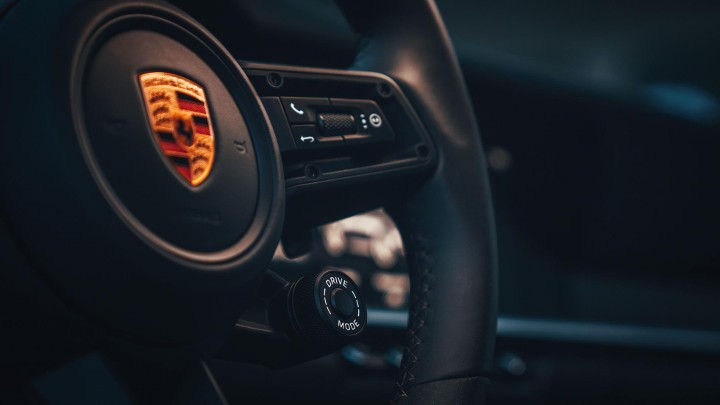 The gearbox is good, with one note—even with Sport Chrono fitted, the shifts didn't feel that quick, but they were smooth enough, so I can't really complain. A seven-speed manual will be available later this year. The 992 is the first 'normal' 911 to use different diameter wheels front to rear. Those sexy rear arches have space enough for 22-inch rear rims, and the rubber is wide enough to give good traction. A locking differential is standard on the S, and should you want to slide the thing around, you can.