What does it take to be the number one car model in the Philippines? A solid dealer network? A brand known for quality? A looming price increase?
The Toyota Fortuner had all these factors when it reigned as the number one vehicle model in the Philippines last year. It even dethroned its fleet favorite sibling, the Vios. Is the Fortuner as good as its sales suggest? Or were people just scared of the excise-tax increase and ran to the most familiar automotive brand? Let's find out.
Styling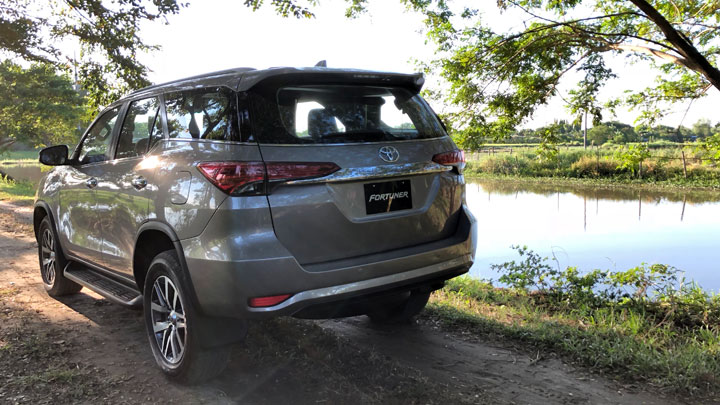 The goal of a carmaker is to make its SUV look manly and confident, but not brutish to the point of turning off families (wives, especially). It's safe to say that Toyota has nailed the Fortuner's design. The overall look can be defined by the character line (just follow the chrome trim) that runs from the side mirrors and rises in a defined kink right before the C-pillar. This results in a smaller greenhouse in the third-row area and gives the Fortuner a sleek, modern appearance.
Continue reading below ↓
Recommended Videos
Toyota's midsize SUV is the right amount of handsome, with emphasized wheel wells and a wide body that's useful in asserting your presence on the road. My main issue with it is the face: The bumper section that houses the foglights curls inward, making the Fortuner look like its mouth is agape. This design decision just doesn't make sense to me. But after a few days, you might gloss over it, anyway.
In everything else, Toyota has done its homework: bold face, muscular flanks, sleek profile, stylish wheels, and a neat rear profile.
Interior
The first-gen Fortuner had arguably the best cabin in its segment. It actually felt more expensive than what its price suggested. The successor continues the tradition with an interior that almost seals the deal (and probably did) the moment you sit inside. However, Toyota has a tendency to lean toward tackiness when it overdoes the wood and leather—even going as far as creating fake stitching for the latter. We can criticize it for these decisions, but it's probably just giving what it thinks the market wants.
That being said, the Fortuner's cockpit it a tasteful mix of (faux) wood and (probably faux, too) leather. It's a good-looking interior—just black, brown, and chrome bits, with a neat layout and easy-to-reach controls. The steering wheel is pleasant to hold, with just a little bit of wood (thankfully) on top, thumb grips, and the rest covered in leather. Tiller controls are intuitive and will have you reaching for them instinctively after only a few hours.
Where the Fortuner edges out the competition is in cabin space. It can vie for having the best room in its segment—at par with the Everest, better than the Montero Sport. I can say that  5'11" adults like me who have had too much Christmas ham (yum) can sit in the front and second row without any problem. Kids will love the third row, which is best for short trips when ferrying grownups.
Engine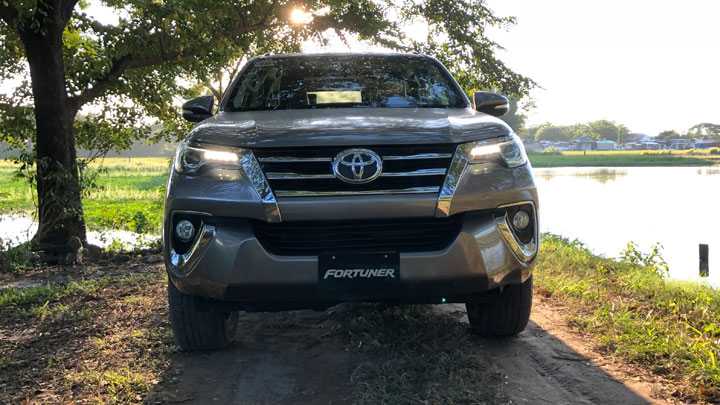 The Fortuner's top-spec 2.8-liter turbodiesel is a marvel of modern propulsion. Once you hit 2,000rpm, most of the 450Nm of torque will be handed to you, and you had better hold on to the leather-and-wood steering wheel firmly. It's safe to say this is all the power you will ever need for everyday motoring, with a dollop of extra grunt thrown in for highway overtaking.
A fair warning to those who are eyeing the 2.4-liter Fortuner: As with audiophile equipment, they say you shouldn't test above your budget. Don't try the 2.8-liter Fortuner because the power will spoil you, and you won't want to go back to anything smaller under the hood.
Paired with the six-speed automatic gearbox, the powerplant carries this midsize SUV's weight around town easily. There's almost imperceptible throttle delay, and it's easy to predict how the powertrain will react to your input after just a day behind the wheel.
Mixed highway and city driving yielded 12.6km/L, which isn't bad. What's amazing is the range, thanks to the 80-liter fuel tank. With the tank fully topped up, the distance calculator displayed 670km—enough to go to Baguio and back theoretically without refueling.
Ride and handling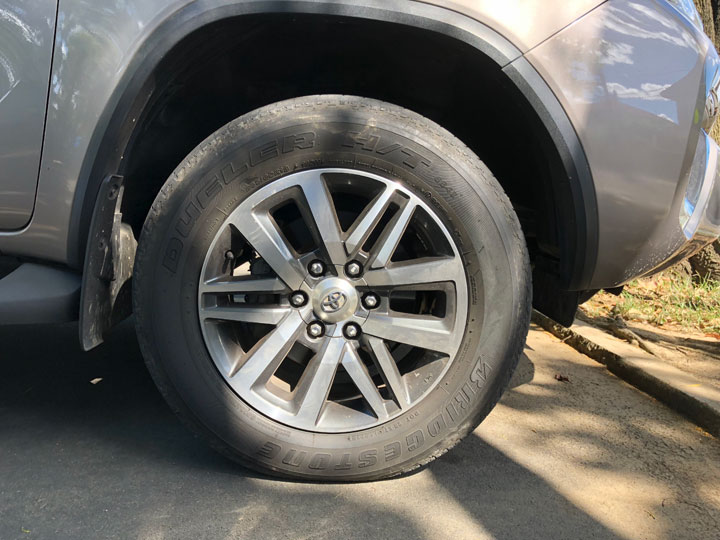 Any Fortuner review can be summed up with the eternal question: Is it matagtag? The best answer I can give is: It can be. During my week spent with the vehicle, I don't recall being particularly upset by the ride. It won't magically make bad roads and ruts disappear—you'll have to pay a lot more for that kind of damping. But for the most part, it was pleasant. It's certainly not as bouncy as its Hilux twin.
It's not something you would call sporty, but a measure of fun can be derived from harnessing the Fortuner's power. You'll enjoy the bursts of speed when its gearbox downshifts, and the brakes (with everyone's favorite all-disc setup) are good at stopping when needed.
What I can also attest to is its off-road prowess. During its launch two years ago, we were driven by a professional driver over dirt trails and small hills. I also found a use for the Fortuner's everyday off-road capability. I visited my grandparents' resting place in a small barrio in Tarlac recently. Since I haven't been to the area in years (sorry, Ima and Tatang!), I got a little lost and found myself at a dead end on a muddy dirt road, with pigs and cows who couldn't answer my questions. With the transmission in 4-high, I did a three-point turn and found my family's memorial. I wouldn't have had the same confidence in an Innova.
Extra features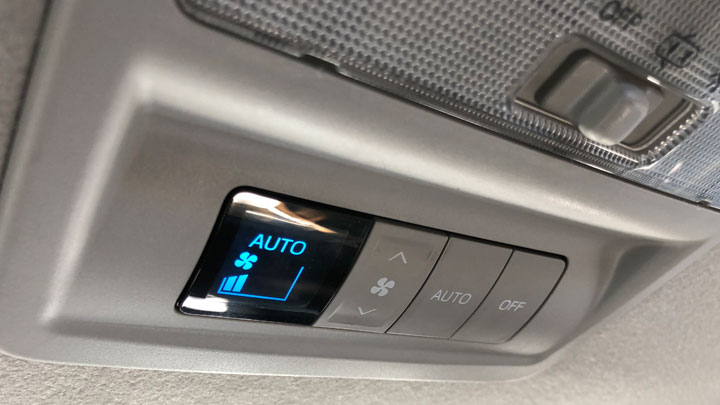 This being the top-dog Fortuner, all the bells and whistles that Toyota can (and wants to) give for P2.245 million is here: LED foglights, automatic on/off headlights, power tailgate, leather seats, start/stop ignition, six-way driver power seat, cruise control, and a 6.5-inch infotainment system with six speakers.
Of course, all the safety nannies are included, as well as driver, knee (for driver only), passenger, side, and curtain airbags. Rear passengers feeling hot? They have their own A/C controls to cool themselves.
Verdict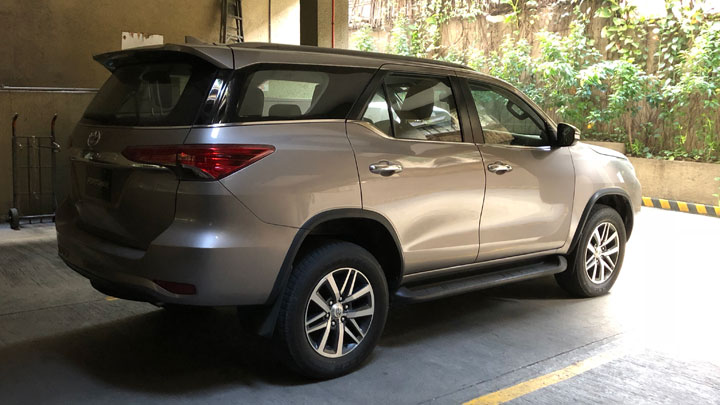 The midsize-SUV class is a hotly contested segment right now. The Fortuner is actually not the best in everything. The Ford Everest has more tech, the Mitsubishi Montero Sport arguably looks better, and the Isuzu MU-X provides more value for money. And because the Fortuner is selling so well, you can't go a day without seeing a dozen of them. That bothers some people. But if you're looking for a stylish SUV that's reasonably roomy, has power to spare, and comes with Toyota's reliability, this is for you.
SPECS: Toyota Fortuner 2.8 V
Price: P2,245,000
Engine: 2.8-liter turbodiesel I4
Power: 174hp @ 3,400rpm
Torque: 450Nm @ 1,600-2,400rpm
Transmission: 6-speed automatic
Drive layout: 4WD
Seating: 7
Score: 19/20