What's going on here?
We are here, in a small village just outside Zagreb in Croatia, to drive one of the prototypes of the Rimac C_Two EV hypercar with 1,887hp and 2,297Nm of torque, a 0-100kph time under 2sec, a 415kph top speed, and a £1.7 million (around P107 million) price tag.
So this electric hypercar thing is really happening?
Yep, and it feels as if we are witnessing a death. Top Trumps will never be the same again. Brake horsepower figures will become largely irrelevant telephone numbers, acceleration times will be so extreme that we'll be dealing with fractions whittled from universally sub-2sec 0-100. Bragging rights have just been press-ganged.
Welcome to the rise of the electric hypercar. We are here to bear witness.
What can you tell me about Rimac, the company?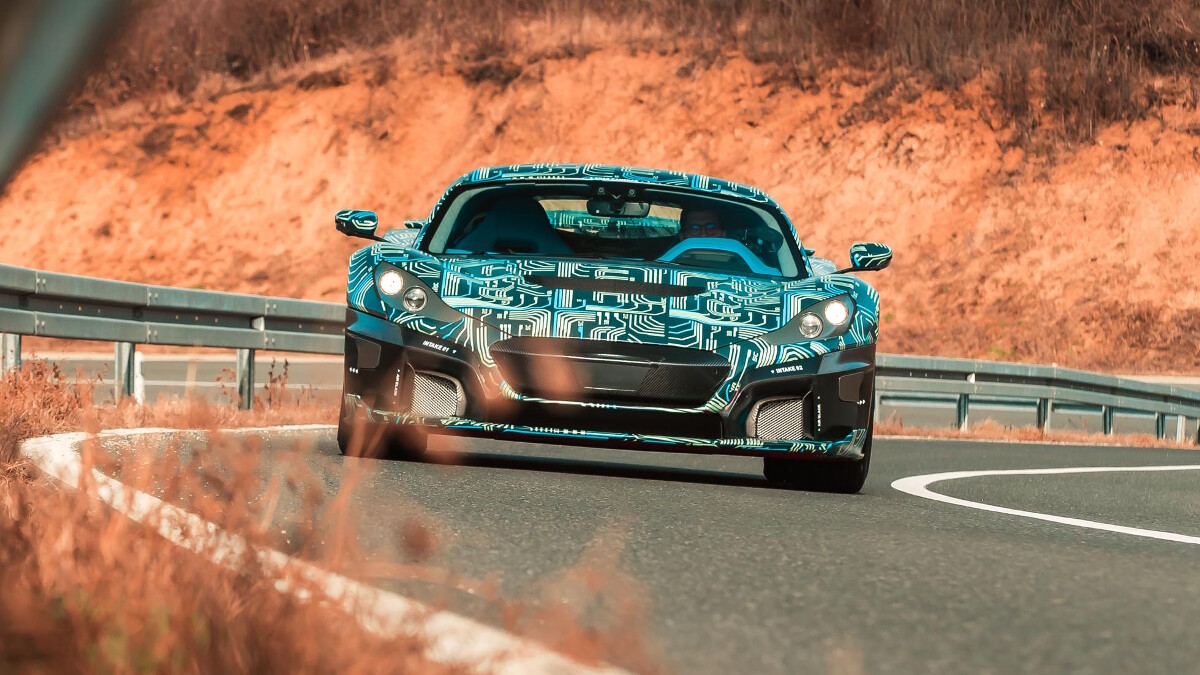 ADVERTISEMENT - CONTINUE READING BELOW ↓
Well, it's already delivered—albeit in small numbers—the EV Concept_One hypercar, and is currently leading the charge (sorry) in the nascent field of EV hypercars that casually redefine what we will think of as fast. It provided technical encouragement to the hybrid Koenigsegg Regera, the similarly bi-motivated Aston Martin Valkyrie, and provides everything but the exterior styling for the forthcoming Pininfarina Battista. Porsche took a stake a little while ago, Hyundai and Kia more recently—companies not famous for frivolous gambles. These are serious people with the nouse to make what sounds like fantasy actually happen.
Give me numbers.
What Rimac claims to have created with the C_Two is a technical tour-de-force that can reach 100mph in 4.3 seconds and run a quarter mile in the low nines—usually the preserve of something that also features drag slicks and a wheeliebar. It will manage some 547km on a charge (WLTP), and be able to charge to 80% range in just half an hour on a fast charger. More pertinently, it will have four-wheel drive and insanely complicated torque vectoring, active aero and sophisticated battery management to prevent performance drop off.
ADVERTISEMENT - CONTINUE READING BELOW ↓
Recommended Videos
So, we talking some hardcore track monster here?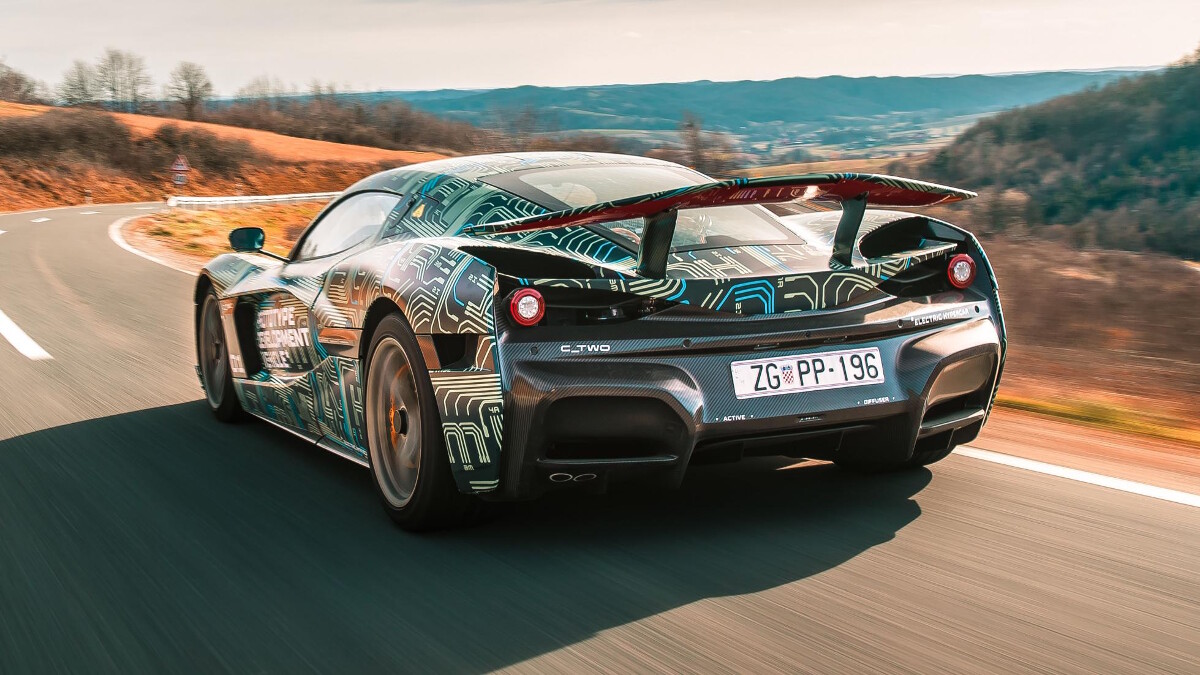 Not at all. It's genuinely useable at heart and Rimac is also claiming level four 'autonomy' (something we like to think of as more sophisticated advanced driver-assistance systems), featuring eight cameras, a lidar unit, six radar hubs, and twelve ultrasonic sensors to help it see the world around it in authentic physics, as well as all the more usual in-car helpers. Show-off-to-your-mates tricks include facial recognition—no need for a key—mood-sensing software that can play soothing music and alter the drivetrain to calm you, a 'Driver Coach' that projects the perfect racing line onto the HUD at racetracks in realtime. Not so much a car as an AI with wheels.
ADVERTISEMENT - CONTINUE READING BELOW ↓
Tell me about that camouflage, because clearly, this isn't the finished thing...
Correct, it's a prototype that's been testing for some months. "Virtually nothing on this car will be the same as the production version," says Mate Rimac cheerfully, CEO of his eponymous company, "but it represents a significant step on the journey." Mate is driving first and the C_Two yelps away from a standstill flicking gravel into the as-yet-unlined arches. It creaks and squeaks a little, but it goes. Hard.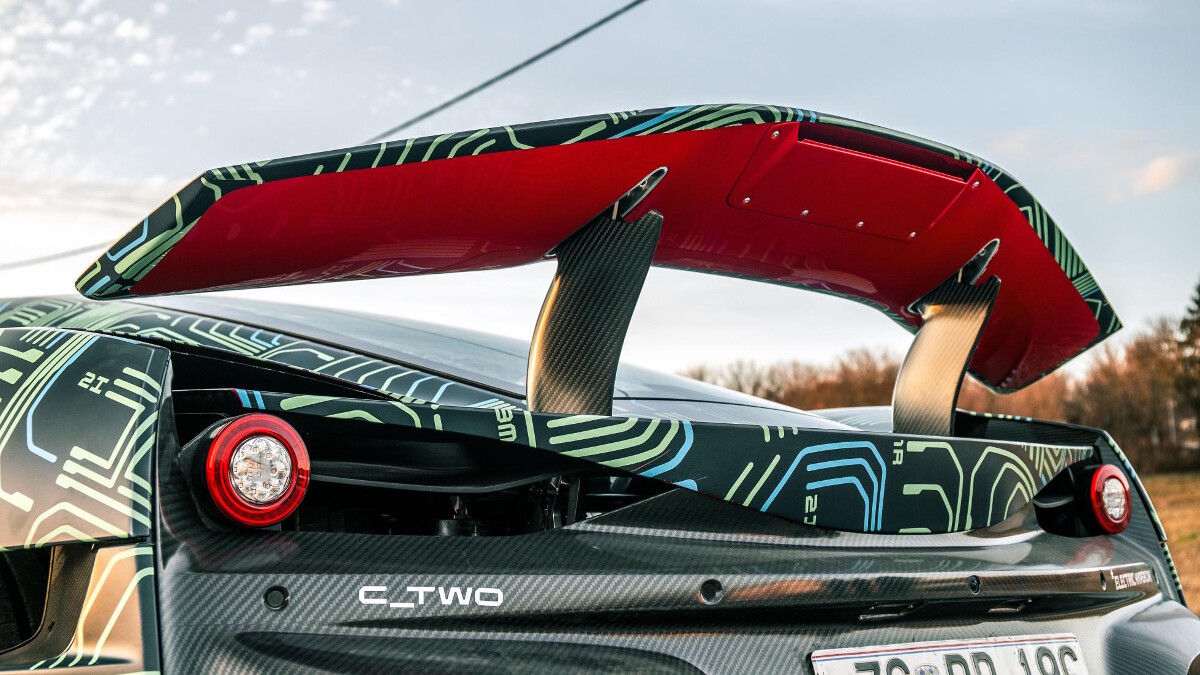 ADVERTISEMENT - CONTINUE READING BELOW ↓
"This is essentially a passive car with about two-thirds of the horsepower of the final version—the idea is that if we can make the basic car excel, then we can extend its capability past that point with the electronics—but the base car has to be correct... and fun." Note that when saying the word "fun", Rimac nails the throttle and the C_Two teleports uphill with a whine and a whoosh. If this is considerably down on power, then what the hell will the real deal be?
Did he let you have a go?
Yep, he's a generous bloke. The driver's seat is both familiar and a little weird, with an aquarium-blue interior that feels like a CAD drawing, and two massive red buttons by my right elbow that isolate the electrics and disable the braking system. After that, there's a pair of chunky multi-wheeled rotary dials on the top of the dash—one for gear selection closest to the driver, the other for mode-change—and a nice, wide screen mounted lower that displays all other relevant info. There is as yet, I note, no airbag. Oh, and no traction control.
ADVERTISEMENT - CONTINUE READING BELOW ↓
First impressions?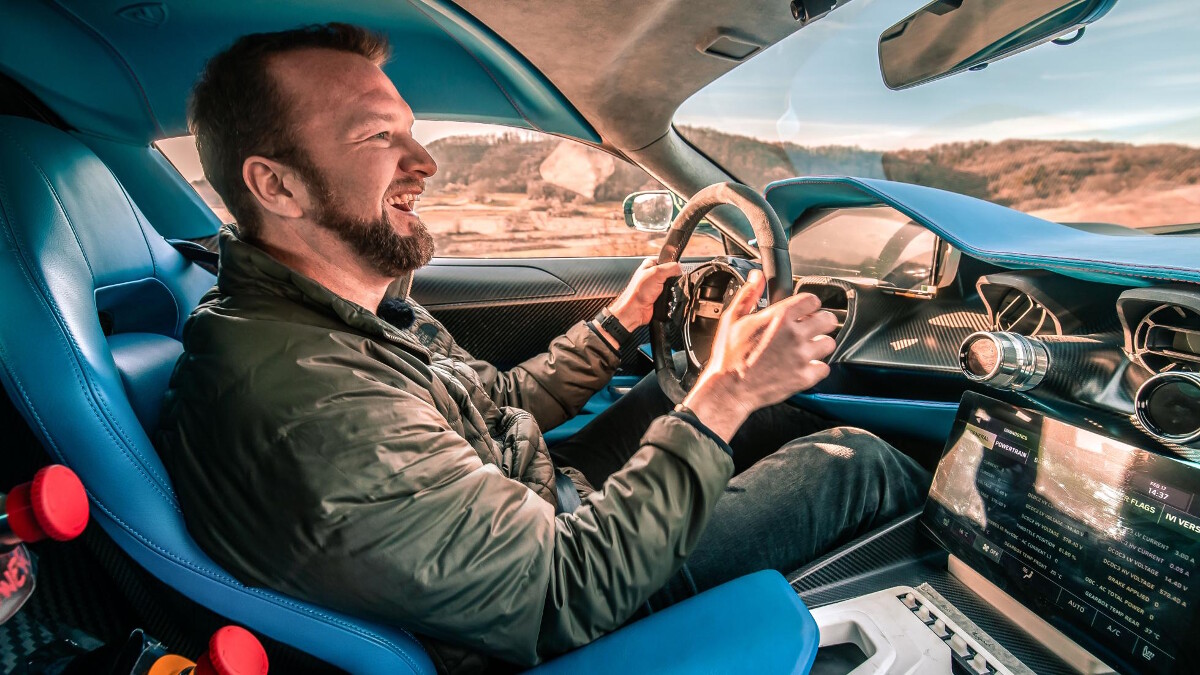 The steering is non-production heavy, the vision surprisingly good—forwards, at least, because the rear view is filled with wires and mysterious boxes of digital think. The ride is... fine. Not hard, but obviously not optimized. The throttle response is linear enough that slow going is no problem, but once you press hard, well, things get busy very quickly indeed. The worry is that an electric hypercar will be somehow... lesser. A lack of noise, a digital interpretation of speed, without the visceral blood'n'guts that comes from hearing dead trees go bang and a multi-speed gearbox thumping home. Based on what I'm driving here, this will not be the case.
ADVERTISEMENT - CONTINUE READING BELOW ↓
Go on...
It's different of course. The acceleration is delivered in one long pull rather than the tidal surges of an ICE engine. The noise is subtler, less part of the experience, the way you approach, attack and depart a corner different to how you would do so with an engine at your back and a traditional 'box to play with. It's heavy, so you feel the weight on the way in, but the punch out of the corners is quite literally breathtaking. Saying that, the car feels half a ton lighter than its prototype weight of two-and-a-quarter-plus tons, with the real deal ending up somewhere just under the double for production.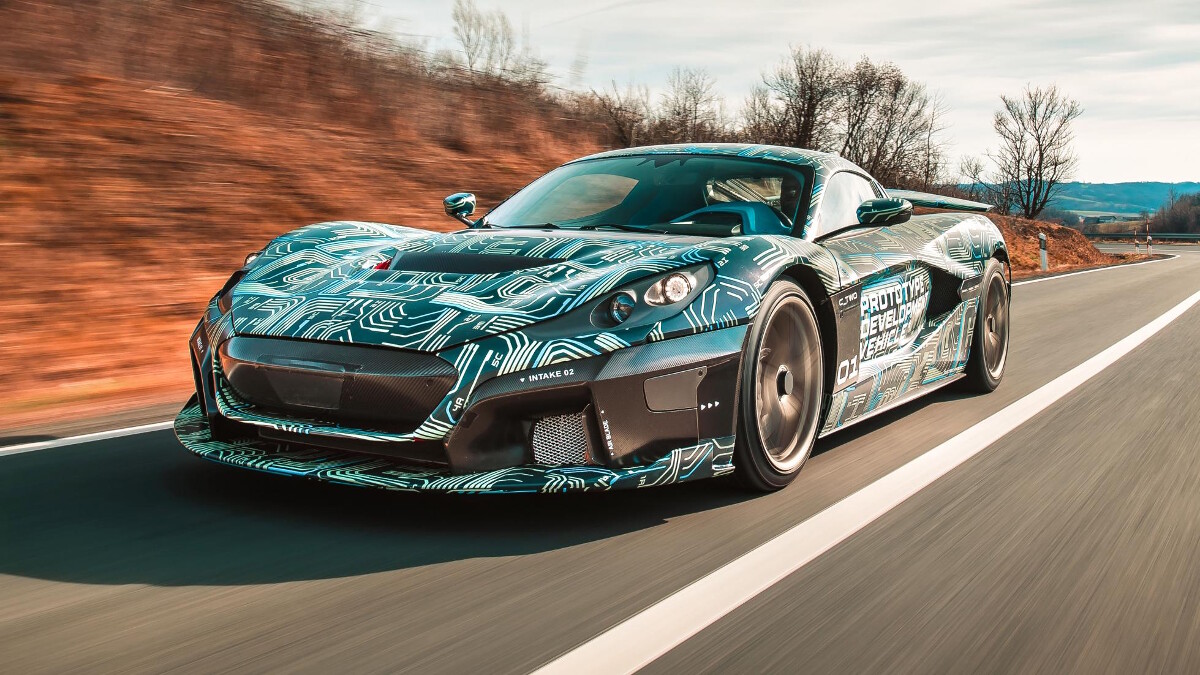 ADVERTISEMENT - CONTINUE READING BELOW ↓
It's flat and grippy, with plenty of feedback, and plenty of speed, even in this format. And then there are the drive modes—flip between them and you can instantly knock the drivetrain into various torque splits, from 50:50 to entirely rear drive, the rear wing and active diffuser immediately changing profile to suit. I idly enter the same corner in both modes and instantly bake the rear tires in RWD mode. It is not, as yet, a car to be taken lightly.
How much can we read into this drive, though?
True, we're driving a car that bears no responsibility to the final iteration, but this bare Rimac says more about the production finality than any polished mule ever could. Because it tastes good raw, even without the torque-vectoring wizardry. You can see where some algorithmic witchcraft can double down on the physics, finesse the reactions, knock the edges off the aggression. But with a base car that shows this level of promise, and a company that focuses on fun rather than figures, this bodes well.
ADVERTISEMENT - CONTINUE READING BELOW ↓
Any final thoughts from the boss?
Just one: "I didn't actually build this car because I needed to bring down my company C02 targets or because of particular environmental concerns," he says, with disarming honesty and despite the fact he's a vegan with a huge passion for environmentalism and eco-consciousness, "I did it because EV is the best solution. It will make for a better car."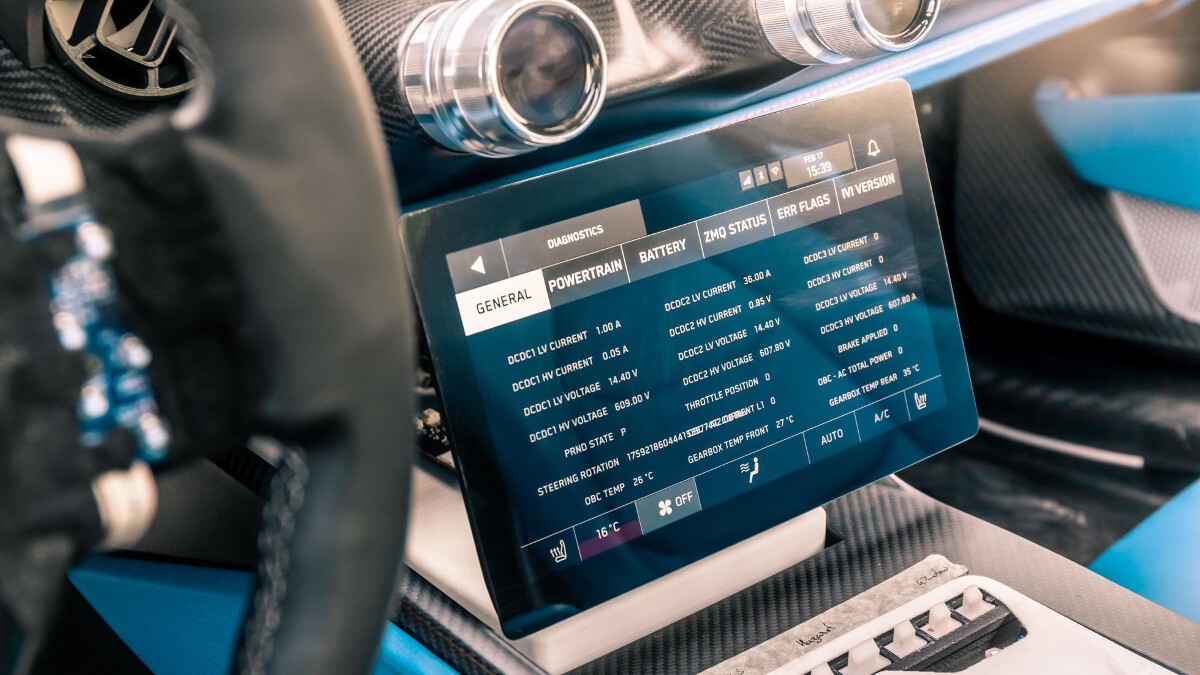 ADVERTISEMENT - CONTINUE READING BELOW ↓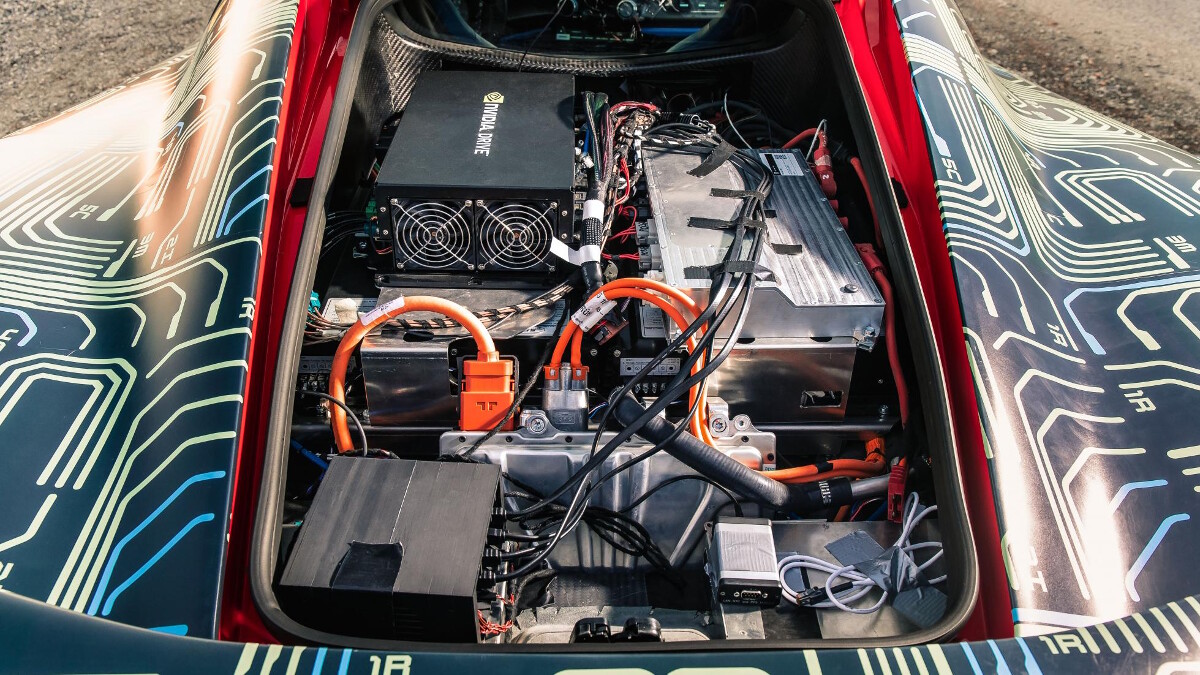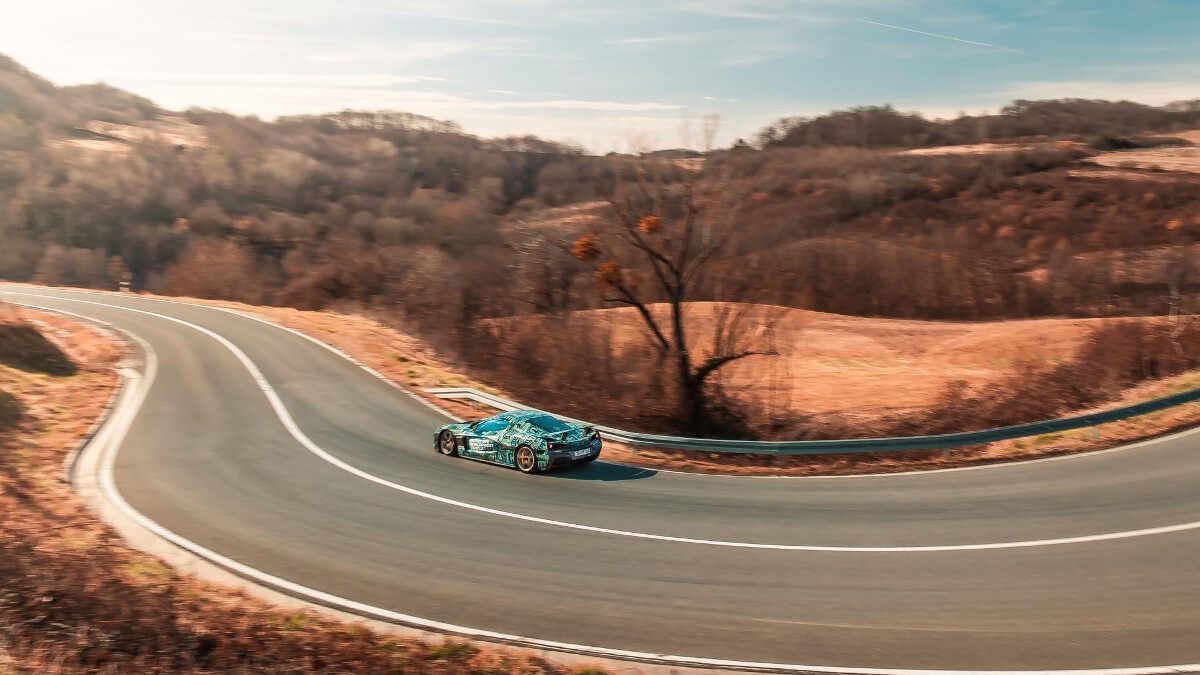 ADVERTISEMENT - CONTINUE READING BELOW ↓
NOTE: This article first appeared on TopGear.com. Minor edits have been made.