We won't blame you if the first thing you notice as you check out this car is its uncanny resemblance to the outgoing Kia Carens. Like the Korean people-mover, it has the dynamism of a shoebox. This is no ordinary shoebox, however. It is still a proper Mercedes-Benz, and as such should be afforded the honor and prestige befitting a Jimmy Choo.
ADVERTISEMENT - CONTINUE READING BELOW ↓
STYLING
The 2013 Mercedes-Benz B-Class is the company's latest foray into the multipurpose vehicle segment. It is a car pretending to be a minivan pretending to be a car. It is, however, only a five-seater, but one with posh and stance. It is the mother hen of all mom-mobiles. But like everything designed to be too functional, the new B-Class is hardly a looker.
Yes, it is bigger than the model it replaced. It is more spacious and more luxuriously appointed than its predecessor. But it is by no means a car you'd wax sentimental with when you go to your garage to start it in the morning. The bulbous roof on top of the front passengers, while translating to a 10-gallon headroom, fails to blend with the rest of the car. The old hydrocephalus-afflicted Toyota Echo Verso comes to mind. And that stance, while perfect for the metro's ramps and ruts, does make the B-Class look like a lanky chicken. A set of lowering springs would serve this car very nicely, we reckon. Never mind the out-of-place character line at the sides. Let's not even go there. Fortunately, the front end saves the day with its unmistakable brand identity clearly in place.
ADVERTISEMENT - CONTINUE READING BELOW ↓
Recommended Videos
The new B-Class comes only in one variant, but there is an optional Night Package for those allergic to chrome bits and unwarranted attention. The option, as shown here, basically blacks out the grille mesh, door mirrors, interior roof lining, exterior roof trim, and window frames. More blackness finds its way on the 18-inch wheels and the darker tint rear windows from the B-pillars backward.
Also bundled with the P300,000 extra you'll pay for the Night Package is a stiffer sport suspension that lowers the car by 20mm, and cross-drilled front brake rotors for more consistent stopping power. All these should make the B200 appealing to the male end of the customer spectrum.
ADVERTISEMENT - CONTINUE READING BELOW ↓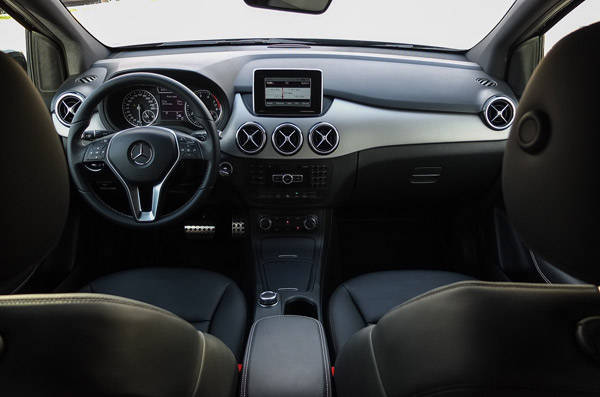 ADVERTISEMENT - CONTINUE READING BELOW ↓
INTERIOR
Inside, it's unmistakably Mercedes-Benz with a load of leather stitching that can make even Edward Scissorhands smile. Leg- and headroom are plentiful front and back, and the matching silver and chrome accents do make for a classy cabin. However, the B-Class also retains the current Benz lineup's cluttered dash button layout with numbers in tiny little fonts splattered everywhere on the center console, and that includes an alphanumeric keypad, which no one probably uses.
With Bluetooth connectivity, you can opt to read your SMS on the dash screen, so the phone can always be on hands-free mode. And that includes playing music off your mobile gadget as well.
If you're a first-timer with today's Mercs, diving into the function and display menus to figure out how things flow will be a necessity. At least the dash does carry over the SLS's cool circular air-conditioning vents. Now, if only the doors opened upward...
ADVERTISEMENT - CONTINUE READING BELOW ↓
ADVERTISEMENT - CONTINUE READING BELOW ↓
ENGINE PERFORMANCE
Underneath the sloping hood is a new-generation 1.6-liter gasoline direct-injection turbocharged mill that is good enough for 154hp and a respectable 250Nm of pull. While certainly not groundbreaking in terms of outright speed and power, the fact that it has a low displacement, makes use of forced induction, uses direct injection and has a start/stop system, puts it in line with the brand's efforts to curb emissions.
Despite being a front-wheeler, the B-Class's engine certainly does not lag in grunt, even if you're feeling extra playful with the dual-clutch seven-speed paddle shifters. It's not as smooth as a conventional automatic, but it does the job.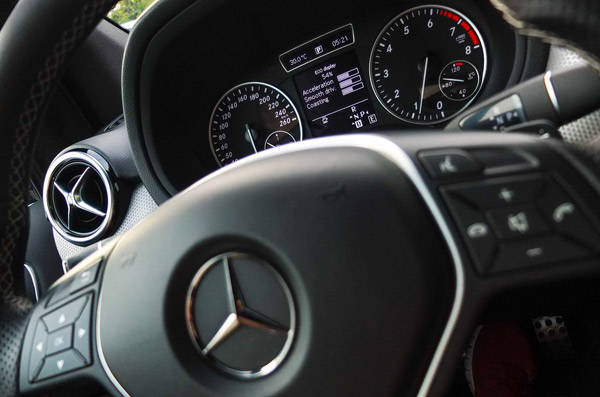 ADVERTISEMENT - CONTINUE READING BELOW ↓
RIDE AND HANDLING
The B-Class Night Package here is by no means a cushy ride. With its lower stance, taut springs and shocks, 18-inch run-flat tires, and upright stiff seats, it feels quite firm. Handling is typical Mercedes, and so is the solid feel. On a smooth highway and at speed, it's as sharp as a butter knife. The base B200 variant should be cushier with its comfort-biased suspension. The car does feel heavy to a certain degree with steering not as feather-light as a C-Class at low speeds. We recommend using both hands on the wheel when driving.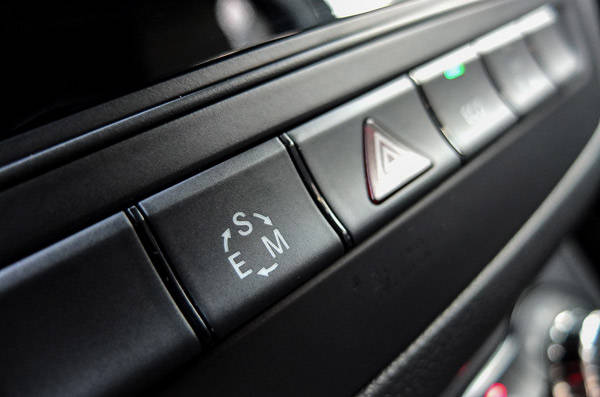 ADVERTISEMENT - CONTINUE READING BELOW ↓
EXTRA FEATURES
In an attempt to be a car for a wide variety of clientele, Mercedes-Benz infused multiple driving personas into the new B-Class. In the default Eco mode, you can drive around town confident the car is doing its best to conserve fuel. It even has a matching display that tells you where in your driving you're actually being economical.
While the transmission shifts early in Eco mode, at about 2,000rpm, there is an apparent lag in throttle response. This is just fine for bumper-to-bumper traffic. If you want to get frisky, however, the Sport mode improves throttle response, but it also raises the shift point to 3,000rpm. You can use the paddles to shift up, but the system will still go down the cogs automatically when you brake.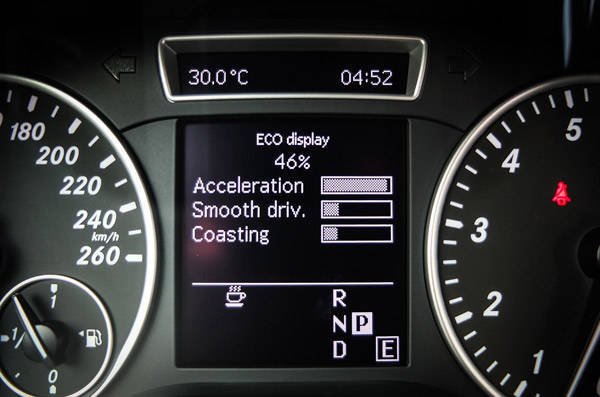 ADVERTISEMENT - CONTINUE READING BELOW ↓
THE VERDICT
While it does make a strong case for someone who wants an all-around Mercedes-Benz to take to the office, pick up the kids, go to a party, do groceries, or even travel out of town with, the new B-Class is too minivan-like to light up one's soul. Functionality may be at its core; quality and fuel efficiency may be top-notch; and it will probably survive the holocaust, but it is just too practical to be lusted after.
SPECS: Mercedes-Benz B200 Night Package
Engine: 1.6-liter turbocharged, gasoline direct injection, in-line-four gasoline
Transmission: Seven-speed dual-clutch automatic
Power: 154hp @ 5,300rpm
Torque: 250Nm @ 1,250-4,000rpm
Drive layout: FWD
Seating: 5
Price: P2,580,000
Score: 14/20
Photos by Mikko David