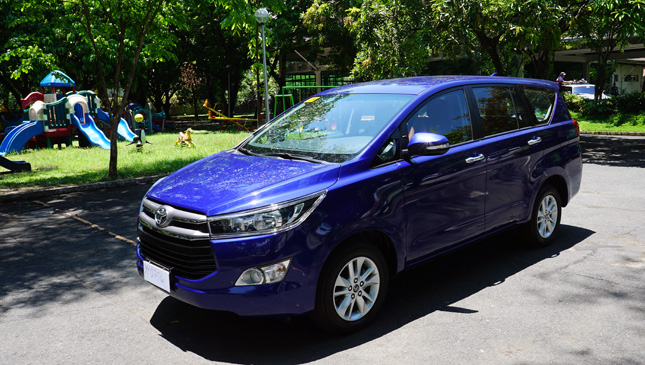 The Toyota Innova is the very definition of the multipurpose vehicle. It can be used as a company fleet vehicle, a family minivan, or as a Grab/Uber business machine. It has enough ground clearance for non-Ondoy-level floods, can seat a typical Filipino extended family, and has enough hatak to go to Baguio.
Now we have a new Innova: sleeker, pricier and more powerful than its successful predecessor. Can it elevate the mass-market motoring experience once more? Let's find out.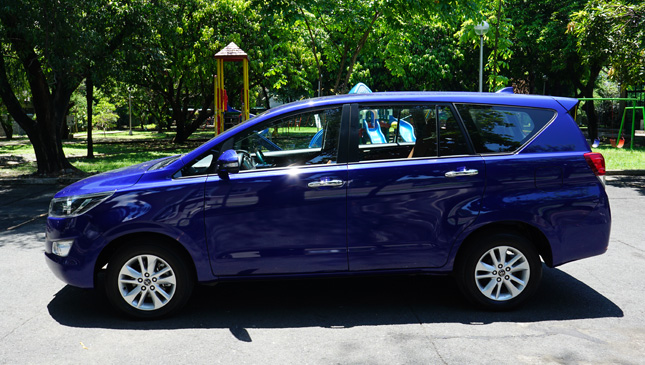 ADVERTISEMENT - CONTINUE READING BELOW ↓
STYLING
The 2016 Innova looks like a slab that has been whittled into shape with a minimum of strokes. Its lines are broad, sleek and a little daring for a Toyota with volume aspirations. It's a radical departure from the first Innova introduced in 2005, looking like it skipped a generation. Although, if you think about it, 10 years is usually two generations in the automotive world, so it's just right.
Considering their durability and how long Toyota vehicles stay with families, the main question is: Will the Innova age well? Almost five months since we first saw it in the metal, it's definitely holding up. We dare say you'll still be glad to see it in your garage five years after you purchased it.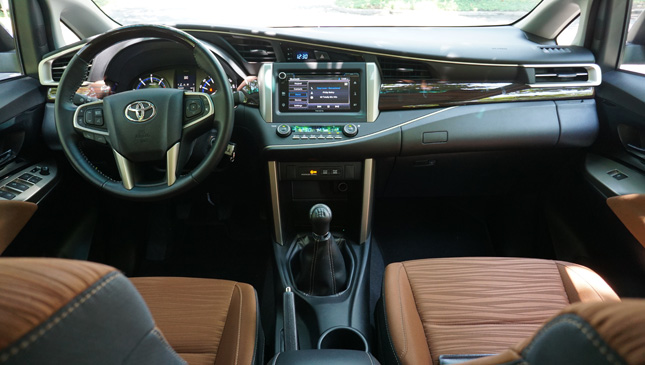 ADVERTISEMENT - CONTINUE READING BELOW ↓
Recommended Videos
INTERIOR
If the boldness of the exterior design was a surprise, then the cabin is even more so. I actually wondered if a Lexus designer had been brought in to give a little input. The interior of the new Innova--in this G variant, especially--is a plush cocoon made of leather, faux wood and suede-like inserts. The old Innova cockpit was a pleasant place to be in, but this new one made me marvel at how audacious Toyota was in upping the ante.
The steering wheel is a perfect representation of the new Innova's ambitions. It feels premium with its leather surface and thumb hooks, not to mention the buttons on either side. It is a pleasure to hold, and encourages (if you can believe it) spirited driving. The most polarizing aspect of the interior are the brown seats with wavy designs. I personally like it, but others are averse to it.
ADVERTISEMENT - CONTINUE READING BELOW ↓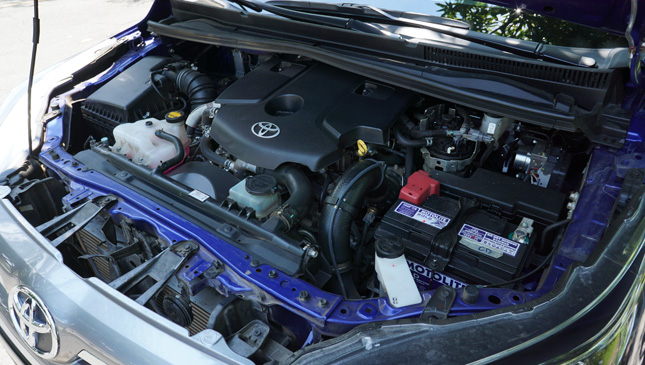 ENGINE PERFORMANCE
You probably know how impressed we are at this point with the new-generation Toyota GD-series turbodiesels. But this MPV has a detuned version of the 2.8-liter lump powering the Hilux and the Fortuner, generating a lesser 167hp and 343Nm. (We asked Toyota why it was depowered, and it's a complicated issue about regulations.)
ADVERTISEMENT - CONTINUE READING BELOW ↓
But even in this "weakened" state, the Innova has more than enough grunt for daily use--especially paired with the five-speed manual transmission. Even without using either the Eco or the Sport mode, in-city acceleration is too easy. The clutch-and-gearbox combo is forgiving to use, saving the driver a lot of stress in traffic. But press the Sport mode button and the Innova becomes an angry beast, with jerking motions if you're not careful with your shifting. In this setting, the speed and the acceleration are actually quite scary.
Suffice to say you will never lack for power in this Innova, but that takes its toll on fuel economy. With carefree driving, I averaged 8.4km/L. Let's hope fuel prices remain as they are.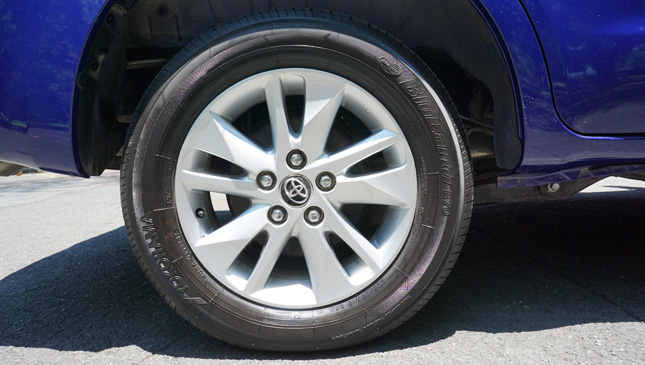 ADVERTISEMENT - CONTINUE READING BELOW ↓
RIDE AND HANDLING
To my disappointment--but perhaps to the joy of many--I found the suspension rather soft. Driven alone (sans passengers), the Innova pitched and rolled too much to my liking. On smooth roads, however, the improved IMV platform proves its worth by delivering a comfortable ride. Of course, a lot of that comfort depends on the kind of driver you are behind the wheel. If Mang Jimmy has a heavy foot, the ride may become unpleasant.
Those who will inquire and purchase this model will no doubt have concerns primarily about the tagtag. They need not worry. The Innova balance of cushioning and smoothness continues in the new generation. That said, the brakes and the cornering have also been improved tremendously. This model was actually introduced to us on a racetrack; let's just say it's more than dexterous enough to handle the urban jungle.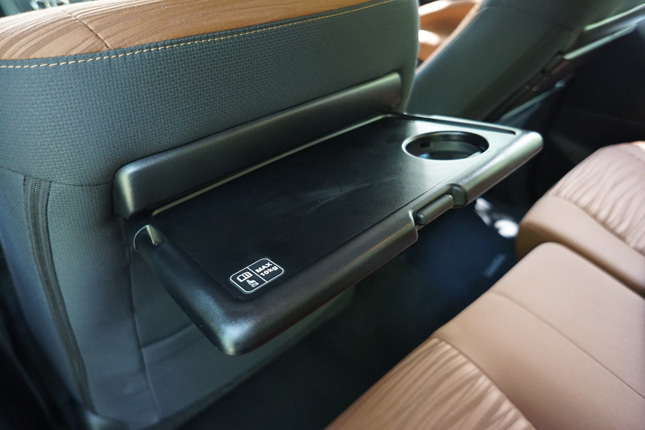 ADVERTISEMENT - CONTINUE READING BELOW ↓
EXTRA FEATURES
It's actually difficult to choose what to highlight first: the illuminated mood lights on the ceiling à la Alphard; the tray tables for the second-row passengers; or the slick multi-information display between the Lexus-like gauges? All these conspire to create a passenger experience that's unheard of in this segment. What's amazing isn't that Toyota did it, but that the Japanese carmaker has actually pulled it off credibly.
Special mention also goes to the improved audio head unit. This actually has a better screen than the sad one Toyota fitted in the multimillion-peso Alphard. Pairing a smartphone via Bluetooth is so easy even your tita can do it. And controlling it with the steering-wheel buttons is a piece of cake. The USB and auxiliary ports are mounted between the front seats, and are actually accessible to rear passengers. This could be useful for those friends of yours who always forget to charge their mobile devices.
ADVERTISEMENT - CONTINUE READING BELOW ↓
In terms of third-row space, as far as we can tell, it's the same as the first-gen Innova. This means you should remember to prioritize putting the slim and petite humans there first, or save it for cargo.
THE VERDICT
Ten years is a long time to wait for a successor in the automotive industry. But the new Innova is worth the gestation period. Devotees of the previous generation might balk a little at the aggressively angular looks, but it grows on you. You can bring this to the swankiest mall in town and blend in.
The car also rides better and has a powertrain that went to the gym, but what future owners will appreciate the most is its more refined interior. Those who work hard to pay the monthly installment will be rewarded with a cabin that is wonderful to see and touch. And for those who have chauffeurs, imagine being able to work and be productive in the back using the folding tray tables while in traffic.
ADVERTISEMENT - CONTINUE READING BELOW ↓
Like I wrote before, the Innova has always been the perfect point-A-to-point-B vehicle. It still is, and now it does so with more style and relaxation.
SPECS: TOYOTA INNOVA 2.8 G DIESEL MT
Engine: 2.8-liter DOHC turbodiesel
Transmission: 5-speed manual
Power: 167hp @ 3,600rpm
Torque: 343Nm @ 1,200-3,400rpm
Drive layout: RWD
Seating: 7
Price: P1,269,000
Score: 18/20
Photos by Dinzo Tabamo
Toyota Innova 2.8 G Diesel MT