Here's something to excite your inner six-year-old: Unimogs. These hyper-versatile goliaths from Mercedes-Benz are pretty much the ultimate go-anywhere, do=anything car. So, if you didn't get what you wanted for Christmas this year, here's something to put on your list to Santa for next year. It gives him a whole year to make it happen. And if you're nice, it's a million presents in one.
See, tractors are traditionally used for heavy-lifting and agricultural jobs, but the Unimog can do those and much, much more. Seriously, how many vehicles can morph from a watering can into a giant Armco-cleaning toothbrush, then a fire engine, a snowplow, a muck spreader, a crane, a train, a lawn mower, and a Hollywood superstar all through loosening a couple of bolts and disconnecting a few hydraulic hoses? With versatility like this, it's pretty much the four-wheeled love child of a Swiss Army knife and Thunderbird Two.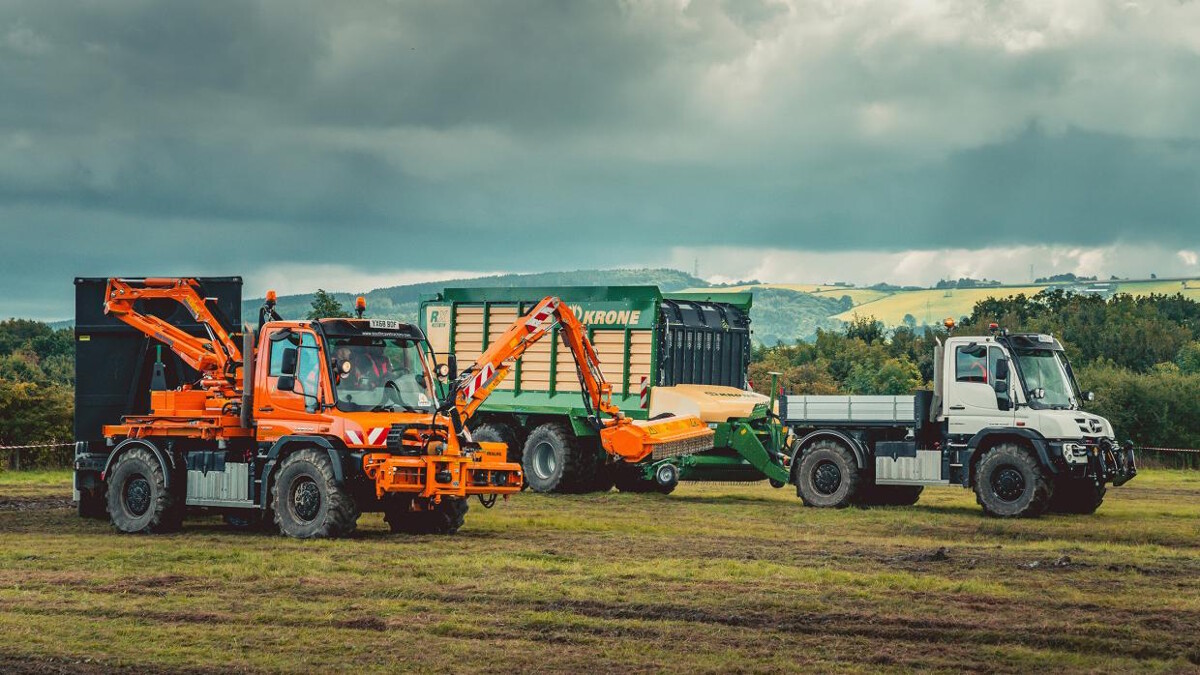 Continue reading below ↓
Recommended Videos
But to test this unique tractor-cum-pickup-cum-sports-truck that can be transformed into pretty much whatever the hell you want, we decided to do all those things. In one day. Read on to see how Unimog is the only car you'll ever need and why it's so useful. Especially when the zombie apocalypse comes.
1) Driving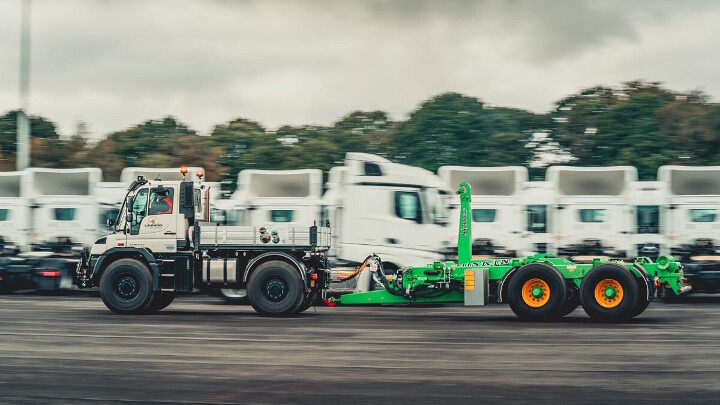 Sounds simple, this. But one of the major benefits of the Unimog is that, unlike tractors and other traditional agricultural/working vehicles, you can drive it on the road at proper road speeds. Plus, as the Unimog is classified as an agricultural/forestry vehicle, it's exempt from toll charges and can use the roads on Sundays and public holidays in Europe. Plus, the steering wheel, instrument panel, and pedal cluster can be changed from left- to right-hand drive on a whim—perfect for when you take it on a booze cruise to Calais. 
2) Street sweeping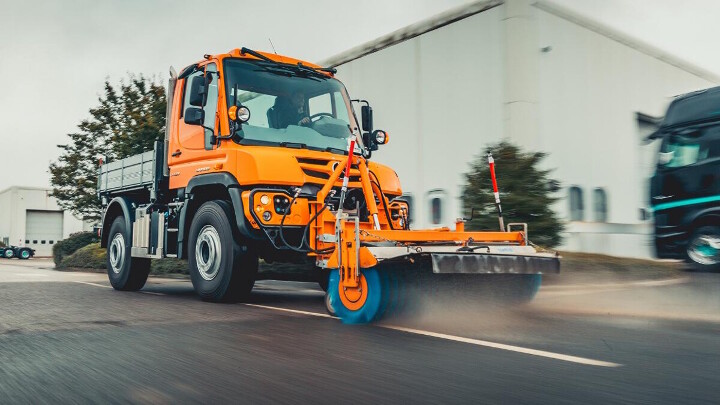 Fed up with all the McDonalds detritus and litter that's blown outside your house? No worries. Just lob on the sweeper attachment and you can spring-clean your street daily. Just watch out for your neighbor's cat, as these brushes stop for nothing. A lot of the Unimog's implements are run off either the front or rear (you can spec what you like) 'PTOs,' or Power Takeoffs. That's basically a posh word for a plug socket that supply either engine or gearbox power to drive whatever you've attached. Then you can pair it with hydraulics if you want to get more trick.
3) Lawn mowing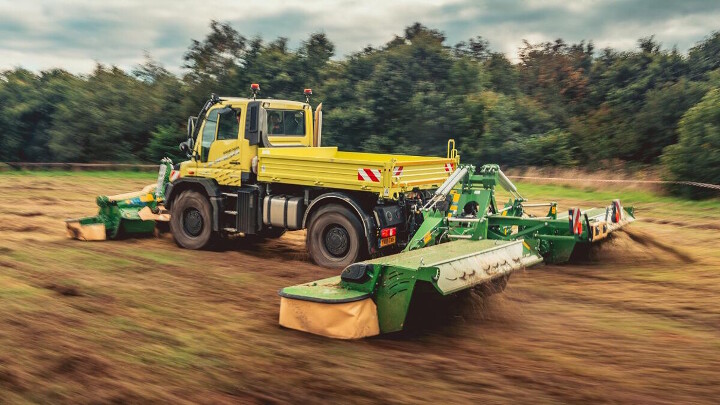 With a Unimog, the days of having to flick the choke and endlessly pull a piece of string to get a lawn mower going are over. And, if you have a normal-size garden, you can do yours and half your neighbor's in one go. In about four seconds. Or a whole field in about 40 minutes. If you want Wimbledon-esque trimming precision, the Unimog can be fitted with EasyDrive, a hydrostatic drive system that allows you to make finite speed adjustments. It's basically like expert-mode cruise control that also allows you to manipulate the engine revs to power your blades and get them really spinning. Again, watch out for the cats.
4) Off-roading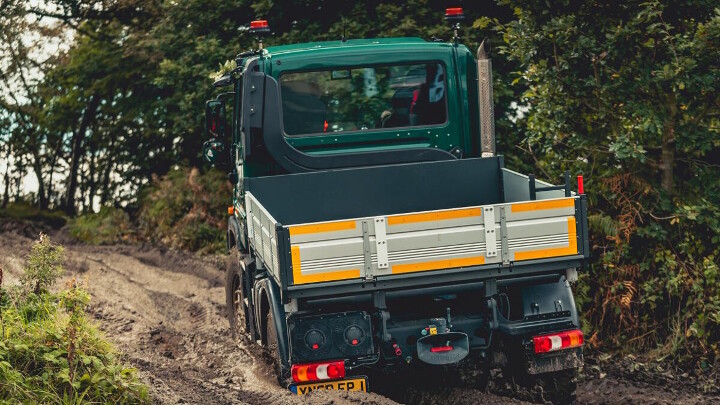 With a wading depth of 1.2 meters, on-board tire pressurisation, and enough ground clearance thanks to portal axles (where the axle tube is above the center of the wheel hub), you can maraud around with utter indestructibility in a Unimog. No matter the terrain. Momentum is the first rule of off-roading to prevent getting stuck. Yet weirdly, the Unimog doesn't rely on momentum. Instead, all the trick computers work out the gearing and the torque distribution to keep it rolling.
The fact that you have monster tires as well as so much torque, low gear, more diff locks than you can shake a driveshaft at pretty much means this thing can bury itself out of anything. But, because you see big wheels and tires, you're led into falsely assuming that it'd ride well over rough terrain. It doesn't. Even the smallest pimples and divets have it swaying like a ferry in a storm, so being smooth on the accelerator is tricky as you stutter bouncing on the viciously well-sprung seat that yo-yos your foot up and down on the accelerator like you're a thrash metal drummer. Smoothness requires a double-jointed ankle. And at least three tons in the back to make the springs and dampers work effectively.
5) Snowplowing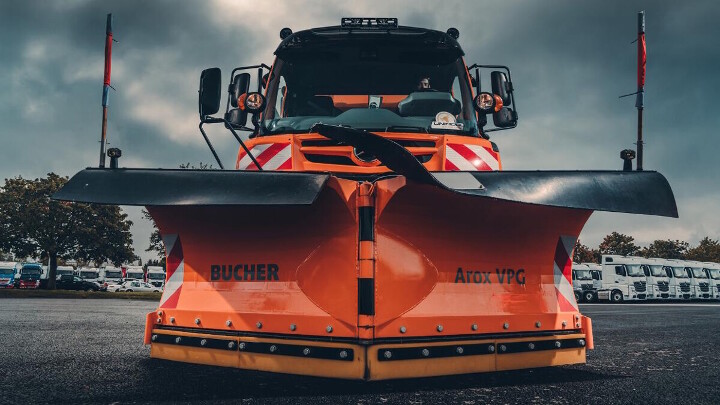 The Unimog can be fitted with automated gritters that can carry up to 4.4 cubic meters of anti-snow pebbles and can be mounted either on the Unimog's tipper platform, or directly onto the ball points of the floor assembly. Plus, unlike other gritters, starting at just 2.15 meters wide, it can get to places normal plows can't. And you can waggle the plow in, out, up, down and to different fans and points.
The Unimog can also be fitted with four-wheel steering. But unlike in an AMG-GT R, instead of just being able to improve the turning circle and agility, it also offers the ability to crab diagonally. Which is a truly odd experience in such a big thing.
6) Hedge trimming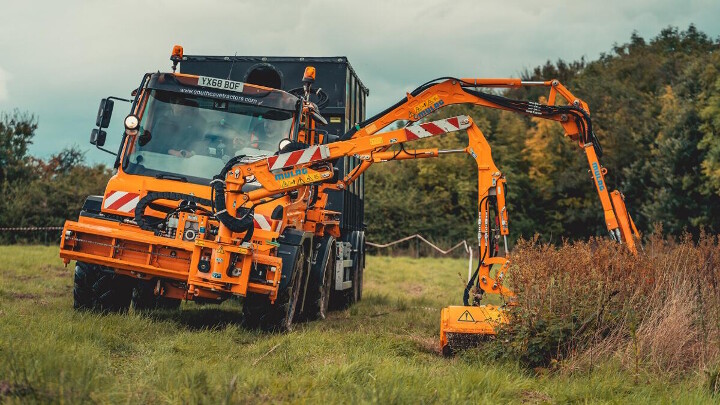 Have you ever tried to rub your tummy and pat your head at the same time? Hard, isn't it? Well, try rubbing your tummy and patting your head at the same times as doing quantum mechanics, playing the harmonica, and yodeling in Japanese. Because that's the level of skill it takes to operate these Mulag combination mowers.
This frankly terrifying combination mower can flail, cut, mow, and dig all at the same time, and is operated by pedals, a steering wheel, and two joysticks, all at the same time. Visibility in the cabin is excellent as it is, but to make mowing jobs even more comfortable, the Unimog can be equipped with transferable steering, a swivel seat, and a mowing door for more space and a better view. Saying that, you need roughly six brains to operate the thing. But when you do master it, you're the Edward Scissorhands of roadside trimming. 
7) Craning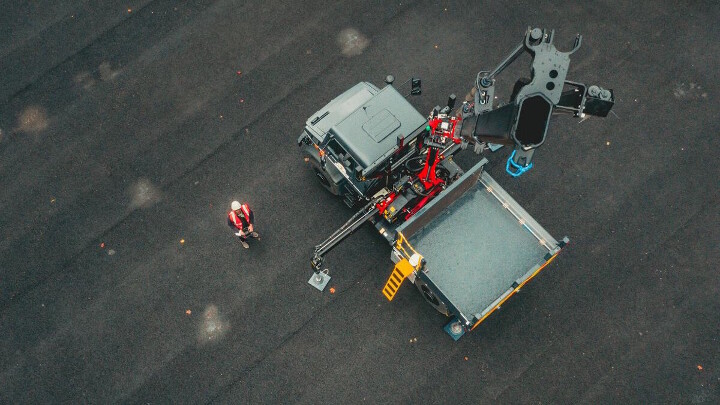 Did you struggle to get the star on top of your Christmas tree this year? Or do you want to hold an epic piñata party with a 40ft piñata of your favorite hated politician? Well, this crane is what you need. Run off the hydraulics, you have a giant switchboard to move it every conceivable way possible. It's like a giant grabber machine in an arcade—only it's capable of lifting a house instead of some crap prize. 
8) Wood chipping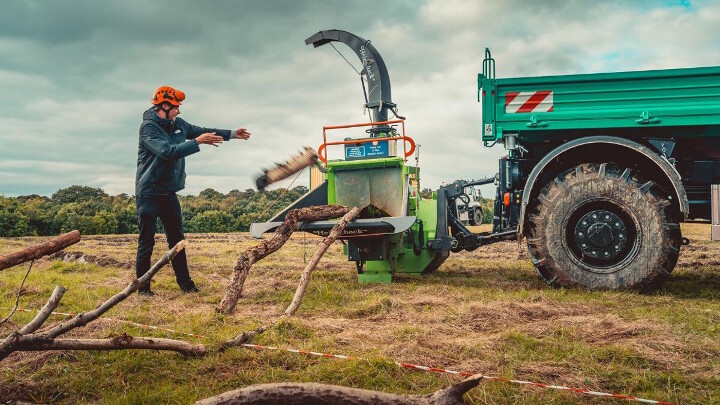 In the next week, the streets of the UK will be full of sad-looking balding Christmas trees just abandoned on the street or at your local park. If you're feeling charitable, you can just sling a chipper on the back of a Unimog and turn Norweigian spruce to dust in seconds. Actually, it'll turn most things to dust in that time. So watch out for your fingers. And your neighbor's cat.
9) Towing
Here's a fast and dirty Unimog spotter's guide for you. There are two main body styles: a smaller 'Mog that does lots of implement-y things, and a High Mobility Unit (codenamed UHE) that's an extreme off-roader without implements, but capable of carrying a load of any sort anywhere in the world, on any surface. It can even be chucked out of a plane. These models are then re-categorized further by the series number that signifies its weight capacity. This goes from 200 through to 500 Series, and from 10 to 16.5 tons. The second two digits of the model number indicate the horsepower. And from there, you have over 1,000 permutations of Unimog you can build thanks to all the implements.
But regardless of what you get, the 'Mog is great at lugging things along. Depending on your spec, you can tow anything from eight to 1,000 tons. Yes, really. The U 423 is Merc's multipurpose solution for the rail industry, and housing a 228hp 5.1-liter turbodiesel engine, it can use its 899Nm of torque to tow along 1,000 tons of cargo. That's one million kilos. The equivalent of hitching up 1,852 Caterham 310Rs in one long line. Crazy.
10) Art attack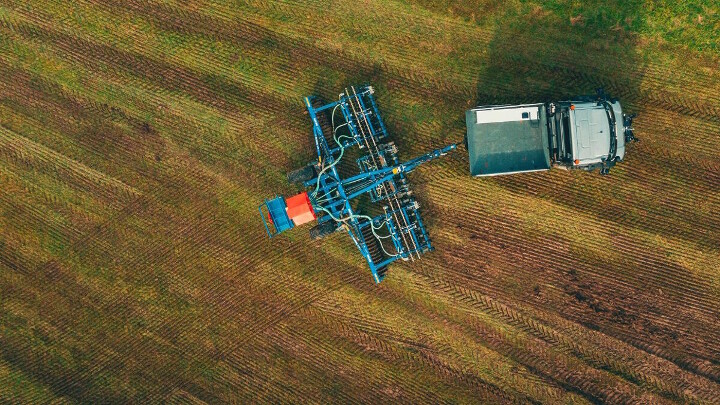 As you've seen, the humble Unimog is the one and only vehicle in the world that allows you to do all the jobs. These ladder-framed mannequins can be dressed up in all kinds of other pragmatic clobber than this small selection we got to play, so everyone from farmers to the Special Forces can throw them at any terrain, in any weather condition, on any gradient to simply get the job done. But you can also attach a giant roller onto the back. This is basically a giant rolling pin for the earth, and meant to help farmers level out their fields. But it can also be used to draw a massive cock and balls. Great for low-level aircraft to spot on a summer day.
NOTE: This article first appeared on TopGear.com. Minor edits have been made.