Abandoned gems, mouse-infested beaters, ultra-rare Ferraris—we think we've seen it all from Ammo NYC and its detailing videos. The channel's got a new one, though, that we reckon is unlike any of the past clips.
This new video features a 1929 Ford Model A, and it's not exactly one of those detailing jobs we see from these guys—it's more of a preservation job. You see, the owner, Ted—the same guy that helped get that old Pontiac LeMans Convertible back up and running—simply wanted to prolong the life of this rust bucket, not make it car show-worthy.
This vehicle is what they call a 'doodlebug,' an old Ford automobile that was turned into a tractor to be used in farms. This particular workhorse has been in Ted's family for years, and he doesn't want to part ways with it until the machine finally gives out.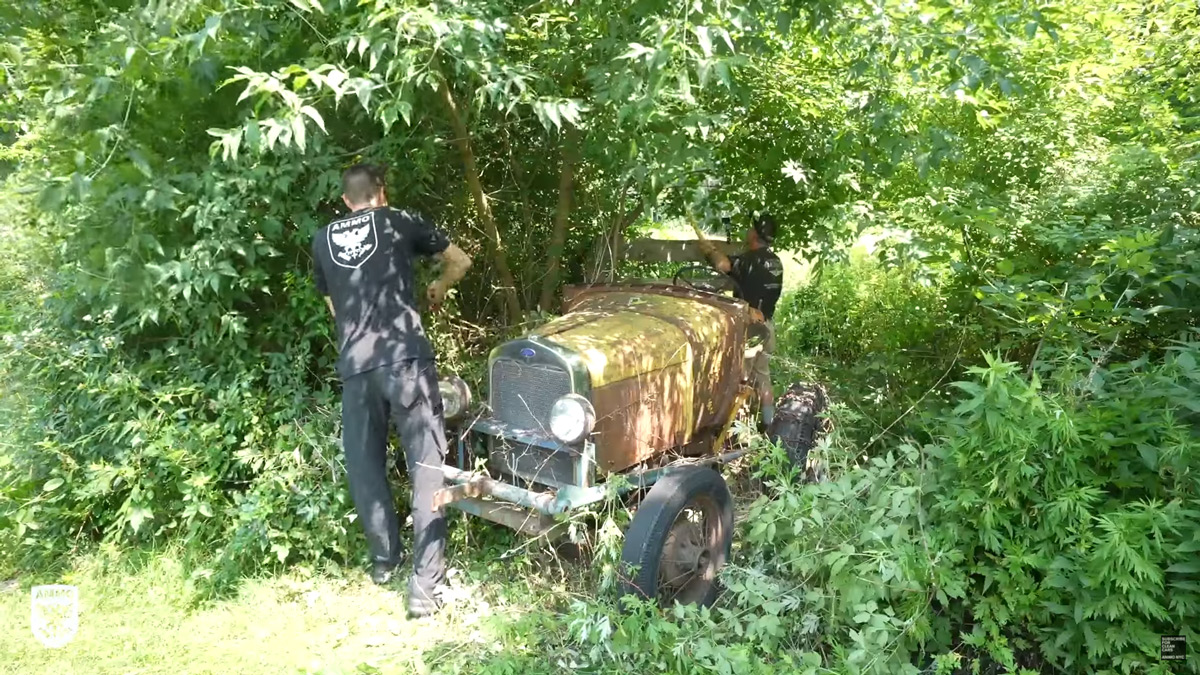 Continue reading below ↓
Recommended Videos
It already took a lot of work before these guys could even get to the car itself. They had to cut through bushes and even chop down a tree to get the old Ford out from the woods. Ted then did his magic on the doodlebug and miraculously got it to start, so they were eventually able to transport it back to the Ammo NYC studio.
From there, it was Ammo NYC's Larry Kosilla's turn to do his thing on the doodlebug. But as mentioned, this is different from what we normally see from these kinds of clips. Instead of being careful with the paint, he actually scrubbed off all of the flakes from the car's body. He also took out all the dirt and grime as well as the debris that's accumulated over the years. 
"Clearly, as a detailer, this is a bit of a lost cause. But as a car guy and a fanatic about the stories behind why and how vehicles were made in the past, the doodlebug deserves a bit of cleaning for its dedicated years of service," said Kosilla.
As the last step, he used fluid film to coat the metal body in order to prevent rust from building up even further. "The goal is not to remove the rust—it's too far gone," Kosilla added. "My purpose here is to prolong what life [the doodlebug] does have and make it as useful to Ted as long as he can keep it running."
If you want to see the entire thing, grab some popcorn and click play on the embedded video below:
Top Gear Philippines is now on Quento! Click here to download the app and enjoy more articles and videos from Top Gear Philippines and your favorite websites.