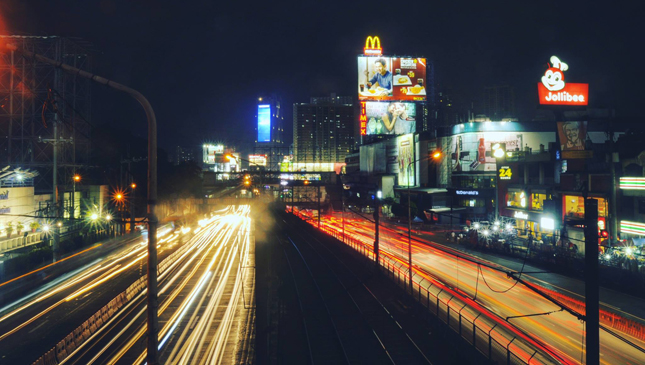 How time flies. If only cars on Epifanio de los Santos Avenue were just as fast. Can you believe it has been three decades since Filipinos took to EDSA to kick out a dictator? And today, we commemorate that milestone by listing down 30 things that have changed our favorite (if clogged) highway in the last 30 years.
1. In 1986, we had Metro Manila Commission looking after EDSA. In 2016, the agency tasked with the same responsibility is called Metropolitan Manila Development Authority.
2. The EDSA Shrine, located at the corner of EDSA and Ortigas Avenue, was erected in 1989.
3. Robinsons Galleria opened next to the EDSA Shrine in 1990.
4. SM Megamall opened its huge doors the following year, in 1991.
5. The Ortigas Interchange--the multilevel flyover structure on EDSA corner Ortigas Avenue--became accessible to the motoring public in 1991.
6. F.F. Cruz & Co., the contractor that built the Ortigas Interchange, went on to finish a couple more projects on EDSA: the Kamias-Timog Flyover (June 1992) and the Fort Bonifacio-Kalayaan-Buendia Flyover (April 1999).
7. The People Power Monument, situated at the corner of EDSA and White Plains Avenue, was unveiled in 1993.
8. The Unified Vehicular Volume Reduction Program of the MMDA--or number-coding scheme, as we call it--was first tried on EDSA in October 1995.
Continue reading below ↓
Recommended Videos
9. The Manila Metro Rail Transit System--MRT for short--was inaugurated in December 1999.
10. The south end of the 24km highway was extended to SM Mall of Asia in Manila Bay territory when the shopping complex opened in 2006.
11. The TriNoma (Triangle North of Manila) mall commenced operation in the North EDSA district in 2007, further contributing to the traffic volume in the area, which was already congested due to the presence of the expansive SM City.
12. Interactive billboards that boast LED displays are now a common sight on EDSA.
13. In 1986, Anne Curtis and Angel Locsin were both one-year-old toddlers. In 2016, their faces line the length of EDSA via colorful billboards.
14. There is now so much visual pollution on EDSA that former MMDA chairman Francis Tolentino was quoted in 2011 as saying there were 90 billboards per kilometer of the highway.
15. In 1986, the Mitsubishi Lancer was the most popular car on EDSA. In 2016, the Lancer has all but faded into obscurity, with talks of discontinuation looming on the horizon.
16. EDSA is now a long automotive row, being home to many car dealerships, including those for Mercedes-Benz, Subaru, BMW, Ford, Chevrolet, Toyota, Mitsubishi, Honda, Nissan, Mazda, Hyundai, Suzuki, Foton, Porsche, Audi, Chrysler, and even Morgan and MG. Among the very first to put up a facility along the highway was CATS in Greenhills back in 1989; before becoming a Mercedes-Benz dealer in 1992, CATS was an acronym for "Car Accessories, Tires and Service Center."
17. The length of EDSA is now being monitored by the MMDA via CCTV cameras. In fact, real-time traffic situation along the thoroughfare can be viewed online. (Warning: The cameras or the videos sometimes do not work.)
18. There are now more or less 50 gasoline stations along EDSA, according to Google Maps (yes, we manually counted the pins). That means you have no excuse to run out of fuel--unless, of course, you're stuck in bumper-to-bumper, not-even-inching-forward traffic.
19. The much-vilified martial law had been lifted five years before 1986, and so civilians had by then become more lax when it came to following traffic rules. But it's safe to say that, in spite of this, pedestrians then were still so much more disciplined than they are today, when even screaming warning signs aren't enough to make people toe the line. Sadly, EDSA now resembles a real-life video game in which drivers need to constantly keep an eye on unruly hikers.
20. Today, there is a designated motorcycle lane on EDSA--implemented by the MMDA beginning in February 2012--which many motorcycle riders and car drivers ignore anyway.
21. More and more bicycle riders are now seen on EDSA as biking is encouraged even by government to help ease traffic congestion. Certain stretches of the highway even feature half-baked bicycle lanes. It's a start.
22. Due to the sheer number of buses on EDSA today, freak accidents involving these public-utility vehicles are becoming more and more prevalent nowadays. Remember this and this?
23. Driving carefully on EDSA now means not just driving defensively in relation to other motor vehicles, but also watching out for miscreants who throw rocks at passing cars.
24. There is now a total truck ban on EDSA, which means heavy trucks are not allowed on the highway between Pasong Tamo in Makati and Balintawak in Quezon City every day, except on Sundays and holidays.
25. Smoking is now illegal on EDSA (and in other public places for that matter) after the MMDA introduced the policy in July 2011.
26. Immediately after President Ferdinand Marcos had been overthrown, diesel fuel settled at P5 per liter. Today, the same type of fuel sells for P19 per liter.
27. At that time, the minimum bus fare on EDSA was P1 for the first 5km. The same distance on a non-air-conditioned bus now costs P10.
28. Meanwhile, the flag-down rate for taxicabs back then was P2.50 for the first 500m. Today, the flag-down rate for cabs is P30 after government reduced it from the previous P40, but taxi operators continue to lobby for the repeal of the provisional rollback.
29. Orange plastic barriers are now scattered along EDSA, supposedly to aid in traffic management. We suspect MMDA just doesn't have enough storage space after using these during the APEC (Asia-Pacific Economic Cooperation) Week last November.
30. In 1986, EDSA became our concept of freedom; in 2016, EDSA is our very definition of immobility. As our former columnist Dong Magsajo puts it: Back then, everyone wanted to be on EDSA; these days, everyone wants to avoid it. Thirty years ago, a car could travel from Makati to Baclaran in 15 minutes in daytime traffic. Today, a car might spend an hour to get from Makati to, um, Makati.
Photo from Kim Joshua Bartolome