1) Porsche's push-pull buttons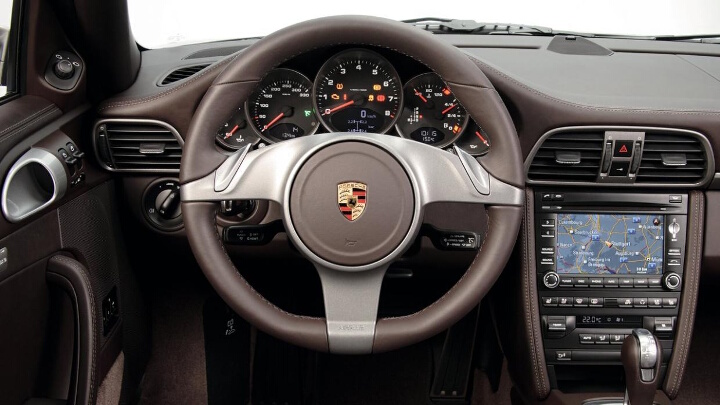 Porsche's seamlessly smooth, seriously swift 'PDK' double-clutch gearbox was first fitted in the 911 back in 2008. The definitive sports car gets the best gearbox in the world—what a moment! Or it would've been, if Porsche hadn't ruined it.
See, instead of paddle shifters, Porsche fitted clicky buttons on each side of the steering wheel. Push either, and the gearbox changed up a gear. Pull either one back, and the gearbox dropped a gear. Apart from letting a driver change gear manually while driving one-handed, the system appeared to offer no real benefit, and everyone found it thoroughly confusing.
Continue reading below ↓
Recommended Videos
So, Porsche started offering a paddle-shift wheel as an option, and later binned the buttons entirely. Thank goodness that happened before the 918 Spyder was finished...
2) Citroen DS 'wand'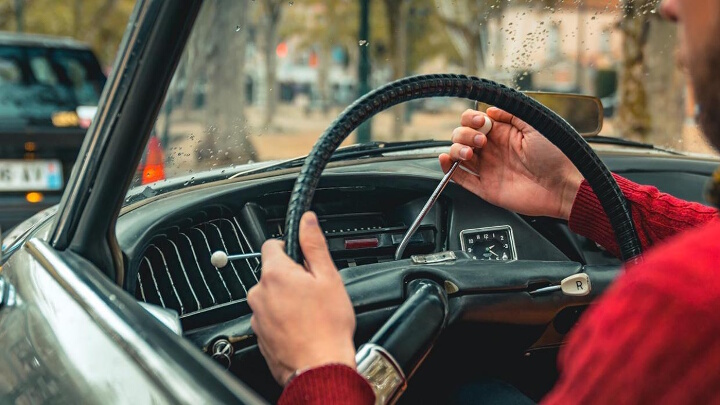 An old, big Citroen had a bonkers way to change gear? Shocked, I tell you, I'm shocked to my very core.
Of course, the DS did things differently. Changing gear in the goddess was a beautifully delicate process. In semi-auto models, it worked via a pre-selector mechanism. Reach through the steering wheel (that's why there's only one spoke, though you can reach around it if you prefer), thread the slim lever though its detents (lifting well off the throttle while you do so), and marvel as the gears smoothly—if not exactly swiftly—changed without a clutch pedal in sight. It's like conducting an orchestra, while sat on a waterbed.
3) Ford Model T madness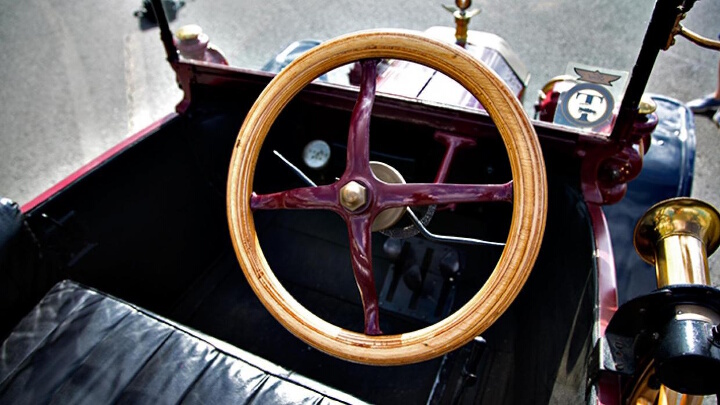 We must be truly thankful that, while the Model T brought mass-mobility (and mass-production methods) to motoring, and changed the automotive landscape forever, its infernal gear changing never caught on.
Changing gear was achieved by a floor-mounted pedal, which engaged drive, and then a lever on the flanks pushed forward, while another pedal was pressed to keep the car rolling (not the throttle mind you—that was a lever on the steering wheel).
Release the left pedal, and the car effectively entered high-speed cruise-control mode, with no pedals pressed at all. Back in the 1910s, with shoddy roads and the Model T's hardly stellar braking performance, it's amazing 'the car' caught on at all.
4 ) The column shift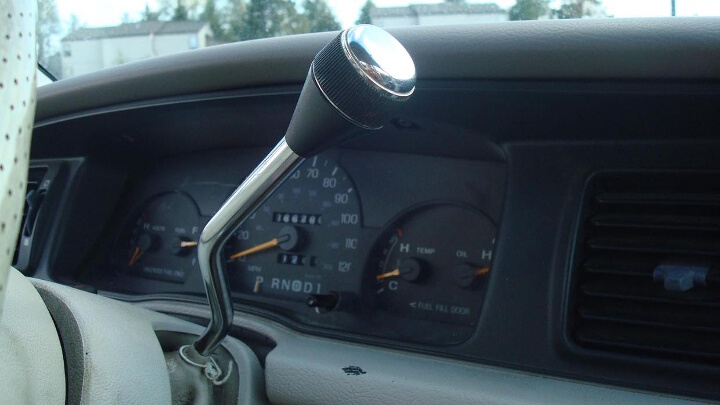 Calm down, Americans. We know that having three on the tree seems usual and unremarkable to you over there, but to us over here, it's downright weird and only exists in films. Basically, it's the agricultural version of the Citroen DS's divine pre-selector. Yee, and indeed, ha.
5) Abarth 695 BiPosto dog-ring H-pattern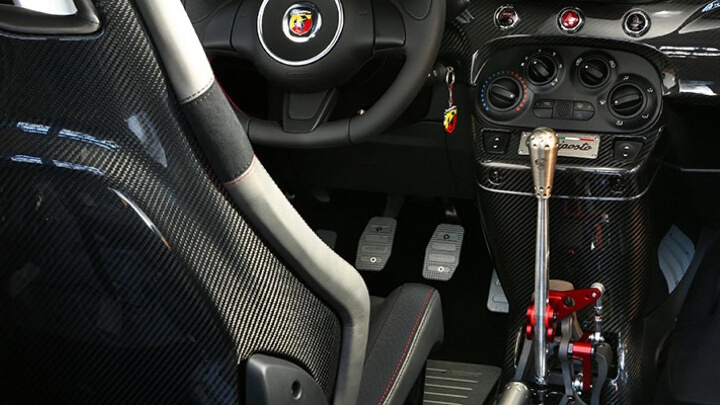 The most extreme Fiat 500 offered possibly the maddest optional extra ever fitted to a hot hatch: a dog-ring gearbox. In short, it's a manual with no synchros, so your engine speed has to perfectly match road speed to get the shift home. Otherwise, expensive grinding noises will hurt your ears. Get it right, and there's an almost imperceptible pause in power to the wheels.
Obviously, it's idiotic and impractical to put one in a road car, and even more so to charge £8,500 for it in a jumped-up Fiat shopping trolley. But the Abarth BiPosto did just that, and will forever be a hot hatchback hall of fame hero because of it.
6) Bendix 'electric hand'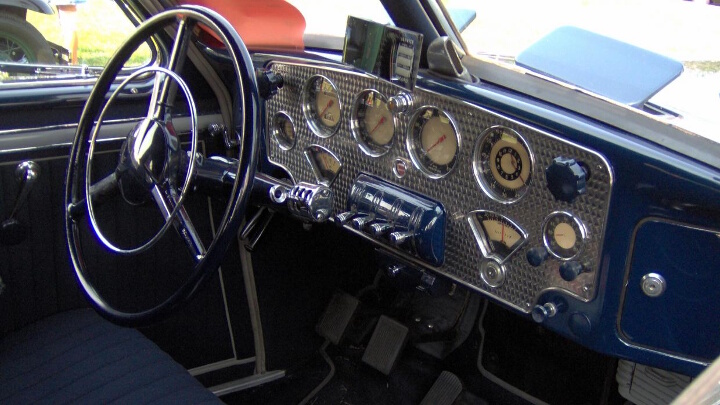 Weird name, right? The 'Electric Hand' was seen in '30s American automobiles like the Cord 912, which promised to make shifting gears the job of a mere finger. Essentially, this was a pre-selector, so when your finger moved a small lever on the dashboard between gates 1, 2, 3, or 4, a vacuum servo prepared the gearbox to shift to your desired gear.
Then, when you were ready, simply dip the clutch to let the machinery take over for you. So, while it's not an automatic, as the car still needed the driver to choose gears and tell it when to change them, it was a preview of the sort of easygoing driving that would grow to rule in America after the World War II.
7) Hurst Lightning Rods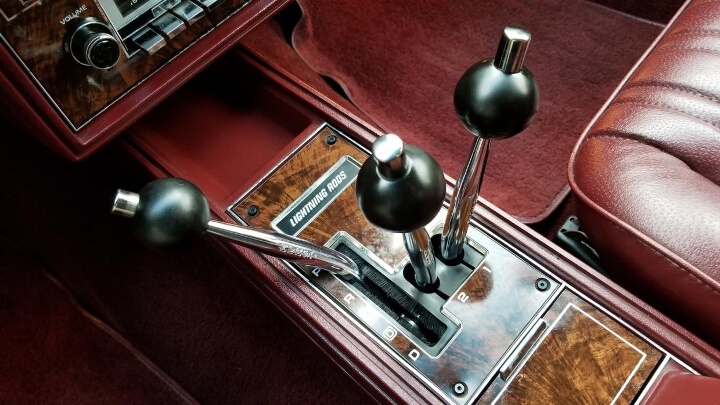 How many gear levers does your car have? One? Great. Oh, you have a Land Rover Defender with low range and it's got two, have you? How cute. But try three gear levers if you want to be in this idiosyncratic shifting club.
This aftermarket '80s add-on was inspired by drag racing. 'Murica! The idea was simple: a lever for each shift, off the back of an auto for when you weren't racing. So, one standard PRND selector. Then the two 'manual' shifters: one to take you from first to second, and another to take you from second to third. Because the levers only ever had to move between one ratio, faster shift times were possible. If you grabbed the right lever...
8) Volkswagen Autostick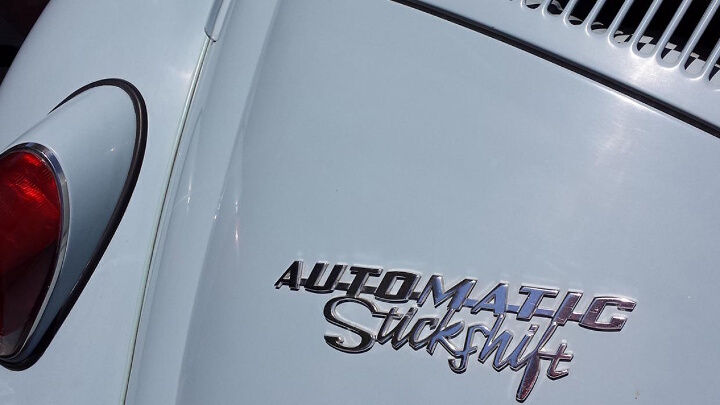 One of several 'autostick' designs (Chrysler and Saab had something similar), this elegant system was basically a clutchless manual. The top of the gearlever depressed like a button as the driver's hand shifted, which activated an electrical circuit and disengaged the clutch automatically. As soon as the shift was completed and the driver's hand returned to the steering wheel, the circuit would disconnect, re-engaging the clutch. Great—unless you're one of those folks who likes to cruise along with one hand resting on the gearstick. Oops.
9) Mitsubishi Super Shift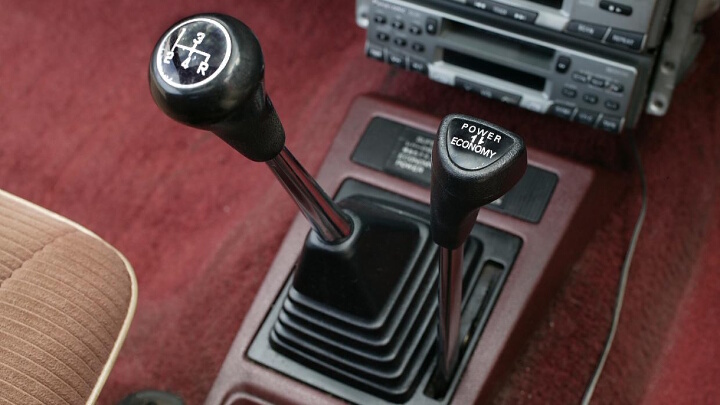 Remember when Porsche decided to give the 911 a seven-speed gearbox? That was back in 2011. It seemed like madness. Seven forward speeds? Most of our mountain bikes had fewer.
Well, move over, Porsche—back in the '70s, those crazy cats at Mitsubishi were plumbing a manual gearbox with eight forward speeds into regular hatchbacks. Super Shift started life as a four-speed manual 'box, but because the then-new front-wheel-drive Mirage packaged the gearbox beneath the engine, a second idle shaft was needed to connect the two. This was then utilized as a separate two-speed gearbox, meaning 4x2 gears. And yes, that meant there were two speeds in reverse, too. Wheee!
Problem was, shifting between regular gears and the second shaft needed the driver to juggle two levers at once, so predictably, most owners didn't really bother. And that, by the end of the '80s, meant the end of Super Shift. Just imagine that contraption in an Evo.
NOTE: This article first appeared on TopGear.com. Minor edits have been made.