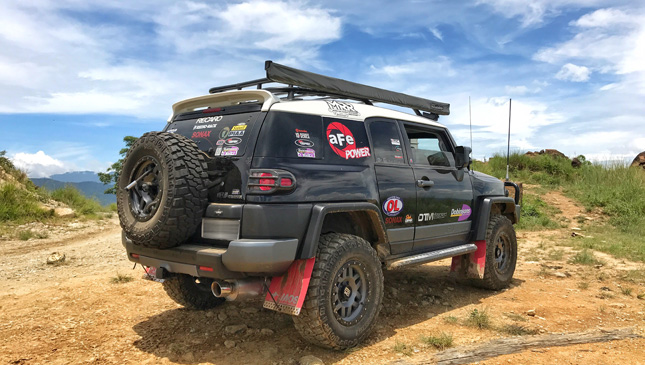 For the most part, I never imagined myself being a Toyota guy. I've owned three Toyotas in the last ten years, but prior to that, I had owned Mitsubishis and a Nissan. But my Toyota ownership has been quite interesting, gut-wrenching at worst, and funny at the very least.
ADVERTISEMENT - CONTINUE READING BELOW ↓
You have to understand that I have no other hobby now in life. I don't drink, I don't go out, I don't like guns, I don't play any sports, nor do I cycle/bike. All the extra income I have is spent on my cars. Sounds excessive? Perhaps, but we all have our own poison of choice.
I had owned a Mitsubishi Lancer Evolution IV RS back in 1999, an original LHD model which was a spare car for a privateer rally team locally. Though it was never raced, the car had led a hard life. I got it, spent lots of time fixing it up with my modest allowance (I was in college when I got it), then eventually my equally modest salary. I had put in almost 50,000 kilometers on that thing. Eventually, I found the need for change. That car had a lot of memories associated with a girlfriend I had for almost five years. When we broke up, I thought I wanted something different. Totally different. Then came the Supra. 
ADVERTISEMENT - CONTINUE READING BELOW ↓
Recommended Videos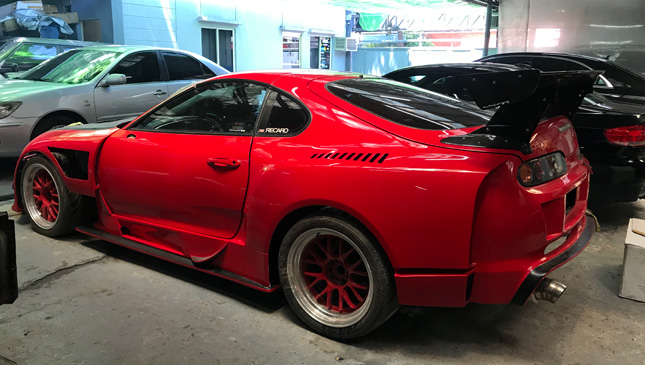 At that time, I thought the Supra was perhaps the easiest, most cost-effective way to get a sports car with massive tuning potential. And it looked the part of a quasi-exotic back in 2007: TRD widebody, exotic Volk Racing forged magnesium wheels, a crate-engine capable of 1,000hp with the right sort of fuel, Motec M800 stand-alone ECU, and the list goes on. And that's where my relationship with Toyotas started. 
ADVERTISEMENT - CONTINUE READING BELOW ↓
After taking delivery of the Supra, it was awesome--when it ran. Problem was, many times, it refused to run! It was, back in the day, bleeding edge technology. Starting it required equal doses of prayers, luck, chanting sutras, making offerings and praying to every imaginable god and deity you could think of, plus a full pit crew to check everything. I wanted a reliable daily driver, whereas the Supra was just too wild, unreliable and crazy. Numerous problems arose. It left me stranded on the side of the road a lot of times, roughly ten times at least, if memory serves me right. So, I set about changing the main parts to make it more reliable. Out with the old engine, in with a newer, simpler venerable 2JZ-GTE. I replaced all of the old, questionable wiring I could change, and switched to a more modern, simpler stand-alone ECU.
As the Supra would be down and being fixed many times, sometimes for months on end, I decided I needed another proper daily driver, something fuel efficient, and something automatic. This was in 2007, when traffic was slowly but surely getting worse. I had my eyes set on the Honda Jazz at that time, but the price difference was just huge compared to the Toyota Yaris. Browsing through online parts sellers, JDM tuning magazines like Hyper Rev and similar, I also realized that the Yaris had a huge tuning potential, thanks mainly to the Vitz Netz Cup, the one-make racing series in Japan which was hugely popular grass-roots motorsports, and had great support from Toyota.
ADVERTISEMENT - CONTINUE READING BELOW ↓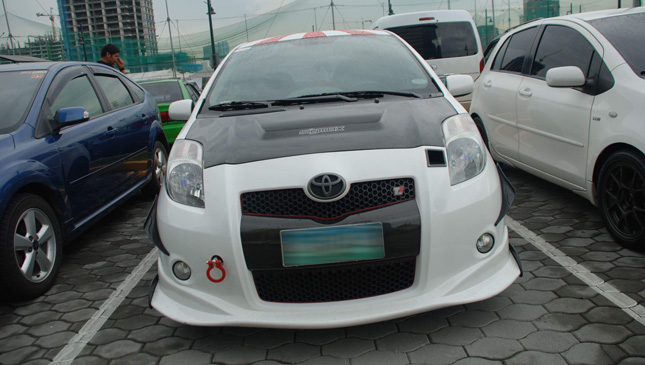 Toyota Motor Philippines was also quietly selling off the last of its pre-facelift models of the Yaris, so I was able to get one for a really good deal. My plan? To make it the coolest Yaris around, with a rally car feel to it. What started out as a simple lowering-spring job eventually became tuned all-out: I was able to find a full Yaris TRD bodykit from the dealership, RAYS Wheels from Autoplus, Bilstein coil-overs, Ultra Racing's complete line-up of chassis reinforcement bars, a cold-air intake kit and cat-back exhaust, Recaro seats to fix the odd seating position, the list goes on. It became its own full-fledged project. 
ADVERTISEMENT - CONTINUE READING BELOW ↓
The Yaris also represented the core car buying market back in 2007: small, light and fuel-efficient cars were in huge demand. By owning a small B-segment car, I would, as a motoring journalist, be able to somehow understand the needs of the people buying their primary car, many of which was for the first time—in this segment. I was in a market relevant to the majority of the buying public.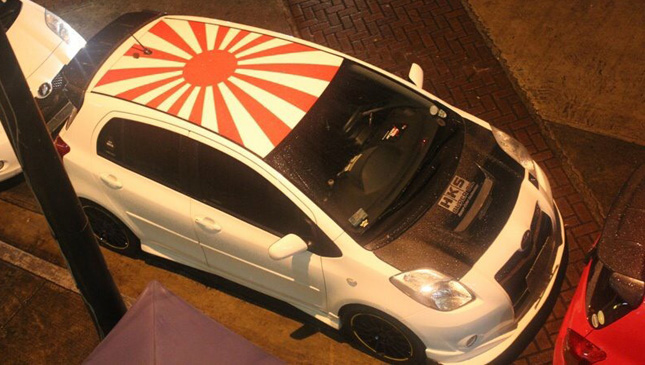 ADVERTISEMENT - CONTINUE READING BELOW ↓
As years progressed, both the Supra and Yaris evolved and morphed. The Supra's looks have also changed considerably. I ditched the TRD bodykit, went for a custom bodykit that made the Supra 8 inches wider than stock, got wider Rota MXR wheels (support local!), sold the uber rare Volk FORGED MAG wheels, and crucially, replaced the wiring harness to a brand-new OEM Toyota, which really solved a whole lot of reliability concerns. My last problem was overheating. Though the car only over-heated once, I felt that the temps were a tad high especially in traffic, but to be fair, it never overheated again. We had tried all sorts of weird and ingenious ways to help keep engine temps at a reasonable level, and I feel we've found it at last.
The mechanicals also evolved. As technology advanced, I gained access to the latest parts, learned new things, and slowly but surely set about to making the Supra more and more reliable--and enjoyable to use. New Walbro 450lph fuel pump and Bosch EV-14 standard fuel injectors from Deatschwerks, made it run smoother, the new AEM-EMS V2 stand-alone ECU had all the OEM-like compensation trims allowing it to start regardless of weather (something many people don't know), and I removed and redid all the chassis wiring, redid the brake plumbing. I also replaced the worn-out OEM suspension members with fully rebuildable and adjustable items from Hard-Race. Profab built many parts like the turbo manifold, downpipe, exhaust and intercooler piping to make it as short as possible.
ADVERTISEMENT - CONTINUE READING BELOW ↓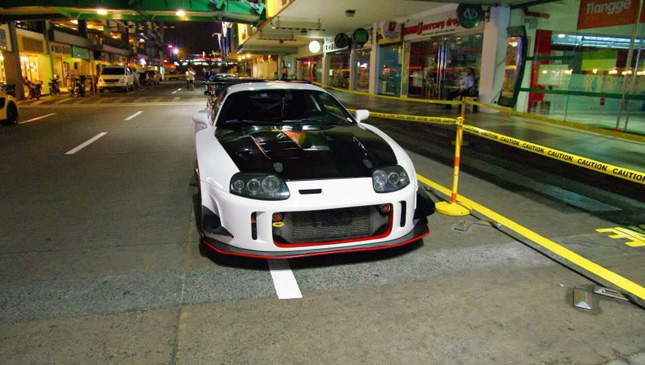 Lots of customization ensued and I enjoyed the build part almost as much as I enjoyed driving it. I'd say the Supra has spent more than half of its time at DTM Motorsports in BGC, it might as well be the Supra's home! It was a lot of work, but it has always remained enjoyable, and continues to do so. Previously, the car's best dyno output was measured at 630 wheel horsepower with the old set-up using Petron Blaze. The most recent dyno output was 580 wheel horsepower. I lost 50 horsepower, but gained so much more responsiveness and useable, tractable power which made it fun on narrow, winding roads, too. 
ADVERTISEMENT - CONTINUE READING BELOW ↓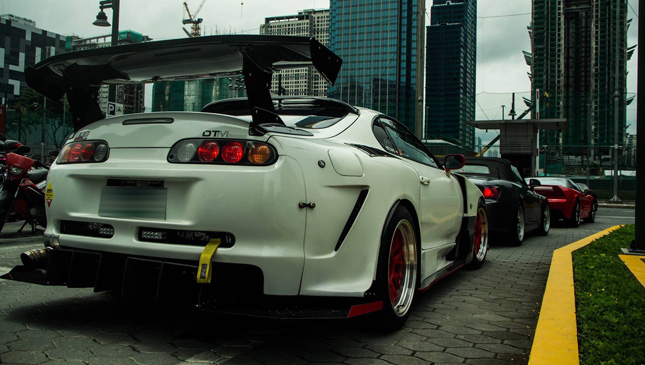 Fast forward to late-2015, and my family was starting a new business in Tagaytay. I was tasked to help manage it from design, construction and operation, which I do until today. Initially, my Yaris made for a fine, fun, super-fuel- efficient daily driver. But the long drive, bad roads and traffic were taking its toll on me and my car. I knew I needed a bigger vehicle as I needed to bring copious amounts of cargo from time to time from Manila to Tagaytay. I thought about getting an Innova, a relatively affordable, bigger and more comfortable vehicle but as luck would have it, the FJ Cruiser landed on my lap. 
ADVERTISEMENT - CONTINUE READING BELOW ↓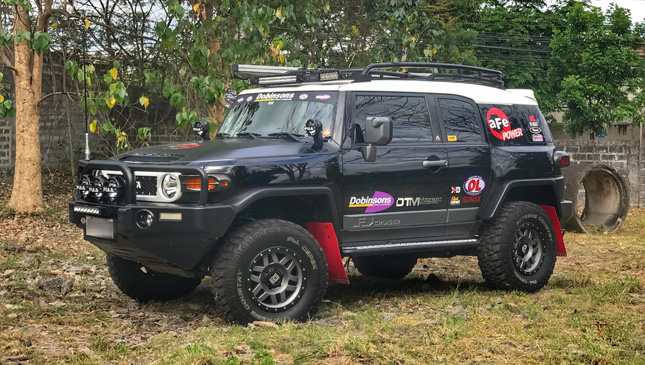 The FJ Cruiser was originally bought for my younger brother. His Toyota Fortuner figured in a freak accident where a taxi hydro-planed and lost control, counter-flowed and careened onto my brother's lane, smashing his Fortuner's front-end. The decision was made to sell the aging Fortuner after it was fixed, and get a new car for him. The FJ was recently introduced by Toyota and its surprisingly favorable pricing (almost a million pesos cheaper than previous grey-market models) made it attractive. So we ordered one and had to wait six weeks to find one. On the day it was delivered, the Fortuner was also finished with repairs and also brought home. My brother used the FJ for a single day and said it was too big, too wide and ungainly for him. He then started using his old Fortuner again, which miraculously ran perfectly even after the accident. We ended up keeping the Fortuner for another year and a half. My Dad thought he'd use the FJ Cruiser himself. Again, after a single day of use, he realized it was too high for him (my Dad's of average Filipino build), and had a lot of blind spots. It sat in the garage for about four months, with nobody wanting to use it. Later on, when I casually mentioned to my Dad I was planning to get a new car, he suddenly said: 'Why not just get the FJ Cruiser instead?'
ADVERTISEMENT - CONTINUE READING BELOW ↓
And now the rest is history. Again, the FJ has evolved into its own project. I use it for my frequent out of town trips, have joined a few off-road trails and come to appreciate the added skill-set of driving off-road. Today, the market is all about lifted/raised SUVs, pickups and 4x4's, so I find myself in a segment that is once again very relevant to the average car-buying Filipino market, and I'm having loads of fun exploring new vistas previously unreachable by myself because you really need a tall-riding vehicle. It's modified to the hilt as well (Dobinsons suspension, Opposite Lock bumpers, AFE intake and exhaust, Hard Race suspension arms, custom exhaust manifold by Profab, RECARO seats, PIAA lights to help me on my night drives from Tagaytay, the list goes on), because it's the popular thing to do, it's fun and highly enjoyable! 
ADVERTISEMENT - CONTINUE READING BELOW ↓
Right now, I'm finishing up what I hope will be my Supra's final exterior/cosmetic evolution with a new bodykit that's even wider than before, new larger 19-inch wheels, plus I'm going to correct some minor faults in the cooling system plumbing, heavy maintenance in the form of wheel bearing replacement on all four corners, axle-grease repacking and some interior trim work to help make her feel new again. And a new turbo because my friends from Limit Zero Trading gave me a really sweet deal on a new-generation Borg Warner billet turbo that should give better response and more power! Hoping to once again break into 600 wheel horsepower, but with even more responsiveness! Tuning and modifying truly never ends! 

For the FJ Cruiser, I'm deciding on whether to install a JDM Toyota rear bumper, or a steel rear bumper from ARB plus long-tube headers for a meatier growl from the big V6. It's tuned too, by DTM Motorsports (the same tuners as my Supra and the shop that now maintains all my out-of-warranty cars) so it makes much more power than stock (if the dyno isn't lying, I've added 65 additional horsepower to the wheels and about 70 lbs-ft of extra torque), and the added torque has improved fuel efficiency despite riding on massive 34-inch Dick Cepek hybrid mud terrain tires and XD alloy wheels. Still getting 10km/liter on the highway, which is an achievement! Some friends are bugging me to get a supercharger for it too since they know I'm the adventurous type, tuning-wise, but that's serious money in one big go so I'm still not sure on that. 
ADVERTISEMENT - CONTINUE READING BELOW ↓

I do have a few regrets. First is that I sold my Yaris. How I wish I kept it and swapped in a 1.8-liter ZZ engine from a Celica with a 6-speed manual and tuned it to close to 200hp. I guess I can buy one again someday soon when they get even cheaper than they are now. I also wish I just saved up on the best parts for the Supra rather than buying cheaper, inferior parts first, only to buy the right parts in the future. The excessive buying of useless inferior parts, plus the shipping from Japan or the US, would have amounted to a substantial sum by my estimate.
So, if I did buy another Yaris, that would mean my fourth Toyota? Or how about the new Supra, if and when it ever does come out locally? Maybe both? Hmmm………