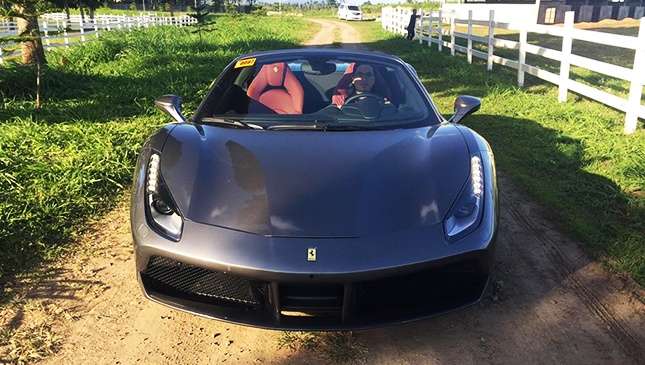 If I recall correctly, it was back in 2015 when I first wrote about the Ferrari 488 Spider. The vehicle had just made its debut at the Frankfurt International Motor Show. Turbocharged 3.9-liter V8, retractable hard top, 660hp and 760Nm of torque, and a 0-100kph time of just three seconds—the Spider was every bit as super as you'd come to expect from the Italian carmaker.
Fast forward two years later and I find myself stepping into one, not as a passenger, but behind the wheel. Granted, it wasn't much time behind the wheel, but all the thoughts running through my head over a couple of straights made the experience feel like an eternity.
Continue reading below ↓
Recommended Videos
1) Can I afford it? Obviously, supercars don't come cheap. The 488 Spider in particular has an SRP of more or less $270,000. That's just a couple of hundred thousand under P14 million—minus insane taxes, of course. So chances are no, you can't. If you can settle for the GTB without the retractable top, it drops down to around $249,000 (P12.4 million). Still a no, unfortunately.
2) No? How much do kidneys go for these days? Not enough, buddy.
3) Can I handle it? Provided you aren't a total jackass during your first stint behind the wheel of a supercar, yes you can. While sitting inside a Ferrari in itself can be intimidating, a little prodding with the pedals and steering will give experienced drivers relatively ample feel for the vehicle. Now stay composed and begin to accelerate.
4) More? Yes, more. The car will go as far as you will it, or in my case, as far as my passenger—Ferrari distributor Marc Soong—will let me, which surprisingly is pretty far. Marc tells me to floor it during my first run. Regrettably, for some goddamned reason, my foot refuses. My balls are a little more composed during run two, though I'm uncertain as to how fast we went on account of me being too focused on not dying to look at the speedometer.
5) Am I dead? Those pulsing lights? Sun rays penetrating the tree line as you speed by with the top down. That beautiful sound? Not angels, it's the 488 Spider's 3,902cc twin-turbo V8 pushing you forward in race mode. That oh-so-loving feeling as you ease up on the accelerator? It's not the Holy Spirit. It's your brain trying to reacquaint itself with your nervous system. No, you're not dead…not yet, at least.
6) Suppose I crash? It depends really. If you happen to wreck the vehicle beyond repair, pray you were going fast enough that the answer to the previous question is yes. If not, just hope you've got enough juice left in the tank to put a couple of hundred kilometers between you and the owner. That should be enough of a head start.
7) Do I need a change of underwear? The Spider will take a lightning-quick three seconds to hit the 100kph mark in as loud a manner as possible. I hit 150kph in just a little over. Considering this will get car guys to their happy place faster than a pre-teen male who's just discovered the Internet, it's understandable if first-timers answer yes.
8) Do I have proof? Do not make the same mistake I did. Set up your GoPros and cameras before taking off. In my excitement, I completely forgot to set one up. Luckily Marc was able to document my whole run via smartphone. I'd have given him a big hug afterwards, but I didn't want this to be my first and last Ferrari experience.
9) How'd I look? You just drove faster than you ever have in your life behind the wheel of a Ferrari with the top down. It's either A, you looked amazing, or B, you looked like a little girl whose crush just texted back. In my case, it was a bit of both.
Okay, maybe it was a little more toward the latter. I probably looked like a damn emoji. No shame in that.
10) Now what? Well, it was fun while it lasted, but now you I go back to browsing supercar wallpapers for my phone's home screen. *cue the world's smallest violin*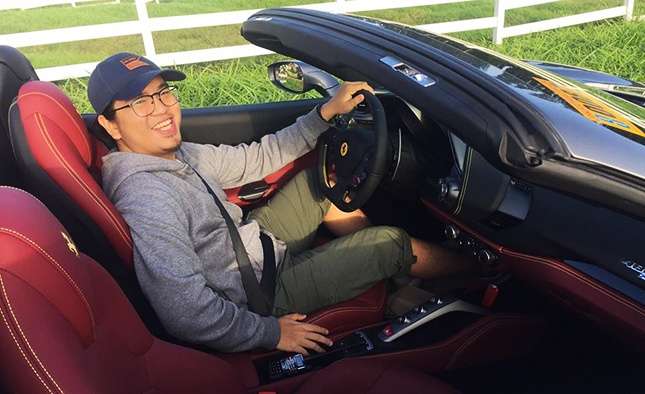 Bonus: How long until I'm able to wipe this stupid smile off of my face?