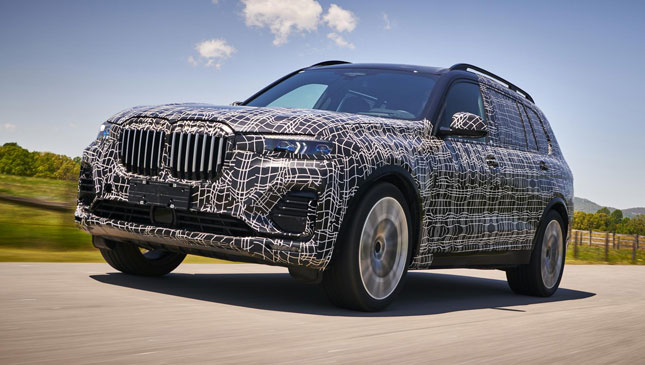 What is it, and why does it look like a circuit board?
This is the BMW X7, BMW's biggest, most luxurious SUV. It's a decent chunk bigger than an X5, a touch bigger than a Range Rover (though not quite as massive as a Merc GLS), and can seat up to seven people in leathery, technological comfort. You can get a business-class-style six-seater (six individual seats) or opt for a bench middle row for the full seven.
ADVERTISEMENT - CONTINUE READING BELOW ↓
TG.com was invited to do some final shakedown driving before its proper launch later this year, so the car is still in full camouflage, and the interior was covered in carpet to stop us from figuring out what it looks like, hence the Tron graphics and lack of interior shots.
What can you tell us?
Well, on the basic side, it's big. One of the few cars out there where a 22-inch alloy wheel doesn't look particularly excessive. Quite a boxy profile, with a massive kidney grille up front, flanked by slim headlights. It's toned down quite a bit from the X7 iPerformance Concept, but you won't mistake it for an X5, that's for sure. It didn't feel or look overly huge where we drove it in South Carolina in the US where it's made, but one suspects it will feel bigger in Europe where parking spaces aren't designed to accommodate a Dodge Ram dually.
The chunky exterior dimensions certainly pay dividends on the inside, mind you. All three rows get plenty of space, although the trunk is small when the third row is up—no surprise. There are three sunroofs, so it doesn't feel claustrophobic, and you can get in and out of the third row easily enough, thanks to a neat flip for the middle row. The electric operation on these test cars was glacial though—much better to have a simple mechanical system, in our opinion. There's a split tailgate with a small lower section which supports up to 150kg, so a useful shelf for sitting on, and all the seats can be raised and lowered electrically via switches in the trunk. Fold them all flat and it'll take on a Transit for volume.
Vision is good, seating position and general ergonomics excellent, and there's 7 Series-levels of tech present, though we had to dig a little, because as mentioned, BMW had covered the dash, door cards, center console… in fact everything, with carpet. The engineers even went so far as to put a stuck-on fake 'starter button' on the dash, which caused some confusion when I wanted to, y'know, start the car. There were a couple of very large TFT screens secreted under the camo when we had a peek, so expect much digital info, as well as every option you can get on the sedan 7.
ADVERTISEMENT - CONTINUE READING BELOW ↓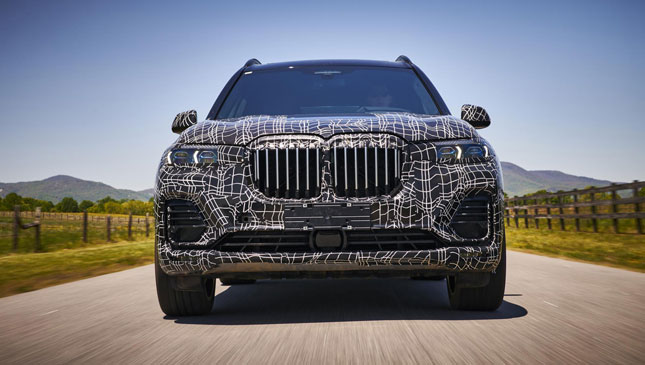 What's the hardware?
Well, the UK will get 3.0-liter bi-turbo straight sixes in either gasoline or diesel initially, followed by bigger versions of both fuel types. We drove the X7 35d (the 3.0 diesel), the X7 40i (the 3.0-liter gasoline) and the X7 50i with a 4.4-liter bi-turbo V8 gasoline. There'll be hybrid versions later, as well as a raft of other engine variants, including possibly a four-cylinder with a mild hybrid like a 740e. And everyone went a bit quiet when TG.com asked about an X7 60Li V12, so don't bet against it—though its unlikely there'll be a proper 'M' version, staying with the 7 Series program of only offering an 'M Performance' option in keeping with the X7's more wafty (read massive) mission statement. All get the excellent eight-speed auto 'box.
ADVERTISEMENT - CONTINUE READING BELOW ↓
There are standard air springs with some decent movement (80+mm from top to bottom, depending on what you're doing), with the usual Normal, Comfort, Sport and Off-Road settings, active steering and rear-wheel steer as options. BMW's xDrive all-wheel drive is standard, though there are rumors of a RWD 'base' version circulating—probably for later release. Interestingly, there's a mechanical locking differential with electric clutches as an option, and that helps in both on- and off-road situations.
What's it like to drive?
This is a tough one, as BMW admits the car has some way to go before final sign-off. The aim was for a large SUV that still has 'the feeling of a BMW'—so something without the wallow associated with a full-size SUV.
Initial impressions are good. The air springs manage a decent middle ground between 7-Series ride comfort and body control, and I actually really quite liked the active steering system. The rear steer works in the traditional manner—rear wheels pushing +/- 3-degrees in the same direction as the fronts when going fast (good for stability) and in the opposite direction when going more slowly (good for turning circle and general nimbleness). It all works: This is a very big car that feels smaller and lighter than it is.
ADVERTISEMENT - CONTINUE READING BELOW ↓
All of the engines are more than powerful enough, the 40i feeling and sounding like plenty, and getting close to the bigger V8 gasoline in terms of performance. The diesel is probably the sweet spot, especially as you don't really need an SUV with sports car acceleration figures, because all it tends to do is make your passengers throw up over the rear entertainment screens.
And yes, it will manage more off-road than anyone will ever actually use, though it is nice to see that the air suspension can actually produce approach, breakover and departure angles that make rough stuff possible without wince-inducing scraping.
Conclusions?
Based on what we've driven here, the X7 is going to be well up there with stuff like the Range Rover and forthcoming Audi Q8. With 7-Series levels of tech and refinement, but useful extra space and seats—as well as its more versatile AWD stance—there's no reason it shouldn't be an option. Yes, it's probably heavily aimed at the North American and Chinese markets, but it has the driving dynamics that make it feel smaller than it actually is, so will please European tastes, too. The big question is what it will actually look like when the final production version is revealed. We'll see in a few months.
ADVERTISEMENT - CONTINUE READING BELOW ↓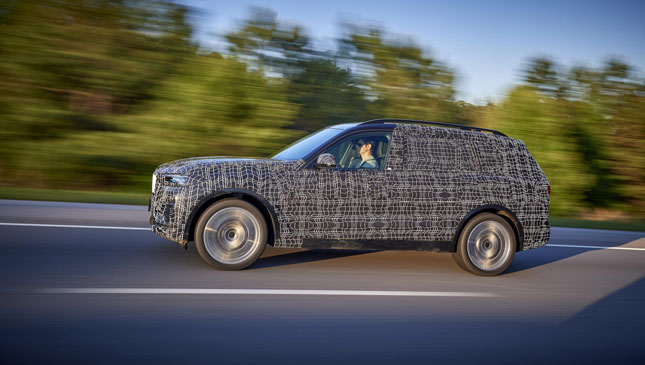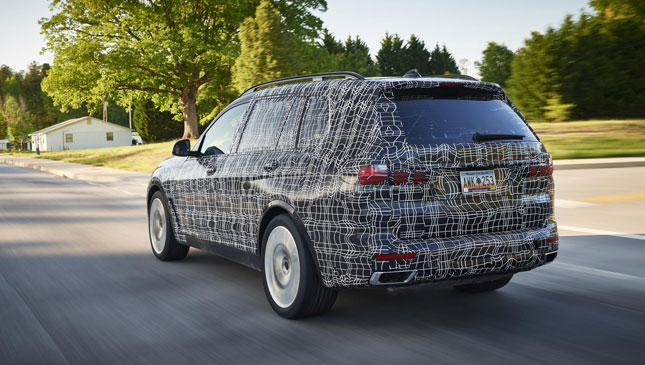 ADVERTISEMENT - CONTINUE READING BELOW ↓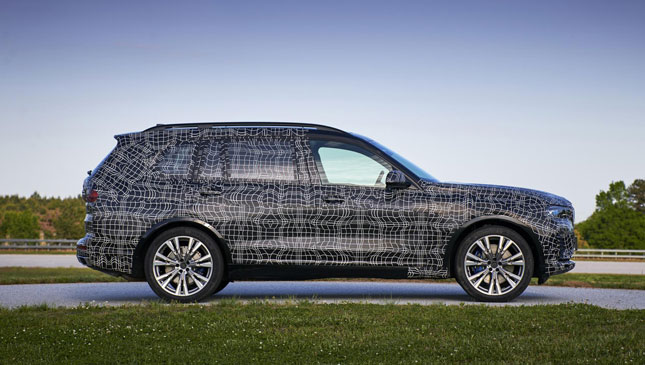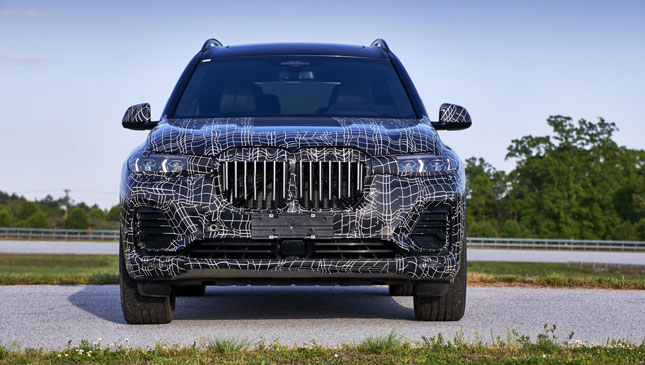 ADVERTISEMENT - CONTINUE READING BELOW ↓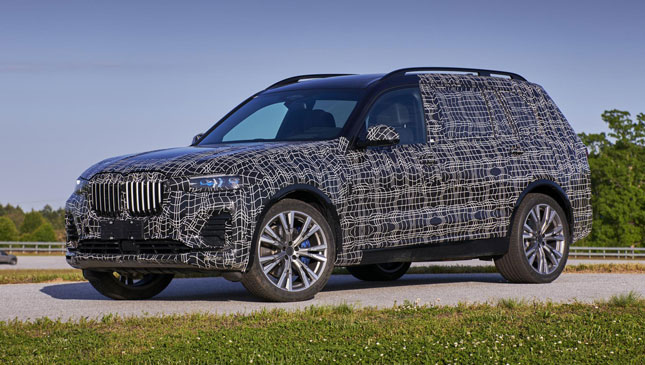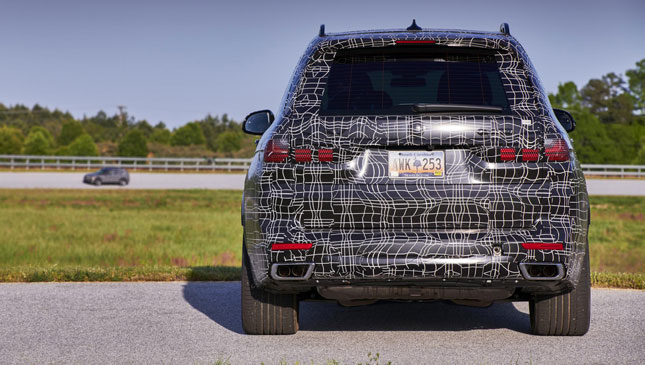 ADVERTISEMENT - CONTINUE READING BELOW ↓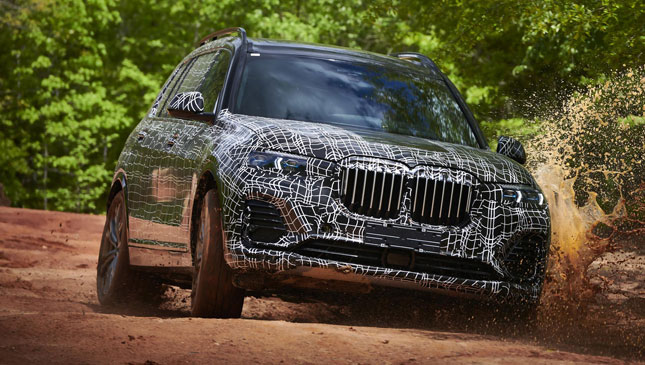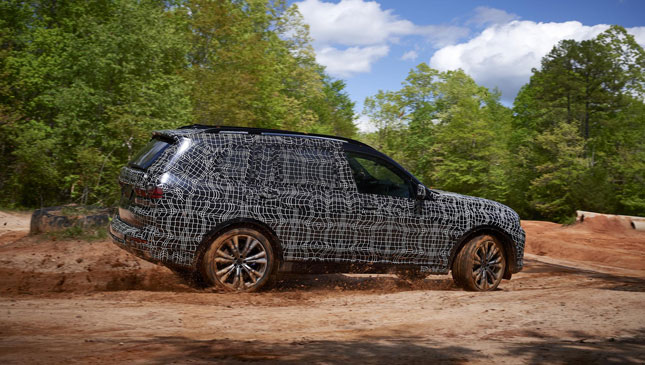 ADVERTISEMENT - CONTINUE READING BELOW ↓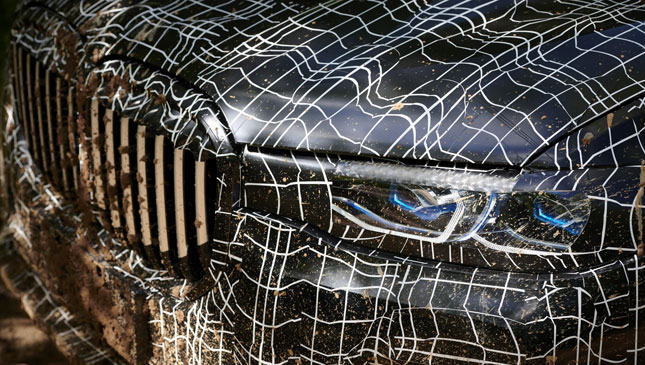 ADVERTISEMENT - CONTINUE READING BELOW ↓
NOTE: This article first appeared on TopGear.com. Minor edits have been made.