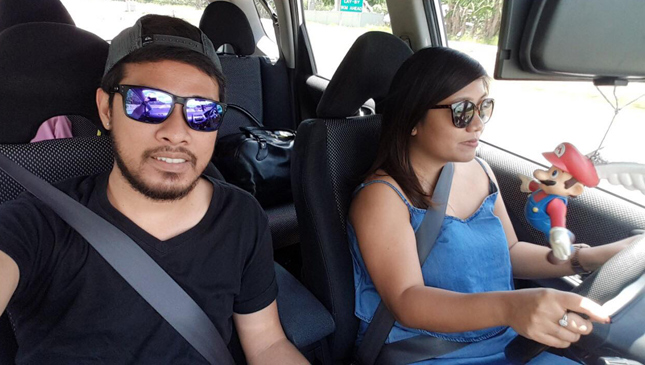 Living with someone who's extremely passionate about cars is quite peculiar. You might have already read about him here. One minute he's kissing you good morning, the next he's out the door to check on his ride, as if it's been selfishly neglected out in the cold.
Let's face it: The bond between man and machine is unbreakable, much like your union as husband and wife. Being married to a car nut has been quite a ride and here's what I've learned so far:
1) His car's grooming is equally, if not more, important as his own.
Continue reading below ↓
Recommended Videos
Washing, waxing, detailing--it's all part of his routine, just like getting a haircut or trimming his beard. Businessmen, here's an idea: Put a decent barber shop next to a car wash, and both will mutually benefit from the setup.
2) Bucket seats are a pain in the ass if you're short and stout.
Sure, they're good for the track, but I don't think he realizes how challenging it is to get in and out of bucket seats without putting weight on the sides (and he hates it when this happens because it compresses the foam out of shape). And don't even get me started on how difficult it is to get in when wearing a dress...
3) Going on a fun run isn't what you think it is.
Don't bring out your trainers and jogging pants just yet. His definition of a fun run doesn't really involve either of these.
4) He is likely to modify something you'll barely notice.
So when you ask "Bago ba 'yan?" the default answers are always "The previous owner upgraded this," "Swap lang" or the classic "Matagal na 'yan!" (Which, by his calendar, is a whopping five days ago).
5) You will soon learn that your man's superpower is an acute sense of hearing.
No matter how poor he claims his hearing is, he can hear the most minuscule engine-related sound or kalampag, and will pull over even on a busy highway to fix it. He will later find out that the sound is coming from something jangling in your bag.
6) You learn weird facts.
Like the standard size of speed bumps, where a car comes from based on its plate number, which mall has the steepest spiral ramp, or the car models used in popular movies.
7) He will start to act funny from time to time.
If he takes you to your favorite restaurant or gets you something really nice out of the blue, he could be preparing you for a major car mod or upgrade.
8) You need to master driving techniques.
Like the "siete," or driving diagonally over speed bumps, because nothing hurts a lowered ride more than non-standard humps. Once you scrape that chin, who knows when you'll be allowed to drive his car again.
9) There will be a double standard when it comes to shopping.
He gets bored after 30 minutes of shopping with you at the mall, but is willing to spend hours scouring Evangelista and Banawe for that one rare car part.
10) Photography is his passion.
He loves taking photos of his car from different angles, with varied lighting, at different locations, and will even buy a new camera just to take that perfect shot. But he'll flinch when you ask for an #OOTD photo. Dozens of shots of car porn and that one blurry photo of you. So much for having an Instagram husband!
While I've learned to accept that track days, upgrades, and mods have become a part of our lives, the way he treats his car is nothing compared to the way he spoils his loved ones--myself included, of course. Knowing his priorities and balancing his hobby and family life is what keeps the peace at home, and I love him even more for that.