The subcompact-crossover market has gotten a lot more crowded since the launch of the current Honda HR-V in 2015. Seven-seaters, in particular, are having a big moment: In 2017, the BR-V ranked second in sales among Honda's local lineup, with 7,212 units sold. These two Honda models aren't competing in the same segment, of course, but a lower price tag and two extra seats would naturally draw buyers away from five-seat crossovers in favor of the BR-V and other entry-level MPV-CUV hybrids.

What the HR-V does have going for itself is a bigger engine, a sportier design, a more upmarket image, and a longer list of features compared with its stablemate. The 2018 refresh builds on these core qualities, boosting the HR-V's profile as a capable all-rounder and not just a city-dwelling cute-ute.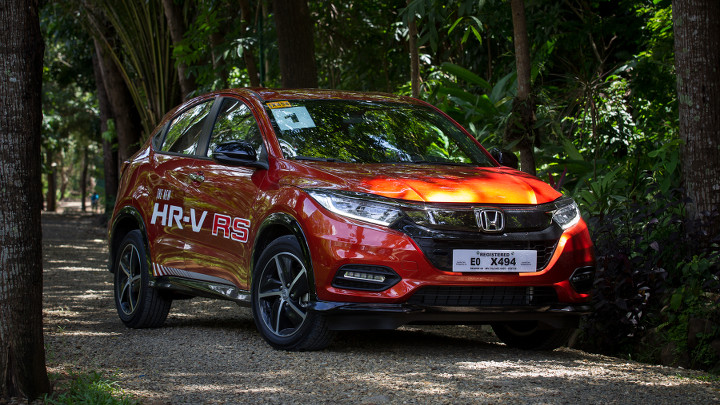 ADVERTISEMENT - CONTINUE READING BELOW ↓
The exterior updates on the facelifted HR-V amps up the crossover's aggressive, coupe-inspired styling with a new bodykit, lighting units, wheels, and paint jobs. Our Launch Pad feature discusses all the upgrades in detail, but the main thing you need to know is this: The differences between the two variants we have now are purely aesthetic. Whether you opt for the top-level RS Navi (P1.495 million) or the base E variant (P1.295 million), you'll get the same engine, the same suspension tuning, and the same handling characteristics, all of which were put to the test during Honda Cars Philippines' recent media test drive to Batangas and Cavite.

The 1.8-liter motor, with peak figures of 140hp and 172Nm, has more than enough grunt to send to the front wheels for cruising around town. When you need to make the most of the available power for overtaking or for tackling very steep ascents, manual shifting using paddle shifters in the CVT's Sport mode will keep you surging forward as long as you don't lose too much momentum. If you have to scrub off speed while making your way up a tight mountain pass—say, to avoid an oncoming vehicle that suddenly veers into your lane—the powertrain will take a while to get you back up to a reasonable pace, emitting more of a determined wail than a glorious battlecry as it does so.
ADVERTISEMENT - CONTINUE READING BELOW ↓
Recommended Videos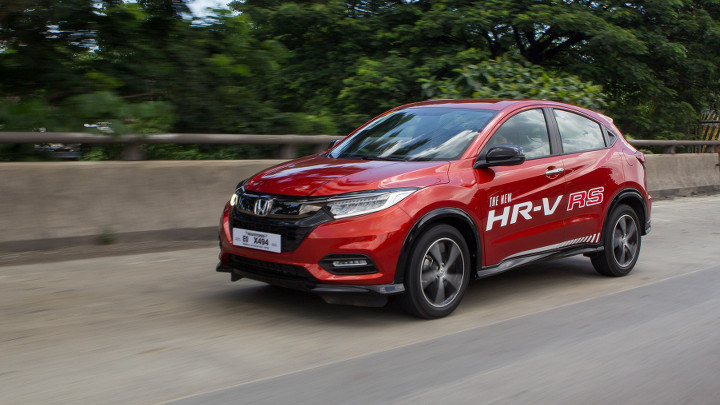 Agility is definitely the HR-V's strength when it comes to spirited driving. This isn't exactly a docile-looking crossover, but I never expected its handling to be as sharp as its appearance. On the challenging zigzags of Batangas, the car's steering response is snappy and precise, the front wheels coping well with making quick directional changes and putting power to the ground at the same time. There's ample feedback coming from the tiller, so you can make small steering corrections as needed before Vehicle Stability Assist—which is standard on both variants—feels the need to step in.
ADVERTISEMENT - CONTINUE READING BELOW ↓
From braking to turning in to accelerating out of a corner, there's barely any body roll to mess with your confidence or the car's balance. The chassis feels well-planted and extremely composed, which, in turn, helps you stay composed behind the wheel.

You could say, then, that the driver's seat is the best one in this Honda, but if you'd rather let someone else enjoy the driving experience, the HR-V's cabin will also provide you with comfy perches. The ride is not as harsh as I remember it being; I reviewed this model in 2015, and I described it then as being rough over rugged surfaces. This time around, I found the ride to be more comfortable.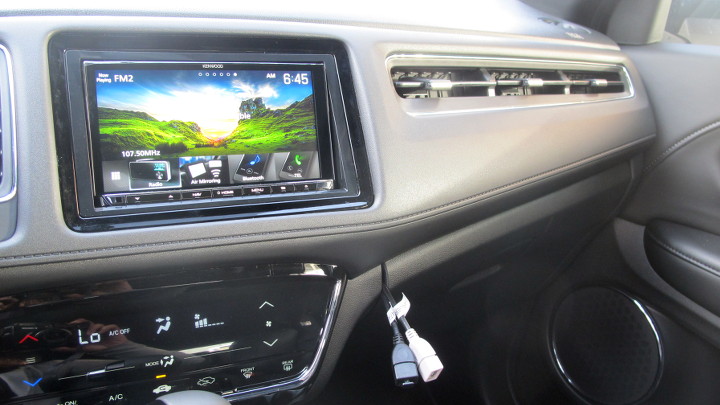 ADVERTISEMENT - CONTINUE READING BELOW ↓
Of the HR-V's new features, the 7in touchscreen multimedia system is, for me, the weakest link. It takes some fiddling to get used to the interface, and the two USB ports are hidden inside the glove compartment. They were on the lower part of the center console before, beneath the gear lever, but now there are only blanks beside the power outlet. Although the new Kenwood unit now has Apple CarPlay and Android Auto, at this price point, you'd expect a higher level of functionality.

What you do get for your money is a stylish and spunky little crossover with dynamic handling, decent ground clearance, and gobs of attitude. Since its first generation, the Honda HR-V has always been a niche model that thrives on being different. It defies the cute-ute classification not just with its stellar on-road agility, but also by shaking up the standard crossover formula with just enough unconventional touches—and making no apologies for it.
ADVERTISEMENT - CONTINUE READING BELOW ↓