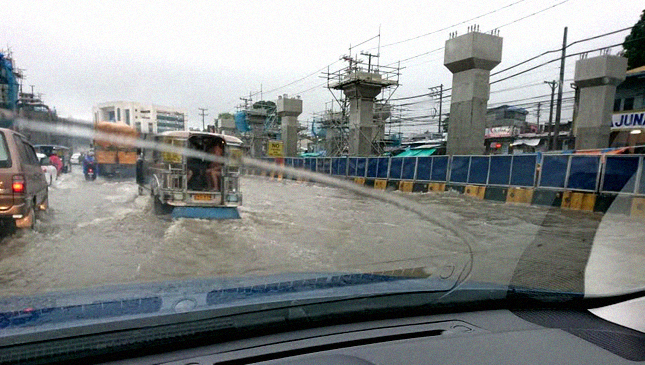 If there's anything the past three days has taught us, it's that you can never really know when a light drizzle will escalate into disastrous levels of flooding. Well, at least not here in the city, where our poor drainage systems and lack of greenery aren't doing us any favors.
With that in mind, we think nobody should leave home unprepared during the rainy season. There's just way too much at risk. And since not all of us can shell out a couple of million pesos for a high-riding SUV or pickup truck, the most we can do is equip ourselves with the next best thing: Knowledge.
Continue reading below ↓
Recommended Videos
Yeah, it sounds corny. But just ask anyone who's lost a car, a home, or any piece of personal property to rising floodwaters, and they'll tell you it's always better to be safe than sorry. Below are 10 of our past articles which should come in handy the next time rain levels reach red. Hopefully, none of us ever have to be in a position where we'll have to rely on them, but again, you'll never really know.
"If you can't recover the car, if the current is strong, or if the water is rising, simply evacuate yourself and your passengers to higher ground. Hell, if you are in doubt that you can do any of the other steps given here, do that anyway. As I said, when in doubt, don't."
"Have a look at this list, and if you pass through these areas, it is best to plan your route accordingly. Don't risk getting stranded in the following locations."
"These new high-tech features can, for example, make a vehicle brake on its own, send power to a tire that slips, and do other electronic tricks. But not all rides are made equal, and there's no substitute (yet) for human skill."
"It acts as a snorkel, allowing your engine to breathe underwater. But novice off-roaders and perhaps vehicle owners who simply want the extra security of a snorkel need to keep a few things in mind when buying and installing this nifty accessory."
"Not all of the above indicators necessarily mean flooding, but put together, they paint a more comprehensive picture. Always keep yourself protected when buying secondhand. There are a lot of charlatans out there willing to fob off their flooded headache on someone else."
"The internet and social media can distribute information faster than the flood water in Araneta Avenue can rise. If we could opt to educate instead of humiliate and to spread sympathy instead of schadenfreude, then we'd be wiser and kinder motorists now."
"Before going any further, I would like to emphasize that doing a water crossing should only be done if extremely necessary. First and foremost, this is due to environmental impact reasons. Any responsible 4WD enthusiast understands that a motorized vehicle will have an effect on the natural environment. Second, strong water currents can easily carry or turn over a vehicle and create a life-threatening situation during an otherwise benign drive."
"Feeling the rainwater slowly creeping along your arms, legs, and even up to your genitals, will not only disrupt your riding focus, but can compromise your safety as well. It's very distracting and uncomfortable."
"In such cases, extreme caution must be observed by riders. Here in the Philippines, it's not surprising to see open manholes, floating trash, road construction, and loose live wires that could worsen the scenario."
"A car that's been underwater can be sold. And even its new owner can be happy with it, so long as both parties know what they're getting into. Just be respectful and honest with each other."