Even after the unveiling of the new Mazda MX-5, we still don't have all that much information about it. We do know, for one, that it will come with a 1.5-liter engine and a 2.0-liter powerplant, the latter rated at 165hp.
While that sounds a little unimpressive compared to the 197 horses under the hood of the Toyota 86, it's worth remembering that Mazda is promising a curb weight of nearly 1,000kg flat. Considering that the current MX-5 is only a few ticks slower than the 86--despite weighing over a hundred kilos more--it's safe to assume that any performance difference will be negligible.
Still, people have been asking about a coupe version to compete directly with the 86. This is especially important considering the fact that Mazda has said no power retractable hardtop variant is forthcoming.
There has already been a flurry of renditions of what an MX-5 Coupe might look like. And no, we don't think it would look exactly like the soft-top with a fiberglass cover. Let us show you then.
To begin, we start with the basic MX-5.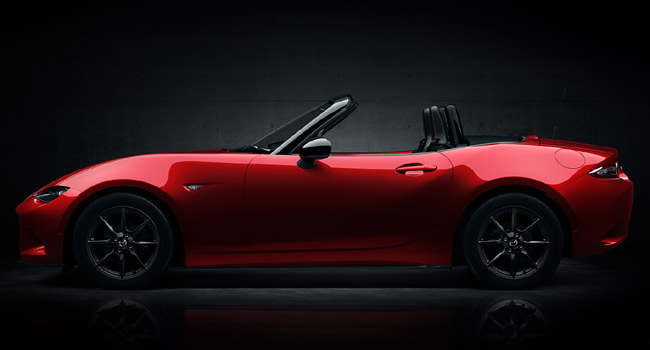 Continue reading below ↓
Recommended Videos
It's very obvious where Mazda shed the weight and the inches. There's almost nothing sitting ahead of the front wheels, the chopped-off nose giving the MX-5 a shovel-nosed appearance from some angles.
Just as an exercise, let's give it a bubble roof and glass hatch like the old RX-7. Since this is a smaller car, we'll want some extra glass there compared to the RX-7, so it won't feel so claustrophobic. So we add an extra window in the rear hoop.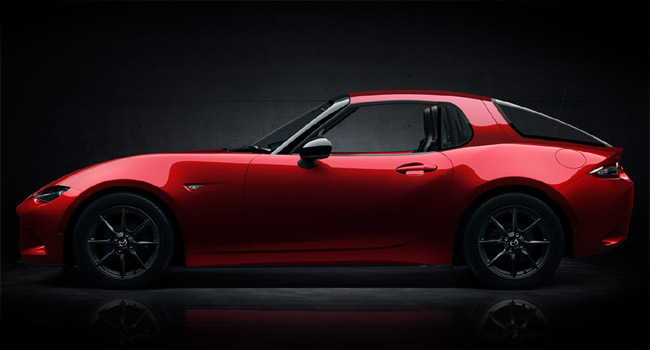 There's a reason we don't get wraparound glass hatches anymore. They're big and heavy. Fellow contributor and PhotoShop aficionado Andrew Guerrero notes you could get away with an all-glass hatch with hidden C-pillars. But that's still a lot of weight. Instead, I think something more along the lines of the 86--a semi-fastback style--would be more plausible.
Beyond this, the MX-5 should reflect the "Kodo" design philosophy. That round rear window isn't going to cut it. So we give it a sharper edge, and line it up with the slashing body line.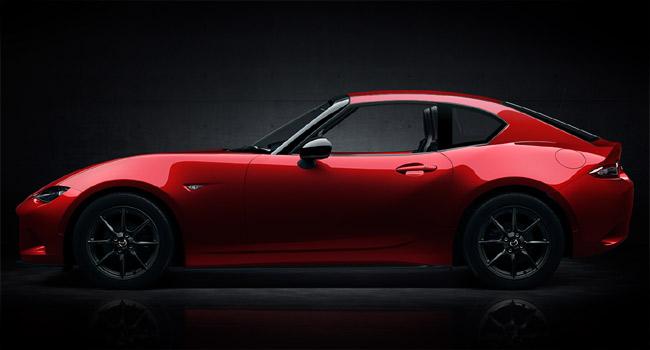 Unfortunately, the long, low rear fender doesn't sit well under the new top. Let's give it a bit more muscle by enlarging the rear fenders to blend with the roof. And while we're at it, let's raise the roof a bit for more headroom.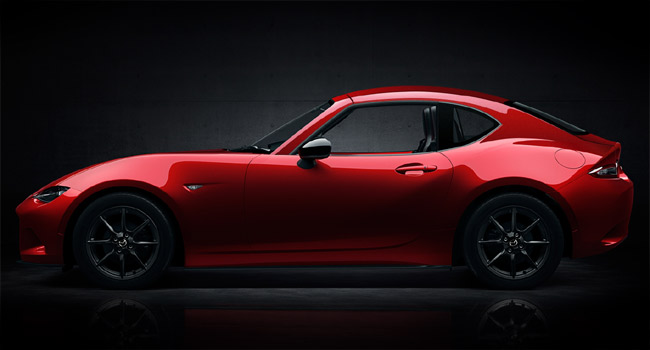 We've also shrunk the rear glass, a necessary compromise, because at this point, we're not quite sure if this will be a hatchback or a coupe. As the MX-5 is so stubby, it needs a little aero-lip at the tail end to smooth out airflow back there. Bigger cars like the 86 and the Genesis Coupe have longer rear ends, which makes for cleaner aerodynamics.
Now that's done, let's take a look at the car from other angles.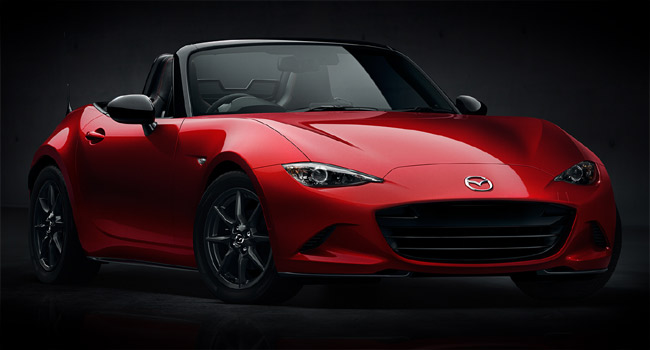 First, we sketch a quick and dirty doodle over the front view of the car.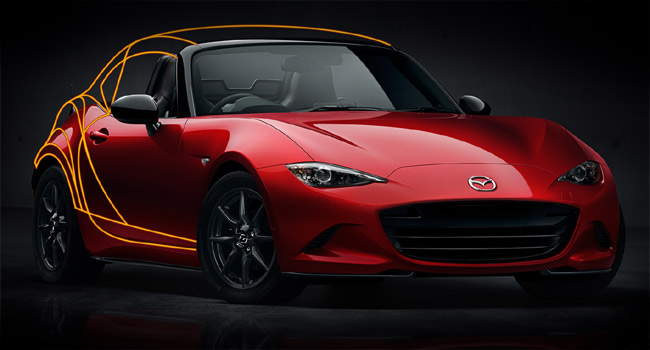 Then we add some detail. And hide the antenna, while we're at it. It's distracting.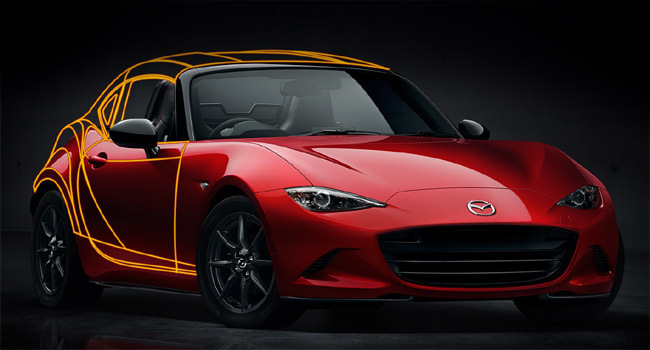 The center channel in the roof will help clean up the aerodynamics some more, fencing in air up top and preventing spillover off the sides. Then we clean up the proportions a bit.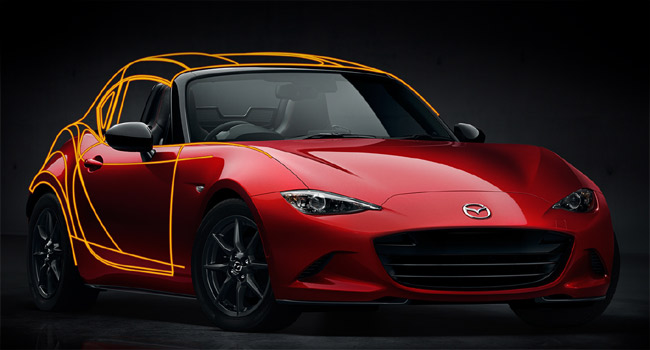 Let's take a look at it from the rear.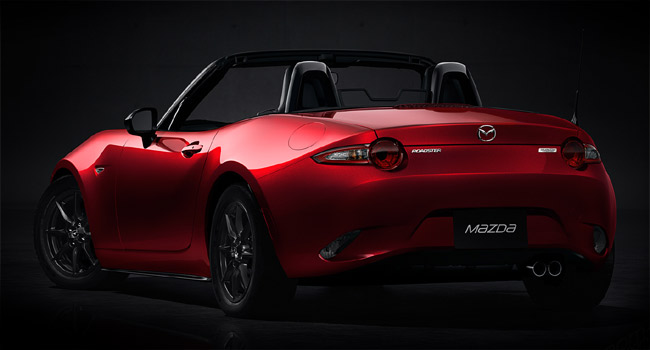 Add a little doodling.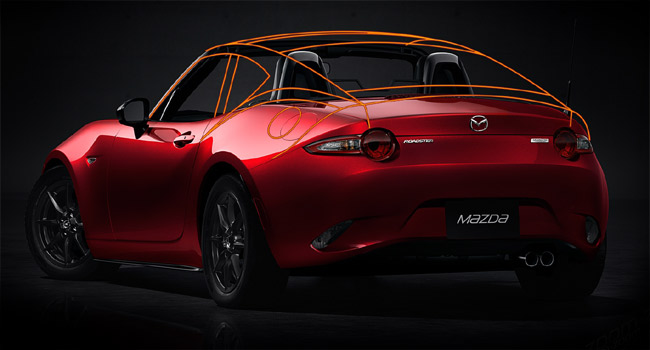 Now, I'm reconsidering doing a hatchback. Maybe next time.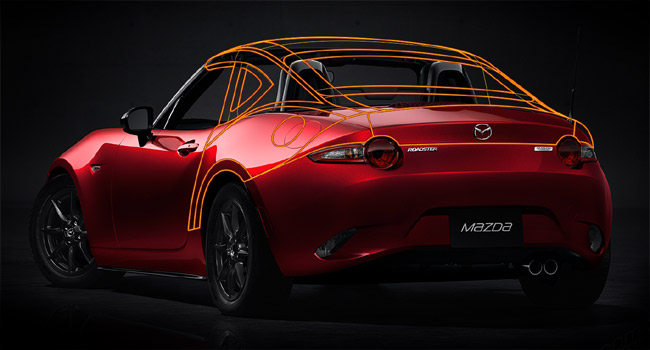 I use a wireframe to hopefully get the proportions right. I then add the roof channel and clean up a bit around the windows.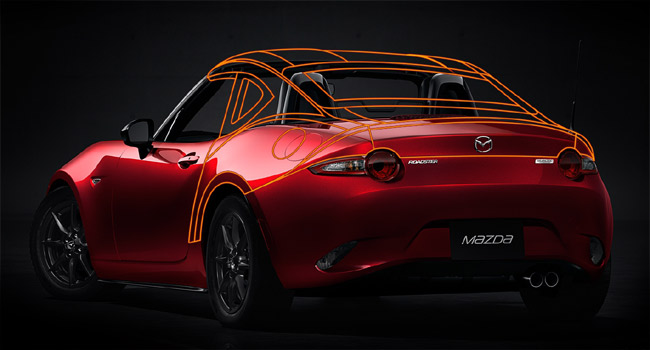 Those windows still look low. Most cars nowadays have rather square-edged roofs compared to older cars. Again, this is to prevent air spilling over the sides of the roof, which causes turbulence. Turbulence causes drag. Drag makes the car slower. So, let's square off that roof a bit and finalize the car.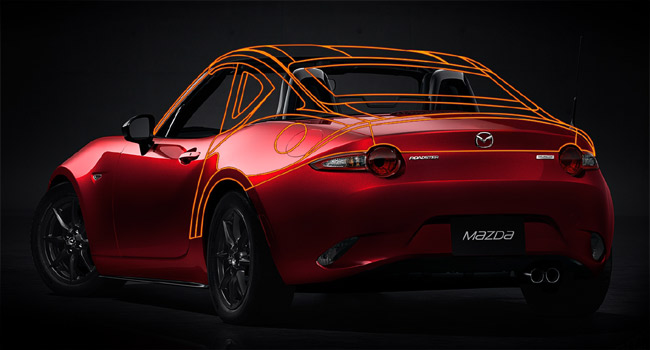 Now that I've got it where I want it, it's time to bring out the digital crayons. Okay, so I don't have any fancy 3D graphics programs, but there's a lot you can do with simple gradient filters and fills.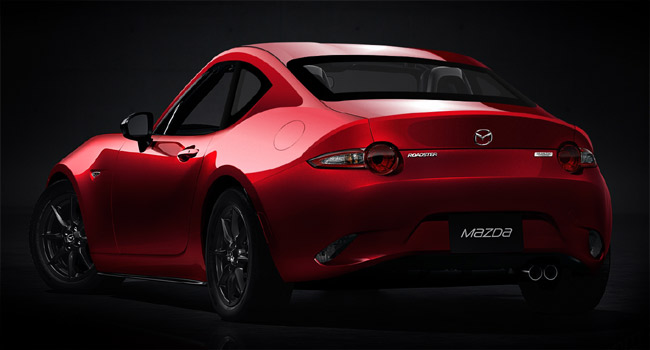 I've always felt a very Alfa-ish vibe from the rear end of the MX-5. And adding a roof to it simply reinforces that perception. We can't wait to see Alfa's take on the world's most popular sports car. Hopefully, they'll do something about that abruptly chopped off front end.
Maybe with something like this: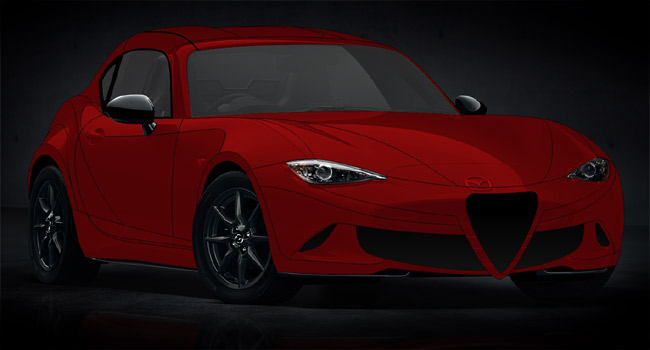 But then, it's way too early to say.
Images rendered by Niky Tamayo