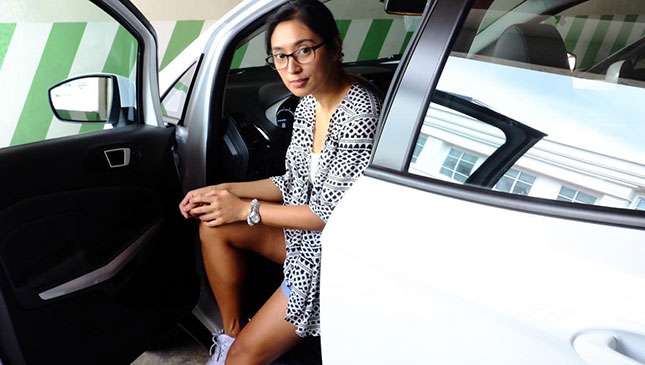 We've already taken the EcoSport to various urban locations—from ghost hunting in Intramuros to trampoline parks in the metro–so we weren't surprised when Ford Philippines once again invited us to drive the crossover in a city setting, this time in Divisoria.
The EcoSport is already a familiar sight on the streets and is a model we know quite well, but there's almost always something new to discover whenever we get behind its wheel. This time around, we found out why the Ford EcoSport is the perfect Instagram #OOTD bestie.
ADVERTISEMENT - CONTINUE READING BELOW ↓
1. It has enough space. It's cramped when you invite the whole barkada and their bagahe for long haul road trips, but you can always give them the boot to make room for your change of clothes and shoes. Fold down the seats and you can probably set up an Ikea closet. That's no joke, as there's 705L of space.
No changing room within the 100-meter radius? No problem. Just climb into the second row. It's a wee bit narrow for three people to sit in—but you can definitely pull your pants on and change your shirt with ease. On a hot and traffic-filled trip to Lucky Chinatown, we managed with three passengers and a handful of Divisoria finds.
2. Plenty of cubbyholes. This is important when you have way too many accessories/IG props (aka clutter). There's a side door pocket for Evian water, a cupholder between the front seats for an iced caramel macchiato, and a glove-compartment/mini ref for the soft drinks and water bottles when you want to wash down your pretensions. The slide-out drawer under the front seat is useful for small valuables, too.
ADVERTISEMENT - CONTINUE READING BELOW ↓
Recommended Videos
3. This baby Ford is a sedan on stilts. Anyone who has ever driven in Binondo should be familiar with pedestrians, street vendors, tricycles, and occasional ill-paved street. What we liked about the EcoSport during the nerve-wracking drive? Its 200mm ground clearance and easy maneuverability. It looks like a small SUV on the outside too—good for intimidating pesky pedestrians. You can take the car to Intramuros for an impromptu shoot (which we did), or on a road trip to the beach (which our guest blogger did).
4. It's cute—in its own peculiar way. We actually know people who've given the EcoSport's looks a "meh," but we think that it's actually photogenic. Take it on a road trip out of town and it instantly looks like a weekend warrior, drive it around Metro Manila and it looks like an urban explorer. It's never out of place. We had to pose inside and beside the car, and finding the perfect angle was a cinch (we can't say the same about the models though).
ADVERTISEMENT - CONTINUE READING BELOW ↓
5. Competitive price. When Ford Philippines invited us to do a Fashion Challenge in Divisoria, we were tasked to shop for the perfect tropical outfit with a P1,200 budget. Kind of appropriate with the EcoSport, as it's a car you might recommend to college kids or yuppies on a budget. We drove the P1 million Titanium variant, but you can drive home an EcoSport for as little as P800,000. In the case of the 1.5L Titanium we had, you get a six-speed automatic transmission with leather seats, automatic climate control (thank god), and rear parking sensors (thank god, again).
We're not really sure how we fared during the challenge since we're not that familiar with Divisoria, shopping, or fashion. We'd like to think that we did okay since our stylist approved of our outfits and our photos with the vehicle. At the very least, we discovered new things about the EcoSport.
ADVERTISEMENT - CONTINUE READING BELOW ↓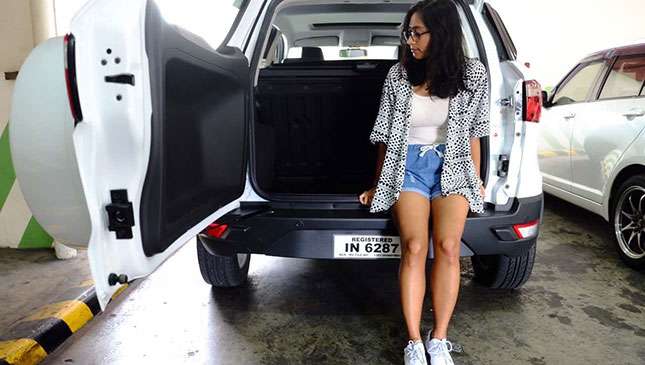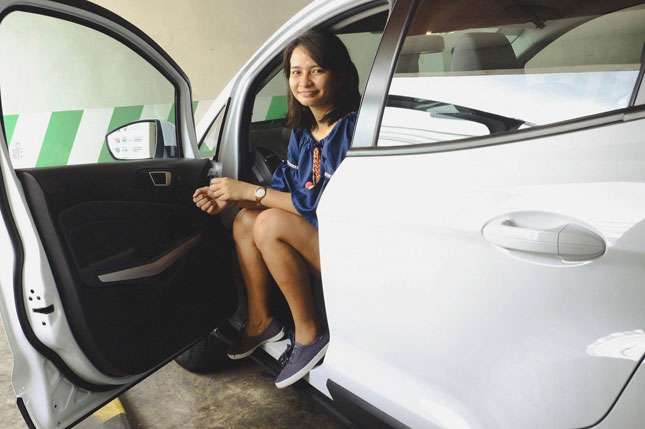 ADVERTISEMENT - CONTINUE READING BELOW ↓