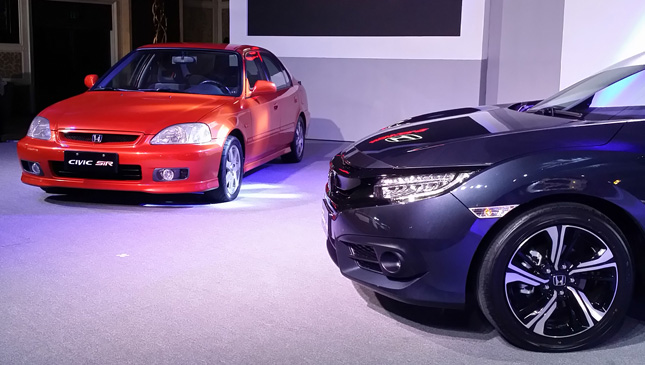 Based on your enthusiastic reception every time we post a Honda Civic story these days, it's obvious that there's a fair amount of anticipation for this compact. And that's not surprising because of its hot looks and turbocharged VTEC engine.
Even our own writers are curious about this model. One even asked us a fascinating question: Will the new Civic RS become as popular as the iconic Civic SiR of the '90s? They both have exciting engines under the hood, and both have handsome bodies. During the all-new Civic's launch, an SiR was displayed alongside the 2016 version to emphasize their shared heritage.
It's too early to tell what kind of legacy the Civic RS will have, but we've asked our contributors who are familiar with the SiR what they think. And the preliminary answer seems to be in the negative.
According to our photographer and occasional racing driver Mikko David, the SiR was popular then because there was hardly any competition in terms of power and technology. The SiR's suspension was also cutting-edge at that time.
Consumer editor Botchi Santos agrees: "Turbocharging has changed the game, and Honda doesn't use the double-wishbone front suspension anymore, which is what made the EG- and EK-series unstoppable on the track."
Contributor Carlo Chungunco thinks the size is too big, and everyone is moving to turbos nowadays (although more for better emissions than for power).
In our conversation, someone pointed out that the new Civic gains 165kg (363lb) over the SiR, but only has an 11hp advantage in power. The former is still faster to 100kph by 0.4 second, though--its 7.6-second time beating the SiR's eight ticks. We posit that the weight gain is due to better crash protection and modern safety measures, something Mikko agrees with.
ADVERTISEMENT - CONTINUE READING BELOW ↓
In the end, we suppose time will determine the answer to this question. Also, part of the fun is gearhead banter like this. Neither we nor the persons we asked have driven the new Civic RS, although if you've read the cover story in our magazine's June 2016 issue, you also know what writer Niky Tamayo thinks based on his brief test drive. We're booked for an out-of-town drive with this hot new Honda next week, and that should be illuminating.
Of course, Honda Cars Philippines might just bring in the Civic Type R and shut us all up.
Photo by Dinzo Tabamo
[poll]660[poll]