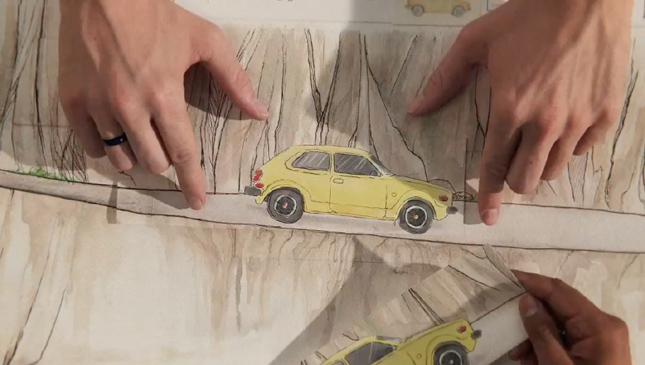 Advertising in the automotive industry is one hell of a competitive environment, with established brands constantly trying to one-up each other in an effort to have their brand identity stick to the collective consciousness of motorists. It's not just about making your car look better than the rest. Companies have to sell an image, an idea, and the brand's history. This is where a marketing campaign's creativity really shines through, and very few have the same track record as Honda when it comes to creative advertising.
The Japanese car manufacturer has come out with what is perhaps the most creative automotive ad in a very long while. Paper is a two-minute Honda commercial that utilizes stop-motion camera tricks, and colorful, hand-drawn illustrations from a handful of artists. The goal is to provide viewers with a more innovative medium with which they can soak in a bit of Honda's history and "Power of Dreams" philosophy.
ADVERTISEMENT - CONTINUE READING BELOW ↓
The ad opens with Honda founder Soichiro Honda's generator-powered bicycle. As the story progresses, we see the evolution of Honda's motorcycles and engines, as well as different generations of the Civic and the Accord. The ad even features a Honda jet and the development of ASIMO. Attentive viewers will recognize a nod to Honda's win at the Isle of Man TT races as well.
The commercial ends with the statement: "You never know where a dream will lead you."
American Honda Motor Company assistant vice president of marketing Tom Peyton calls Paper a testament to the Japanese brand's innovative approach toward history.
"The goal is for the marketing itself to become a demonstration of Honda thinking and all the people that touch our wide range of products along the way," the executive said in a statement. "This commercial stands for the courage and conviction to imagine and make dreams a reality, and speaks to Honda's innovative nature and respect for personal achievement and contributions."
ADVERTISEMENT - CONTINUE READING BELOW ↓
Recommended Videos
Watch the commercial below.
If you're viewing this on a mobile device and can't see the video, please click here.