What is it?
The RAV4's first generation, especially as a three-door, was pioneering and not unfunky. Then things went downhill. The outgoing fourth-gen car, which sold mostly as a hybrid, was a visual assault and a dynamic misery.
Yet that RAV4 generation has been the world's best-selling SUV, and its fourth best-selling car of all.
So imagine how much better place the world will be if the new one is actually a nice vehicle.
It's got a chance because it's all-new. The smaller C-HR proves Toyota has more gumption now than for donkey's years (and really it's the C-HR that's the successor to the original RAV4).
The new RAV4 has better proportions than it used to: longer in the wheelbase but shorter overall. That means not only that it looks less ungainly, but also that it still lines up against the big-middle-sized family crossovers.
Its design is all about facets and creased octagons, and it's more sober than recent Lexuses or the C-HR. No-one's going to be scared by it, yet you'll find interest and distinctiveness if you look.
Actually it's more of an SUV than a crossover; boxy and roomy. It's the 4WD versions that'll take most RAV4 sales. The black lower-body cladding and wheel-arches are all part of SUV semiotics. A 'trail mode' button in the center console activates a brake differential and different ESP strategy. It might just get you out of a slightly more challenging off-road hole than before.
ADVERTISEMENT - CONTINUE READING BELOW ↓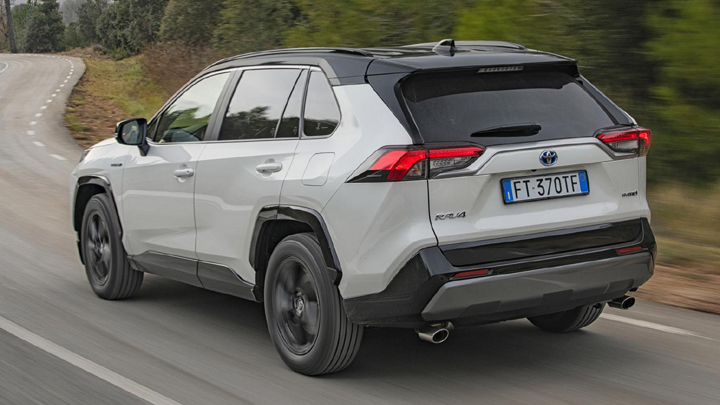 This time the whole range is hybrid in the UK. The 2.5-liter gasoline engine is new, with no turbo but using Atkinson cycle valve timing as favored by Toyota for its hybrids. It's the usual infinitesimally variable epicyclic power-split motor/generator transmission too, with electric rear drive if you've ticked the AWD box. But all those components have been worked over to lose weight and friction, and the rear motor is strong enough to produce the majority of the car's torque at low speeds.
Overall system power is now 215hp, or 221hp for the AWD. Both will get to 100kph in the early-eight-second range.
There's no diesel at all. But if you think hybrids can't do towing, note the AWD can haul a 1,650kg braked trailer, which isn't bad.
All versions get a comprehensive bank of driver assist and safety kit. That includes radar and camera-based warning and braking for vehicles, pedestrians and cyclists. There's also road-sign recognition, radar cruise control and steering assist for lane centering, and LED headlights. But blind-spot and cross-traffic warning come only half-way up the range.
What is it like on the road?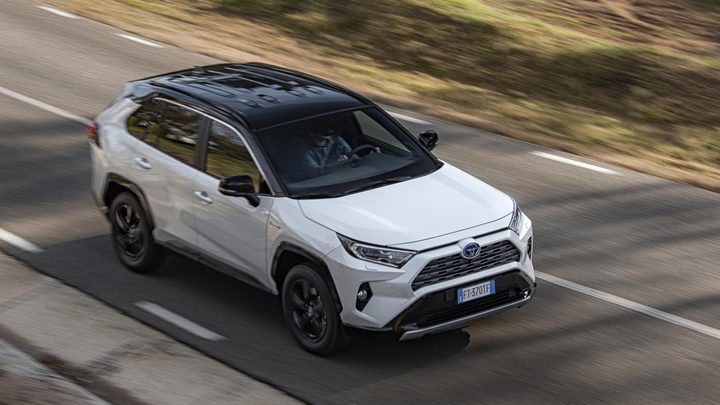 Have you recently trapped under the hood a trombonist with a vendetta? Ah no, it's just the Toyota hybrid system being driven aggressively. You're assailed by crazed oscillations of revs and pitch. Your every right-foot twitch is audibly relayed to your whole audience in the car.
The RAV4 might have a largely new 2.5-liter engine, but at wide throttle it sounds old and coarse and sends vibrations through the steering wheel.
So turn up the radio, and change your driving style. Keeping smooth reduces the flailing undulations – and of course will further eke out your fuel. And to be fair, at times when you do want acceleration, pure performance isn't an issue. Actual acceleration response is quite progressive and crisp.
The chassis provides mostly gravy too. Direction changes are accurate and progressive, the car gaining yaw and roll quite precisely, thanks to a reasonably alert steering setup and the new platform's low center of gravity.
ADVERTISEMENT - CONTINUE READING BELOW ↓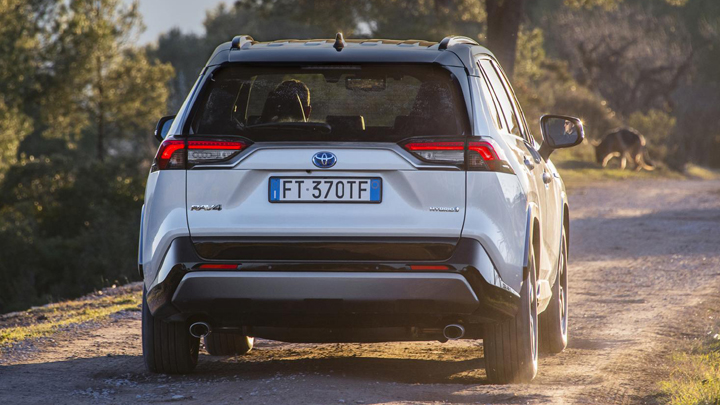 No surprise that at the limit all RAV4s understeer, the front-drive one doggedly. Its steering is too light for our taste, mind, as it's been set up for Asia and the Americas.
The ride's really very good: supple and quiet in its reactions to bumps. Yet the damping stops short of being floaty, so the driver doesn't lose confidence and the passengers don't lose their stomachs.
The number of driver-assist systems seems generous, and most, including the all-speed radar cruise, work well enough.
It supplies only very light corrective torque to the wheel. Then if you do stray anywhere near the white lines, instead of flashing a little dash light or vibrating the steering, it annoys everyone with a piercing beep-beep like the one my fridge makes if you leave its door open.
Off road in the 4WD one, the subtle traction control of the electric drive motors helps find surprising grip. You can use steering-column paddles to invoke a little extra engine braking downhill, and ground clearance isn't bad. On gravel tracks, the supple suspension makes matters remarkably tolerable.
Layout, finish and space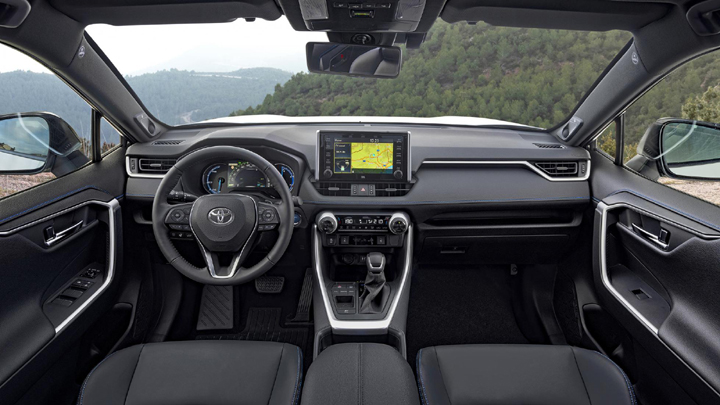 The progressive outside styling meets a reasonably distinctive cabin – big blocky shapes conveying the sort of robust mental terrain that SUV drivers are presumably inhabiting. It's nicely finished too. The dash and door tops are skinned in a stitched padding, and several of the knobs and door pulls have a tactile striped rubber wrap. Pity the cast-aluminum-effect parts are so transparently fake.
The front seats feel like a homely place to sink into. They're heated and cooled in some versions, and the driver's electrically moved.
As a family SUV it ought to be roomy, and is. In the back grown-ups have plenty of room in every direction, and the boot too is bigger than you get in most members of the mid-size crossover crowd. Only, does the powered tailgate have to be so excruciatingly slow?
ADVERTISEMENT - CONTINUE READING BELOW ↓
There are five USB ports around the cabin, and a big inductive charge pad. It's 2019. By the same token Toyota makes a song and dance about the connected services and apps on the screen.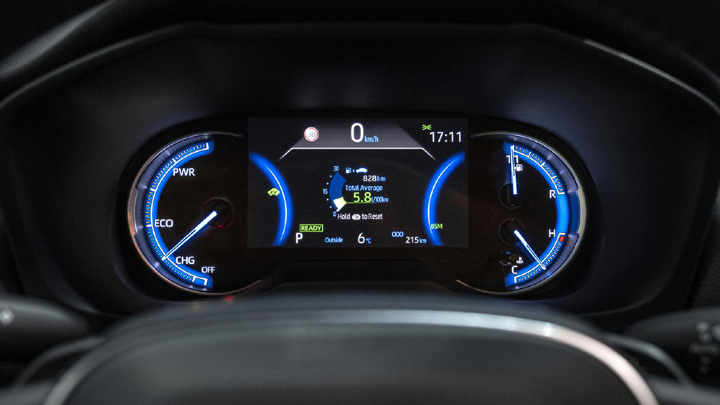 No-one else would be very proud of them. Hi-res traffic info doesn't come automatically; you have to tether your phone each time. And that's tethering via the car's own internal WiFi. Apple CarPlay and Android Auto aren't available. Not this year, possibly not next. They're working on it, they say. If they can do an SUV vastly more fuel-efficient than anyone else's, why can't they do phone mirroring like everyone else does?
While we're on the subject the graphics of the main touchscreen are pretty ugly, and ditto the driver's display. You can opt for a small digital speedo or a big half-round one.
Verdict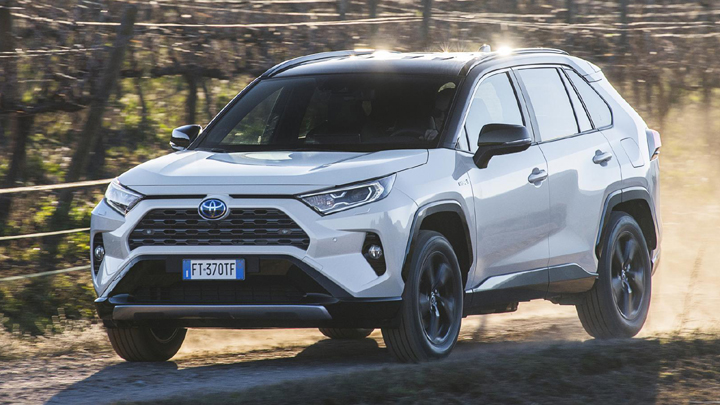 This is a pretty easy one to call, but we can't make the judgment in isolation. We need to know about your priorities.
If you want a manual transmission, or like working an engine for its own sake, go elsewhere. Simple. The RAV4 is quick and can do overtaking, but other cars, and even some other crossovers, are more fun to drive.
But as a family vehicle, it is much more appealing. It's roomy, comfortable and nice to be in.
And as a financial and fuel-saving choice it really does take some beating.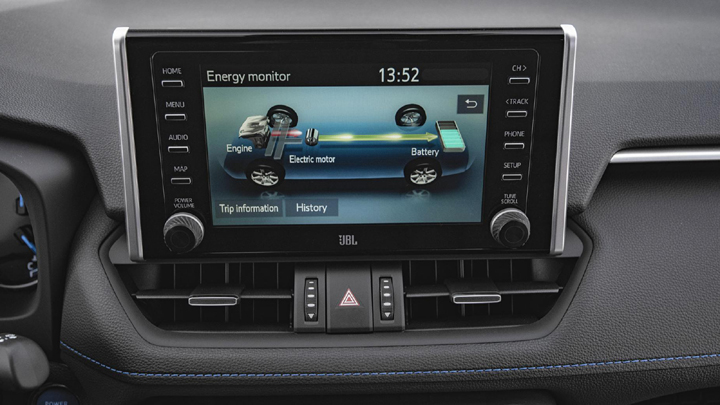 ADVERTISEMENT - CONTINUE READING BELOW ↓
NOTE: This article first appeared on TopGear.com. Minor edits have been made.