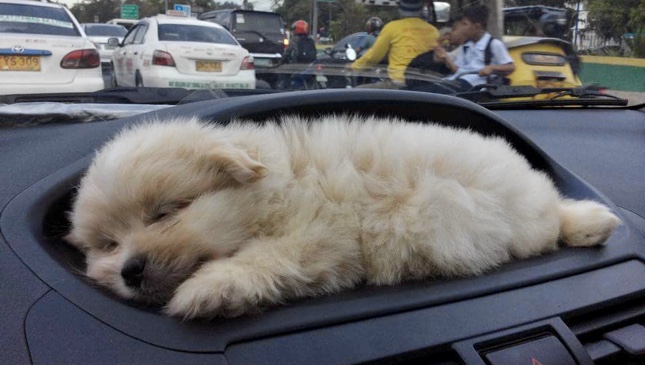 You may know that our Facebook page has a bit of a following. As such, its posts--whether links, photos or videos--get quite a bit of attention. But nothing prepared us for the photo we posted yesterday morning--that of a dog sleeping on the dashboard of a car. The pooch is shown perfectly fitting the car's centrally positioned instrument cluster, making it look as though this part of the cockpit was really designed to be a pup cradle.
Our caption was simple: "Yep, this is what it's for." Little did we know the picture's inherent cuteness would easily surpass anything and everything we had ever posted on our page.
As you read this, the photo--submitted by Andrew Tan--already has nearly 210,000 likes, almost 12,000 shares and more than 11,000 comments. Incredible. These are record-shattering numbers (for our Facebook page, that is). Before this photo, we believe the most viral image on our page had been that of a traffic officer named Jonathan Cusi, which got more than 94,000 likes, more than 9,500 shares and more than 4,500 comments. Our H2O Salamander video did get shared nearly 80,000 times, but it only collected 42,000 likes and 3,500 comments.
Overall, the photo has reached more than 7,500,000 people.
Continue reading below ↓
Recommended Videos
We guess this proves people in general (and Filipinos in particular) are extremely fond of dogs--especially cute dogs. If that's the case, below is another photo of the viral dashboard dog. Sweet dreams, people!
UPDATE: Apologies. Turns out our most viral Facebook post ever (so far) is the photo of a traffic officer who "sells bibingka for his children's tuition," which got more than 240,000 likes and more than 11,600 shares.
Photos from Andrew Tan