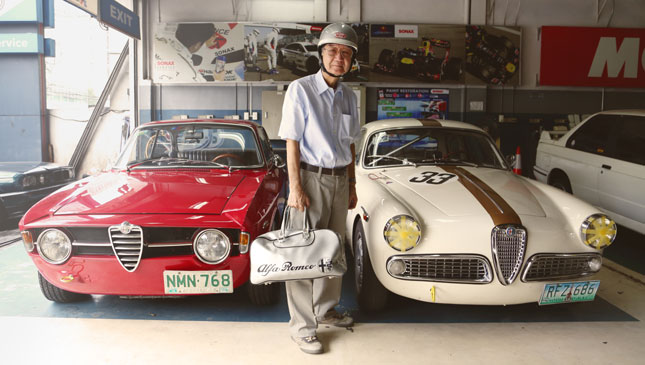 If you're part of the local car community, chances are you've heard of Osamu Hasegawa, the Japanese national who has a penchant for vintage sports cars, particularly Alfa Romeos. And if you've been to a Manila Sports Car Club race, you must have seen him behind the wooden steering wheel of his off-white, gold-striped 1960 Giulietta Sprint, complete with his period-correct helmet. But there is more to OD than his fantastic sports cars.
He's a true Renaissance man of the gearhead variety. Folks seek him out for advice on maintaining and repairing carburetor-fed sports cars. In fact, we were mistakenly under the impression that he used to be an Alfa Romeo mechanic by profession in Japan--because that was what we were told. But no, OD was never employed by the Italian marque. He's simply an Alfa Romeo enthusiast who, over the 16 years he has lived in the country, came to be known for his mechanical expertise.
ADVERTISEMENT - CONTINUE READING BELOW ↓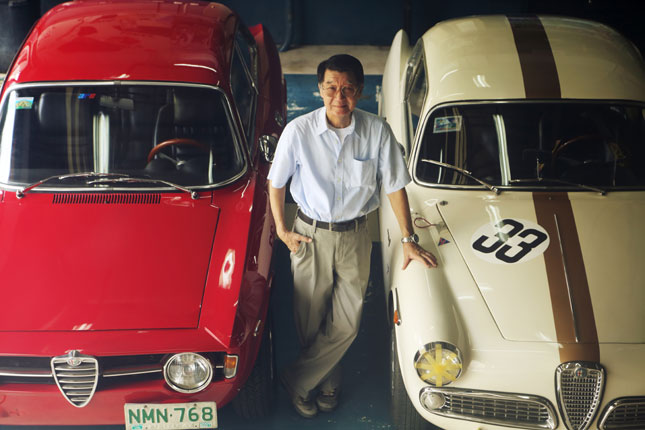 ADVERTISEMENT - CONTINUE READING BELOW ↓
Recommended Videos
"I am from a very different generation," he says. "We had to do things by ourselves. For example, if you had to drive somewhere far and you had car trouble, you had to fix it yourself. Today, you just call and be rescued, but back then, that service was not available. So, what to do? We had to do something to get back home, right? It can be good learning."
ADVERTISEMENT - CONTINUE READING BELOW ↓
He enjoys talking about how modern cars no longer have contact points and traditional ignition coils. "They have a computer box, and it is very smart. Better, but a very big disadvantage when a main system gets into trouble," OD explains. "We cannot do anything unless there is a specialized computer. It is not a mechanic's job. It is an electrician's job."
ADVERTISEMENT - CONTINUE READING BELOW ↓
The advantage of older cars, he continues, is that they're all visual. You can see the contact point and the ignition coil, and you can fix it if you have the experience. If you don't, you just pull out a textbook. "It will say, chase this wire, and ah--let's put it back! Let's see this contact point that doesn't open, and fix it," he rattles off. "If we talk about this thing, it is very interesting. That is why many people like vintage cars and the experiences that they bring."
He believes there is more to a vintage car than its market value. It is true too many enthusiasts only care about that, but according to OD, when a person really likes and loves his vintage ride, he will take care of it, learn about it, and perhaps get his own hands dirty maintaining and repairing it. You can see that he prefers older cars, and when he picks up another person's passion for them, he's more than willing to lend a hand.
ADVERTISEMENT - CONTINUE READING BELOW ↓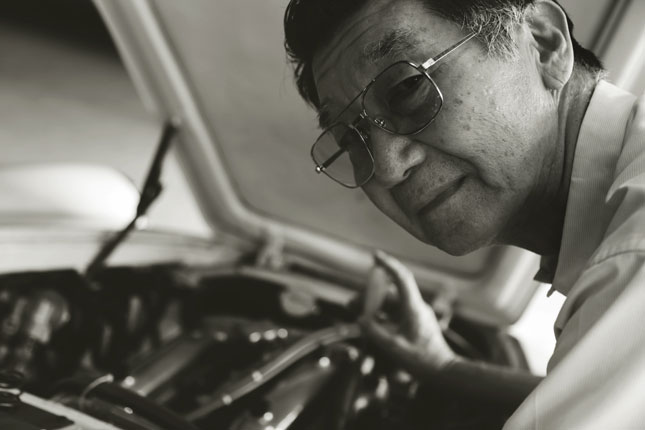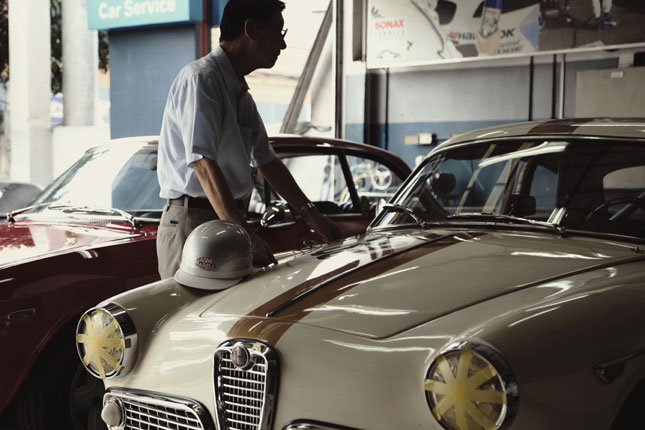 ADVERTISEMENT - CONTINUE READING BELOW ↓
One such person who'd hunted OD down is Steven Flor, owner of the '60s Datsun Fairlady roadster we featured many years ago, when he needed help in tuning and balancing the car's racy engine. "Once you get to know him, he's 100% supportive," Steven shares. "I learned a lot about tuning an old engine from him. But aside from the technical stuff, he's a really good friend. Being around him inspires me to improve my car more, to show him that I can take care of my roadster."
OD is likable because he loves to joke around, too, easily knocking what he thinks are unreliable brands in front of their diehard fans. This photo shoot took place at ARC Automotive in Makati--a mecca for Bimmer enthusiasts. But OD doesn't mince words with Francis Aguila, a proprietor of the shop, about how he thinks every BMW made after the late-'60s 2002 pretty much sucks. It's all in good fun, though.
ADVERTISEMENT - CONTINUE READING BELOW ↓
Once he discovers a new brand, he becomes curious. His first car was American, a 1957 Plymouth. He then moved on to BMWs, and also fell in love with British lightweight sports cars. Finally, he discovered Alfa Romeo.
"Once I learned about Alfas, it became more exciting," he recounts. "It has the reputation of being a troublemaker that easily breaks down. But once you give it maintenance, it is so tough. Not like BMW." (He laughs.)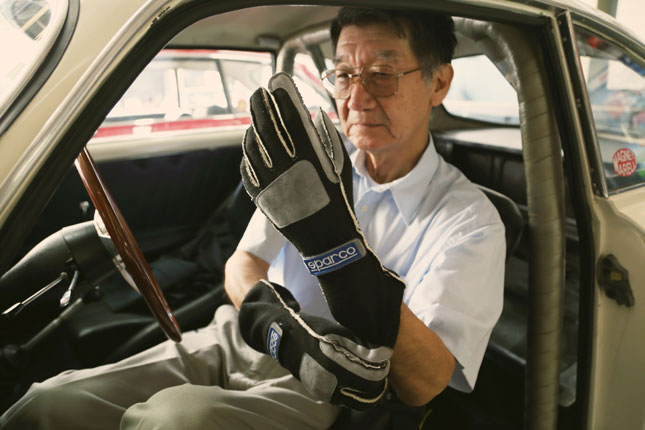 ADVERTISEMENT - CONTINUE READING BELOW ↓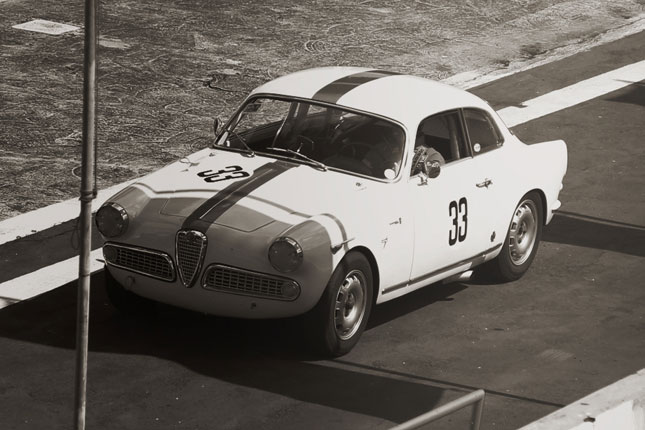 OD started racing in Japan in the mid-'70s, and has continued to compete in vintage races locally. It's not surprising that a big part of his permanent relocation to the Philippines had to do with chance meetings with fellow car enthusiasts back when he first visited during the Marcos era. His big move was part of his destiny, he says. He also likes how he can run a really loud exhaust on his Giulietta Sprint and not spark the ire of our cops. In Japan, it would be a completely different story. He'd get into trouble.
ADVERTISEMENT - CONTINUE READING BELOW ↓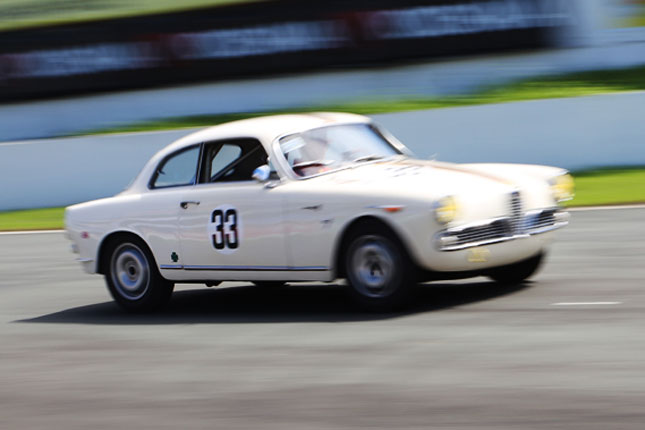 So, how did the moniker 'OD' come about? During a racing event in the US many years ago, he shared a car with an American and managed to negotiate a corner faster than his driving partner could. The other guy kept on bugging him about his technique. OD's reply: Just put it into overdrive.
ADVERTISEMENT - CONTINUE READING BELOW ↓
"But my car has no overdrive gear!" said the American.
OD then pointed to his right ankle. "Overdrive," he repeated. "Just press more gas, less brake."
The following day, the American gave him a gift: business cards with 'Over Drive Hasegawa' printed on them. The name stuck.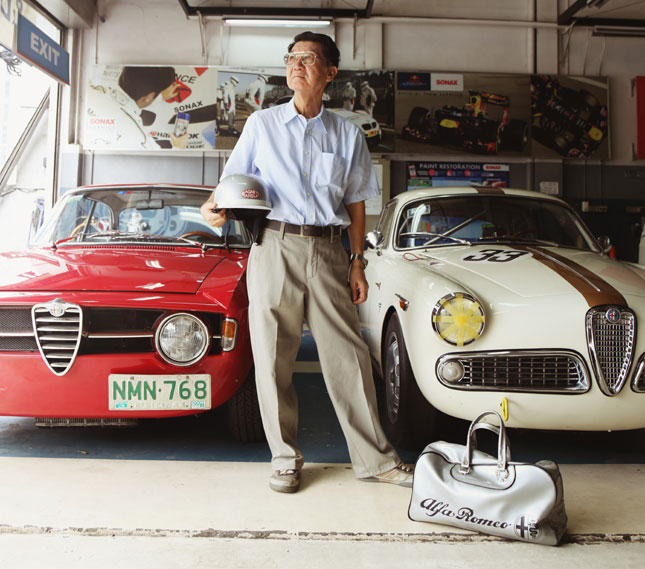 It's one thing to have a car collection, but another to maintain and race your own vintage cars. It's a deeper relationship, and it becomes infectious when you chance upon people with the same passion. OD's legend continues, and there's still plenty to learn from him. Let the man show you how it's done.
ADVERTISEMENT - CONTINUE READING BELOW ↓
NOTE: This article originally appeared in Top Gear Philippines' February 2015 issue.
Photos by Jenna Genio