Looking at official numbers online, you'd think we were in the golden age of the automatic transmission. More gears. Faster acceleration times. Better official fuel-economy numbers. Despite the extra cost and complexity, automatic transmissions seem to be a much better choice, all around.
But are they?
I won't debate that an automatic can shift faster than me. I've enough track experience to know that even on my best days, I wouldn't be able to shift as quickly or as consistently as a Nissan GT-R's robo-clutch transmission. And I won't debate their convenience. Anyone who's driven in EDSA traffic knows the pain of having to juggle a clutch for hours on end.
But I will debate fuel economy. Because, based on my experience driving some of the most economical cars in the world, they're not quite there.
At least, not yet.
The traditional advantages of manual transmissions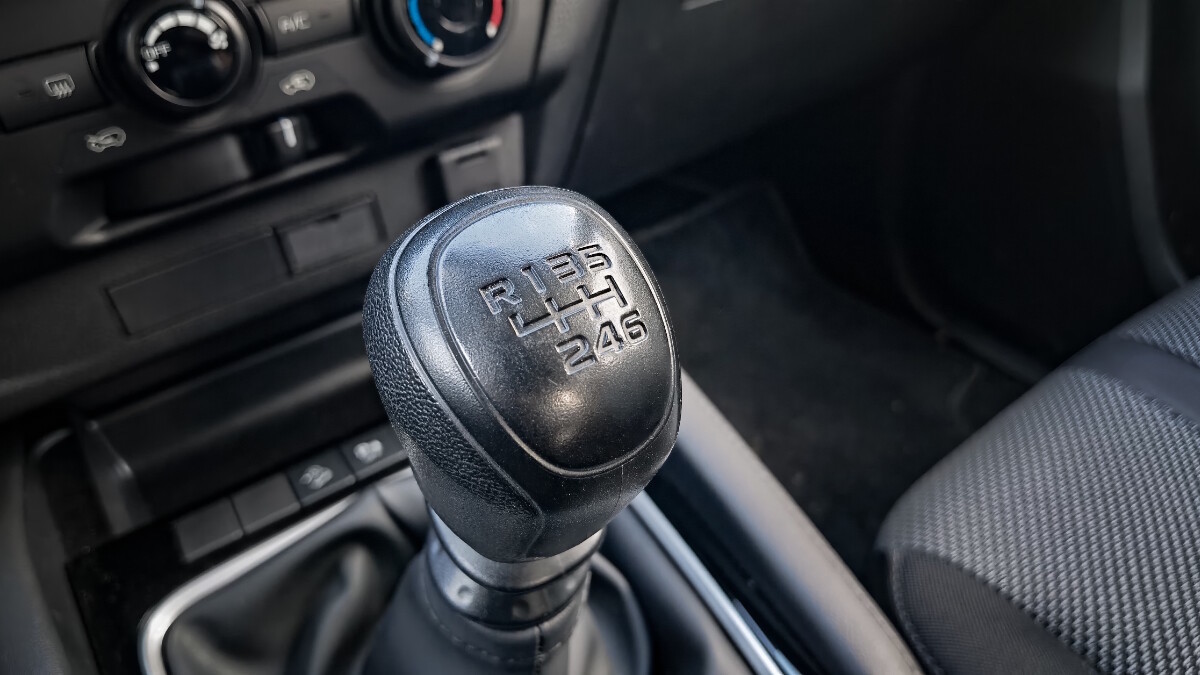 ADVERTISEMENT - CONTINUE READING BELOW ↓
In the past, there was little doubt manual transmissions could give you better fuel economy. They had a more direct connection between the engine and the wheels, with a solid clutch delivering power with no losses, compared to fluid-filled torque converters that allowed a lot of slippage before transmitting power to the wheels. Hence the quaint nickname 'slushboxes.'
STORIES ABOUT MANUAL TRANSMISSIONS:
Opinion: Everyday cars don't need to be manual
The Suzuki Jimny is proof that the manual transmission should live on forever
Manual transmissions also often had more gears. They typically had four gears back in the days when automatics had three, then five when automatics had four. Ten years ago, many manual cars had six gears, while their automatic counterparts still had four. Which means that a manual could cruise with less load on the engine in top gear, while still boasting better acceleration performance thanks to the extra gears.
ADVERTISEMENT - CONTINUE READING BELOW ↓
Recommended Videos
But a funny thing has happened over the last 10 years.
Automatic transmissions start to catch up
Due to the size constraints on the H-shifter layout, manual transmissions have been stuck with five to six gears since the '90s. While cargo trucks feature eight to 16 gears, it takes some skill to navigate the intricacies of a shifter with two neutrals and a secondary shifter.
ADVERTISEMENT - CONTINUE READING BELOW ↓
STORIES ABOUT AUTOMATIC TRANSMISSIONS:
What's more expensive to maintain, a manual or an automatic Toyota Vios?
How to use the manual mode in a vehicle with an automatic transmission
Automatics, on the other hand, have gone from three to four to five to six. Some common family SUVs now have eight to 10 gears, and can shift faster, smoother, and much more often than a human driver can with a six-speed manual.
The gulf becomes even bigger when it comes to economy cars. While many cheap cars are stuck with inexpensive five-speed manuals, their automatic counterparts often feature continuously variable transmissions with a theoretically infinite number of gears to choose from.
But while more gears makes it easier to keep the engine at the most optimum speed for fuel economy, that wouldn't mean much if the connection between the engine and the wheels were inefficient. And here, automatic transmissions have gotten much better as well. Where most still use torque converters, these now come equipped with locking clutches, small clutches that lock the speed of the engine and the transmission together much more quickly than before. This gives you the smoothness of a torque converter with the direct response of a manual.
ADVERTISEMENT - CONTINUE READING BELOW ↓
And then there are non-traditional automatics. Automated-clutch and dual-clutch systems that use clutches similar to a manual transmission, but controlled by computers. These then give next-level convenience with the same performance and fuel economy as a manual. Or better, as advanced dual-clutch systems can shift much faster than a human can.
Computerized controls also make it easier to integrate hybrid assist and start/stop systems into auto-equipped cars. The last manual-transmission hybrid you could buy was the Honda CR-Z. No current hybrid is available with a manual transmission. And no production electric cars feature a manual transmission. Though there are many conversions that use the standard manual gearbox, there is little benefit in fitting one to an EV, which can do most daily tasks with only one or two gears.
Manual vs automatic transmission in 2022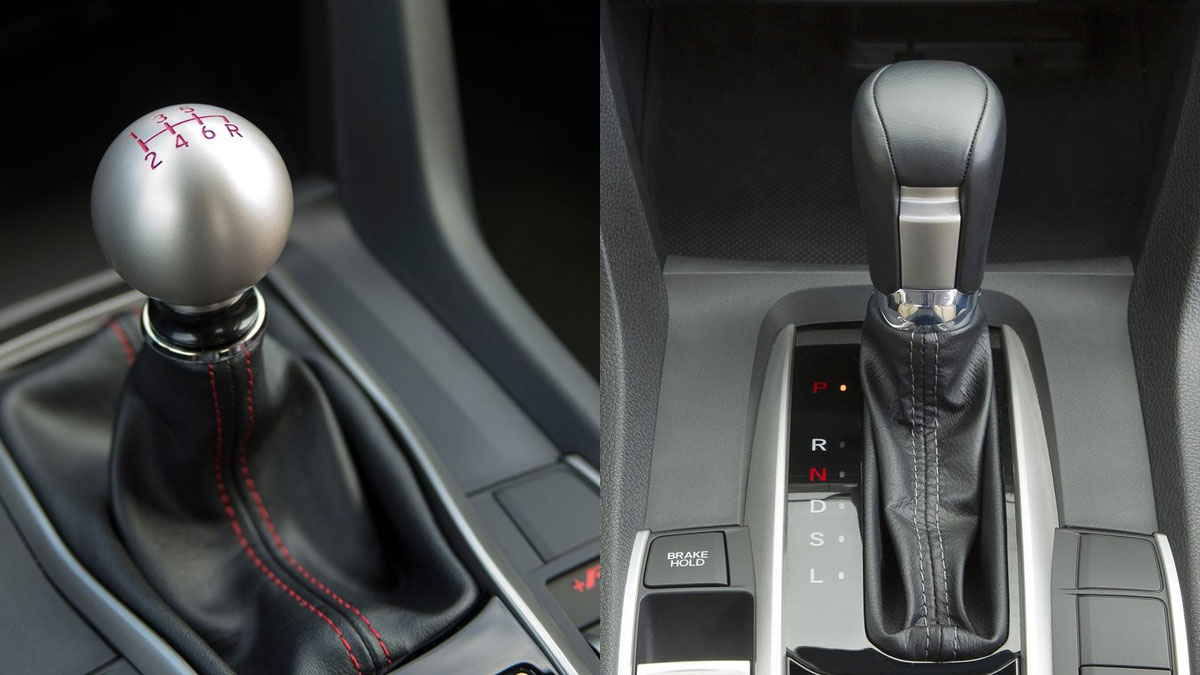 ADVERTISEMENT - CONTINUE READING BELOW ↓
Because of these advances in technology, many automatics now boast better fuel-economy numbers than manuals. But these numbers can be misleading. Automatic transmissions are allowed to shift themselves on fuel-economy tests, whereas the prescribed shifting pattern for manuals on the same tests is not always optimized for economy. In real-world tests, manuals can still eke out 2-5% better fuel economy than their automatic counterparts. And in the hands of a master, up to 20% better in the same traffic conditions, even with a super-efficient automatic as on the Mitsubishi Mirage. On cars where the automatic transmission is superior in the real world—as in the CR-Z—the advantage is much lower than official numbers would have you believe.
ALSO READ:
9 Different—and weird—ways to shift gear
Should you shift to neutral when your automatic car is at a standstill?
But on the highway, automatics usually benefit from a longer overdrive ratio—which allows them to cruise using less engine power, and sometimes multiple overdrives, meaning more efficient cruising over a wider range of speeds. With a manual, you will often have to stick to a very specific cruising speed to achieve the best possible economy. For those whose commutes consist mostly of long highway running, automatics are an automatic win.
ADVERTISEMENT - CONTINUE READING BELOW ↓
Still, for those with mixed commutes or drives in city traffic, the manual is still the way to go. As long as your kness hold out, that is.
But that's our opinion. And our experiences may differ from yours. We'd like to know what you think. How good has the economy been on your new automatic-equipped car?