When the apocalypse comes and rains fire on these unholy lands, only five things are scientifically capable of survival. The first four are common knowledge: cockroaches, tinned Spam, MotoGP riders, and that dried cereal residue when you leave your bowl out overnight. The other is the new Mercedes-AMG G63—an impenetrable fortress of a car, just as capable of outrunning a nuclear blast as it is sitting tight, absorbing the impact then continuing its business, trundling nonchalantly across the debris.
The Suzuki Jimny, judging by its three-star NCAP slap on the wrist, wouldn't fare quite so well in the initial fireball, which is a shame because it would flourish in the aftermath. It might give away 476hp to the G63, but the Jimny is a tiny, willful, mountain goat of a car that can scamper over most things that stand in its path. In so many ways, not just its adorably squared-off body, it's the apprentice to the G, the young whippersnapper who wants to be just like the big Merc when it grows up. And who are we to get in the way of its dreams?
So, it's a sausage-fuelled Bavarian road trip of discovery for the Jimny, with the G-Class as its guide—taking in the autobahn and medieval walled towns, before returning to their natural habitat in the forest. Question is, is there anything a tiny Japanese buzz box can do better than a car that's two-and-a-half times heavier, five times more powerful, and nine times its price? Or will the G63 assume the role of master, Jimny the willing pupil?
Continue reading below ↓
Recommended Videos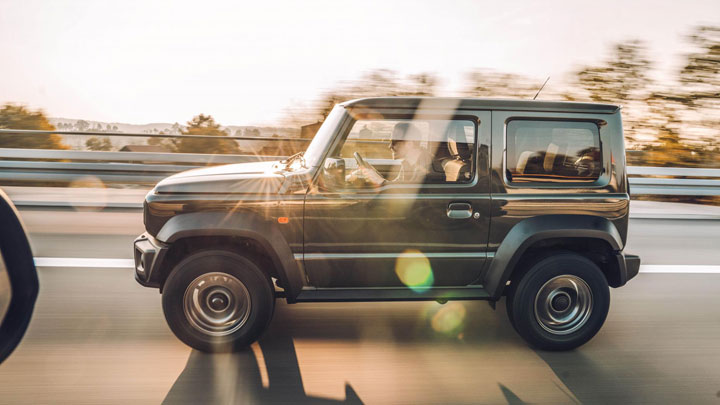 To the outside lane of derestricted autobahn, where the Mercedes is taking the lead and lazily punching a hole the size of a boutique hotel in the air. I'm in the Jimny, tucked in behind, chest pulled up against the steering wheel, head bobbing like a chicken with IBS. I have no idea why. I guess when you're on a vmax assault in a car that makes continental creep appear rapid, it might help? Either way, it's getting damn exciting—I'm approaching the claimed top speed of 145kph in fifth… and sailing past it. The wind noise is bordering on painful, surpassed only by the sound of the 1.5-liter engine thrashing away as it nudges past 5,000rpm, but I'm far too absorbed to care.
And still we accelerate, plunging deeper into the vacuum behind the matte black shipping container out front. It crosses my mind that we're now in a situation this car was patently not designed for and perhaps I should slow down before one of the wheels gets a proper wobble on. But quitting isn't in the Jimny's nature, so the needle marches on before settling on 175kph at a lung-busting 5,500rpm. I'll save you the maths; that's 31kph more than Suzuki's figure.
Delighted with our experiment, we pull over, swap cars, and go for a solo run in the G63. By comparison, the cabin is an oasis of calm, disturbed only by the side pipes' deathcore metal, and a sense that great forces are at work to keep this thing moving through the increasingly soupy air. I give it everything, but physics catches up at 241kph. Still, it's a strong start, just the kind of teamwork and camaraderie we wanted from these two, and reassurance for anyone put off by the Jimny's pitiful top speed: All you need is a G63 and an empty autobahn to unlock its true potential.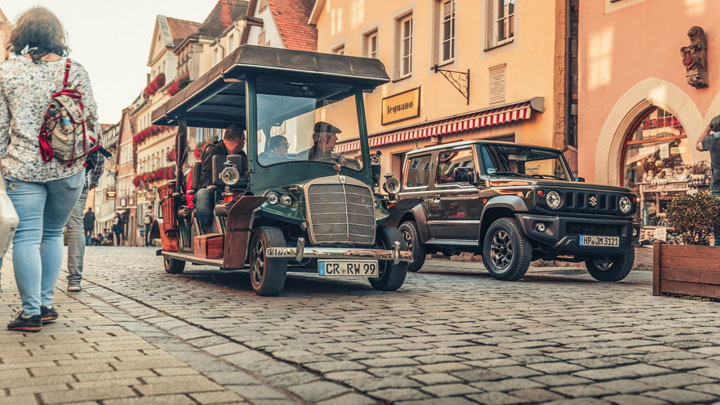 Our route takes us south from Frankfurt, then east to join the Romantische Strasse, a 354km route devised by savvy travel agents in the '50s linking Würzburg to Füssen and all the most picturesque towns in between. By 'most picturesque', I mean 'ridiculously twee'. Maximum Germany. Take Rothenburg ob der Tauber, a walled medieval masterpiece of cultural preservation where it's not just the sausage and pretzel shops making you salivate like a Bernese Mountain Dog—the buildings appear edible too. Hansel and Gretel would have a field day.
But there's a lesson here, because as we weave between tourists and get badly lost in its maze of cobbled lanes, it's the Jimny that's showing the way, darting down gaps the G wouldn't dare, pulling over wherever it sees fit without causing a terminal blockage, and generally absorbing all the challenges of operating in a confined space. Make no mistake, it's the Merc that's putting on more of a show for the tourists, but I'm having infinitely more fun inside the Jimny. And that's the thing: Suzuki will tell you the Jimny is more unforgiving than you think. It's not a lifestyle SUV—if you want one of those, buy the Ignis. It calls it "the one and only small, lightweight 4WD vehicle," which is a lie (there's the excellent Panda 4x4), but you get the idea.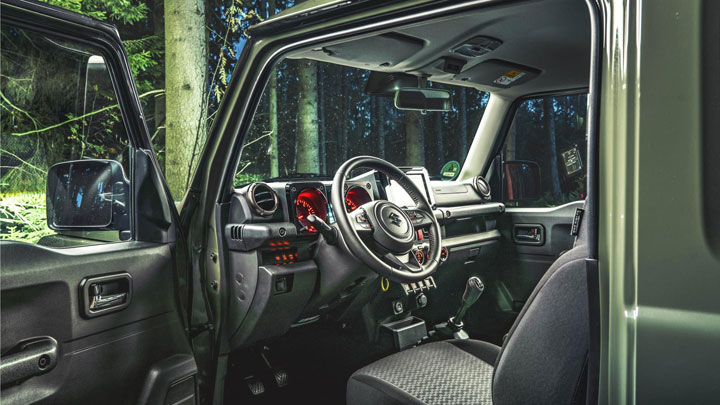 Except I disagree entirely. Yes, there are agricultural elements such as the transmission whine, body roll measured in days not degrees, and you sit very high for something where you can virtually touch the back windscreen from the driver's seat. But these things aren't punishing—they're endearing. Really, if you enter Jimny ownership with your eyes open (this is a two-seater with a trunk, or a four-seater with space for a sheet of A4) it's the perfect city car. Small, supple, you can drive everywhere with the throttle mashed, and while the interior plastics aren't particularly robust, trust me, you won't care. It has satnav, air-conditioning, heated seats, a radio, and cruise control. And you can remove the headrests and lay the front seats flat with the back seats to create an emergency bed. How brilliant is that? Can't think what you'd use it for…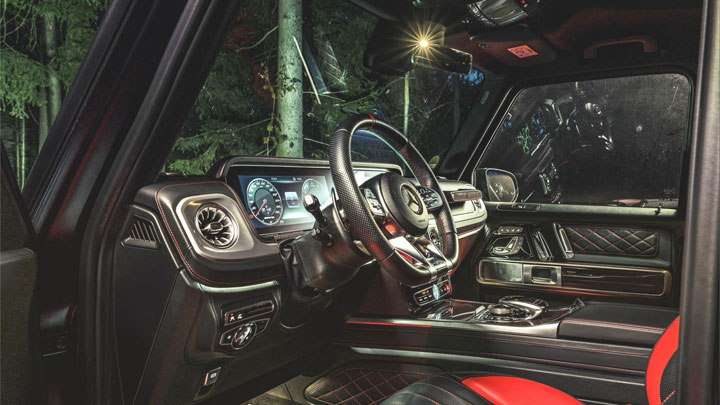 I'm in the Merc, pondering this when I spot a dusty track up ahead. A chance for the G63 to reassert itself as the alpha, I think, before hoicking the wheel to the right and charging toward some woods in the distance. A glance in the mirror and the Jimny's keen too, matching me for pace, its plume of dust proportionally smaller. In the forest we find loggers' trails, perfect for some light off-road shenanigans. The Jimny's size and weight mean even in front-wheel drive (2H) it'll pogo over everything, but, because I can, I snick the lever into four-wheel drive (4H) to ensure unstoppability, safe in the knowledge that there's a low-range mode (4L) if things get properly sticky.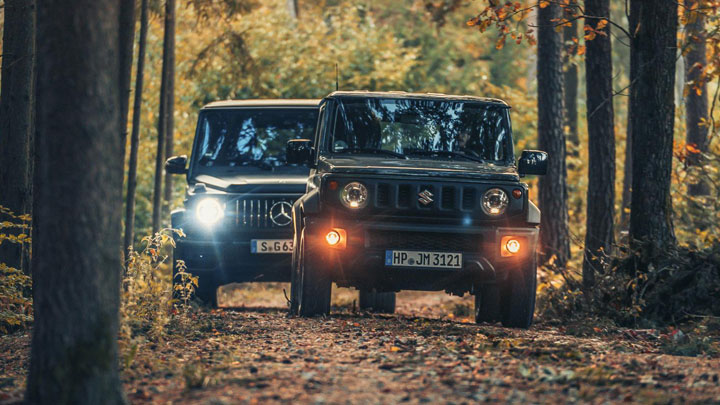 The G63 does things a little differently. Standard torque split is 40:60 front:rear, chosen because it's more satisfying on the road and almost as effective as 50:50 off it. The truth is you can point the G63 wherever you like without touching a single button—y'know a muddy field, some rocks, a brick wall—and it'll keep ploughing straight on, courtesy of its bulk and enormous brain. But if you want to get a bit beardy, you can engage all three locking differentials manually and deploy a low-range mode up to 40kph. The irony is, this is a £143,305 (P9.5 million) car and as much as its off-road ability is peerless, most G63s will see service parked in country clubs, rather than anywhere near the Schöckl mountain it was built to master.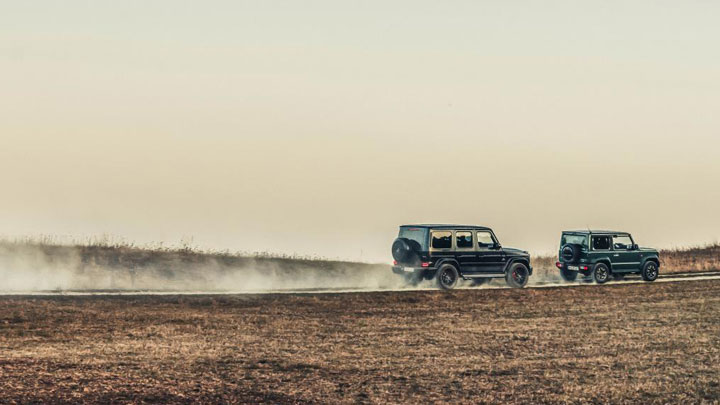 But don't let misuse change your perception; just blame Mercedes for making it so adept at burbling down the high street and mounting kerbs. What matters is that both these cars make names for themselves with their anti-aero bodies, but back it up with character, something to get your teeth into when the novelty of driving a biscuit tin on wheels has waned. Both are wonderful in wonderfully different ways, and each deserving of their awards. My advice? Buy one of each, move near an autobahn and start praying for the apocalypse—it's going to be a hell of a lot more fun than you think.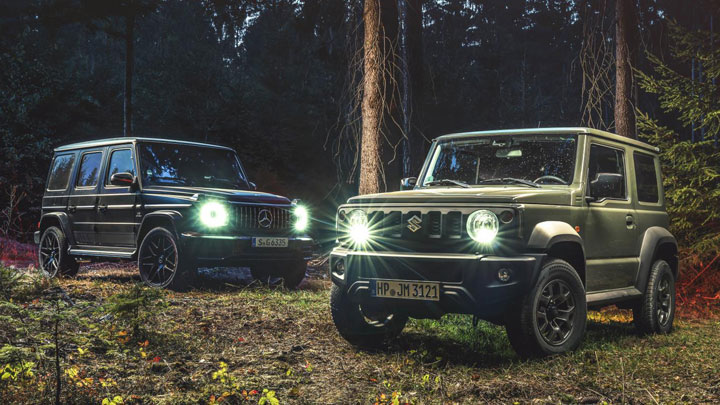 NOTE: This article first appeared on TopGear.com. Minor edits have been made.