The first-generation Isuzu Gemini landed here in the '70s, going against other small Japanese sedans like the Toyota Corolla and the Mitsubishi Lancer of that era. The model most people remember is the early-'80s facelifted slant-nose version. While it had an attractive design, at least by small-car standards, what made it stand out was the engine under its hood. The small Japanese car was powered by a diesel engine—specifically, the 1.8-liter 4FB1 mill. The combination of an oil-burner and a small, affordable sedan proved to be popular, especially with the taxi operators. In fact, by the early '90s, you could still see some decade-old diesel Gemini taxis running around.
This version of the Gemini based on GM's rear-wheel-drive global T-car platform was also the last one officially sold here. Elsewhere, the model continued to evolve. By the '90s, it was just a rebadged Honda Domani, a sister model of the Civic. The Gemini was discontinued in the early 2000s.
We've decided to bring back the iconic diesel Gemini—updated, but keeping some of its distinctive styling cues. Since Isuzu has strengthened its partnership with Mazda, we decided to use the Mazda 2 platform as a basis for our reimagined model. Using subcompact architecture would keep it relatively low-cost. To improve rear passenger legroom, the wheelbase has been lengthened by 63mm for a total of 2,633mm.
Continue reading below ↓
Recommended Videos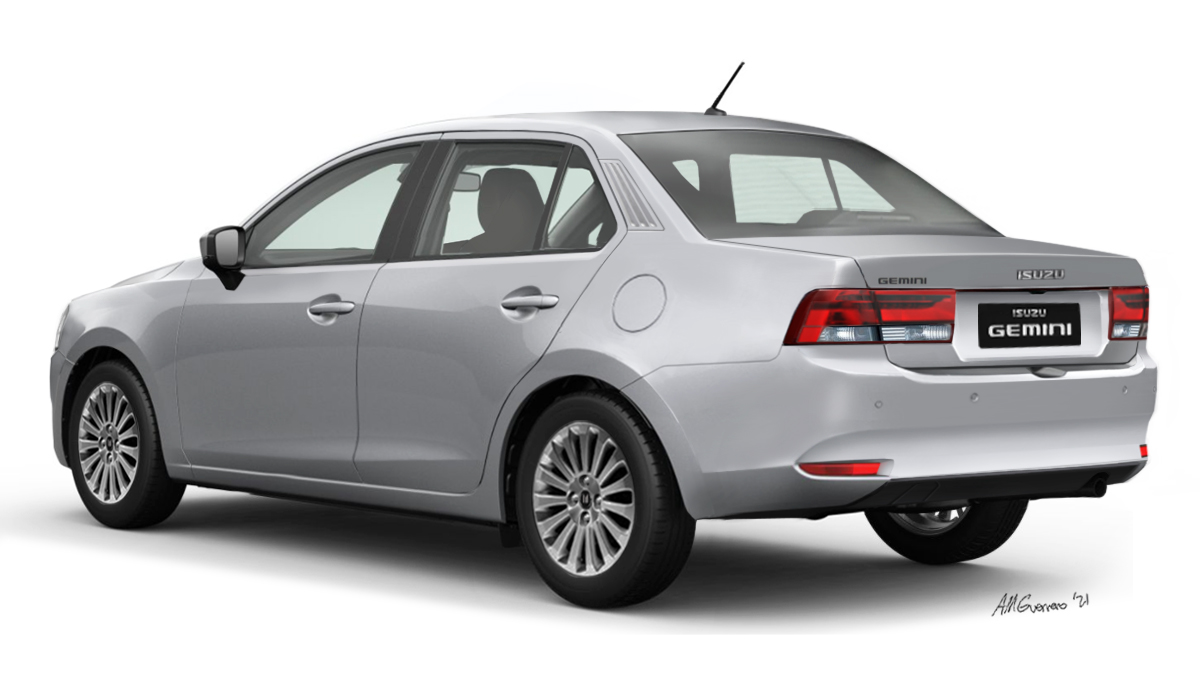 Our modern Gemini measures 4,420mm long, 1,695mm wide, and 1,490mm tall. Its front end gets a streamlined interpretation of the classic slanted grille. The crease on the front panel above the grille opening is a subtle visual link to the modern Isuzu grille on the brand's pickups and SUVs. The classic Isuzu emblem is embossed onto the nose.
Moving on to the side, the low beltline, formal roofline, and faux vents on the C-pillars recall those on the first-gen Gemini. At the back, we are greeted with large rectangular taillights and a low trunk. The variant depicted in our renderings is the higher "LS" trim with 16-inch alloy wheels. Inside, the switchgear and the gauge cluster are shared with those on the Mazda 2.
Under this Gemini's hood is a 1.5-liter Skyactiv-D diesel unit that produces 103hp and 250Nm of torque. It can be paired with either a six-speed manual transmission or an automatic gearbox.
If Isuzu were to bring back the Gemini as a low-cost diesel subcompact sedan, would you consider it?