"There's a new EV charger down south? Time to borrow the Nissan Leaf!" Those were my first thoughts the moment I learned Shell was going to open a new charging station at Shell SLEX Mamplasan. It was exciting, as this would make electric vehicles more accessible even for those living outside the metro.
Unfortunately, it was confirmed during the launch that only Type 2 CCS or CCS2 chargers would be available at the Shell Recharge station. The Leaf is compatible with CHAdeMO chargers. There go our EV dreams, then.
OTHER EV STORIES YOU MIGHT WANT TO READ:
Everything you need to know about the PH Electric Vehicle Industry Development Act
Can the Mitsubishi Outlander PHEV go far on just battery power?
Continue reading below ↓
Recommended Videos
Out of curiosity, we asked Nissan experts if the Leaf would actually be able to recharge its battery through a station as powerful as Shell's, and in simple terms, we got a yes. Had the Shell Recharge station been equipped with CHAdeMO chargers, the Leaf would've been able to take the load safely from the 180kWh DC fast chargers. This means in theory, it would take less than a quarter of an hour to charge the Leaf's 40kWh battery from zero to full.
However, plugging in the Leaf to a station that powerful could cause the EV's battery to heat up. This would then activate trickle charging to limit the amount of electrical energy going into the battery and thus drastically lengthen charging time—we were told this is something most EVs with lithium-ion batteries would automatically do. At that point, it wouldn't be optimal since Shell, er, charges P65 per minute, not per kilowatt to use its new fast chargers.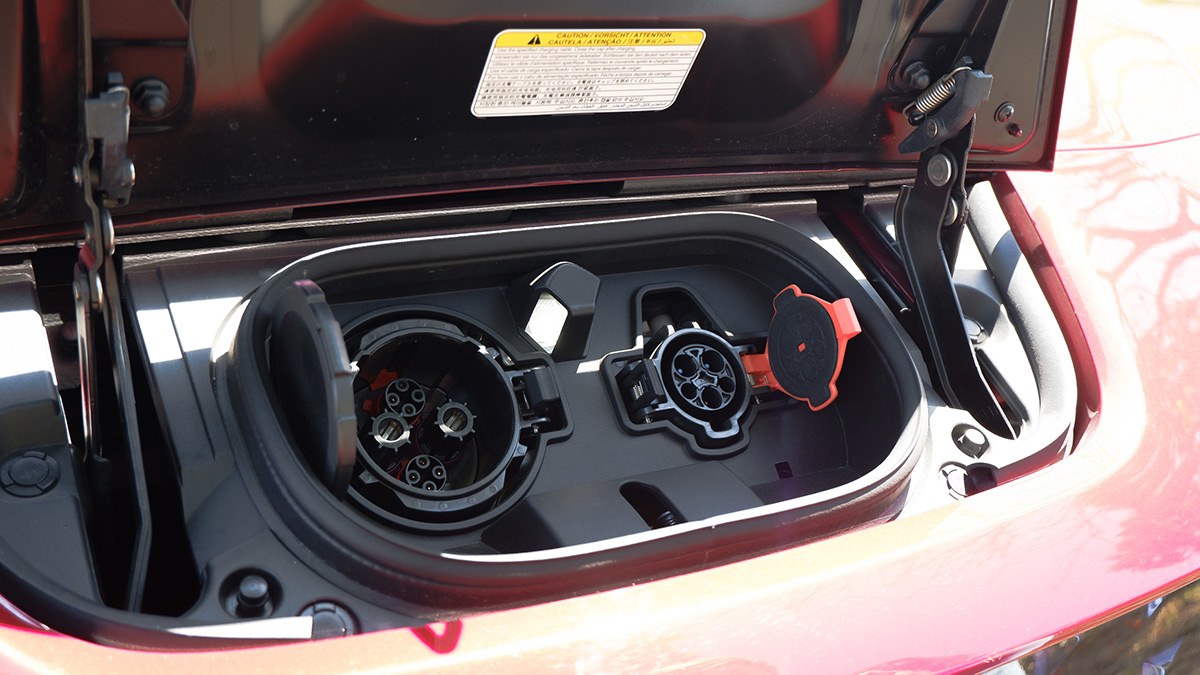 That puts the Shell Recharge station completely out of the equation for the Leaf, then. The most economical thing to do for Leaf owners—apart from juicing up for free at select Nissan dealerships equipped with EV chargers—would still be to plug their EVs back at home.
Assuming you don't use up all of the Leaf's battery, you'd only need overnight to charge it back to full at home. Also, you'd only have to pay Meralco for the full 40kWh the Leaf used to top up its battery, regardless of the amount of time it needed to recharge.
Let's round up the current Meralco rates to P11 per kWh. Multiply that with the Leaf's 40kWh battery capacity, and voila, you owe Meralco just P440 for one full charge. You'd need at least double that amount to recharge the Leaf at Shell SLEX Mamplasan for about 15 minutes. Would you then be willing to pay for the price of convenience? Perhaps not all future EV owners would be.
At the end of the day, what all this show is that there's still a long way to go before we can really say we have enough EV infrastructure here in the Philippines. In any case, if you want to read up on the intricacies of EV charging, you can check out this guide.
Top Gear Philippines is now on Quento! Click here to download the app and enjoy more articles and videos from Top Gear Philippines and your favorite websites.