We're rather fond of tiny engines here at Top Gear PH. You might recall that self-assembling engine we featured earlier this week.
We've always liked these tiny renditions of the motors that power the machines we drive. Having the opportunity to build them ourselves is pure bliss, even if they're just smaller versions of the original. But nowadays, our yearning to get our hands on any of these scale-model engines has grown more than ever—you know, given the enhanced quarantine and all. We're sure these small-scale builds would be good ways for gearheads like us to pass the time.
And while we know we can't purchase any toys at the moment, we still went around the Internet to look for some just for the sake of it. And we found the perfect thing: a 1:3 scale model kit of a classic Porsche flat-four engine.
The 'four-cam' as it was also called is one of the most historic engines Porsche ever built. In its heyday, it was at the pinnacle of racing glory, helping Porsche win some accolades with the 550 Spyder and the 356. What makes this scale engine special, aside from the fact that it replicates a legendary motor, is that its package comes with a 112-page collector's book straight out of the Porsche Museum in Stuttgart. The book contains official photos and archive drawings from the German carmaker.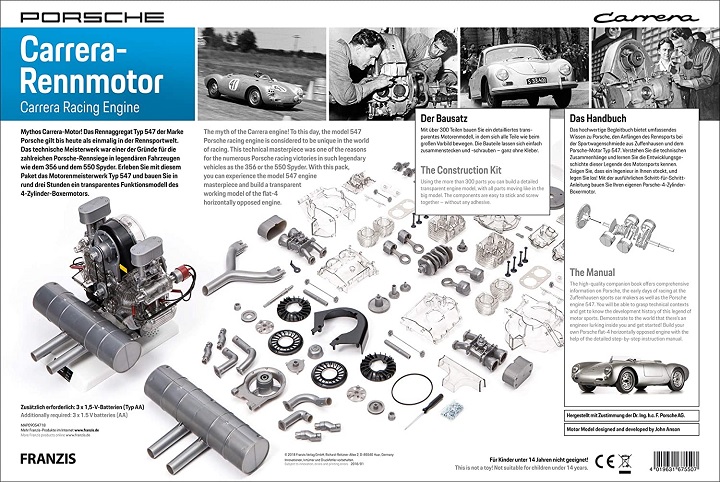 That book, plus the 300 pieces that make up the kit, would surely eat up a huge chunk of your time at home. And you can still have fun with it when you're done, too, because it's an actual working motor that runs on three AA batteries. Just don't expect to win any podium finishes with it.
This little Porsche engine was posted on Uncrate, and the page says that the thing is up for sale on Amazon for $300 (more than P15,000). That's a pretty heavy price tag for such a small engine, but hey, by the looks of it, you'll likely get your money's worth.