I have a soft spot for photos that bring us back to the past. Things just seemed so much simpler then. With the rapid 'development' that is happening everywhere, who knows what the natural landscape will look like in the next ten years. This is a huge concern for me, especially in the province of Benguet where I am from. It seems that the only real constant is change, and no place is immune to it. If you haven't already noticed, I am big on nostalgia.
These photos belong to my close family friend Bernardo Canapi, or Kuya Bernie, as my siblings and I like to call him. His daughter Celina did the before-and-after layout and posted these on her Facebook page. Below are Kuya Bernie's words. We hope you enjoy his photos and stories as much as I did.
I traveled to Mt. Province way back in 1985 on a monthly basis because it was part of my area of coverage as a medical representative of a pharmaceutical company. The road was called Mountain Trail back then because it was all rough road. The whole trip took nine hours on a good day and about 12 hours on rainy days. I drove a Toyota during those trips, with three spare tires as reserve. During this last trip, it took us less than 5 hours to reach Sagada.
ADVERTISEMENT - CONTINUE READING BELOW ↓
ADVERTISEMENT - CONTINUE READING BELOW ↓
Recommended Videos
Going back to Sagada was like traveling back in time. Some of the spots we stopped over still had remnants of what it used to be, though some had been totally changed. This is my sentimental journey:

'Highest Point' highway marker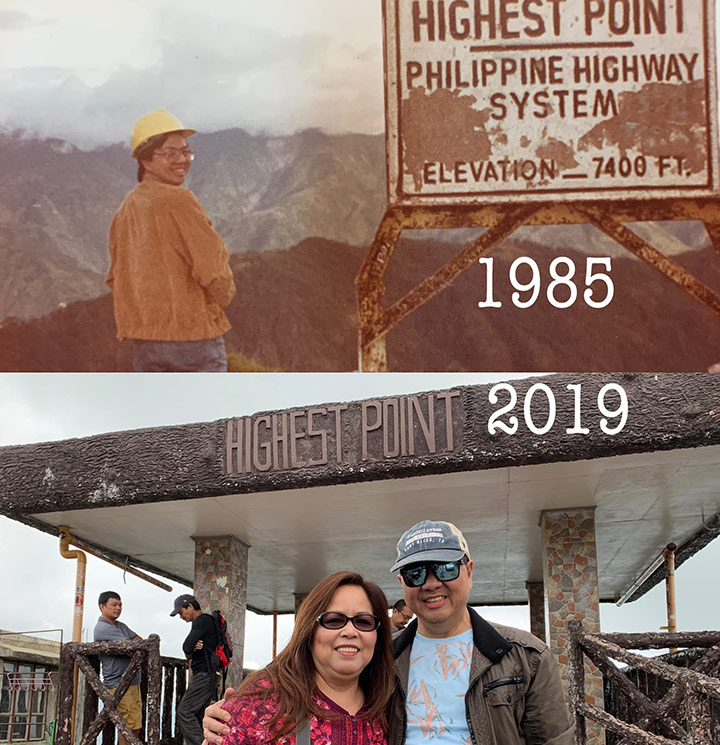 The Highest Point Philippine highway marker above was replaced with a view deck minus the old marker. I wish they saved the old marker. 
ADVERTISEMENT - CONTINUE READING BELOW ↓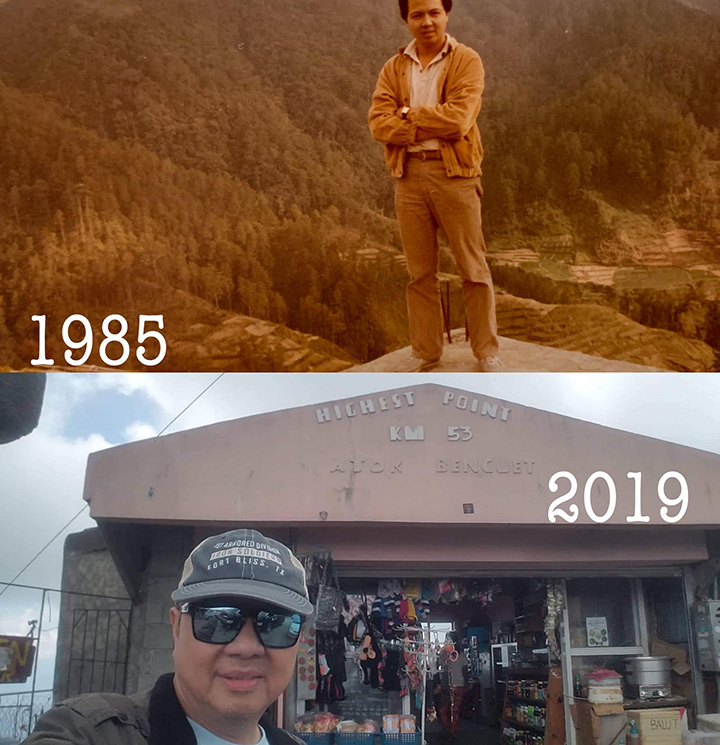 Another view of the highest Philippine Highway. I was standing at the edge of a concrete platform which is now a souvenir store. I'm guessing the store was built on the original platform.
Cafe Leona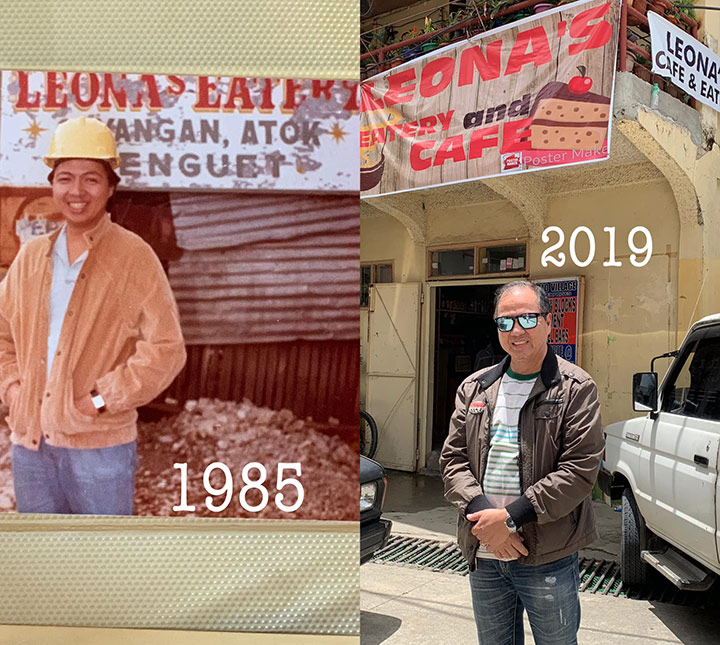 ADVERTISEMENT - CONTINUE READING BELOW ↓
You cannot see this restaurant along the highway as it is situated on an inward lane going to Atok District Hospital. The food here still tastes as good as it did then. Order the Cafe Leona Special (all-in-one-plate fried rice, pork chop, fried chicken, fried egg, lumpia shanghai, and chopsuey—plus a cup of hot soup!)
Saint Mary's Church, Sagada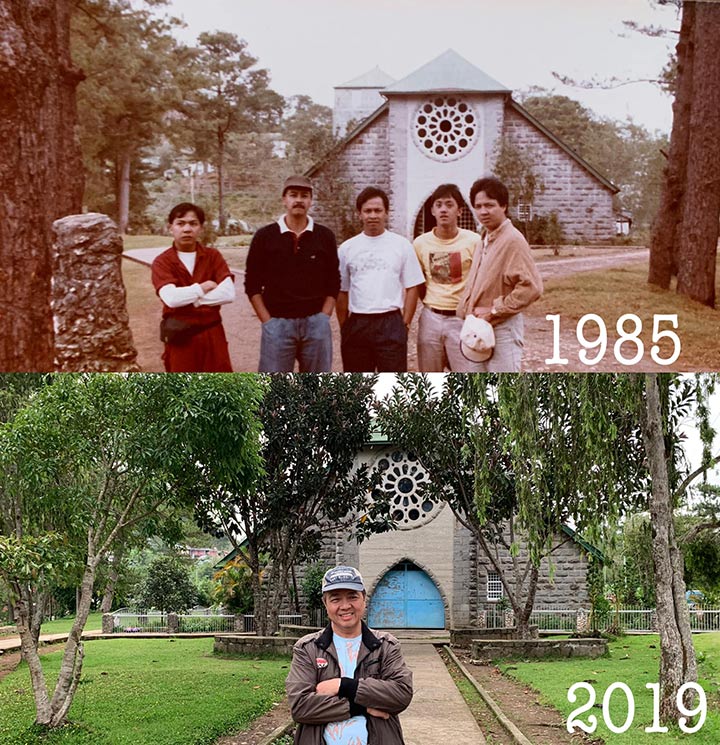 ADVERTISEMENT - CONTINUE READING BELOW ↓
With my colleagues. The church was closed at the time of our visit.
Missionary School, Sagada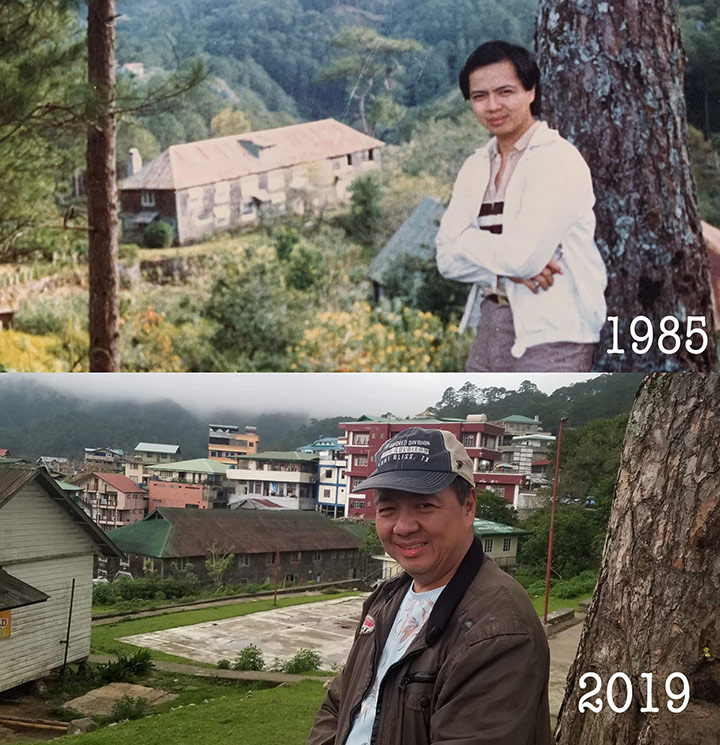 This is right beside the St. Mary Church. The school is now surrounded by structures mainly catering to tourists and backpackers. I'm leaning on the same tree. Glad it was still there! There are more eateries now but I think they also ate the trees!
ADVERTISEMENT - CONTINUE READING BELOW ↓
Saint Joseph Rest House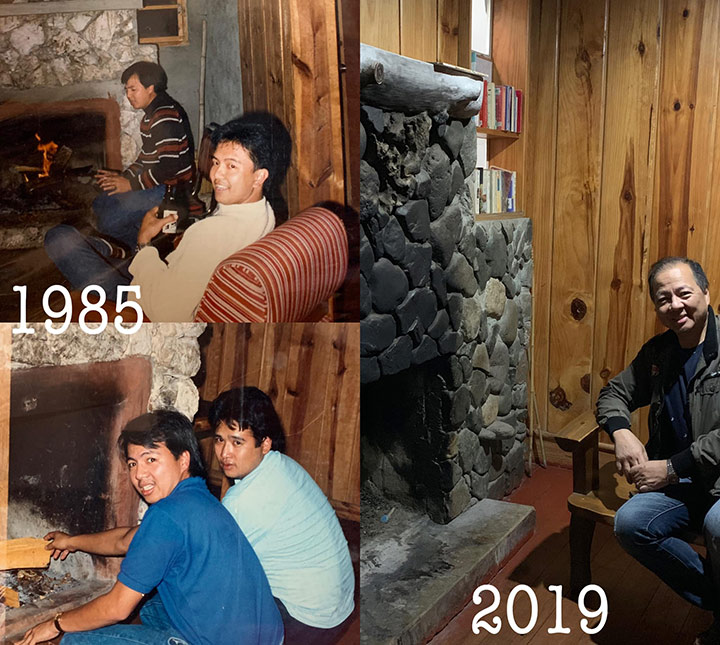 This is where we usually got a nightcap after a delicious dinner freshly cooked by the sisters who managed the resthouse. You have to order ahead for your meals, unless you want to sleep on an empty stomach or not have any breakfast and lunch! Yes, they serve beers, too!
ADVERTISEMENT - CONTINUE READING BELOW ↓
Sagada Weaving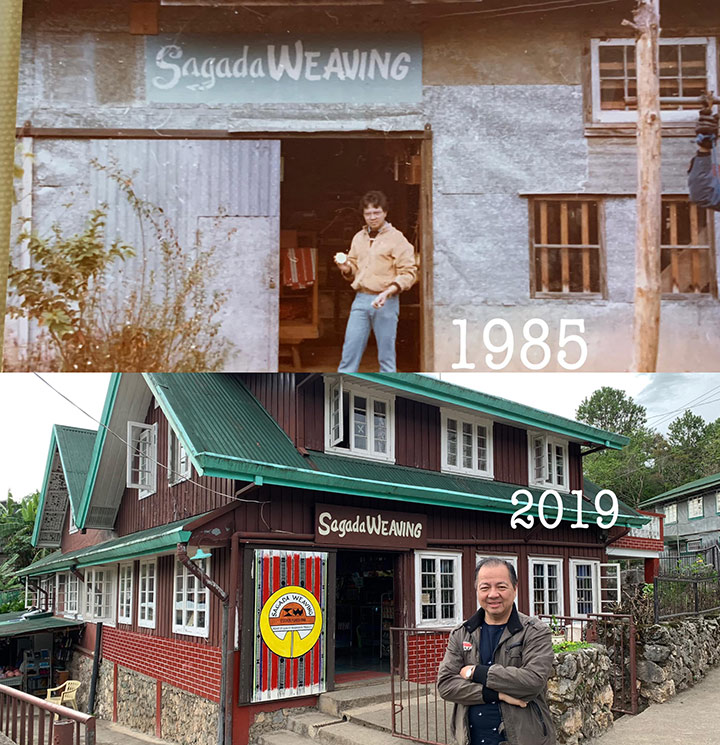 Yes, they have it at SM Baguio, but it all started here. You'll notice the walls are made of flat sheets of iron. Inside is plywood or lawanit with tiny holes drilled in a symmetrical shape. I was told that most Sagada houses used this system to store heat from the sunlight that was trapped between the flat sheet and the plywood. As night comes, the cold air outside pushes the trapped heat out through the holes to warm the house. Neat, right?
ADVERTISEMENT - CONTINUE READING BELOW ↓
Entrance to Sagada town proper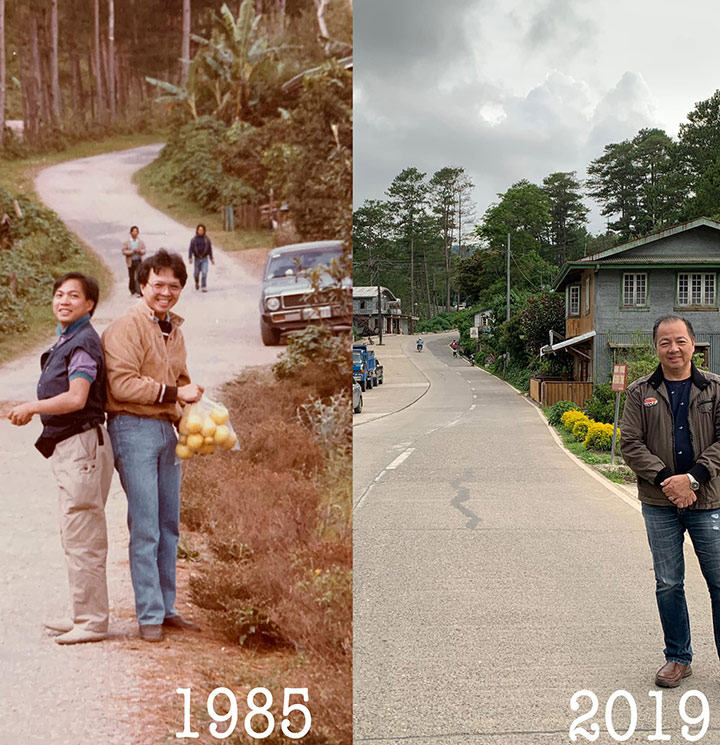 That's my dependable 1979 1.3-liter Toyota Corolla. See how narrow the road was then. You know you're near Sagada town proper when you see paved roads. I think Toyota Motor PH will be proud to know that their car conquered the mountains of Benguet and Mountain Province!
ADVERTISEMENT - CONTINUE READING BELOW ↓

Tunnel to Bontoc
Travel down to Bontoc from Sagada you'll pass through this tunnel. There's a narrow strip of road on the right side for trucks and buses. You have to blow your horn before entering to warn oncoming vehicles. Now the tunnel is one way for outbound vehicles from Bontoc as a new and wide road is available at the right side.
ADVERTISEMENT - CONTINUE READING BELOW ↓
Halsema Highway 'Half Tunnel'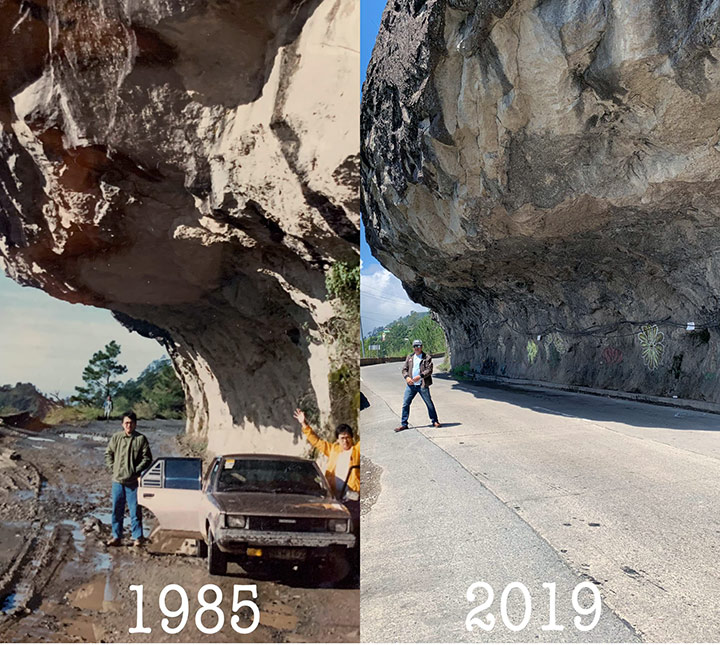 This is called the Half Tunnel. Notice the unpaved road in the 1980s. My colleagues and I alternated with our cars on each trip, with three spare tires in tow. Here we are using my colleague's Toyota DX. It was the first box-type that Toyota came out with.
ADVERTISEMENT - CONTINUE READING BELOW ↓
Bontoc General Hospital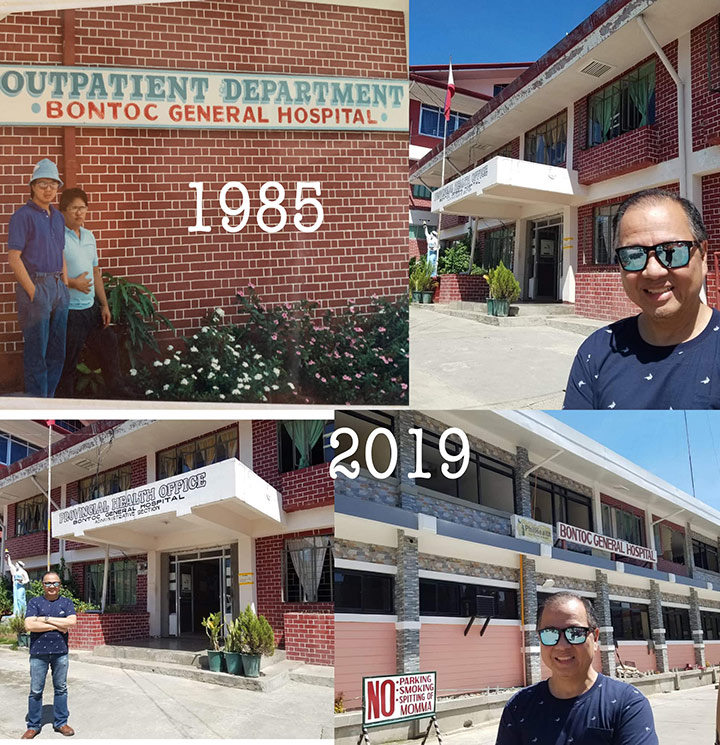 It has expanded, but the brick design remains.
We missed out on Mt. Data Hotel which I think is no longer operating because of the roadblock at the main entrance. It's a lovely place and you'll truly enjoy the lush pine trees covering it. 
ADVERTISEMENT - CONTINUE READING BELOW ↓
Thanks for sharing, Kuya Bernie! We can't wait to go an epic road trip of our own soon.