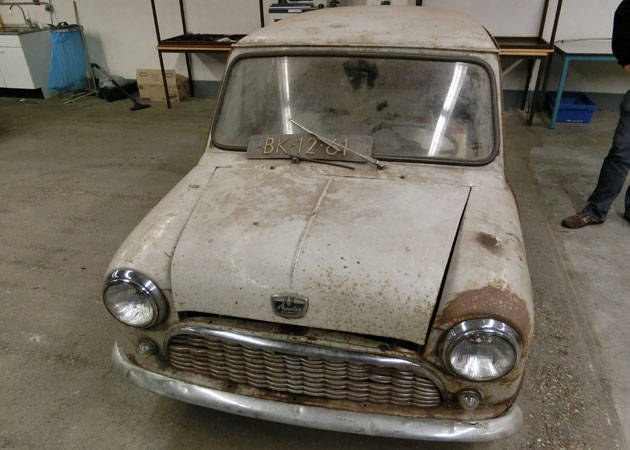 The unsightly jalopy you see above is a 54-year-old Austin Seven, which was the twin model of the Morris Mini-Minor (think Toyota 86 and Subaru BRZ). This car is the original Mini, and this very unit was car number 983 from Mini's manufacturing plant in the Netherlands in the '60s. The said plant produced more than 4,000 units of the classic Mini from 1959 to 1966.
The modern BMW-owned Mini brand restored this Austin Seven to celebrate the return of its manufacturing operations in Holland in 2014. Around 1,500 employees are expected to work at the new production facility.
They found this dilapidated unit in an old barn in Groningen, a province in the Netherlands. The restoration work took half a year to finish.
"It is a genuine barn find, having been hidden away for almost a quarter of a century before being rediscovered and examined by BMW Group Netherlands employees," said the press statement. "The decision to restore the car was taken quickly, aided by the certainty regarding its origins. The car's chassis and production numbers were easily identifiable, and the seats were upholstered--in traditional Dutch style--using real horsehair."
According to BMW, "a five-man team from VDL Nedcar took on the restoration challenge, stripping the classic Mini down to its bare bones before gradually piecing it back together again. The quintet were able to tap into a reliable well of experience and specialist knowledge in the fields of body and engine construction, and apply this expertise extensively."
Continue reading below ↓
Recommended Videos
Among the original parts overhauled were the small 34hp four-cylinder engine and the gearbox. Some body parts and the door panels reportedly had to be rebuilt by hand. The restorers also used "faithful replicas of original parts wherever possible and enjoyed valuable assistance from the Mini community in tracking them down."
Enjoy these amazing photos. May they inspire you to work on your own restoration project.