As we're forced to embrace a more homogenized car industry with all the platform sharing, one-size-fits-all drivetrains and look-a-like spec lines, this year's staging of the world's largest annual tuning convention stood out even further. SEMA is the ultimate expression of the possible creativity and individualism that can be applied to cars, just—normally—with some spangly diamonds and big wheels on top.
And once again, we braved the sweaty halls of the Las Vegas Convention Center this year to bring you the good, the bad, and the ugly of the current state of the modifying scene. So, soak up the aero madness of the Toyota Starlet above, take a deep breath, and keep browsing through the crazy kaleidoscope known as Supraville—we mean SEMA.
Continue reading below ↓
Recommended Videos
SEMA wouldn't be SEMA without a vast array of jacked-up Brodozers. God bless their Bluetooth driveshafts.
Hmm. This decal package looks awfully familiar. But we can't think of where from? Must be Gone in 60 Seconds or something...
We love an AMC Gremlin. We love one that looks like it has come straight from a drunken night in the Hot Wheels design studio even more.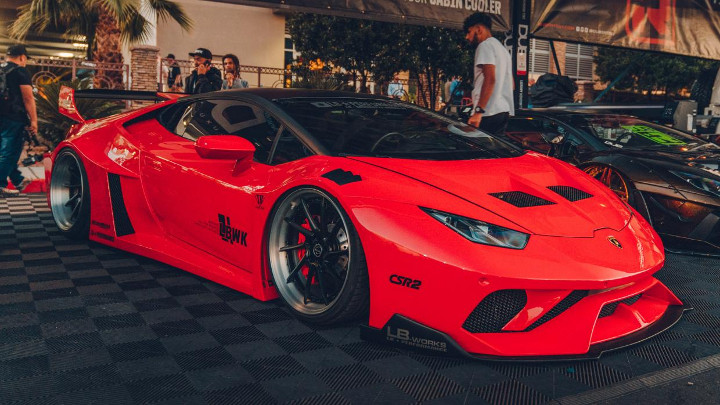 Liberty Walk has been widening and riveting Lamborghinis together since 2008. Weirdly, it's also been making parts of the Internet get very shouty for exactly the same amount of time.
You've got to feel sorry for the poor R35 Nissan GT-R. Every year, it's the easy Instagram eye candy of SEMA, but this year, it's all been about the A90 Supa. Don't worry, Godzilla. We still love you. Even in Banana Camo.
This Porsche 935 has been put in a cannon and shot straight into future. The sensationally spiteful turbocharged engine has been stripped out and replaced with an all-electric powertrain, thanks to Bisimoto. He's pretty mad, in a good way. It's then been finished with screaming pink accents, and turbo-fan-style wheel covers on rims by Brixton Forged.
Don't worry. If you like your 935s in a more traditional guise, SEMA has you covered, too. And breathe.
There's no height-adjustable chassis on the new G-Class because Mercedes doesn't believe the suspension airbags are durable enough in extreme conditions. No one told these guys. Or that it can't run on track-focused R888R tires.
Matching cloth top and rims. SEMA's answer to the carpet matching the drapes. Weird flex, but OK.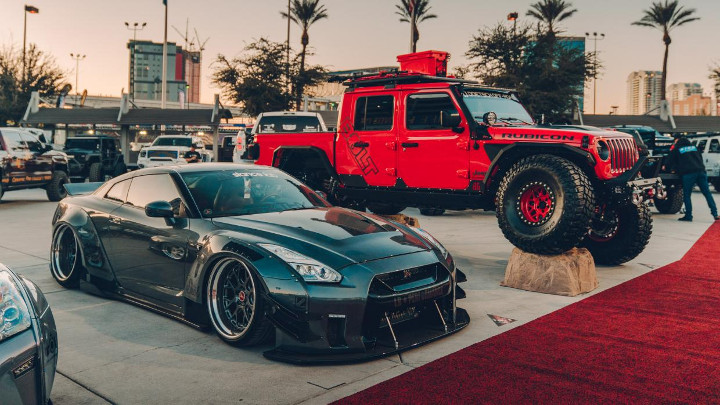 Either end of the 'I heart speed bumps' argument right here.
This Datsun 240Z was bought from Craigslist for $1,100. A carbon body and a 5.3-liter V8 swap later, it's now a Time Attack beast.
Double trouble money green Golf? We dig it.
The 2002 Turbo was the first turbocharged production car engine. It was well-known for having monumental turbo lag. Now, look at the size of that turbo. Fifty years later, things won't be much better.
The TE37 is Ray's flagship model, the ultimate JDM rim. It looks good on literally everything.
We don't think there was a cleaner build at SEMA this year. This chopped-screened Datsun Fairlady is close to perfect.
Honda designers, are you listening? This is the stance the production Honda e needed.
Actor and producer Daniel Wu completely rebuilt this S800's original, high-revving engine, gave the car an exhaust system, and sprayed on a custom paint job. Then there's that Outlaw bodykit with massive wheel arches and a spoiler. Like it or loathe it?
What this pickup lacks in practicality, it makes up for with cringeworthy chin spoiler scrapes.
The first SEMA show was in 1967. Rumor has it local legend Johnny Bones has been sat behind that steering wheel since then.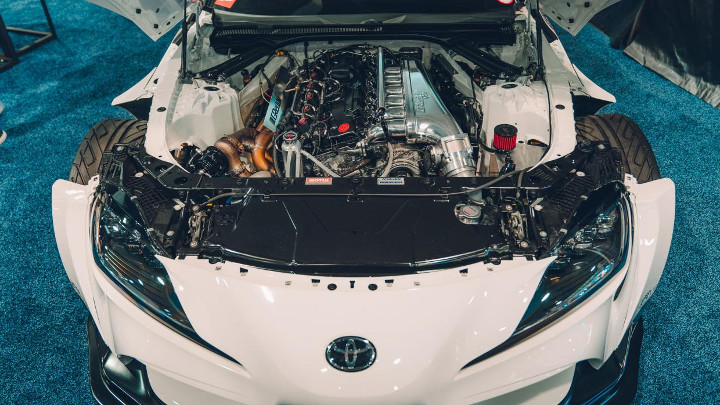 Some people have taken issue with the Toyota Supra's BMW engine, so many of SEMA's Supras had them swapped out. Not GReddy's. It's taken the stock B58 engine, juiced it up with a BorgWarner EFR 7163G turbo, then fitted its own intake and exhaust manifolds, front-mount intercooler, oil cooler, and exhaust.
It's not just tuning shops who use SEMA to test the water—so do manufacturers. This is the Shelby GT500 Dragon Snake, an 800hp drag-race-ready version of the GT500 in the tradition of the Dragonsnake Shelby of the '60s.
"Bro, do you even lifestyle?"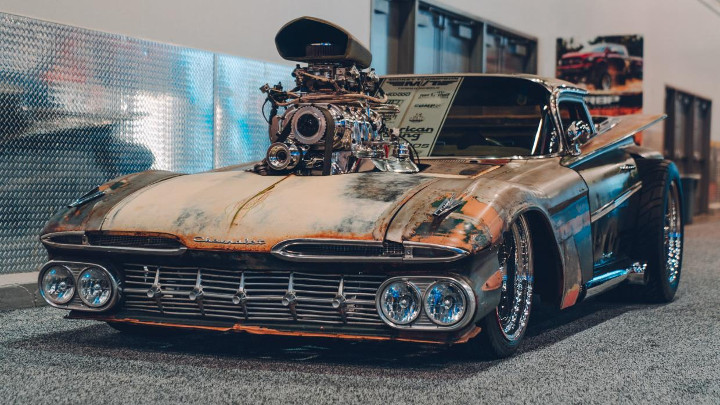 This Chevy has had a bit of everything thrown at it. Too much? Or not enough? Let us know.
Built in Canada, this 1973 Toyota Celica has an unexpected 5.3-liter LS engine swap from a 2007 Saab 97X.
Dubbed the "Evil Evo," this Merc 190E has a 1,600hp twin-turbo LS3 V8, plus a full DTM-style aero kit including widebody fenders, splitter, diffuser, and rear wing.
Daddy Brodozer and Mummy Brodozer carrying Baby Brodozer. Or what's known colloquially as the 'Texan Family Day Out.'
In case you didn't know, SEMA is basically the Willy Wonka factory of wheels. See what we mean?
Dropping this fall, the S.W.A.T team x Safari Porsche Collab. Stealth has never looked so cool.
Las Vegas traffic is a nightmare. This fixes that.
Bow down to the beauty of the welded octopus.
We're basically contractually obliged to include an R34 Skyline GT-R in any tuner content. So, here's an R34 Skyline GT-R. You happy now?
Now, this is a flying car we can get on board with.
Ever wondered what Gouken drives? Now you know...
Nothing makes rolling coal easier than a set of stacked storm drain exhausts.
NOTE: This article first appeared on TopGear.com. Minor edits have been made.