My doctor squints a little at my lab results, and as her eyes furrow, I become anxious and my blood pressure rises accordingly (thank goodness she already took my BP). But in the end, she explains that other than carrying excess weight that's equivalent to another adult human, I'm fine—I am just clearly stressed about work and I need to focus on wellness and de-stressing.
"How?" I ask.
She replies, "Well, that's up to you."
Well, the first recourse to wellness is doing what you love and what makes you happy. For me, that's eating good food and driving. I don't need my doctor to remind me that I have to go easy on the former, but for the latter, I already have something in mind. It just so happens that today is the Ford Night Drive, an intimate event organized by Ford Philippines to let us enjoy the Everest SUV for an evening of dining and stargazing.
ADVERTISEMENT - CONTINUE READING BELOW ↓
The American carmaker has impeccable timing.
We leave our office in Mandaluyong at 5pm, just as traffic is starting to build up. Our destination is Antipolo—specifically, the quaint Vieux Chalet for dinner, then the Seven Suites Hotel Observatory for some stargazing and light cocktails. At our disposal for the weekend are two Everests, both top-spec variants. This SUV is no stranger to me, and it's like being reunited with an old friend. We follow Waze as it leads us through Ortigas Extension and up to Antipolo. Our progress is a little slow but relatively well-paced considering our route.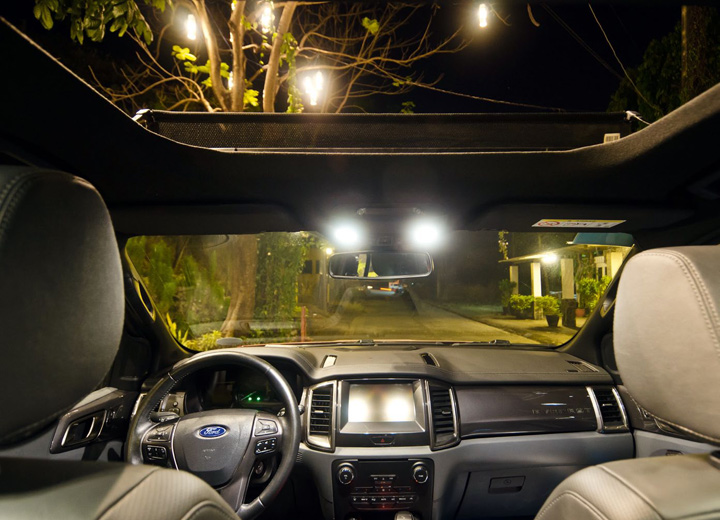 ADVERTISEMENT - CONTINUE READING BELOW ↓
Recommended Videos
With my smartphone linked to SYNC 3 and streaming throwback tunes via Spotify, my passengers and I are enjoying the drive. I open the sunroof cover— but not the glass—to reveal more and more of the starry sky as we leave the smog of the city behind us. The turbodiesel is muffled, especially at our slow pace, and this makes the ride more pleasant. And having 470Nm is handy when maintaining a tight convoy. My minor regret is not being able to use the adaptive cruise control because urban drivers are too chaotic. The road opens up as we leave the outskirts of Metro Manila.
On sweeping curves and tight bends, I only dab on the brakes, confident in the Everest's abilities to stick to the road. Like I've mentioned in a more formal review, a main takeaway about the Everest's handling is predictability. Step on the gas and the almost-two-ton SUV surges forward with no drama. The same goes for the brakes. The result of this straightforward control is there's minimal to no fatigue when driving. And to me, that commanding view you get from having 800mm of water-fording ability also helps with the driver's mental well-being. No, seriously—there's a difference between plodding through traffic surrounded on all corners by jeepneys, trucks and buses, and being in a more advantageous position.
ADVERTISEMENT - CONTINUE READING BELOW ↓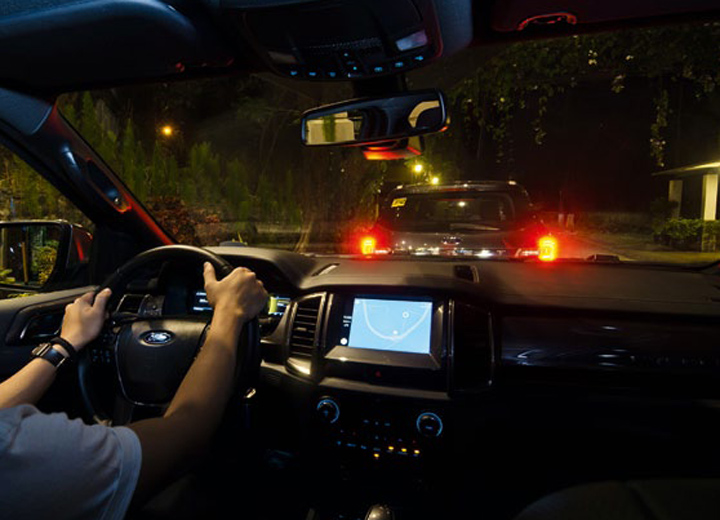 Speaking of commanding views, I feel we are near our dinner destination when I see glimpses of the city from a very high vantage. It's a view I never get tired of, and already, my stress begins to melt away. Vieux Chalet is high up in the Antipolo mountains, and the last kilometer to get to it is a winding road with very steep ascents. No sweat. For me, it's actually fun in a roller coaster kind of way, and my passengers (staff writer Elaine and multimedia producer Chira) don't seem to mind. Or maybe they're just hungry.
ADVERTISEMENT - CONTINUE READING BELOW ↓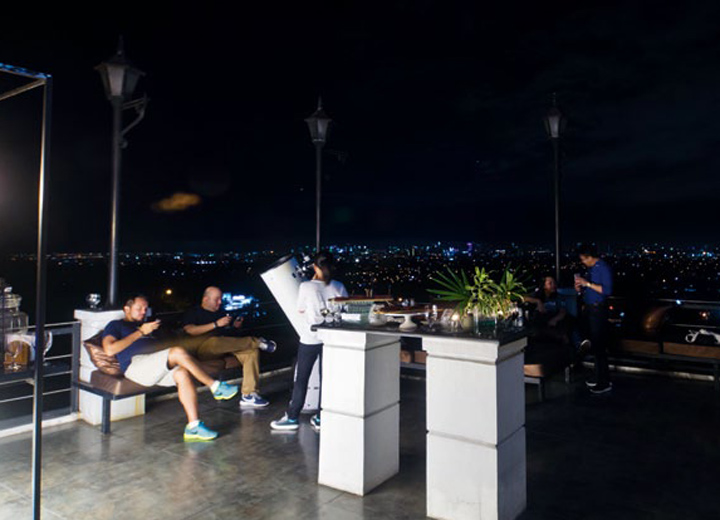 Ford Philippines and its agency has prepared a sumptuous repast more than worthy of our, ahem, humble appetites. But we forget about our hunger when we see the view from the restaurant. The twinkling lights alone is worth the drive. Internally, I hum, "Are you shining just for me?" The food is served, and again, and again, until there's barely any space on the table for all the dishes. Over dinner, we discuss the motoring industry, cars, SUVs, expensive Japanese denim (our photographer Kai's passion and business), and life in general. It's a casual, relaxing meal with good company. My minor disappointment is that it's not as cool and airy as I expected it to be here in the mountains. I almost miss the cold A/C of the Everest.
ADVERTISEMENT - CONTINUE READING BELOW ↓
After our dinner, we head down toward the Seven Suites Hotel Observatory, just a 15-minute drive away, for our nightcap. At the top of the hotel is the viewing deck, and I burn almost everything I've just eaten going up four floors. The good thing is the view on the deck is worth it. Here we see a more expansive view of the city below, and paired with a cold drink to cool off from the hot summer night, the setting is perfect.
For the stargazing part, a real astronomer joins us and shows us a few stars and some planets through a telescope. One of the first things we see is Sirius, said to be the brightest star in the night sky. We all take turns to look at the celestial body and its 8.6-year-old light. Because of its distance to our planet, we are just seeing the light it emitted 8.6 years ago. Imagine that. The beautiful pulsing star we are looking at is actually what it was in 2009—not that they change very much. Seven years ago, Ford Philippines launched the Expedition Eddie Bauer EL and a new Ranger. 
ADVERTISEMENT - CONTINUE READING BELOW ↓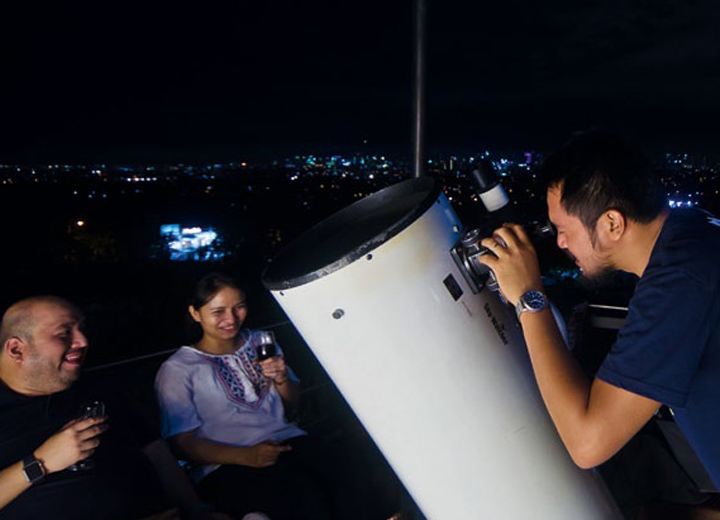 That year was also when we launched our website, this humble little corner of the Internet. We've taken off since then, and now executives tell me that it's not news until Top Gear Philippines has published it. Of course, I take compliments like that with enough salt to cover my whole elbow, but it also serves as a reminder of the responsibilities I have. For a moment, anxiety and stress creep into me again.
ADVERTISEMENT - CONTINUE READING BELOW ↓
Then Elaine suddenly hands out glow sticks, and we break them to release their illumination. It doesn't make sense at first, but this spontaneous act reminds me not to take things too seriously. Looking at interstellar bodies and nonsensical glowing pieces of whimsy is a reminder that we are just bits of cosmic dust, and we should make every moment count. Our glasses clink, we catch up with life, and our laughter lingers in the mountain after we leave the quaint hotel.
On the way to the evening accommodations Ford has prepared for us, there's a feeling of lightness and contentment as we ride in the Everest. We feel tired and recharged at the same time, ready to face another workweek. This is certainly what the doctor ordered.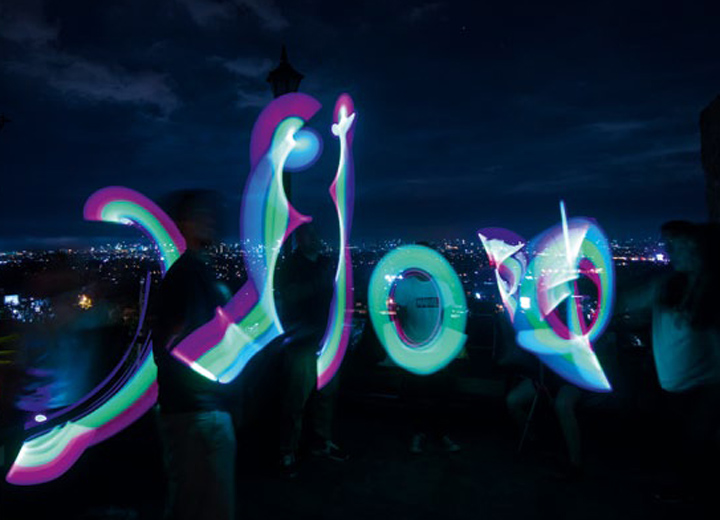 ADVERTISEMENT - CONTINUE READING BELOW ↓
Note: This story first appeared in Top Gear PH's May 2017 issue. Minor edits have been made.