Everything is familiar, except it isn't. Not quite. There is shotgun neon, and purposeful bustle. There are huddles of shops, striding people and the pulse of commerce, industrious swarms of taxis and more neon, layered upon each other in a deluge of information that arrives in a rush, breathless and unapologetic. A million little stories played out in seconds, like in any modern city in the world.
But there's a subtle flavor of wrong. The smallest of inconsistencies, as shocking as an unexpected grain of sand caught between your teeth. The neon is in kanji, logographic symbols instead of letters, the shops unfamiliar and often inscrutable, because I'm sure that the store called simply 'Green Peas' sells other things, too. The people are compact and—generally—more precise in their steps, beautiful and interesting and foreign. I may be driving on the left, from the right-hand side of the car, but the taxis are blocky Toyota Crowns and Nissan Cedrics, two-toned and fender-mirrored, heaved from a styling book of 30 years past. I just stare for a bit. Because even in 2018, Tokyo, from a westerner's perspective, is so brilliantly other, you never get bored of it. The disconnection of the language, the slippery notions of subtly dissimilar manners and customs—it makes it exciting in a way that feels like learning something new. I cruise past the Park Hyatt and realize that I'm becoming Bill Murray in Lost in Translation.
ADVERTISEMENT - CONTINUE READING BELOW ↓
Except my Scarlett Johansson has morphed into a hairy photographer called Mark. Bummer.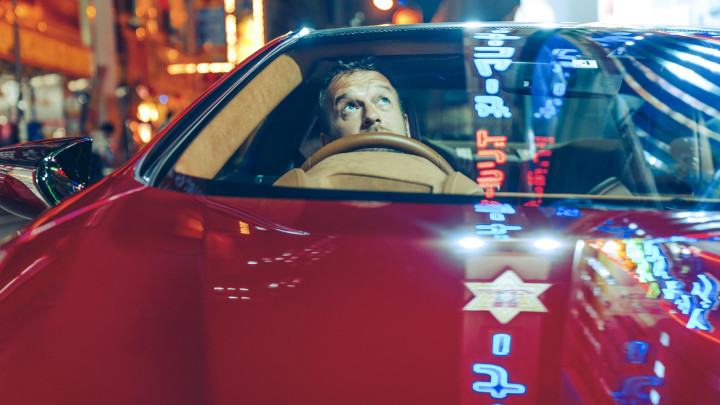 I do have some good-looking company, mind you. And although it's showing me the late-night sights, it still has its own flavor of difference. The format might be known: a big, front-engined V8 coupe of the two-plus-no variety (the rear seats suitable only for shelving), and there's a 10-speed proper auto, rear drive, and a long hood. Yet it is styled in such a way that it could be nothing but Japanese, the complex weave of angles that no one else manages quite so effectively. It's a Lexus LC500. And it's at home.