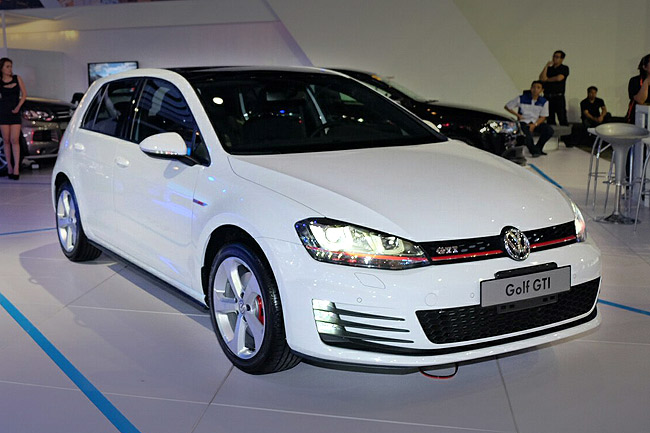 The 5th Philippine International Motor Show stood out as the most highly anticipated and most organized car show in the country yet. During the buildup to the event, we learned about some interesting cars that were going to be revealed at the biennial event.
With Volkswagen, however, it was difficult to decipher as to what the German brand was going to unveil--the executives of the Philippine distributor were pretty secretive. With its cars coming in phases to slowly rekindle the brand among Filipino consumers, I was thinking somewhere along the lines of the Polo hatchback. Nope. It was the Golf GTI that actually served as the centerpiece of the VW booth! It certainly added desirability to the marque's corner.
It's hard to single out just one favorite car of mine, although a personal story makes all the difference.
I grew up with a Volkswagen Brasilia, so aspiring to the Golf GTI was a natural development. The Golf, being a hatchback, largely contributed to the attraction. I've had a special attachment ever since I laid eyes on the Mk1 GTI.
The Golf GTI popularized the hot hatch in 1976. It was such a simple approach that made a practical car performance-oriented. Staying true to the principle and the styling cues that have made this hot hatch (and the standard Golf for that matter) identifiable over the years, makes it especially appealing and enduring.
Continue reading below ↓
Recommended Videos
I wasn't expecting to see the Golf--let alone the GTI--at PIMS. As a GTI enthusiast, it was a wonderful surprise.
When will it be available in our market, and for how much? Volkswagen Philippines (aka Automobile Central Enterprise) mentioned a third- or fourth-quarter launch target for next year. No final word on the price yet. Expect it to be around P2,300,000.
At that price, however, the Golf GTI will be wrestling for attention against another hot car due for Philippine launch in 2015: the sixth-generation Ford Mustang. Which toy car is more attractive to you?
Photo by Mikko David