The first six months of 2013 were not good for Peugeot: the announcement of the planned closure of its Aulnay factory, the resultant cull of 8,000 jobs, the termination of its prestigious endurance racing program. In terms of good-news stories for the PR department to share, the cupboard was bare. But thankfully, off in a small corner of the company, a man called Bruno Famin had a plan.
"We needed a project that was cheap, fast to implement, and would maximize media coverage to show that we were still in motorsport," explains the Peugeot Sport boss. "Maxime Picat took over as the new MD of the brand in late 2012, and I told him it'd be good to do Pikes Peak."
Continue reading below ↓
Recommended Videos
Ah, yes. The Peak. For the uninitiated, Pikes Peak is an annual hill climb up a public road that scales the side of a mountain in Colorado. And Peugeot already had history with the race: Ari Vatanen and Robby Unser won back-to-back titles in 1988 and 1989 in the bewinged Peugeot 405 T16 GR. The feat was documented in the famous film Climb Dance, where Vatanen scythed through hairpins, skimmed sheer cliffs, and nonchalantly blocked the sun from his eyes while sideways on dirt.
Eager for a rematch, Famin approached Gilles Vidal, Peugeot's style director, who got one of his designers to sketch a 208—the company's contemporary product—and morph it into a car that could take on such a specific race. He showed Monsieur Picat, who green-lit the operation. There was one slight hitch: They only had a few months to cook up a one-off racer from scratch.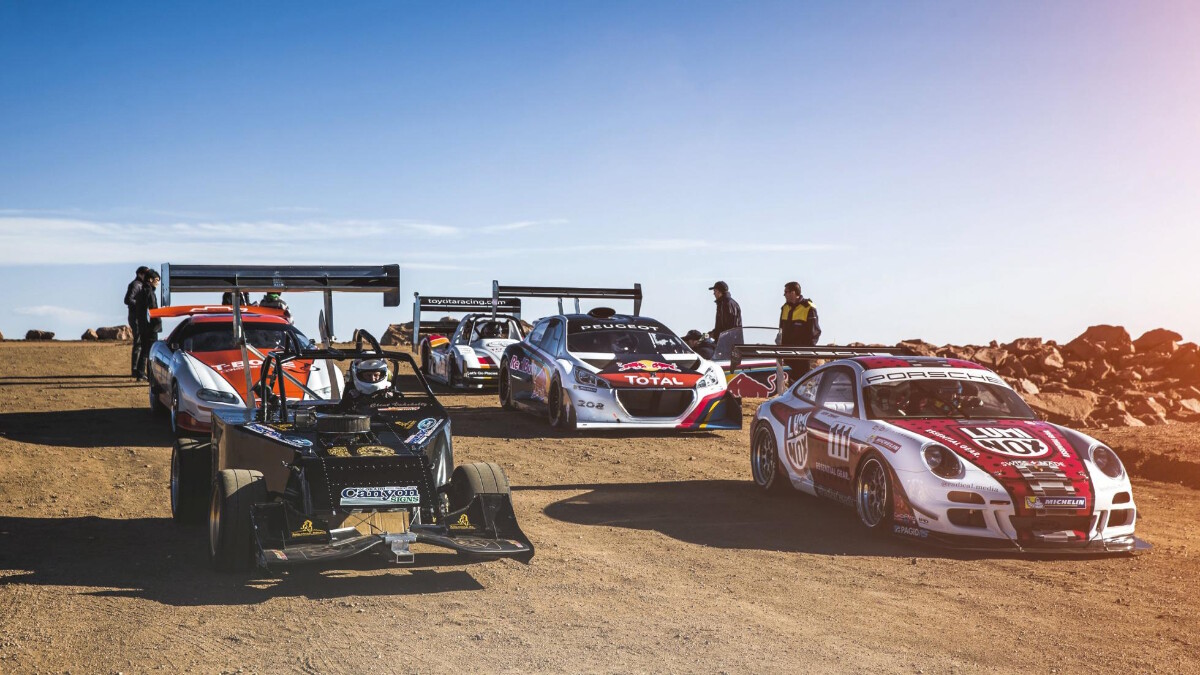 So, in the space of four months, with just 12 people, Famin's team designed and built a car specifically for the Pikes Peak Unlimited class, and the 208 T16 was born. An 875hp, 875kg, super-specialist hill-climb weapon. A supermini shape fitted with modified versions of the turbocharged 3.2-liter V6, steering components, brakes, suspension, and a massive two-meter-wide rear wing/diffuser from Peugeot's 908 Le Mans program. One of the most inspired examples of inter-brand piracy ever demonstrated.
But that wasn't all. In order to maximize the much-needed publicity, Peugeot struck a deal with Red Bull: The French manufacturer would supply the car, while the energy-drinks company would use its PR nous to excite the world. But there was a catch: Red Bull had a designated driver. His name was Sébastien Loeb, nine-time WRC winner. Peugeot, presumably, hesitated for milliseconds.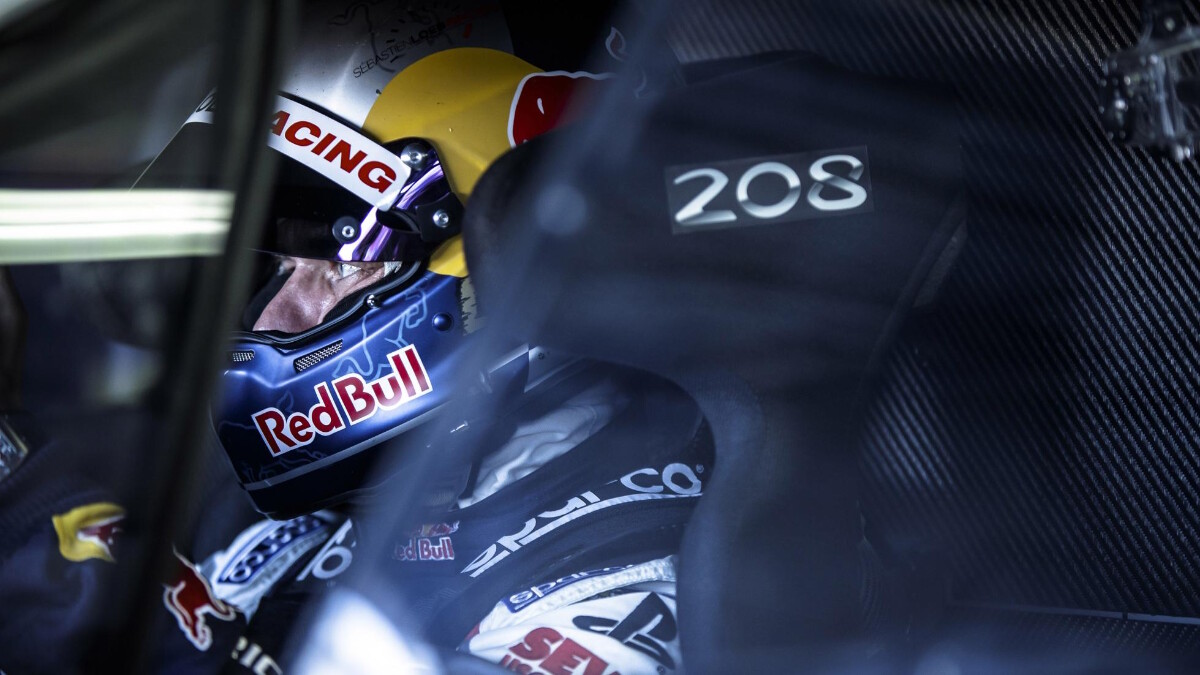 Off to that big ol' oxygen-sapping mountain in Colorado they went. Luckily, I was there, too, so I got to witness the incredibly surreal sight of Loeb arriving to and from practice sessions topless on a Harley-Davidson; they call it the 'American Dream' for a reason, people. But Pikes Peak is no joke, and Peugeot had one road, one driver, and one chance for glory. Winning wasn't enough for the team of 12 based just outside Paris. To them, it was more a "let's kick the crap out of our competitors and rip the record books a new one" approach.
And, thanks to a perfect storm of a no-holds-barred Unlimited class, the road up the rocky mountain being freshly paved, and a redundant Le Mans program's worth of parts to play with, the French company was able to do exactly that, while also creating a car that answered a daydreamer's "what if…" What if you fitted the 3.2-liter V6, monster the turbocharger, the steering components, the big brakes, much of the suspension, and the massive two-meter-wide rear wing and diffuser know-how from a Le Mans car into a small hatchback? The answer: a ticket straight to the automotive Hall of Fame.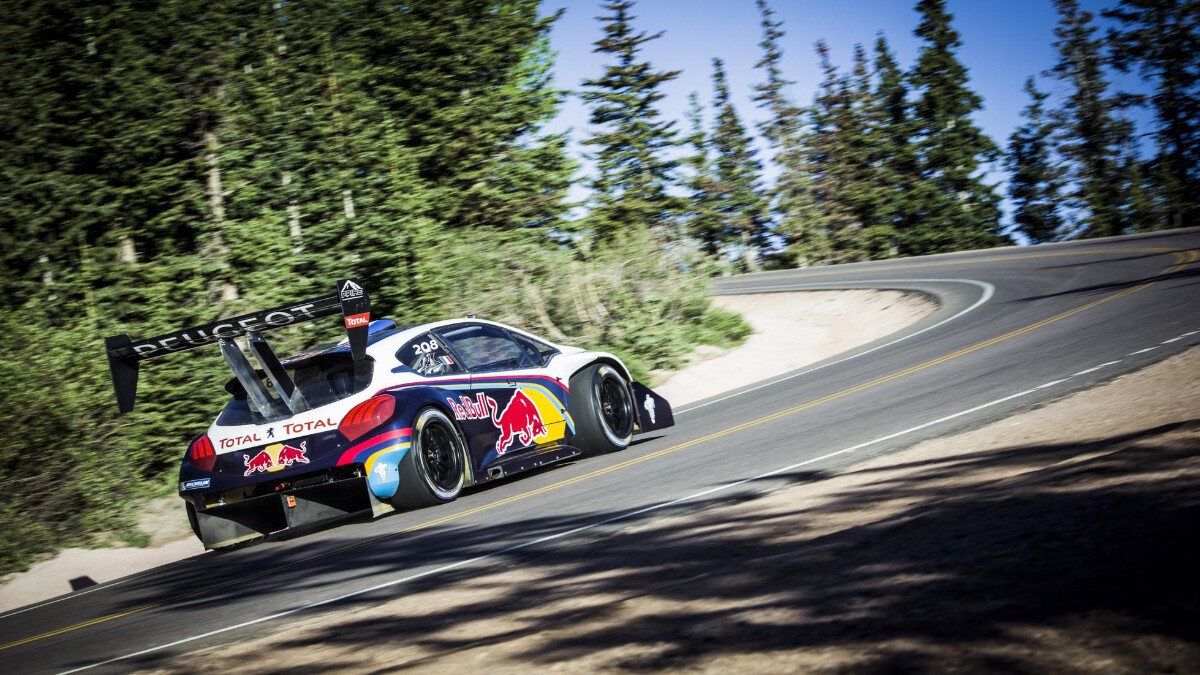 With 875hp fed to the road through all four wheels, in a car that sucks itself to the floor, devours gears, weighs 875kg, and has a 1:1 power-to-weight ratio, the speed that the little Pug was capable of up the two-lane, 20km, 156-turn, 9,383-foot ascent was barely comprehensible. Zero to 100kph in 1.8sec, 201kph following just three seconds later, and smacking the limiter at 243kph.
This, with a soundtrack of a race-spec engine, a beastly transmission, the whooshing of turbos, and the occasional lick of flame, made a car that tingles the nerves of every petrolhead...yet scrambles the brain like Willy Wonka's wallpaper. The familiarity of the silhouette mixed with the foreignness of the speed creates quite the spectacle.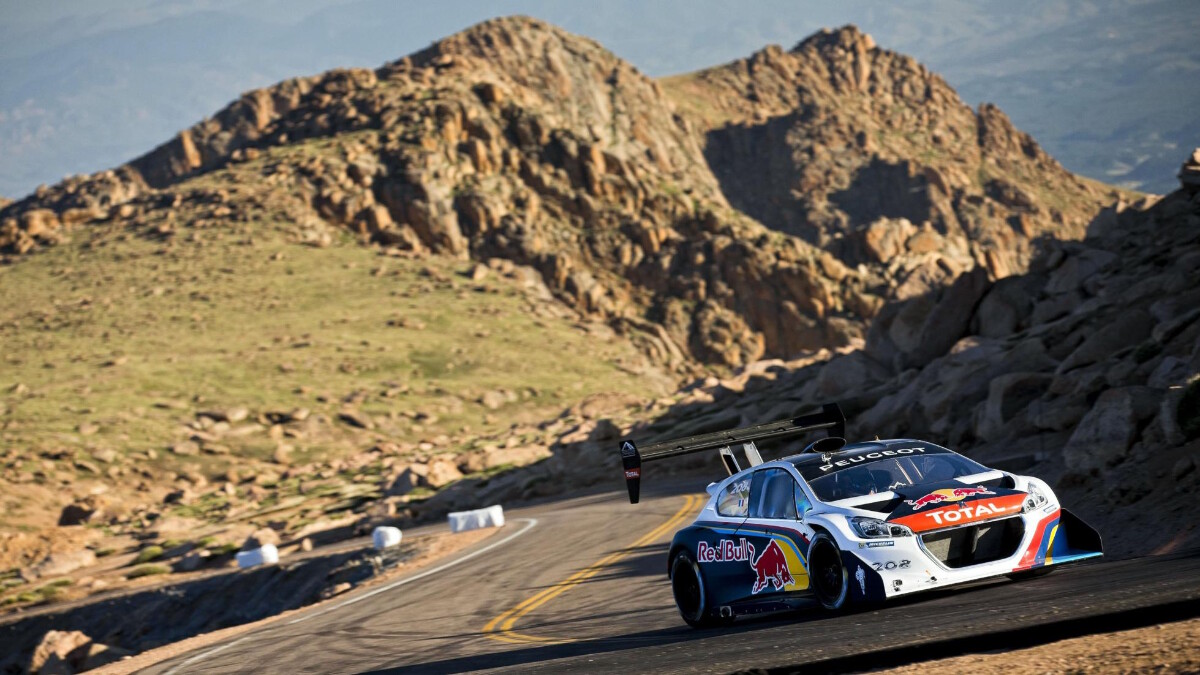 With no full practice runs allowed at the Peak, it was a one-shot gig. A single slip of a tire would create a turbocharged ground-to-air missile, so composure was absolutely key. Luckily, they had a nine-time WRC champion and multiple-winning TG Man of the Year behind the wheel. Someone who shares several similarities with the car: French, fast, and unrivaled.
The result was as expected; the margin of victory, unprecedented. In fact, the little Pug was so fast that Red Bull's helicopter couldn't keep up. Loeb didn't break the Pikes Peak record—he unequivocally obliterated it, turning in a time of 8min 13.878sec, which equated to an average 145.69kph on the 20km, 156-turn, 9,383-foot ascent to the clouds. He shaved 92sec off Rhys Millen's record.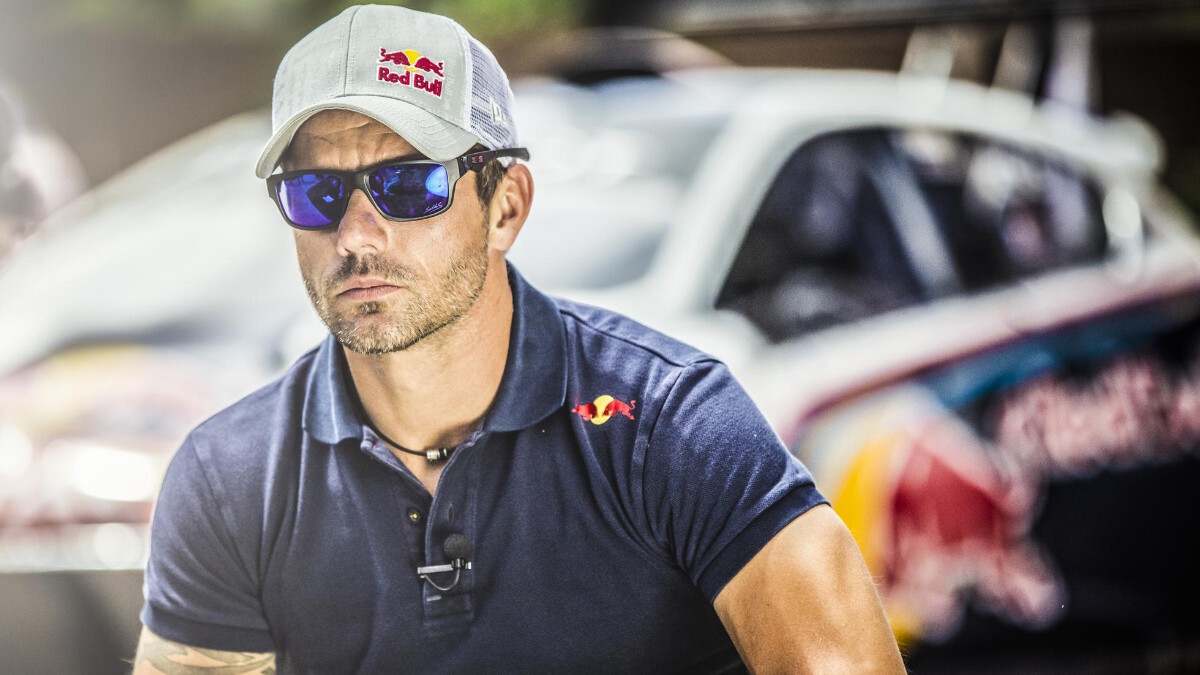 A whole 16% faster. It sent the motoring world into a bit of a frenzy. Quite rightly, it was 2sec quicker than Peugeot Sport's computer had thought possible and 48sec faster than his nearest rival—who shaved a colossal 44 seconds off his own best time—and hammered a stake deep, deep into the record books. If you thought Climb Dance was popular, wait another 10 years to see how many views the 208 T16 run gets on YouTube—it'll go down as one of motorsport's greatest moments.
But that's what happens when you bring the holy trinity of the best team, the best car, and the best driver together. You reinvent fast. So, raise your glasses to the 208 T16, a car that quite literally didn't play by the rules. And doff your cap to Loeb and that almighty run.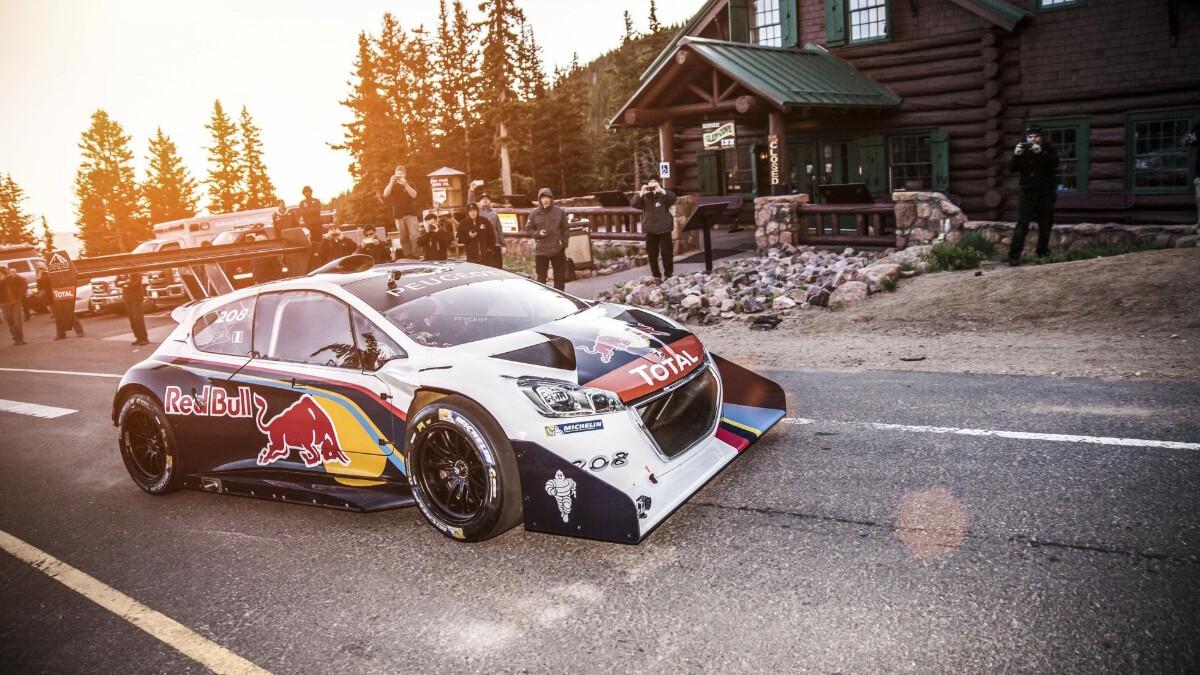 NOTE: This article first appeared on TopGear.com. Minor edits have been made.