When the Honda Civic Type R was launched in our market a few years ago, the response was positive, swift, and unrelenting. Inevitably, motoring journalists (genuine and imagined) immediately inundated Honda Cars Philippines with requests to test it. Meanwhile, the general public rushed to the showrooms or looked for any kakilala who worked in dealers in a vain attempt to try and secure a unit.
Such was the demand that the initial batch sold out quickly, and scalpers just as quickly posted the cars online, all the while charging prices far above market value on the basis of it being a 'collectible limited edition' or a 'rare paps unit.' You would have been forgiven to think that we were talking about the latest PlayStation rather than a P3 million hatchback.
Thankfully, in 2022, the dust has (sort of) settled, and I finally had the chance to take the venerable Type R for a spin. With the all-new Civic just launched, and the potentially all-new Type R along with it, is this version, now a few years old, still worth getting at this point in its life cycle?
5 Reasons you should consider the current Civic Type R
1) The Type R engine is amazing compared to what is in the regular Civic.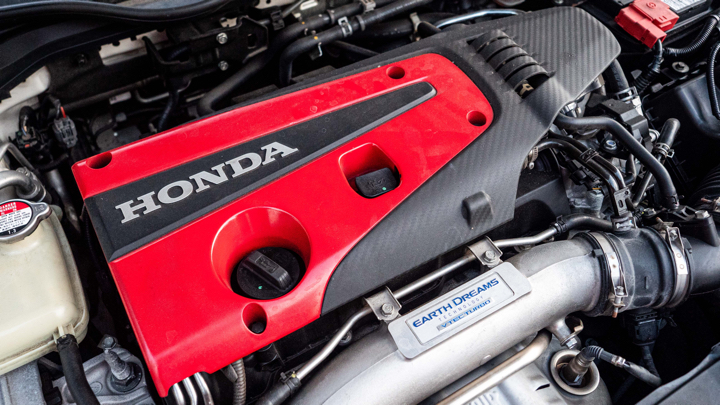 The Civic Type R has a history of extremely high-revving, high horsepower powerplants. With this generation, we get the first turbocharged Type R engine with VTEC. Boasting 306hp, power is fed to the front wheels via a special limited slip differential exclusive to the high-performance hatch.
Don't listen to those who say that the regular Civic RS' turbo engine is comparable—it really isn't. The Type R engine is wildly more powerful and, for lack of a better word, special. It leaves the regular turbo in the dust in every single way. Power comes on immediately, and forced induction allows power to be relentless until its lofty VTEC-enabled red line.
2) The Type R is extremely practical.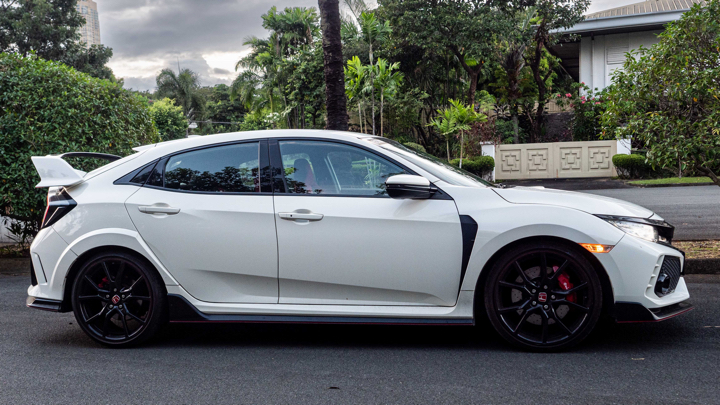 Here is where the similarity with the regular Civics is actually a plus point. The Type R has all the practicality of the four-door Civic, and then some. It is in fact a hatchback, giving it a more accessible rear hatch compared to the sedans.
Rear room was more than adequate, easily fitting adults in the back seats with good legroom. The front perches were even more amazing given that they were special Type R seats unique to this car. We had no issues with ride height, as it was just slightly lower than the normal Civic, meaning it had no issues with humps or parking lots.
3) Comfort mode is actually comfortable.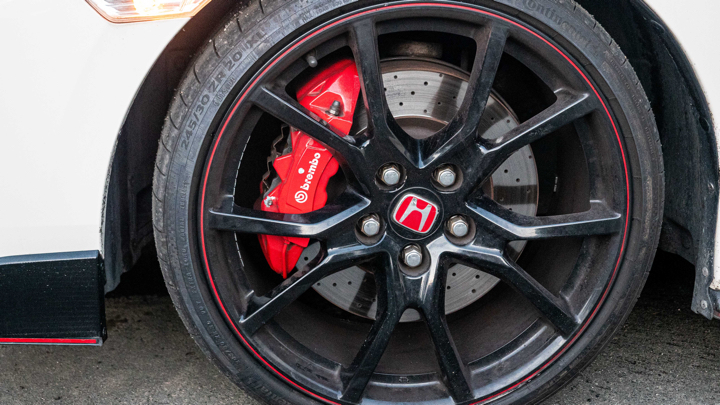 Thanks to the adjustable dampers, the Civic Type R boasts a sports suspension that can actually be set to a comfortable "comfort" mode. While it is not as plush as the regular Civic, it comes close. And for a sports car, that is more than you could want.
I have had my teeth fillings shaken loose by sports cars I have tested (I'm looking at you, Nismo 370Z), so having something that has these performance chops and yet be absolutely comfortable is a revelation. We took the car from Manila to La Union with no issues or aches, despite provincial roads of mixed quality.
4) It has the best shifter of any car today.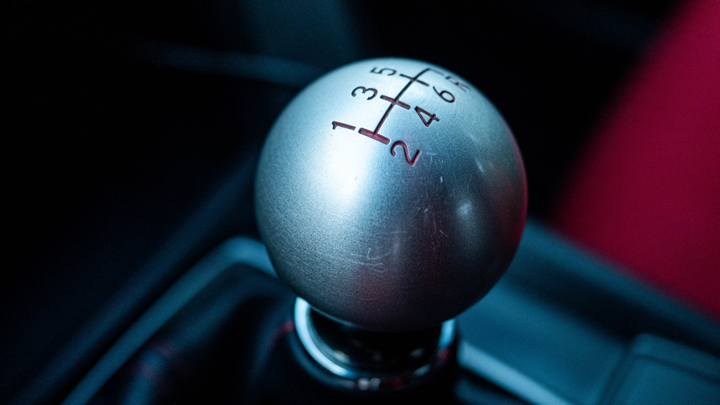 Honda has always made great transmissions, and the six-speed gearbox on this is absolutely sublime. Grabbing the titanium ball shifter, with its extremely short throws and positive engagement, is an extremely enjoyable experience. It really makes you just want to shift gears all the time. It is one of the unique selling points of the Type R experience, and the Type R is one of the few sports cars you can buy today that is only offered in a manual, and what a glorious manual it is.
5) It's a Type R.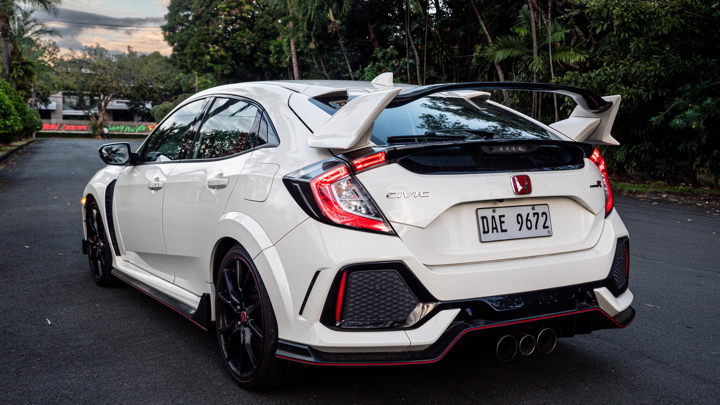 There's a reason a lot of Civic owners (tackily) stick on Type R looking bits on their cars. It is the most Fast and Furious-y car out there. The look is iconic: the big wing, the hedgehog style spines on the roof, and the triple exhaust (which, unfortunately, doesn't sound even remotely aggressive compared to the performance). All these give it a rather unique look and stance which we will get into later.
3 Reasons you shouldn't consider the Civic Type R
1) There is no spare tire.
On the first weekend of taking the Type R out, we hit a pothole in Batangas particularly hard. It resulted in a gash on the sidewall which could not be fixed with the included tire repair kit. That meant, with no spare tire, the Civic had to be left in the province overnight as we had no way of driving it home. Thankfully, Honda sent a technical team to recover the unit, but it is definitely disconcerting to leave a car overnight at a random gas station.
While it isn't a disadvantage unique to the Type R, this new trend of equipping modern cars with just a tire repair kit has to stop. There's a reason that spare tires have been a thing since forever, and it is precisely this lack of options when it comes to bad flats that make it such a drawback. Remember, the huge wheels and tiny sidewalls on the performance tires make it particularly prone to bad interactions with road imperfections that can leave you, or your car, vulnerable to flats.
2) The interior feels cheap.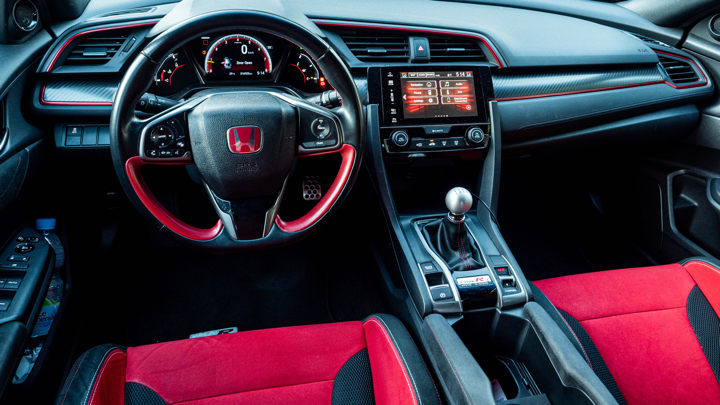 As practical as the interior was, it really is just a little bit nicer version of the one available in the base Civic. Sure, there are splashes of red and extremely nice seats, but other than that, it feels the same as the ordinary Civic inside.
It even has the squeaks and rattles typical for a Civic of this age. In fact, the Type R lent to us was the from the first batch of Civics, which still lacked a volume knob. At the end of the day, for the price that Honda is charging, we had hoped that it came with a more buttoned-down interior.
3) It's a Type R.
Some say looks are subjective. This being said, there is no doubt in my mind that the Civic Type R is absolutely over-styled. From the uneven length three-pipe exhaust, to the plethora of fake vents and fake grilles, it is all a bit too much.
I had never been much of a fan of the 10th-generation Civic's Transformer-like styling (I feel it will age faster than most others), but the Type R takes it up to an unhealthy degree. It is bad enough to make you actually consider a Type R styling delete (Type R internals with regular Civic hatchback looks).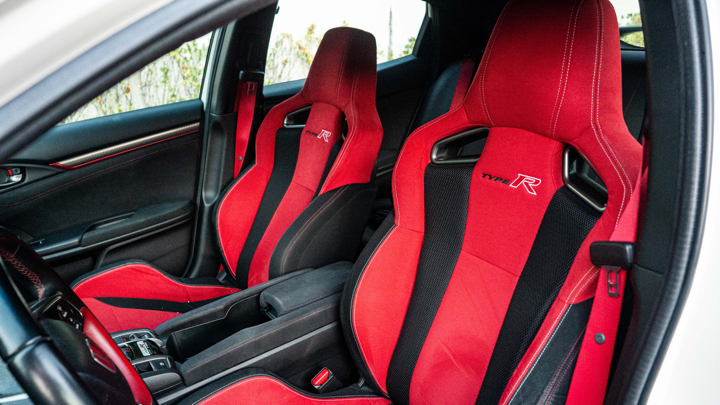 So, how has the Type R been, and was it able to live up to the lofty hype of its launch? Well, as with most things, it is a mix of yes and no.
While beauty is subjective, it really is over-styled. Looking more like a Hot Wheels toy than a car that actual people would have designed, the Type R looks like a car straight out of Need for Speed Underground (where you had to attach all sorts of crap on your car to win DVD covers to progress the game).
This being said, it was also absolutely spectacular to drive. It handled and performed competently. The Type R is probably the best performing and best handling front wheel drive car that we have ever tested. It is a joy to drive, and it is an extremely practical option as a sports car that deserves the demand that it has had in our market.