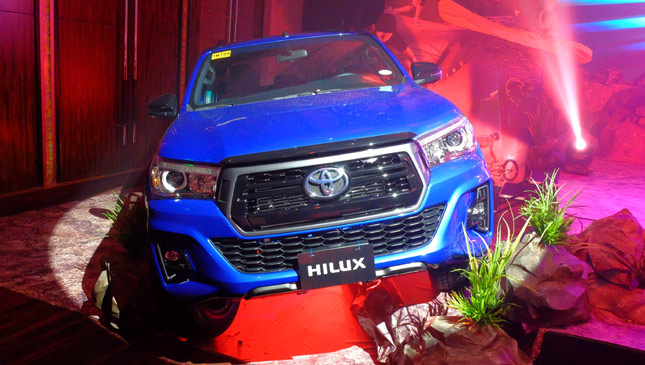 In case you missed it, Toyota Motor Philippines has recently launched the Hilux Conquest--a rougher, sportier take on the Japanese carmaker's popular pickup truck offering.
While the Conquest doesn't offer any worthwhile upgrades performance-wise (the same 2.8-liter diesel engine capable of 174hp and 450/420Nm as the top-of-the-line 'regular' Hilux), it does get more rugged design elements like a bolder front grille, some black plastic cladding, new foglight housings, and a nice sports bar out back.
The tougher exterior comes at a cost (the 4x4 2.8 AT carries a price tag of P1,745,000), but it's easy to imagine that some motorists on the hunt for a sporty-looking workhorse will willingly shell out the dough for it. Proven Toyota reliability, capable pickup truck performance and a macho new look? It's a pretty tempting package if you have the extra money lying around.
Continue reading below ↓
Recommended Videos
So, is the Conquest's success as a sporty new-look pickup truck a done deal? Not so fast. Other Japanese car manufacturers are getting in on the action as well, with both Nissan Philippines and Isuzu Philippines fielding notable entries of their own this 2018: the refreshed Navara and new D-Max X-Series. By the way, Ford Philippines has already announced that a refreshed Ranger with an improved engine is on the way, so there's definitely that to consider, too. Oh, and who can forget the Ranger Raptor is on the way?
Can you smell the competition in the air? We can. It almost feels as if the pickup truck wars of three years ago is repeating itself, albeit with refreshed models and variants instead of all-new ones. The Hilux and D-Max offer new looks, the Navara more convenience, and the Ranger with improved performance. And the Raptor is, well, the Raptor. The segment is looking very interesting this year.
To say the Hilux Conquest will have its work cut out for it standing out in 2018 is a major understatement. But if any company can do it, it's the car-selling machine that is Toyota Motor Philippines. What do you think? Will the Counquest perform well this year, or will its rivals outshine it? Let us know in the comments.