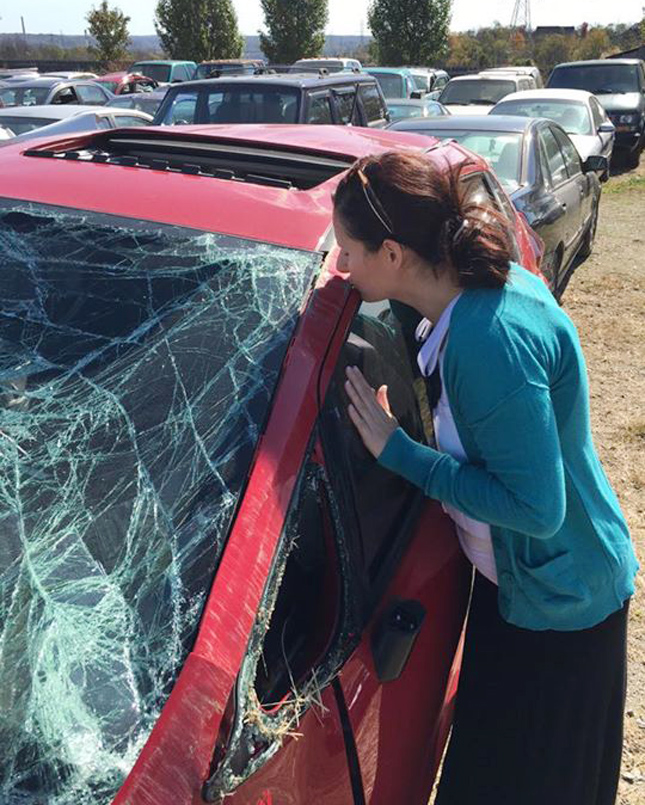 Most of us form a very special and intimate bond with our car via happy, memorable motoring activities. The first time we fetched the love of our life, for instance. That epic drive up to Baguio. The time we rushed the wife to the delivery room. All of these events make our ride dearer to us, and ultimately add to its sentimental value.
But one US-based car owner recently found out that nothing beats a near-fatal car crash when it comes to giving a person that feeling of oneness with his or her automobile. Mandie Tuttle Parker, a certified nurse midwife at Dearborn County Hospital in Indiana, survived a horrific accident in her Honda Fit (Jazz in our market). She reckons that she could have easily lost her life had it not been for the way her car had been designed and engineered to protect its occupants in the event of a mishap. She is just so grateful that she posted on her Facebook page an open letter addressed to Honda Motor Company.
ADVERTISEMENT - CONTINUE READING BELOW ↓
The message is so touching that we'd like to share it with you. Here it is in full (and in italics):
An open letter to Honda.
You don't know me. I'm one of the millions who purchase your cars. Meet Alice, my Honda Fit. I came from poverty growing up. Alice was the first car I bought brand-new. I drove her from the lot with 3 miles on it. I loved her. She was a symbol of me and how far I had come in my life.
ADVERTISEMENT - CONTINUE READING BELOW ↓
Recommended Videos
On Saturday 10/10/15, I hit a patch of gravel, hit a mailbox, went down into a ditch, and flipped three times. I don't remember much of what happened. People who saw it say that I was completely in the air for one of those rotations. Fire and EMS were able to extract me from the car. I have some fractured vertebrae and clavicle with extensive soft tissue damage. You can see I'm still wearing a back brace.
ADVERTISEMENT - CONTINUE READING BELOW ↓
But. I'm alive.
The proper airbags deployed. The front airbag did not. That would have done more harm than good. My sunroof was open but the seatbelt kept me locked in.
This is a picture of me with Alice. The first time I laid eyes on her after the accident. I was overcome with emotion. She saved my life. Thank you.
Thank you from the bottom of my heart for making Alice. For putting time and energy into her. Thank every single person who laid hands on her. To make sure that every bolt was tight. To make sure every system was operational. To make sure the seatbelts were in the perfect placement. You saved my life. Alice saved my life.
Thank you. Thank you.
With love,
Mandie Tuttle Parker
Photo from Mandie Tuttle Parker's Facebook post